Real estate crowdfunding is increasingly becoming an alternative to REITs (NYSEARCA:VNQ) for individual investors seeking real estate exposure. Many of my fellow real estate investors have tried to convince me that these online investment platforms may provide a better approach to real estate investing compared to the more traditional options including direct ownership, partnerships and REITs.
The arguments in favor of real estate crowdfunding are typically the following:
Their deals provide higher risk adjusted returns
Crowdfunding assets are uncorrelated with the stock markets and are hence more stable than REITs.
I disagree with this perception of real estate crowdfunding. I doubt that these deals would on average lead to higher risk adjusted returns than REITs and would not consider them to be more conservative by any mean. Opposite of that, I see great risk in real estate crowdfunding for many reasons.
Below I provide my counter arguments to real estate crowdfunding:
1. If you are not a real estate expert, you cannot perform adequate due diligence to evaluate individual properties for investment.
Most crowdfunding websites directly target individual investors who are not experts in commercial real estate investing or finance in general. The issue is that without these specialized skills, how are you then supposed to properly assess a given deal on a real estate crowdfunding website? It is simply impossible.
And even if you are an expert and understand real estate investing, you will mostly lack local market knowledge to make property level decisions. Real estate investors need to specialize for a given region or city to really manage to identify the better deals. You will certainly not be able to perform good quality due diligence on an office building located in Denver if you reside in Dallas and have limited knowledge of the Denver market.
On the other hand, when investing in REITs, you do not need to do any investment decisions on the property level. You directly invest in a well-diversified portfolio and the professional managers then take care of the underlying real estate investment decisions.
2. Success in real estate investing is largely a function of the management team
The management team is perhaps the most important factor determining the long-term success of an investment strategy. So, a crucial question to ask oneself is if the managers on crowdfunding platforms are likely to be of high quality or not. While exceptions exist, here I would argue that, the average sponsor will be worse compared to the managers of successful partnerships or REITs.
This is simply because good managers with good deals typically find it relatively easy to access capital, especially in today's market environment where real estate is expensive and everybody is chasing the superior deals. If a sponsor has no better sources of capital than crowdfunding websites, that is not a good sign in my opinion.
Moreover, the incentives of the deal sponsors may cause substantial conflicts between the investor and the sponsor. Typically, these deals will involve a management fee and additional performance fees for the sponsor which may incentivize "empire building" and greater risk taking.
Lastly, you would have the same issue here concerning due diligence. It is very difficult to perform proper due diligence of the management team when investing through crowdfunding platforms.
REITs on the other hand are very large and have great resources. They can attract the best talent and retain the best in class managers of the whole industry. Furthermore, the REIT structure is famous for reducing conflicts of interest as the managers are most often employees of the firm and do not earn any "fees".
3. Crowdfunding deals are riskier in many ways compared to REIT investments.
Private market sponsors tend to use substantially more leverage than REITs and often target riskier properties. While REITs utilize today on average about 30% leverage, it is not uncommon for private investors to use up to 80% loan to value.
It is then not surprising that many of these investments are able to pay out higher yields, but this comes with significantly higher risk.
Real estate crowdfunding is also highly illiquid and it may be difficult to exit your investment when desired; especially if the real estate market went into a down cycle.
And getting back to our first point, you will not be able to evaluate the risk of the project anyways. You most likely do not have the resources, neither the knowledge to perform professional risk due diligence and will hence enter deals without having a full picture of the risk undertaken.
4. Private sponsors may charge high fees
Fees and cost will often be higher than you think. The sponsor of the deal is taking his cut and depending on the platform, there might be additional fees. Private investment vehicles are most often more expensive than public vehicles (REITs) and real estate is no exception.
Most REITs are today internally managed and have great scale which reduces the impact of the G&A expenses. Crowdfunding deals, on the other hand, will be sponsored by asset management firms or real estate developers that will want to earn their fees to make a profit.
5. REITs have historically outperformed private real estate investments.
Over the last 40 years, REITs have returned more than 13% per year to investors according to NAREIT.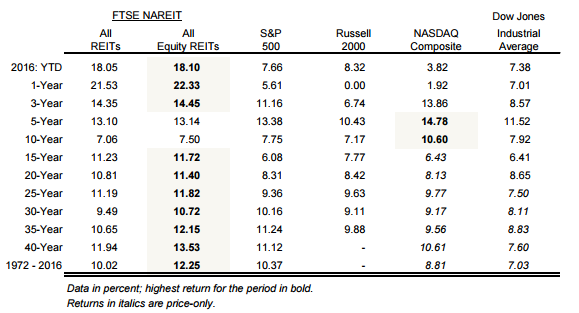 EPRA also notes that REITs have outperformed private real estate investments over the last many decades:
This is largely due to superior management teams and greater access to cheaper capital. REITs earn then higher spreads and often end up outperforming.
Final Thoughts
Many crowdfunding investors argue that one the biggest advantages of these online platforms is that they permit investors to cherry pick the best properties to only invest in these and earn higher returns. After all, why would you invest in a large portfolio that may contain some good and some bad properties if you could sort out the less attractive ones?
This statement is true but very misleading, especially when targeting individual investors. Think of the following: If you are not a professional real estate investor with the expertise and resources that go with it, how are you supposed to evaluate individual real estate investment deals on a crowdfunding platform? You cannot and you really make ill-informed investment decisions. You are then at the mercy of the deal sponsor and pure luck. Real estate is a local business and if you are not actively involved in the local market, you simply cannot assess an individual property investment. You need to be able to analyze the macro and micro location, the surrounding infrastructure, the growth trends, the demand and supply factors, etc…
This is the beauty of REITs: You do not need to know everything; you have a professional management team taking care of all the operational work for you. You directly invest in a large portfolio that is managed by people that have the resources and expertise to make the right decisions.
REITs have strongly outperformed in the past, they are liquid, well diversified, have great management teams and are cost efficient. Why would you want to turn away from REITs in favor of real estate crowdfunding? The only real answer that I could see is that it may be less correlated to the overall stock market than REITs. REITs have however also proven to provide strong diversification benefits and to closely follow the real estate market over the long run. So, are the risks of real estate crowdfunding really worth it?
If you enjoyed this article, please scroll up and click on the "Follow" button next to my name to not miss my future articles on REIT opportunities.
Disclosure: This article is for informational purposes only. It is not a recommendation to buy or sell any security and is strictly the opinion of the writer. Readers are expected to conduct their own due diligence or seek advice from a qualified professional.
Disclosure: I/we have no positions in any stocks mentioned, and no plans to initiate any positions within the next 72 hours.
I wrote this article myself, and it expresses my own opinions. I am not receiving compensation for it (other than from Seeking Alpha). I have no business relationship with any company whose stock is mentioned in this article.