Post-Election Market Enthusiasm Rides on the Back of an Aging Bull Market
The first quarter of 2017 was witness to a number positive events for the market, including the eighth birthday of the current bull market, which began on March 9, 2009. The Dow Jones Industrial average broke two rather meaningless but psychologically significant milestones: hitting the 20,000 mark on January 25, and then marching forward to close above 21,000 for the first time on March 1.
During the first quarter of 2017, U.S. stock market gains pushed higher on top of the post-election bump, which ended 2016 on a positive note. To its 4.6% gain from Election Day to the end of 2016, the S&P 500 added another 5.53% in the first quarter of 2017. The Dow added 4.6% in the first quarter on top of its 7.8% gain on election optimism, while the NASDAQ jumped 11.8% in the first quarter adding to its 1.2% post-election gain in 2016.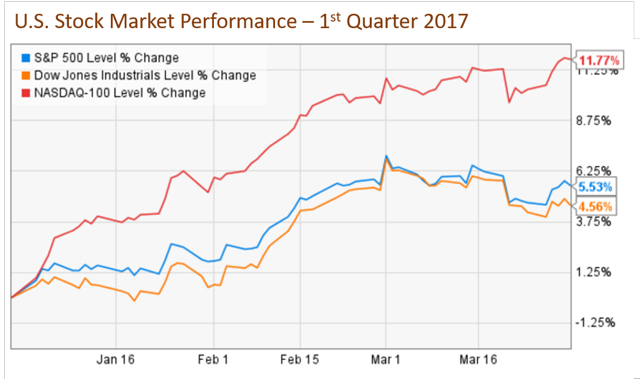 It is important to note that these post-election gains were built on the back of the second-longest bull market in history. Since March 9, 2009, the S&P 500 price returns have more than tripled, climbing 248%. The S&P 500's total returns (including reinvested dividends) has more than quadrupled, returning 313% since the market bottom. To put these gains in context, the value of the stock market has now reached 207% of the nation's GDP, which is greater than that of the credit-bubble closing high of 181% of GDP, and the tech-bubble peak of 202% of GDP. As a result of this 8-year bull run, stocks have become a bit pricey, with the S&P 500 trailing twelve-month P/E ratio at around 24.63, and a forward P/E of 18.32. In comparison, the historical average PE of the S&P 500 is 15.65 (median = 14.65).
While I'm certainly not calling a market top, nor do I believe there are signs of an imminent recession or bear market, it does seem that there is a fair amount of complacency and confidence in the markets, and this strikes me as a bit of a contrarian warning sign in light of the historic bull market run we've been on. Thus, as this current bull market is getting rather long in the tooth, investors are faced with the dilemma of whether to risk new money in what may be a market peak, or whether to hold their money in cash or other less risky assets and potentially miss out on more market gains.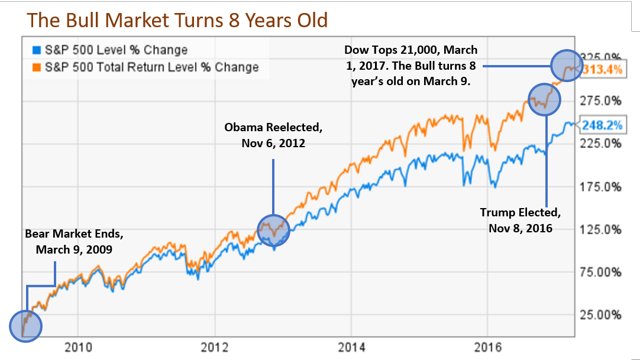 Flies in the Ointment
The so-called Trump trade, which has presumably lead markets higher in hopes of more business-friendly policies, infrastructure spending, and corporate tax reform, has fizzled a bit lately as investors have begun to question the president's ability to execute on his pro-growth campaign promises after he and his Republican allies in the house failed to push through legislation aimed at replacing President Obama's Affordable Care Act. In addition, Speaker of the House Paul Ryan said last week that tax-reform could take longer than health-care reform, while the President's "America First" pledge has taken a significant turn following the Syrian airstrikes. As geopolitics now demand more of the president's attention in response to global trouble makers, such as Bashaar al-Assad, Vladimir Putin, and Kim Jong-un, investors have begun to worry that Trump's growth initiatives could be pushed further out, and the effects of which may not be felt in time for the 2018 midterm elections.
In addition to the geopolitical and presidential policy uncertainty, we are now in the early stages of the Federal Open Market Committee's interest rate hikes, and the latest March minutes of the FOMC also indicated that the Fed would like to begin reducing its $4.5 trillion in bonds and mortgage-backed securities it holds on its balance sheet later this year. And just as the FOMC's bond purchases pumped money into the economy, the downsizing of its bond balance could make money tighter as interest rates rise. Indeed, Fed member John Williams sees trimming of the Fed's balance sheet occuring in parallel with rate hikes.
Going Forward: Diversified Investing Strategies for an Aging Bull Market
Regardless of who or what conditions are responsible for the stock market's past performance or future direction, investors are still left facing tough decisions regarding where to allocate new cash and how to balance one's portfolio. For investors who still have a decade or more to go before retirement, my advice is to continue making regular contributions into a diversified portfolio of low-cost mutual funds or ETFs. I previously penned an article on SA titled, " A Simple Path to Financial Wealth With Just 3 Low-Cost Mutual Funds," and the funds chosen in that article are still relevant today. Each of the three funds is from Vanguard and includes the Vanguard Total Stock Market Index Fund (MUTF:VTSAX), the Vanguard FTSE All-World ex-U.S. Index Fund (MUTF:VFWAX), and the Vanguard Intermediate-Term Tax-Exempt Fund (MUTF:VWIUX). In addition, one may also want to consider the Vanguard High Dividend Yield ETF (NYSEARCA:VYM). I own VYM and my strategy for purchasing shares of this ETF is to only add shares when the yield is at 3% or higher. The current yield for VYM is around 2.8%.
VTSAX gives investors exposure to 5,000 U.S. stocks ranging from small cap to large cap, and thus provides broader sector allocation than does an S&P 500 fund [e.g., (MUTF:VFIAX) or (NYSEARCA:SPY)]. Addition of a global fund that does not include U.S. companies, such as VFWAX, further increases diversification. And since U.S. stock valuations are currently stretched compared to their global counterparts, increasing one's allocation to cheaper foreign stocks may prove to be a smart move.
I'm also a big fan of municipal bonds as a diversification strategy, and although long-term munis have higher yields, intermediate-term munis have less risk in a rising rate environment. I prefer VWIUX, which currently has trailing twelve month yield of 2.87%, which is higher than the 10-year treasury yield of 2.35%. Any time I can get a tax-free yield that is greater than the 10-Year taxable treasury yield, I go for it. A 2.87% tax-free yield is equivalent to a taxable yield of 3.99% at the 28% tax bracket, and 4.75% at the highest tax bracket. VWIUX pays a monthly distribution, and you can reinvest the distributions as you save for retirement. Having bonds in one's portfolio also provides downside protection during a stock market correction or bear market, and helps smooth out the volatility in an otherwise all-stock portfolio.
Tweaking the Allocation Spigots
Once you have a diversified portfolio to allocate funds to, then your only decision is how much weight to give each fund. I like to think of each of my funds as spigots of money where I can control the flow of money into each according to market conditions. Right now, I view U.S. stock valuations as overly stretched, so I have stopped contributing to VTSAX (U.S. stocks) and have increased my contributions to VFWAX (foreign stocks) and VWIUX (tax-free muni bonds). Should the U.S. stock market correct, then I will reassess and may then open the spigot back up on U.S. stocks. Note that I have not sold any of my fund positions, I have just made changes to how ongoing contributions are distributed among my various fund holdings.
There is Still Value in Individual Stocks if You Look
Finally, if one likes to buy individual stocks, those investors also face the same valuation dilemma. However, if one digs deep enough, there are always bargains to be found in the stock market. I'm personally a dividend growth investor, and I prefer high-quality companies that have a history of paying dividends. Unfortunately, many of the best quality dividend growth stocks also have excessive valuations. But if one is willing to broaden their scope a bit, there are some bargains to be had. One company that I recently purchased is Hanesbrands (NYSE:HBI), which currently yields 2.88%. The stock has recently had a big decline in price as a result of forward earnings guidance that was subdued, but this presents a great buying opportunity as outlined by fellow SA contributor George Fisher, here. I was able to pick up shares at $19.90 with just over a 3% yield. Another stock I recently purchased on a price decline was the health care REIT, Omega Healthcare Investors (NYSE:OHI), when its yield was a tad over 8%. Fellow SA contributor Brad Thomas has listed OHI as a top-ten pick in a recent article here.
Conclusion
What I hope this article has provided is a considered perspective and overview of the stock market's performance since the bear market ended to the end of Q1 2017. In addition, the analysis shows that while stock market performance may be partly explained by investor's hopes for a president's policies, underlying structural and fundamental issues are also at play, and over the longer term, it is these fundamentals rather than words and promises that drive markets in one direction or another. The data provided also show that despite President Trump's claims that he "inherited a mess" or that the economy under President Obama was a disaster, just the opposite is true and Trump stepped into office on the coat tails of a strengthening economy and record stock market gains that occurred while Obama was in office.
In addition, I have provided investors with some ideas for how to invest in today's market with U.S. stocks near record highs by providing a number of funds, stocks, and strategies for controlling where one might allocate their cash reserves. Of course, holding a large position in cash is not a bad idea either, as we can all be well assured that a market correction and crash are coming one day. And when that day comes, it pays hugely to have money ready to plow into the market at bargain prices. Or as legendary investor Warren Buffett stated in his most recent letter to investors:
Every decade or so, dark clouds will fill the economic skies, and they will briefly rain gold. When downpours of that sort occur, it's imperative that we rush outdoors carrying washtubs, not teaspoons. And that we will do. -Warren Buffet
Disclosure: I am/we are long VTSAX, VFIAX, VFWAX, VWIUX, VYM, OHI, HBI.
I wrote this article myself, and it expresses my own opinions. I am not receiving compensation for it (other than from Seeking Alpha). I have no business relationship with any company whose stock is mentioned in this article.