In our previous research report on platinum (NYSEARCA:PPLT) we highlighted that South Africa accounts for almost 75% of world's total annual platinum production and we voiced our concern that any political risk premium arising from a strongly growing distrust against the ruling African National Congress (ANC) would likely result in a nasty depreciation of the rand, which would be terrible for platinum prices. Here's an update on some developments, since our last writing.
Platinum vs. Gold and Silver
Platinum, 1st Future: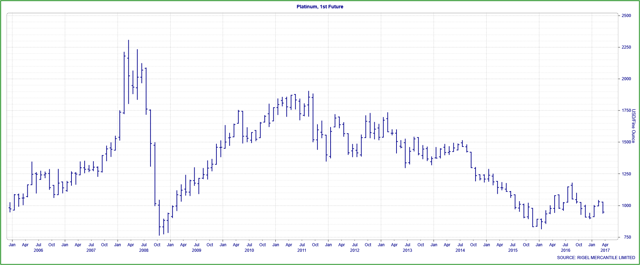 To differentiate between broader moves in precious metals and platinum, we plotted platinum's price in both gold (NYSEARCA:GLD) and silver (NYSEARCA:SLV); platinum's underperformance continues. Here's an update: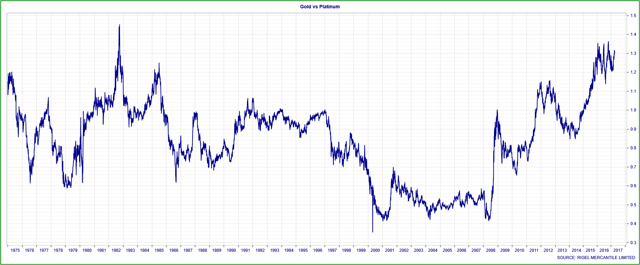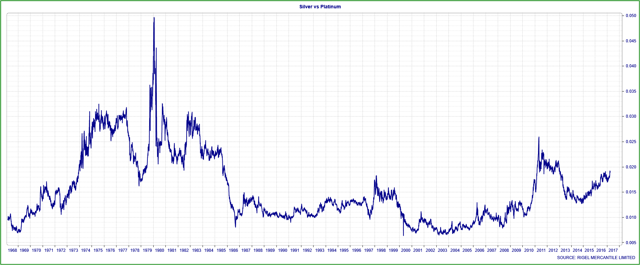 The South African Rand
In our previous report, we noted: "The rand has appreciated from around 16.9 ZAR per USD, at the beginning of 2016 to around 12.6 ZAR per USD as of yesterday's close. That is an appreciation of over 25% for the rand, pretty admirable! The problem is that it is not too far away from a major support level at around 11.3, 10% away from current levels."
ZAR/USD, at our last writing: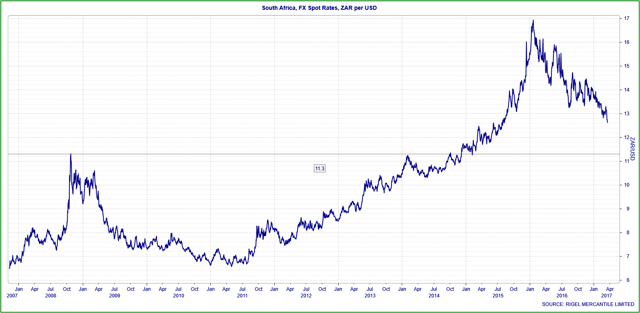 ZAR/USD, as of our latest writing: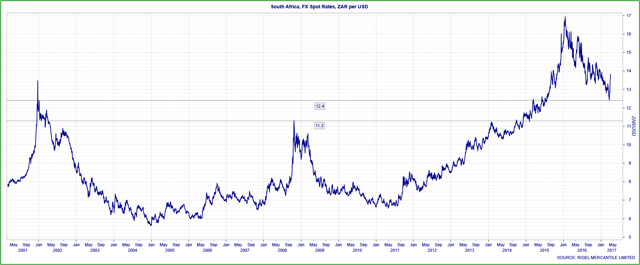 Just to be absolutely certain that the weakness in rand is a 'rand' phenomenon and not just a 'USD' phenomenon, we plotted the South African currency against a basket of the most liquid currencies in the world and found that it is on the back foot against every one of them.
Against the U.S. dollar: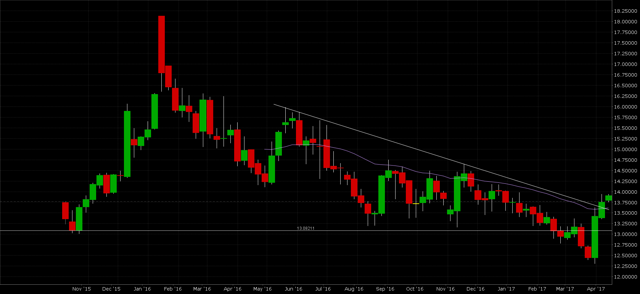 Against the euro (EUO, FXE, DRR, EUFX, ULE, ERO, URR):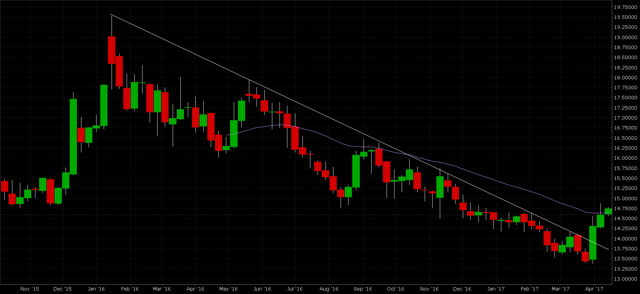 Against the British pound (FXB, GBB):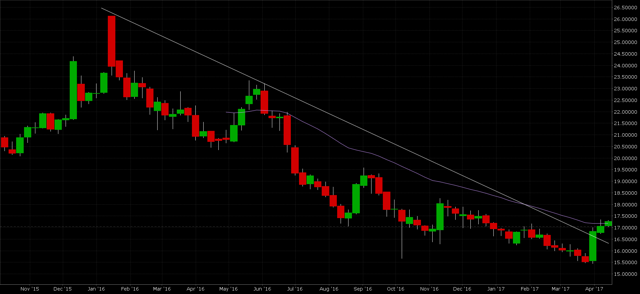 Against the Japanese yen -inverted (NYSEARCA:FXY):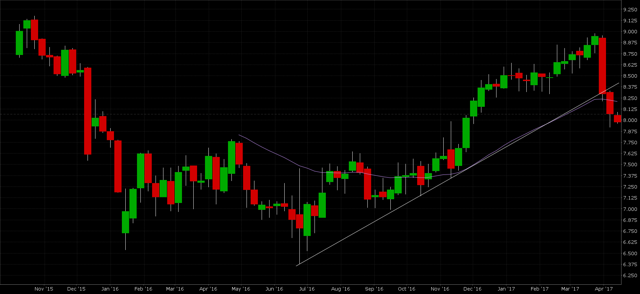 Against the Swiss franc (NYSEARCA:FXF):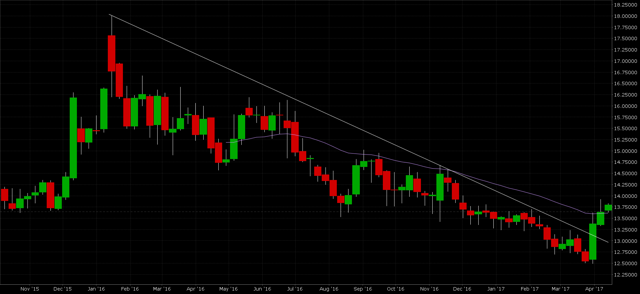 Against the Australian dollar (NYSEARCA:FXA):
On rand's year long strength we had noted that despite the strong rally in the rand the fact that platinum prices are langouring around their lows suggests that Mr. Market has no faith in the sustainability of rand's recent strength. Such a concerted break of trend lines on all these charts highlights just how strong this reversal is.
African National Congress - the political stalemate
South Africans have lived in a democracy for over twenty years but after five national elections and several municipal elections South Africans have never witnessed a democratic transfer of political leadership. The African National Congress (ANC) has held power since 1994. While, superficially, it might seem as though this is indicative of a strong party that enjoys strong public support, the truth could not be farther from that. To date, there have been seven motions of no confidence against Jacob Zuma, the president of the ANC and the country. All seven have failed. In one of the most recent no confidence motions several MPs abstained. Do you want to guess who one of those that abstained was? Mr. Pravin Gordhan, the former finance minister who was fired two weeks ago in an emergency cabinet reshuffle orchestrated by Mr. Zuma. So, this is clearly not a state where democracy is functioning at its best.
Last week, Fitch downgraded South Africa's 1) long-term foreign and local currency Issuer Default Ratings (IDRs) to 'BB+' from 'BBB-', 2) senior unsecured foreign and local currency bonds to 'BB+' from 'BBB-', 3) short-term foreign and local currency IDRs and the rating on the short-term local-currency securities to 'B' from 'F3'.
As we suspected at our last writing, rising tensions in the political scene in South Africa, an already fragile state, has led to a sharp turnaround in ZAR/USD. We continue to believe that the ruling ANC is in dire straits and that, at least until this political stalemate is resolved, the rand will continue to remain under pressure. We continue to believe that a sustained depreciation of the rand is likely to put upward pressure on platinum production in South Africa, a country from which 75% of world's platinum is mined. This, at a time when the status of Platinum's biggest demand component, namely: catalytic converters in diesel engines, is being challenged cannot be a good recipe for platinum prices going forward. We will continue to remain bearish on platinum, barring any unforeseen production losses, at least until we see a real possibility of a political change in South Africa.
Disclosure: Rigel Mercantile Limited specializes in Macro Research and Systematic Trading. The views expressed above are our discretionary ideas that we have arrived at using discretionary analysis and therefore are limited to our discretionary portfolios only. Our systematic strategies may or may not have a position (long or short) in the securities mentioned above. Under no circumstances should the information contained herein be used or considered as an offer to sell, or a solicitation of an offer to purchase, any security or investment service. The information presented herein is presented in summary form and is, therefore, subject to qualification and further explanation.
Disclosure: I/we have no positions in any stocks mentioned, and no plans to initiate any positions within the next 72 hours.
I wrote this article myself, and it expresses my own opinions. I am not receiving compensation for it (other than from Seeking Alpha). I have no business relationship with any company whose stock is mentioned in this article.