Donnelley Financial Solutions (NYSE: DFIN) has produced its first 10k post spin-off. The company's value creation post spin-off hasn't happened here yet. It started to see some nice appreciation until it reported its 4th quarter 2016 numbers February 28th with a drastic price decrease. Let's analyze if this was warranted.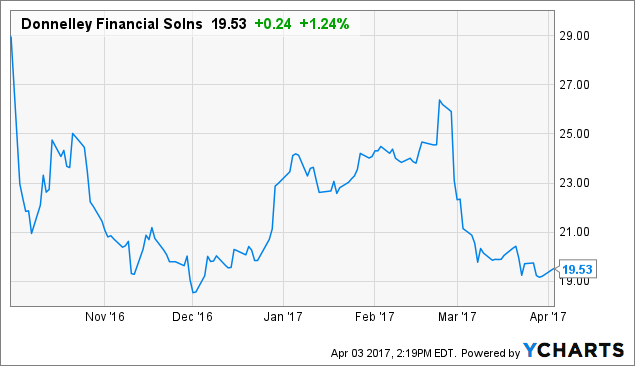 Business Description
The bulk of the company's revenue comes from basically two operating segments. The global capital markets segment (GCM), which mainly consist of helping public companies file reports under the SEC EDGAR system to meet requirements for the Securities Act of 1933 & 1934. These filings consist of 10Ks, 10Qs, and etc. In 2016 roughly 50% of the revenue from this segment is reoccurring because of the compliance nature behind the filings and services provided. The other 50% is more transactional based since much of the activity was for M&A and IPO services.
The Global Investment Market (GIM) segment operates to support mutual funds, hedge funds, and annuity and life insurance providers in providing software that helps to provide reporting, marketing, and disclosure material for investors and regulators. This segment offer a more attractive revenue base since 97% of the revenue was compliance related in 2016, which correlates too more reoccurring revenue. The GIM segment equated to 40% of total revenue where as GCM was 55%. So, a good portion of DFIN revenue is reoccurring.
2016 was a low year for the IPO market and Donnelley Financial somewhat felt it. There are two main reasons I see as to why 2016 wasn't a good year for IPOs.
The political uncertainty on who was going to be our next president, which markets didn't like and showed volatility. Volatility makes potential IPO companies postpone their offerings until more certainty and economic outlook is understood.
The Fed and what they were going to do with rate hikes. With cheap debt companies were staying private longer. This might not be the case anymore.
Investment Thesis
The company looks cheap on an EV/EBITDA valuation basis compared to peers. As the IPO market and M&A pickup in 2017 this could be the tailwind/catalyst the company needs to drive the share price toward intrinsic value. There is still uncertainty in the political environment with President Trump being president, but companies can now understand the policies he is trying to put into place, which should alleviate some unknown factors. Also, as interest rates rise debt financing doesn't look as attractive and equity funding does, this could help the comeback for the IPO market. I feel with these macro tailwinds, the companies EBITDA guidance for 2017 at $165-$175 million could be soft, but still even at the low-end, the valuation looks attractive.
DFIN Valuation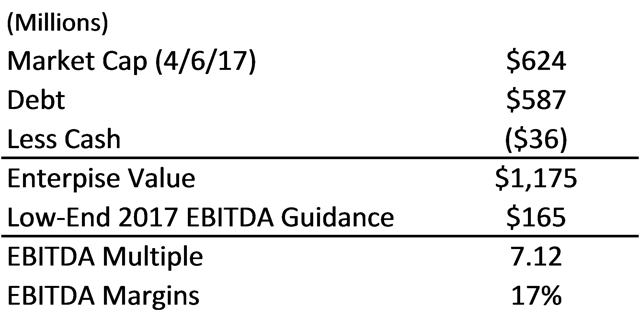 Source: SEC Filings and Author's Work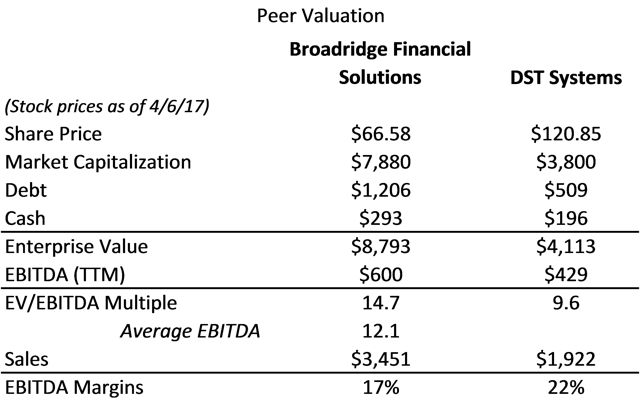 Source: Gurufocus and Author's Work
From a Peer Valuation comparable analysis Donnelley Financial looks cheap. EBITDA margins are in-line with comparables that mostly shows no operating advantage.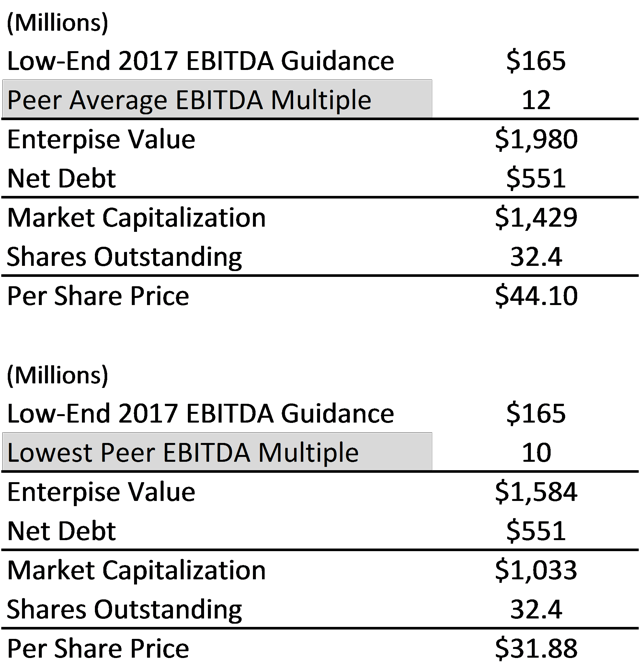 Source: SEC Filings and Author's Work
Averaging the EV/EBITDA multiples and applying them to the EBITDA Guidance generates a fair value estimate of $44.10. This implies greater than 100% upside. This might be a little too optimistic because Broadridge (NYSE: BR) over the past two years has showed some topline growth, which may have elevated its EV/EBITDA multiple. But, by utilizing the lowest peer EBITDA multiple, which provides a fair value of $31.88 or 66% upside from today's price, seems more applicable.
Conclusion
DFIN trades at a significant discount to peers. From a peer valuation providing a fair value of $31.88-$44.10 per share, indicates an attractive return potential for investors with a margin of safety. Investors might have negative thoughts about management and the value destruction they've created, spinning off two different assets, but that is the past. Donnelley Financial is offering a large cash generating business with little capex requirements on an annual basis. With laser focus now, topline improvements should be achievable. Any improvements in 2017 on the transactional side of the business should provide additional upside to fair value and cash flow.
To read more research on stock spin-offs, micro-cap companies, and special situations please consider following me (by clicking the "Follow" button at the top of this article next to my name) to receive notification when I publish research next.
Disclosure: I am/we are long DFIN.
I wrote this article myself, and it expresses my own opinions. I am not receiving compensation for it (other than from Seeking Alpha). I have no business relationship with any company whose stock is mentioned in this article.
Additional disclosure: This article is intended to provide information to interested parties. As I have no knowledge of individual investor circumstances, goals and/or portfolio concentration or diversification, readers are expected to complete their own due diligence before purchasing any stocks mentioned.