At the beginning of March, I started covering my conviction trade. This trade was based on the basic idea that a rate hike would be bullish for gold (SPDR Gold Shares GLD) and gold miners (VanEck Vectors Gold Miners ETF GDX).
Article: Gold (Miners) - Buy The Next Rate Hike
This worked out very well since investors started unwinding their hawkish FED trades. Mainly because they got the hike they wanted and because the FED turned out to be more dovish than expected.
In March, we also got the news that Trump's health care bill failed. This added to the bullishness of gold. Mainly because the health care bill would provide much needed savings for the infrastructure and tax cuts plan (reflation).
Gold miners have been in a steady but rather slow uptrend since the start of March. Backed by positive momentum and a rising RSI index.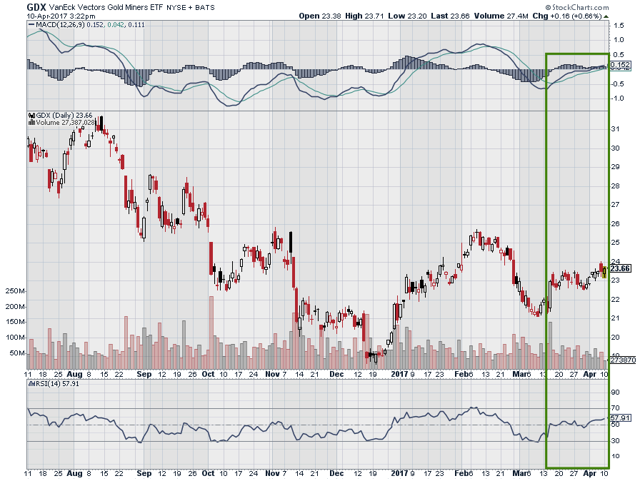 Mining stocks are not even close to being overbought. This is also visible when looking at the amount of gold mining stocks that give bullish signals. We are seeing a higher bottom for the first time since gold miners peaked during the summer of 2016.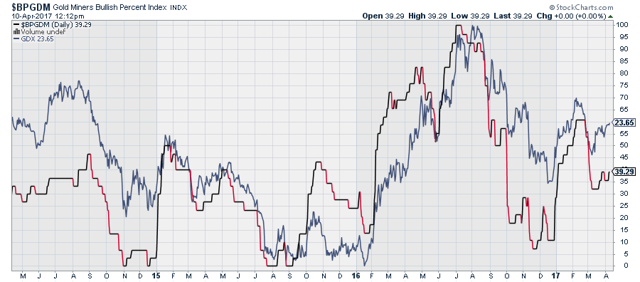 In my previous article, I shared a quote from the Bear Traps Report. I am going to do it again in this article. Mainly because it is still a big 'thing' and because we are seeing strong signs in the stock market that it might be true indeed. I am of course talking about Trump's failed health care bill.
Some Wall St. analysts say corporate tax reform is now a happy meal not a big mac. In other words, only a much smaller plan will be able to get through Congress now as revenue neutral ambitions are far more challenging. As Washington policy execution stumbles, there's an uneasy feeling creeping through in markets. The hole just got deeper, now up to $2T with the border adjustment tax BAT in trouble & ACHA savings gone. Bottom line, without key tax revenue offsets we're looking at a corporate tax cut near 30-28%, not 20-15%.

- The Bear Traps Report (03/25/17)
This would mean that the expected earnings boost is much lower at 3.5% versus 9.5% under the first plan.
I am not even saying that I believe that the economy is slowing. Most of my readers know that I am still bullish. This is extremely visible when reviewing the leading ISM and regional indices as I did in this article. I highly recommend reading it since it gives you a clear outlook of the economy.
The current environment shows us that traders are not buying the reflation trade. At least not in 2017. The copper/gold ratio clearly shows that traders are selling copper to buy gold. This a clear bet against reflation.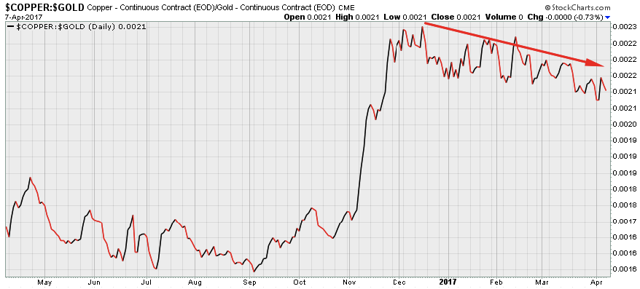 Note that this ratio spread accelerated after the election of Donald Trump and peaked just one month later. The current downtrend perfectly shows that confidence is dropping.
This is also confirmed when by the yield curve. The steepening of the yield curve halted in December and has dropped ever since. It even looks like the rally has just been a small uptick within a bigger downtrend.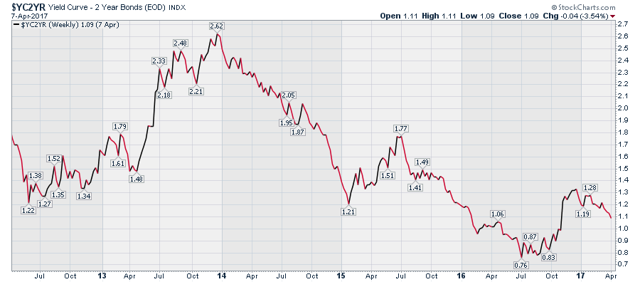 I believe that the unwinding of the reflation trade is going to push net gold positions of non-commercial traders higher. Large positions have been sold after the election until December. It is no surprise that December marks a very important point when analyzing this whole reflation theme. It wouldn't surprise me to see net gold positions at November 2016 levels in a few weeks.

Another thing that adds to the bull case, is the fact that traders are betting on more short term volatility. The VIX curve is about to hit backwardation for the first time since November of 2016. One of the reasons could be the increasing global uncertainty or the idea that the reflation trade is going to unwind even faster.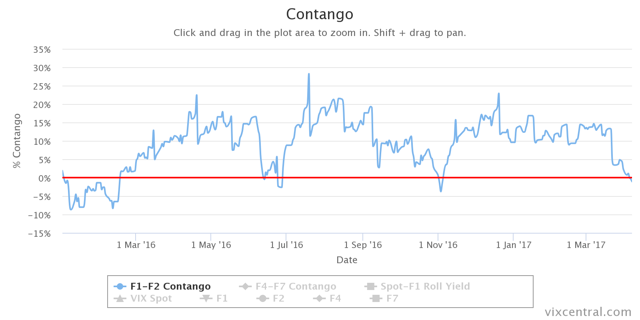 This supports both the long bonds and long Japanese Yen trades. I used inflation protected government bonds because these so called TIP bonds include both inflation and rates (real rates). The Japanese Yen is a great safe haven. Both are increasing since ... December of 2016.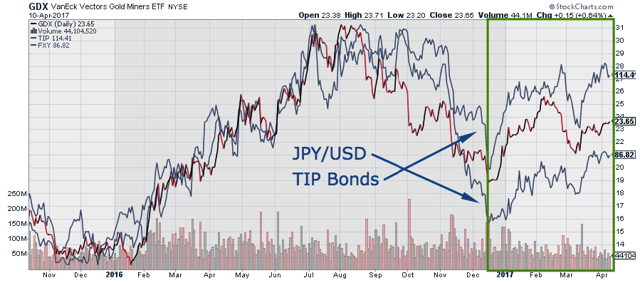 And please don't get me wrong. I am not saying that gold is always a great tool to hedge against market losses, nor am I predicting a stock market correction in this article. We are just seeing that a few things are coming together that form a bullish fundamental basis for gold miners.
Conclusion
The gold trade is well and alive. Gold bottomed shortly after the election and is currently still in an uptrend. The current situation shows that the reflation trade that initially pushed gold lower is unwinding.
Traders are back in inflation protected bonds, Japanese Yen and gold (miners). I believe that traders will continue to buy this precious metal and its miners.
I have bought more miners after my recent article and I will stay long until I see cyclical changes like a steepening yield curve.
At this point, I am happily long gold miners and believe that the current price is a great entry for people who are not long yet. Even after a four months rally, we do not see signs of an overheated trade.
And to summarize this article with one sentence: being long gold miners means being short the reflation trade.
Many thanks for reading my article. Please leave a comment below if you have questions, remarks or a different opinion. You can also send me a direct message or tweet me @LeoNelissen. Also make sure to check out our new website.
Disclosure: I am/we are long GDX.
I wrote this article myself, and it expresses my own opinions. I am not receiving compensation for it (other than from Seeking Alpha). I have no business relationship with any company whose stock is mentioned in this article.