By Parke Shall
Whole Foods (WFM) popped yesterday nearly 10% on news that JANA had taken a stake in the company and was seeking to shake things up and possibly prepare the company for sale. Investors are hoping that JANA can do what Whole Foods management has been unable to do over the last couple of years and strategically turn around the business. We think that JANA's track record proves that they can turn around Whole Foods and we predict that they will sell the company in the mid-to-high $40 region. Given that, we obviously believe that there is still tremendous upside and will explain our reasoning why.
One of the big problems with Whole Foods of the last couple of years has been margins deteriorating as customers look to spend less on Whole Foods' branded products as opposed to going out and purchasing premium natural and organic products that are sold to Whole Foods from distributors like UNFI. These high-margin items have become too expensive for some Whole Foods shoppers, and now that the grocery industry sees traditional stores moving more toward an organic and natural feel, Whole Foods has increased competition.
In turn, Whole Foods has been trying to create more of a regular supermarket feel from its stores that are primarily natural and organic foods. The company's 365 concept could be what saves them.
These are "stores in between stores" that are shaped to be like traditional grocery stores and will carry products similar to traditional grocery stores. The layout is very much like traditional grocery stores and the company is hoping that this initiative will help fill the gap with some of its consumers. We've written about this concept before in the past and we like it. We think this concept is going to be successful and we think it will be an inflection point for Whole Foods going forward.
For instance, most traditional grocery stores now offer cafés, coffee bars, ready-to-eat food, and some of them even have pubs. Specialty stores like Whole Foods and Trader Joe's are trying to put more no-frills items on the shelves in order to expand their consumer base and appeal to those that aren't as affluent as their traditional customer base. The Whole Foods 365 concept fits right into the middle of the two of these models and we think could be the winning prescription for Whole Foods over the course of the longer term.
(Photo source: Whole Foods)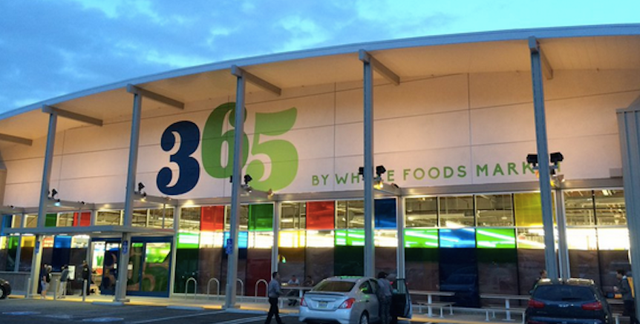 But rather than run a great balance sheet or reinvest cash back into the business, Whole Foods went on the offense of buying back stock a couple of years ago, authorizing $2 billion stock buyback at what was my arguably the most precarious position the company's stock has ever been in. As you can see from this below chart, the stock is well off the highs and the multiple afforded to the company has come down significantly as the market continues to doubt that the chain can grow aggressively enough to command a higher multiple. Prior to yesterday's run up, the stock traded around a 22x multiple.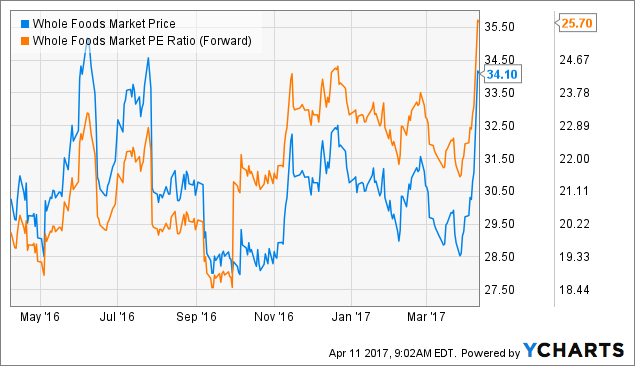 As you can see in this below chart, Whole Foods multiple compared to other grocers is on the high end because it is new and it has real potential for continued growth.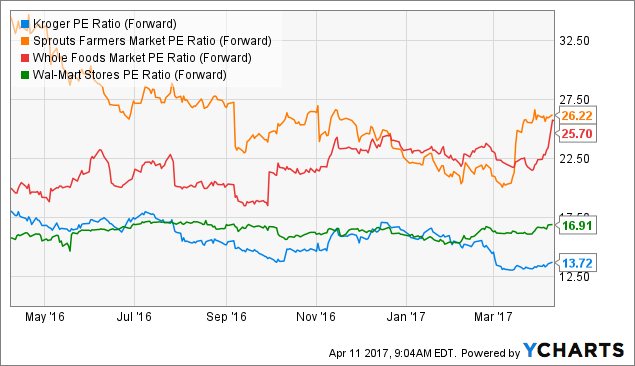 KR PE Ratio (Forward) data by YCharts
Much like many other failed or stalled turnarounds, management has been flailing its arms but not really getting a lot done. While they did authorize a $2 billion buyback, some of the other programs that management has tried to initiate have done little to help. For example, management was pressing a rewards program a year or two ago that didn't materialize into anything special for the company's bottom line. Now, management continues to push the narrative of opening up its 365 stores, which we think actually may be the winning ticket for the company.
In fact, in a previous article, we even suggested that moving to the 365 model could be what catalyzes activist involvement or a buyout.
JANA has a great track record of getting companies sold and turning around projects. Usually, when an outside observer steps in to make the changes that management can't, things get done a little bit quicker. Because the activist investor has no emotional attachment to any specific staff or concept, but rather only to creating value for themselves and for other shareholders, it is usually easier for activists to force the difficult changes that management can sometimes be reluctant to put into place.
The question of lowering prices but keeping margin steady isn't a super difficult one any longer. It consists of going out and finding lower-priced wholesale product and keeping the price points consistent with better margin. Essentially, you have to almost fool the customer that what you're selling them is super special enough to be in Whole Foods, when in fact it may not be, even though it meets their organic, natural, gluten-free or other requirements.
The nice thing is that the organic, natural and gluten-free industry has exploded over the last couple of years. This means there is a far wider selection of product to choose from, even with wholesalers, than there has ever been. There has never been a time better than now to make strategic moves to your product lineup in order to keep margins healthy while having the consumer pay less.
Long story short, we believe JANA will be able to get some of the tasks done that management was previously unable to. If they can show that there is an effective turnaround and margins start to expand while customers come back to the store, we think Whole Foods can be afforded a multiple around 30x, which would put shares at about $40. Assuming a premium in a buyout scenario, we think WFM could easily sell for between $45 and $50.
Disclosure: I am/we are long WFM.
I wrote this article myself, and it expresses my own opinions. I am not receiving compensation for it (other than from Seeking Alpha). I have no business relationship with any company whose stock is mentioned in this article.