For those of us who are value investors, we are probably wondering if United Continental (NYSE:UAL) is a buy with all of the negative attention the company is receiving. A fellow was forcibly removed from a flight from Chicago to Louisville and the video has gone viral. The stock is down about 4%.
There are 330 million shares, the stock trades at $68.50, and the market cap is $22.6 billion. The stock does not pay a dividend. Earnings per share are $6.85 and the price-to-earnings ratio is 10. Not a bad valuation.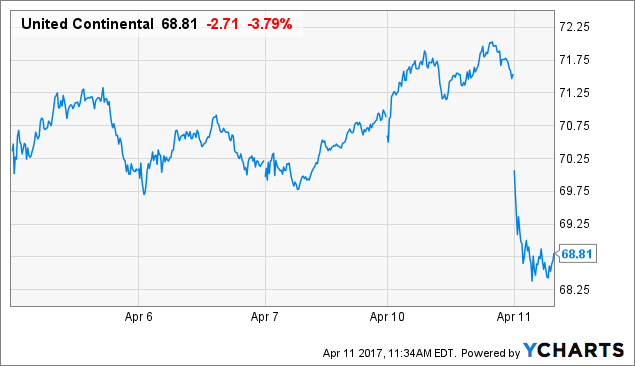 UAL Price data by YCharts
According to Morningstar, sales have shrunk from 2012 at $37.15 billion to $36.56 billion over the last twelve months. That's not a great sign. Earnings have grown from a loss of $720 million to $2.26 billion over that time frame. That's a nice increase. The operating margin last year was 12%.
What I do find interesting is that free cash flow was $2.32 billion. Based on a market cap of $22.6 billion, that's a free cash flow yield of 10%. If United can keep that up, the stock price will rise; with or without bone-headed decisions that management makes. The balance sheet shows $4.5 billion in cash and investments and $1.2 billion in receivables. The liability side shows $2.1 billion in payables and $10.8 billion in debt. Not a bad balance sheet. There is also a book value of $22.55 billion in aircraft and equipment. I wonder what the market value is. The debt is BB- rated by S&P. I'd agree with that rating.
United operates 4,500 flights a day to 339 cities. The company controlled 1,231 aircraft at the end of last year. Of that, 568 were owned, 416 leased, and 247 controlled by a regional carrier. The vast majority of aircraft are manufactured by Boeing (NYSE:BA).
A few years ago, I analyzed Spirit (NASDAQ:SAVE) and remembered a chart investor relations posted. It shows the costs per passenger mile. Of course, Spirit has the lowest costs at about 7¢. Along the chart, Southwest (NYSE:LUV) is 38% higher, JetBlue (NASDAQ:JBLU) 45% higher, American (NASDAQ:AAL) 81% higher, Delta (NYSE:DAL) 89% higher, and United was the most expensive at 115% higher.
Unlike Spirit, United is an old school airline. It has no gimmicks. You pay for a flight from point A to point B. It's not known for savings. United has set seats, unlike Southwest and others.
The stock has done pretty well. The 52-week low is $37.41 and high $76.80. In a Morningstar report that came out a few weeks ago, the analyst thinks that United trades is at the best valuation in the airline industry. The analyst stated, "We like United's new management team and believe that the turnaround story at the Chicago-based carrier has not yet played out." Which brings us to the present.
A man was dragged off a flight that was bound from Chicago to Louisville. Because the flight was overbooked, the staff randomly chose four passengers to take off the plane. The man in question refused because as a doctor, he needed to see patients the next day. What has added a wrinkle to the situation is that he is of Chinese descent and it is not playing out well in Asia.
The reason that the four seats were needed is that they were for crew members who were going to be flying out of Louisville the next day. Not a great reason. The big mistake United made was to take someone off the plane who was already boarded. If United had barred them from entering the plane, it wouldn't have been such a big deal.
CEO Oscar Munoz is making a horse's patoot out of himself by the way that he is handling the situation. He said that the passenger was disruptive and belligerent. The Chicago Aviation Department put one of the officers involved on leave. The video has been viewed a couple of hundred million times.
According to USA Today, the fellow who was removed, David Dao, has a checkered past. He studied medicine in Vietnam but was arrested for drug-related charges in 2003 while practicing pulmonary in Kentucky. The other passengers were outraged.
So, is the stock a buy on today's 4% drop? I'm not buying. The stock market is at an all-time high. Even though United's stock is cheap, it's predicated upon a strong economy. Oil prices have been co-operating too and they are tough to predict. I'm staying away but do like stocks that have pullbacks. This issue might be soon forgotten and the stock could rebound.
Disclosure: I/we have no positions in any stocks mentioned, and no plans to initiate any positions within the next 72 hours.
I wrote this article myself, and it expresses my own opinions. I am not receiving compensation for it (other than from Seeking Alpha). I have no business relationship with any company whose stock is mentioned in this article.