Smith-Midland (OTCQX:SMID) manufactures, transports, and installs a variety of precast concrete products, including concrete barriers, various concrete walls, manholes, and small buildings. The company also licenses certain products to other precast manufacturers for royalty income. The company does business primarily on the East Coast, with manufacturing plants in Virginia, North Carolina, and South Carolina. Additionally, the company has issued license agreements throughout the United States and in 8 foreign countries.
2016 was a tremendous year of accomplishments for Smith Midland. The financial metrics exploded upwards for the year. Earnings, sales, margins, equity, and cash all ballooned higher. Additionally the company increased manufacturing square footage from 52,000 square feet to 92,000 square feet with a third location, allowing access to a much larger geographical region. Investors have been rewarded with a large increase in stock price. A year ago, shares were trading around $2.40-$2.50. After the latest earnings release, shares hit new highs above $6.60.
2017 and beyond holds much promise for investors in Smith Midland. A stronger balance sheet will help fuel growth plans, including the possibility of a newer facility. The existing federal infrastructure bill still has 4 years left of spending and the federal government would like to add more to infrastructure spending. In this industry, Smith Midland is the most undiscovered and undervalued of the group, with strong tailwinds, high growth from top to bottom line, high backlog, and the intention to expand and capture additional market share.
There are some necessary disclaimers about Smith Midland. The company is a small microcap stock, with a market cap around $32 million. Daily share volume averages less than 11,000 shares traded per day. The company trades on the OTC market, but is current with all SEC filings. Lastly, there is no analyst coverage, which is typical of a company so small. These factors can lead to an illiquid market in the shares of the company, with radical swings in price and large spreads.
All data for this article is sourced from company SEC filings on Edgar unless otherwise linked.
The Balance Sheet And Income Statement - Past Success
In August of 2016 I wrote my first article on Smith Midland when the stock was $3.10 a share and second quarter 2016 earnings were recently released. I speculated a reasonable price for the company would be much higher, based on forward earnings of $0.50 per share and a reasonable growth rate over the next five years. Since then, the company has exceeded my expectations and now has trailing earnings of $0.56 per share and the stock has doubled to $6.20. Second half earnings increased 92% from $0.26 to $0.50 a share on a 23.4% increase in sales. Gross margins for the full year 2016 expanded to 25.8% from 24.3% the previous year and net margins increased from 3.6% to 7.1%. The chart of progress has certainly been up and to the right.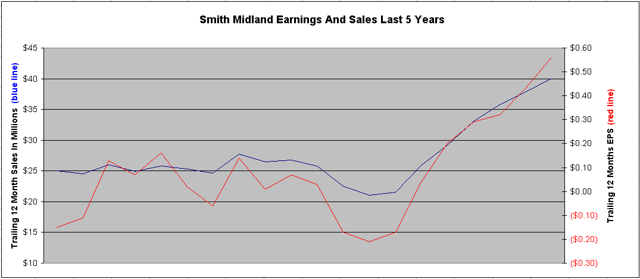 From a revenue and income perspective, the company had a really great year. This success has transferred over to the balance sheet. Equity increased by 25%, while cash increased 65%. Total liabilities increased 32%, with long-term bank debt increasing from $2 million to $3.3 million. The bank debt was used to acquire the company's third facility. The annual report mentions this facility is now profitable and adding significantly to the overall business. The most important part of the balance sheet was the increase in cash to $4.57 million. I will delve more into the importance of the increase in cash later in this article.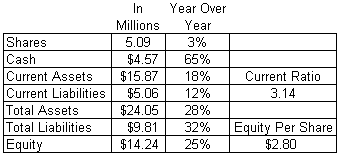 Industry Comparison - A Standout Among Peers
Smith Midland operates in an industry coming out of years of pain and looking forward to years of expansion. For many years federal funding had been piece meal, often only covering 3 to 6 months of funding. Last year the federal government began spending large amounts of money from a 5 year infrastructure spending bill. The benefits of this bill to infrastructure companies began to show up on income statements in the last half of calendar 2016. Below I have created a snapshot of some of the major industry players for a comparison.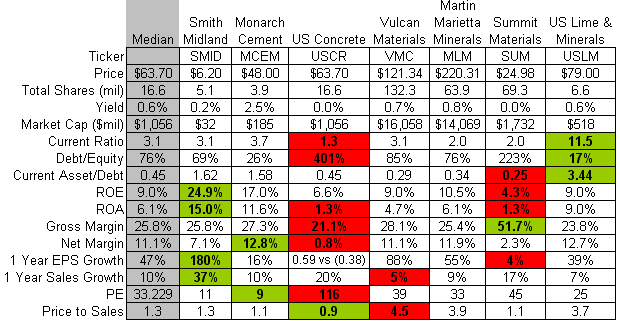 Smith Midland is leading the industry in growth for sales, earnings, ROA, and ROE. Looking at the growth metrics, the company far outpaces peers. Of course the company is also the smallest in this snapshot, which allows for an easy comparison in many metrics. US Lime & Minerals has the strongest balance sheet, while US Concrete has some poor numbers relative to peers. Overall if one is looking for the high growth, undervalued gem of the infrastructure industry, Smith Midland is the company growing faster than the rest.
Significant Tailwinds - A Promising Future
The balance sheet and income statements have improved significantly in the last two quarters and Smith Midland is clearly the growth leader in the industry. With this article, I certainly wanted to update the financial success of the company, as well as give a snapshot of the industry. But most importantly, I wanted to highlight the significant tailwinds for Smith Midland and then offer an updated view of a reasonable valuation.
The first tailwind is the most important driving factor for the infrastructure industry. Not only are there still 4 years left on the $305 billion in money allocated for surface infrastructure, but the newly elected President Trump has asked for a $1 trillion infrastructure bill. Granted, in politics there is a lot of negotiating and this number is likely to be much lower than the $1 trillion asked. I cannot speculate on the political process, but just assume Congress approves a similar sized bill for Trump as was approved for Obama. If the infrastructure bill is a mere $350 billion of the $1 trillion requested, the surface infrastructure industry would have more than twice as many funds allocated for federal spending. This would be a phenomenal amount of growth for the industry.
The second tailwind is backlog. From the company's recently filed 10k:
As of March 8, 2017 the Company's sales backlog of inventoried products and unbilled construction contracts was approximately $18 million as compared to approximately $12.9 million at approximately the same time in 2016. The increase in the backlog relates to the Company's continued emphasis on its proprietary product, Slenderwall™. A substantial majority of the projects relating to the sales backlog as of March 8, 2017 are scheduled to be billed, some through stored material, and shipped during 2017.
Backlog is up 39.5% year over year, despite such strong sales growth last year. This pace is greater than the 37% increase in sales for fiscal 2016. In the segment breakdown, management is still fairly optimistic additional contracts will be awarded across multiple segments. The company has two Slenderwall contracts represented in backlog, while two more contracts are in the final stages. Management mentions several very large multi-year Soundwall projects are up for bid and these contracts would also include barrier sales or rentals. Overall the segment breakdown reads fairly optimistic for 2017 and beyond.
The third tailwind is the most important driving force for Smith Midland's future and hence valuation. Investors were first tipped off to potential expansion plans with the special dividend press release in December. In this release, management states
Smith-Midland Corporation is in the process of evaluating its current requirements for purchasing new machinery, equipment and its need for additional physical facilities… Smith-Midland plans to preserve the majority of its cash balances in anticipation of capital purchases over the next 12 to 18 months.
When I viewed this press release, my big hope was the company would acquire new facilities and capture a bigger share of the federal infrastructure spending. True to management's goal, cash increased to $4.57 million at year end, a 65% year over year increase. The company outlines one potential use of cash in the latest 10k:
The Company is reviewing plans to purchase additional land in or around Reidsville, North Carolina and build a new facility as the current facility has little room to expand beyond its current size. The decision to expand the facility should be made during 2017.
The current North Carolina facility is only 8,000 square feet, compared to the other two company facilities of 40,000 and 44,000 square feet. This is exactly what I wanted to see the company do with the extra cash. Additional facilities will be needed to take advantage of not only the federal spending already in place, but also the potential federal infrastructure bill from the new federal leadership.
The industry is improving and Smith Midland leads the pack in growth. The company has strong backlog and a strong potential contract pipeline. Most importantly, the company is seeking to expand production capacity during the beginning stages of what should be a multi-year boom for the infrastructure industry. The future is bright for investors.
Risk Factors
Risk Factors are always present and must be mentioned. For starters, Smith Midland is a microcap company, unlisted, and trades very few shares a day. Insiders own 21.4% of shares and two large institutions combine to hold 25.5% of shares. Effectively 46.9% of the company is held by 3 groups. The market for shares is very illiquid.
The government remains both a driving force behind the company's growth and a high risk factor. The government can always alter the commitment to spending or chose not to pass additional spending bills in the future. Additionally, weather, availability of materials, competition, fraud, and a whole batch of the standard risks apply.
Determining A Fair Valuation.
My method for determining a fair valuation has not changed from my last article on Smith Midland. The valuations proved to be fair. First I want to look at 15 times forward earnings. With backlog up 39% and a strong order pipeline, a 35% increase in sales would be a good conservative rate of estimated growth. Margins should also expand with increased revenue, as evidenced by a near doubling of the net margin during 2016. All together I would expect earnings to be around $1.01 for fiscal 2017 based on the current information available. Multiply this by a forward PE of 15 to arrive at a valuation of $15 a share.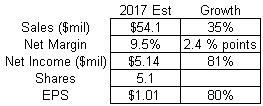 The second method usually comes in lower than the forward multiple of 15. Here I take the company's current equity per share and then add a reasonable five year projection of earnings. For this evaluation I project the company's growth to slow significantly, but with current federal spending and the potential of additional federal spending I nonetheless expect earnings to grow in each of the next five years. For this method I come up with a valuation of $11.26 a share.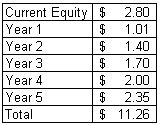 Neither valuation is a price target for the company's shares. Rather, if these methods produce significantly higher valuations than the current share price, then the company appears to be undervalued. By either measure the company is undervalued at $6.20 per share. Even if sales and earnings are much lower in 2017 than my projections, the company is still undervalued, especially relative to peers. The bigger names in the industry have PE ratios of 25 or higher, while Smith Midland currently trades around a PE of 11. Significant industry and company related tailwinds exist and the company is planning for a large expansion of the business. So far, this company remains relatively undiscovered, undervalued, and has the potential for another 100% or more upside in the course of the next year.
Disclosure: I am/we are long SMID.
I wrote this article myself, and it expresses my own opinions. I am not receiving compensation for it (other than from Seeking Alpha). I have no business relationship with any company whose stock is mentioned in this article.
Editor's Note: This article covers one or more stocks trading at less than $1 per share and/or with less than a $100 million market cap. Please be aware of the risks associated with these stocks.