In some of his few waking moments not spent pondering Micron Technology (NASDAQ:MU), this author is involved in defense. Now it seems that my two worlds may unfortunately be coming together with the news that the Carl Vinson strike group sailed from Singapore for the Sea of Japan on April 8.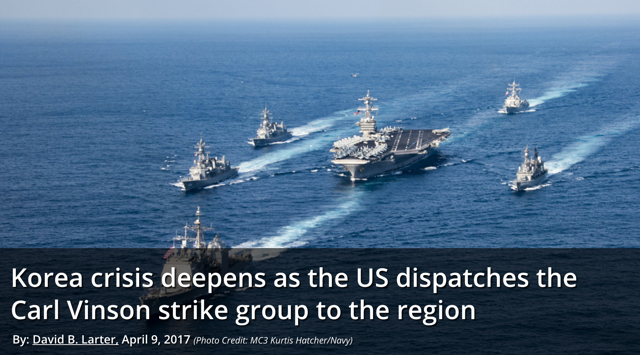 Also this link informs me that the distance from Singapore to the sea of Japan is 2459 nm. And we know the Vinson and support ships can do 25 knots. So figure strike group Vinson arrives in the Sea of Japan by this weekend.
Why do we care? We care since more than half the world's DRAM productive capacity lies within 100 miles of the Korean DMZ. And we care because the leader of the DPRK, Kim Jong Un, hates Samsung and once pondered bombing Austin, Texas, in order to destroy their fab there, as this 2013 article explained, picturing Austin on the map behind Kim: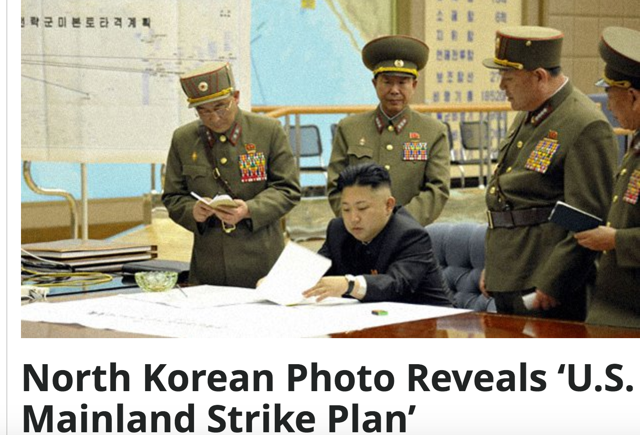 Not worried about North Korea's lousy missiles making this 6,899 mile trip? Neither am I.
OK how about this 491 mile flight from Pyongyang to Hiroshima to take out Micron's DRAM fab there?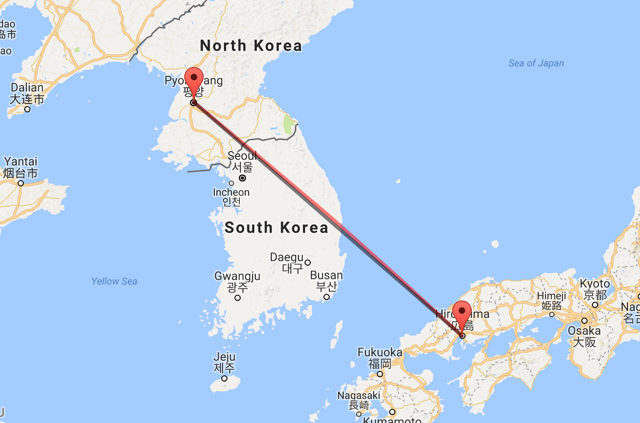 Or how about this 191 mile flight to SKHynix's (OTC:HXSCF) fabs in Cheongju?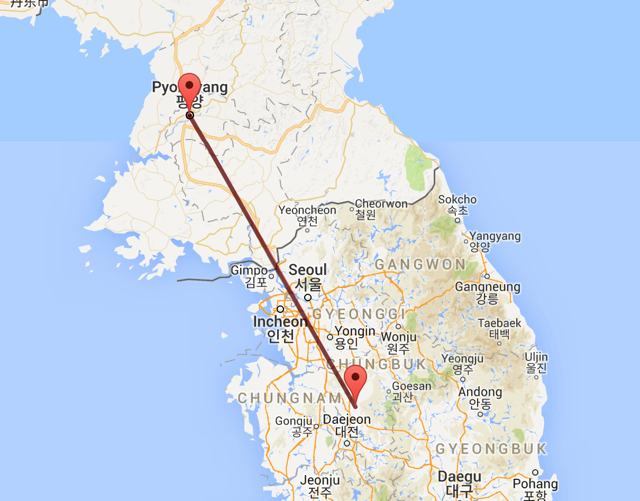 Or how about this 122 mile flight from Pyongyang to Samsung's (OTC:SSNLF) fabs in Hwaseong?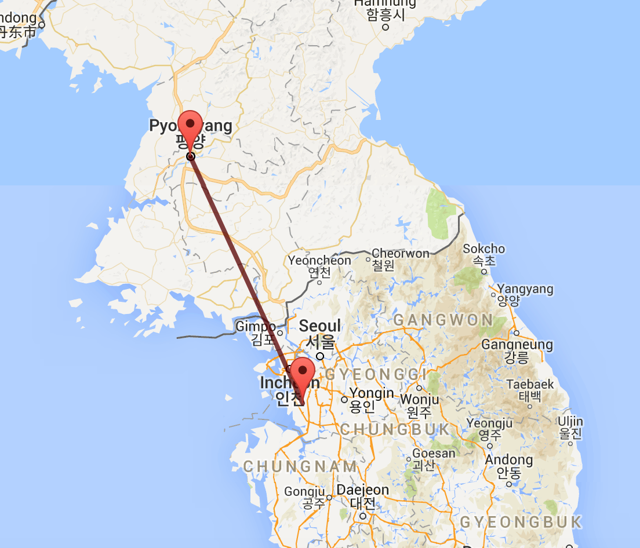 Yes, I understand Pyongyang may not be the launch site within North Korea but it is one of the few city names EP knows in the country.
The Carl Vinson strike group includes two guided missile destroyers of the Arleigh Burke class: USS Wayne E. Meyer (DDG 108) and USS Michael Murphy (DDG 112) and one guided missile cruiser from the Ticonderoga class: USS Lake Champlain (CG 57). They have a combined 300-plus missile tubes that are capable of launching Tomahawk missiles. And we know from recent events in Syria that Donald Trump likes Tomahawk diplomacy.
Also of concern is an article which appeared right after President Trump's sit down with China's leader President Xi Jinping. While this article and others like it have been widely dismissed as fake news, it had a certain ring of specificity mentioning specific units totaling 150,000 troops that it alleges China has moved to the North Korean border:
The core units that respond immediately to the drastic changes in North Korea are the 39th group and the 40th group, each of which has its headquarters in Yingkou and Jinzhou in Liaoning Province. The 39th group is a heavy army mechanized unit and the 40th group is the rapid reaction group
Conclusion. Too many of us, this author included, have been too concerned with CEO succession at Micron, chip costs, Toshiba (TOSBY) bidding and the like. It's good to step back once in a while and look at the big picture. The news of Chinese troop mobilizations to the DPRK border may be fake. But Kim Jong Un's missile and nuclear aspirations are very real. And so is the mobilization of strike group Carl Vinson and President Trump's recent fondness for the Tomahawk missile.
I very much hope that things don't go awry on the Korean Peninsula. But if they do, the best situated memory competitor, with fabs in Taiwan, Singapore, Japan and the US is Micron Technology. While there is much noise about whether Micron is still in the Toshiba bidding, and what is happening to chip pricing, I don't think I'd want to be short this name.
Disclosure: I am/we are long MU.
I wrote this article myself, and it expresses my own opinions. I am not receiving compensation for it (other than from Seeking Alpha). I have no business relationship with any company whose stock is mentioned in this article.
Editor's Note: This article discusses one or more securities that do not trade on a major U.S. exchange. Please be aware of the risks associated with these stocks.