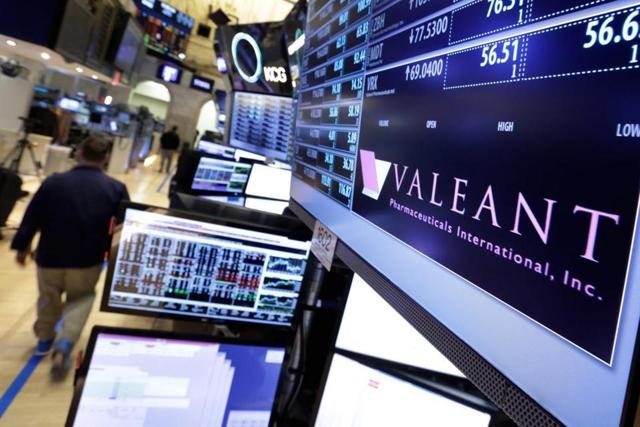 Valeant's (NYSE:VRX) stock has been boosted by M&A activity in the industry. Specifically, the German large-cap pharmaceutical firm, Fresenius (NYSE:FMS) is said to have agreed to purchase Akorn, Inc. (NASDAQ:AKRX).
This development is seen as good news for Valeant because a massive acquisition would probably be the best way for Valeant to escape its problems and for many shareholders to break even on the stock. Many investors are comforted to see that the healthcare industry still has the appetite for large deals going into 2017, especially, with political uncertainty surrounding Trump and pricing policies in the U.S market.
However, the rally in Valeant stock is unsubstantiated, and will probably reverse. We must put to rest the idea that Valeant is an attractive acquisition target.
Akorn and Valeant
On the surface, Akorn and Valeant have some striking similarities. Both companies are involved in the specialty healthcare space, and both have robust generic portfolios.
The most striking similarity, from an acquisition perspective, is in market cap. The equity value of both companies is very similar.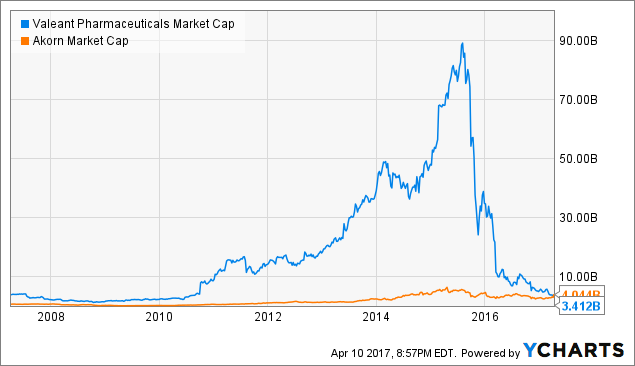 VRX Market Cap data by YCharts
However, that is where the similarities end. Acquisitions are not based on market cap alone. When you buy a company, you must buy its entire capital structure, and that means both its equity value and its debt.
For this reason, enterprise value is the most important metric for analyzing a potential acquisition. Because of its heavy debt load, Valeant's enterprise value is astronomical compared to Akorn's.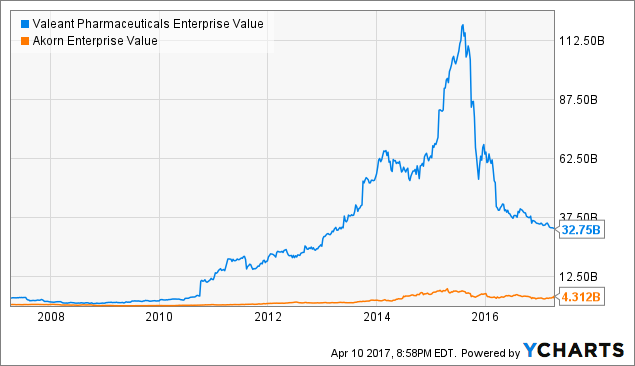 VRX Enterprise Value data by YCharts
And in terms of EBITDA multiples, Valeant is significantly more expensive than Acorn based on EV/EBITDA. Note: YCharts reports Valeant's EBITDA at $2.26b in contrast to the company's adjusted forward EBITDA of 3.5-3.7b for the FY2017.
Why No One Will Buy Valeant
Not only is Valeant expensive from an acquisition perspective, but it is also low quality in the eyes of many potential buyers. Pharmaceutical M&A is often driven by R&D investment and drug discovery capabilities.
Valeant, as a platform company, simply doesn't offer this kind of value. Many of Valeant's assets were purchased late in their life cycles, and the firm's portfolio is facing serious pressure from LOEs in its older drugs.
Granted, Valeant is not completely devoid of quality assets. The company has received buyout interest over its Salix, iNova and other businesses. Its generics portfolio and B&L may also generate M&A interest.
However, if Valeant sells its attractive assets, all that will be left is the dregs. And this won't necessarily make the company better off. We believe the only way M&A will benefit Valeant is if the entire company is sold. But as it stands, Valeant looks too expensive compared to the other options in the industry.
Conclusion
M&A activity in the pharmaceutical industry has boosted Valeant's stock. But the recent gains in the stock look likely to correct because Valeant is uniquely unsuitable as an acquisition.
Valeant's heavy debt load makes it enterprise value too high, and the business lacks the priceless R&D and drug discovery capabilities that we believe are the driving force behind most pharmaceutical acquisitions.
Valeant remains a stock that should be avoided.
Disclosure: I/we have no positions in any stocks mentioned, and no plans to initiate any positions within the next 72 hours.
I wrote this article myself, and it expresses my own opinions. I am not receiving compensation for it (other than from Seeking Alpha). I have no business relationship with any company whose stock is mentioned in this article.