The Tesla Inc. (NASDAQ:TSLA) short cover rally continues, and quite frankly, it does not surprise us. There was a disproportionate allocation of shorts. While some will label bulls "chasing after pixie dust, and fairy tales," there's a clear distinction when investing into TSLA, as opposed to the proverbial pump and dump.
Bears have rallied around the, "competition is coming argument." We believe there are flaws with this thesis. And, while many of you will rush to defend this thought paradigm, we believe alternate scenarios will emerge that deviate from what's currently expected by investors, analysts, and industry commentators.
As such, we have to weigh the possibility of industry consolidation as a result of new technology introductions, collusion among certain auto makers, and the likelihood of emerging auto OEM ecosystems. When defining the scope of competition, and the market positioning, we imagine an entirely different scenario than what's currently priced into shares.
Why does Tesla attract so much attention and such frothy multiples?
When compared to other industry disruption events, the automotive segment has the most compelling value-driven thesis for shareholders currently. According to Scotiabank, the auto industry is on track to sell 77.73 million new cars this year, globally. Though, there aren't reliable statistics on total market size (only volumes). We believe the TAM (total addressable market) hovers at $2.3 trillion or so, exact statistics are not available or are difficult to find.
We acknowledge that competing auto franchises will make compelling attempts at reinserting themselves into the BEV/autonomous race that's inclusive of phased-in ADAS features, and electric powertrain technologies & cost efficient lithium ion. The fact is, most auto franchises are not leading the pack, and that's where the opportunity lies.
It's not that Tesla has to maintain its number 1 position in BEVs, but whether it will remain relevant over a multi-decade time frame, which seems highly likely. We believe Tesla can concentrate on more than 10% of industry revenues in the upcoming tech disruption/auto cycle, which would amount to $230 billion+ in annual sales, which is contingent on Tesla ramping production to 7 million to 10 million vehicles by the year 2030 to 2035. The feasibility dynamics improve as we move through the Model 3 cycle, as we expect production ramp to be phased-in over multiple facilities that are geographically diversified.
We believe Tesla's investment into solar while ineffective now, helps diversify revenues from autos and into utility sales (where the market is less cyclical). This business unit, may at some point counterbalance the cyclical nature of auto sales, assuming Tesla's solar panels reach cost parity with fossil fuels in a reasonable time frame.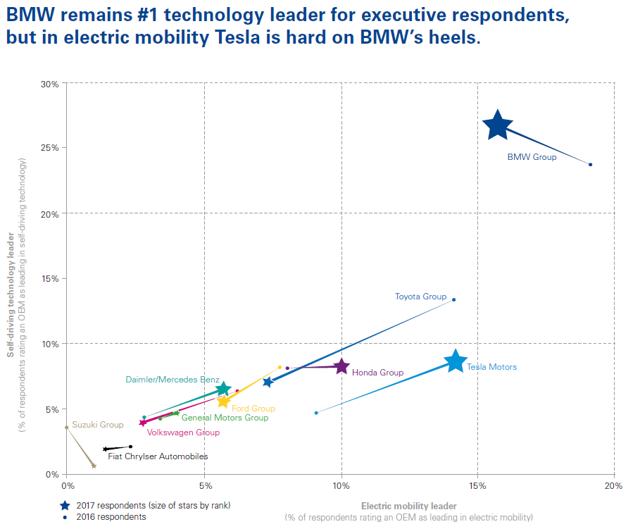 Source: KPMG Global Automotive Executive Survey 2017
We're not certain if legacy auto makers can transition their franchises towards a BEV-driven strategy in time, to mitigate further supply constraints for lithium-ion, and phased-in fuel efficiency targets from various developed markets. We believe the regulatory environment is not conducive enough to sustain earnings/free cash flow for the bottom quartile of the auto industry. As such, we expect competition to dwindle, as some have opted to harvest cash flows from pre-existing ICVs, as opposed to making the necessary investments to transition towards electric drivetrain or meaningful autonomous functionality.
In other words, every major tech disruption has a way of weaning out competing franchises, so even if TSLA weren't able to maintain its technological/battery lead, we'd never imagine the firm lagging so far behind the lead members of the pack, because it's making the necessary investments today, whereas competing franchises are looking to time a more appropriate entry.
Some auto executives believe Hydrogen Fuel Cell Electric Vehicles are the wave of the future, though we don't anticipate meaningful adoption of the technology absent of significant investment, and/or auto-industry push towards FCEVs. Furthermore, we believe the prospects of competing technologies have left legacy auto makers at a fork in the road, though we generally believe BEVs are more efficient, with range and charge times likely to improve prior to meaningful commercialization of FCEVs.
Barclays Analyst, Brian Johnson cites competitive risks diminishes upside prospects:
Price pressures for Tesla are likely. Even if Tesla can maintain a lead in battery cost, competing OEMs will likely have their own cost advantages given the better scale and efficiencies than Tesla. Moreover, other OEMs could very well use profits from other vehicle sales to subsidize losses on their EV products in an attempt to build share - which could lead to price pressure for Tesla.

Many of the key global OEMS have announced plans to expand in the EV space. We've certainly seen focus from the German Luxury Players - i.e. Daimler announcing that it would roll out 10 models under its EQ brand (with a 10 billion Euro investment). BMW expanding its I series, and VW aiming by 2025 to sell 1 million electric cars per year and be the market leader. But we've also seen focus from others, including GM and Ford.
Clearly, some will transition successfully, though we anticipate mounting losses/diminished CapEx efficiency to get there. The lagging auto makers will likely harvest the remainder of the ICV market as it winds down. Therefore, the competitive landscape still improves even in a scenario of Tesla not generating the highest volumes, though we can't rule out the possibility.
Hence, bulls are not anticipating Tesla to corner the entire auto market, but rather, the mass market strategy should be effective enough to get us to a point where we can anticipate measurable market share.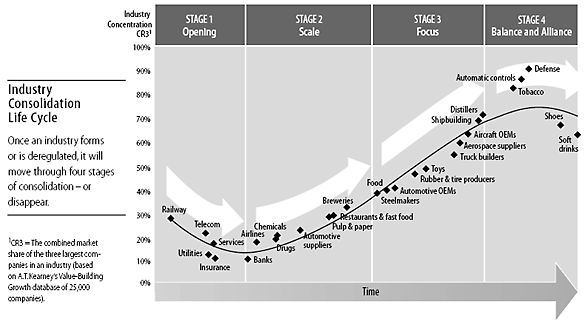 Source: Harvard Business Review
The diagram shows that we're reaching the later stages of industry consolidation when pertaining specifically to automotive OEMs, though the top-tier auto OEMs have measurable capital, and enough auto sales to absorb losses when pertaining to BEV investment and development of autonomous functionality.
The lagging cohorts will experience weakness in end-market demand for inferior products, and would have less retained sales/earnings to invest into progressive auto designs that incorporate features comparable to leading OEMs at price points that remain competitive. Hence, the lagging cohort would make a quick race to the bottom, as they compete on pricing as opposed to features. This would turn lagging ICV manufacturers into an even bigger commodity.
The path diverges for the industry, as some will thrive, and others will languish. The pattern of consolidation likely continues, which is fueled by technological disruption. Hence, we're confident that the competitive "bear" theory is incorrect, as it assumes the impact from new EV introductions impedes TSLA growth in FY'18. We believe that EV entrants are more likely to sell-in to the channel, and not have enough available capacity to meet end-market demand. We don't anticipate these trends to improve, or change given limitations on lithium ion capacity.
Therefore, the competitive argument is completely misapplied against Tesla Inc., as price competition assumes the BEV/Autonomous feature becomes a market wide commodity. We don't believe that will be the case whatsoever, as these features are more expensive to develop and sell to consumers. Hence, Tesla remains the most compelling investment in the space, as we believe automakers that can satiate high-end demand can then fuel investment to a point where economies of scale/manufacturing efficiency creates a path towards price disruption, and entry-level products priced below $20,000.
Furthermore, we don't expect meaningful defections, as auto consumers are more brand loyal. Therefore, once Tesla sells a car, we expect a decent chunk to be locked-in for multiple car purchases. So, the life time value of each customer should not be ignored. A car sold today implies repeat sales and increases to used car inventory. The increase in used Tesla car inventory would imply pricing of used fleets can compete with the introduction of cheaper/heavily subsidized cars from competing auto makers.
Therefore, we aren't convinced by the bearish investment thesis. Though, we can acknowledge competition, we're not convinced by the bearish narrative, because it assumes direct market share gains from Tesla, as opposed to further satiation of pre-existing demand for alternate fuels, and ADAS functionality. The market for more advanced features is huge, the capability at competing OEMs to meet end market demand isn't better than Tesla.
Furthermore, the available supply of affordable options remains non-existent. Unless you buy a BEV-Hybrid with extremely limited range, there's no real alternative to Tesla's high-performing BEVs, with reasonable range, and infrastructure to support the fleet.
Competing with Tesla isn't the most viable option
It's similar to the conundrum of tier-1 networks, as no individual ISP could fund the CapEx needed to supply quality wireline internet to every home back in the 1990s and 2000s. So, what happened? Well, they divided the necessary investment, and developed interconnection points that allowed access/distribution of data between (local) networks. Hence, the world wide web was a coordinated effort of ISPs linking local networks into network interconnection points, which created the underlying infrastructure of the global web.
No one's saying Tesla Inc. can corner the auto industry, but it certainly helps to own a large percentage of available battery production capacity, charging stations, and design patents. This first-mover advantage, paired with continued infrastructure investment increases the likelihood of maintaining and growing industry share.
Furthermore, it implies that the top-tier OEMs will look to partner-up on a unifying platform, which implies buy-in from other OEMs into Tesla's pre-existing battery ecosystem. There's really no economic incentive to operate in isolation. Therefore, we expect collaboration among willing auto makers that are looking to invest $10 billion+ into the development of ADAS, and BEV technology/ecosystem. Why operate in separate silos when a pooled investment into a similar drive train platform, charging infrastructure, and autonomous feature set is more likely to win?
Currently, BEV/ADAS research and development is done in isolation by auto OEMs, but it would not be surprising if licensing/cross-patent licensing were to occur among leading-edge auto makers. Tesla Inc. already opened up patents to competing automakers for its drivetrain technology in 2014, and it has resulted in much more BEV development from Mercedes (DDAIY), which is expected to transition towards a different drivetrain technology.
However, this followed Tesla's admission into the Charging Interface Initiative, which is a syndicated platform for developing more uniform charging stations. Though, it's a step in the right direction, the necessary investment into charging stations, and the distribution of rights to those stations among members is difficult to articulate, and does not confer advantages to those that invest early into the development of a syndicated charging platform.
Hence, open-ended collaboration sounds promising in theory, but in reality, there's not enough mutual incentive from the Charging Interface Initiative to drive meaningful investment into a consolidated charging platform. Hence, the 13 million Euro investment into European charging stations following the Charging Interface Initiative doesn't indicate substantial competition.
This pooled investment is small in comparison to TSLA's $72 million investment into supercharger stations in FY'16 alone (estimated), which ramps at 5% of total CapEx, according to prior management calls. Hence, one could easily imagine Tesla committing $2 billion+ into its charging infrastructure over the next five years.
One could argue Tesla is isolating itself, but from what I understand, there's too much overcrowding at current super charger stations, so making it available to other car makers would only worsen that trend; hence, there's hardly any economic incentive for Tesla Inc. to buy into competing ecosystems. But, TSLA always has the optionality of converting charging stations into a more common standard at a much later point once the ecosystem catches up, which is becoming increasingly less likely.
Tesla is retrofitting its facilities to V2, and V3 is expected to be way faster than the 350 KW charging output of European charging stations. Furthermore, Tesla has a way of subsidizing some of the cost via a metered system. The others haven't sold meaningful BEVs and have no way of scaling this investment without absorbing losses.
However, when determining economic incentives, there isn't a practical way of aligning automakers to invest into these facilities without retaining their economic rights to them. So, absent of open-collaboration with measurable economic overlap, we're not anticipating deployment of charging facilities that can match Tesla's current or projected super charger network over the next five to ten years.
Therefore, we'd imagine some competing automaker opting to develop a direct partnership with Tesla Inc. because its scale advantage has gotten to an extreme. The technological advantages of Tesla's charging, battery chemistry and power preservation features are only likely to improve. Hence, catching up with Tesla is a moving target rather than an absolute likelihood. Many have made the logical fallacy of comparing cars in development versus Tesla's pre-existing car fleet. We have no clue what Tesla's 2020 to 2025 car features will look like, and we doubt it will trail the competition.
The feasibility dynamics of beating Tesla's current cars, and then leapfrogging TSLA's development roadmap is exceedingly low. Furthermore, there's not enough economic incentive to operate in isolation from Tesla. Hence, we expect collaboration among key automakers that have technological patents to trade, infrastructure rights (charging stations) to merge, or overlapping drivetrain technology to reduce back-end procurement cost as a function of greater scale. There's more reasons to joint venture, or partner more directly with Tesla than there are reasons to compete head to head with them.
Should the competition leave investors worried?
Mercedes-Benz announced $11 billion in total BEV investment. Quite frankly, they're just barely keeping up with Tesla's deployment of capital into R&D, CapEx, and SG&A for BEVs, specifically. Though the efforts sound promising, the execution is still lacking. We can't comprehend the rationale behind Mercedes-Benz's adoption of separate ADAS functionality and its reliance upon a unified charging ecosystem in Europe when investment into those facilities have yet to scale up?
Furthermore, what happens when Tesla goes through its V3 charging station transition and Mercedes is operating on an already inferior charging network with no network scale, Mercedes would have to adopt Tesla's charging network, and would have to modify charging ports for its next car fleet.
Why is Mercedes taking this strategic risk? Out of incompetency, hence the market is so excited by strategic miss-execution seen across the entirety of the auto industry. Some automakers are actually stupid enough to build an entire ecosystem, or join loose coalitions of auto companies. The competing auto manufacturers need to invest into battery facilities, drivetrain technologies, and autonomous driving and collaborate more intensively on a unified strategy.
The efforts so far have earned a failing grade, hence the excitement in Tesla Inc., folks.
The competing automakers haven't deployed enough infrastructure, overcome ecosystem conflicts, and have not unified technological development via strategic joint ventures. Hence, the fear of an concentrated effort among automakers colluding to compete directly with Tesla seems less likely by the day.
Hence, we view the risk/reward favoring Tesla investors, as we don't anticipate a pattern of new car introductions taking meaningful share from Tesla Inc. given the market is underserved, and is propped up by regulatory pressure to transition towards cleaner fuels. Therefore, we instead expect a pattern of early entrants entering into the market. Upon entering into the market, they will look to strategically collaborate (likely with the industry leader), and will then take down the remaining automakers.
Keep in mind, automakers have spent decades taking share and disarming their opponents with better features, lavish marketing, and internal development. They're more prone to competing against each other before making a concentrated effort to attack Tesla directly. Furthermore, if an opportunity to jump onboard a collaborative partnership with Tesla were to emerge, we'd imagine buy-in from some of the major competing auto OEMs, eventually.
So, how would this affect Tesla investors?
Hence, we imagine a scenario of collaboration before direct competition, and we believe the BEV market is too supply-constrained even in a scenario of new cars entering the market in 2018. There's not enough battery supply to ramp meaningful volumes. Hence, the competitive efforts against Tesla are weak in isolation whereas collusion against Tesla Inc. is extremely unlikely given incentives aren't mutually aligned.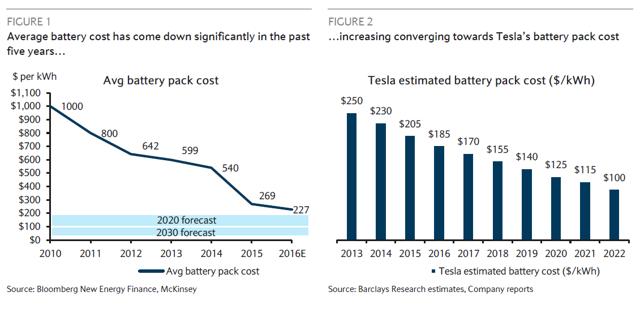 Source: Barclays PLC
Also, Tesla is on track to reduce battery pack costs, which reasserts the stance that some auto companies would be better off as co-conspirators rather than competitors. There are too many challenges to overcome all at once, and quite frankly, the likelihood of a later-entrant solving all these problems in isolation are slim to non-existent.
Therefore, we're anticipating at alternate scenario of further consolidation, or collaboration via joint venture agreements that funnel investment into a unified ecosystem of certain car brands against others.
So, it's more likely to amass into a territorial war among auto companies that join together (similar to the Android, Chrome, Windows, Windows Mobile, Linux, Unix, MacOS, iOS ecosystems). Eventually, the number of OEMs decline, and the number of segmented ecosystems diminish to perhaps 2 or 3 at most.
This is driven by differences in standards for charging, ADAS networks that communicate with each other (requiring some joint development), the need to further simplify the supply chain to remain cost competitive, and need for sustained R&D scale.
This neutralizes into either the high volume/low margin cohort, and the high margin/low volume cohort. We generally believe Tesla Inc., BMW (OTCPK:BMWYY), Daimler and Ford (NYSE:F) are most compatible in a collaborative sense, and will more quickly deploy investment thus commercializing BEVs and ADAS sooner than competitors. Furthermore, these advanced feature will sell at higher retail price points, thus creating enough room in margins to reinvest back into tech development.
This reasserts the likelihood that this part of the ecosystem will look to unify given similarity in features, price points, and intended market. This part of the ecosystem looks similar to iOS when measured by smartphones, which caters to the mid/high end of the auto market.
Whereas volume automakers like Volkswagen (OTCPK:VLKAY), Toyota (NYSE:TM), Honda (NYSE:HMC), Hyundai (OTCPK:HYMPY), GM (NYSE:GM), and etc. operate on scale and production efficiency. Hence, the volume car makers by definition have lower margins, and have less resources to invest into the pooled ecosystem of higher margin automakers. So, by definition, this part of the ecosystem may pool resources, but with less substantial features given discrepancies in R&D and charging infrastructure, and available lithium supply.
Furthermore, we believe there's more room for error among later entrants, as they would need to scale investment quicker, and would need to develop patents or cross-license with lower-tier automakers. So, we believe the volume automakers are at much greater risk of losing share and becoming irrelevant over time.
Final thoughts
I spent the entirety of this article discussing competitive threats, as it's the last pillar of logic from the bearish camp. However, at the current stage, we believe there's more room for collaboration among leading auto makers than direct competition.
The strategic overlap makes more practical sense, as separate automakers that operate in different ecosystems lack scale, and would only support the market leader with the highest installed base of BEVs, charging stations, battery production facilities.
We don't think Tesla monopolizes the entirety of the auto ecosystem, or BEVs for that matter. However, when auto OEMS operate in isolation, we don't believe Stage 5 autonomous technologies can be developed given the need for software uniformity. Furthermore, there's already too much segmentation in the product development roadmaps of different automakers with many struggling to launch an MVP (minimum viable product). Hence, we expect a path towards consolidation (heightened M&A activity) along with the announcement of more strategic joint ventures.
Given these dynamics, Tesla Inc. doesn't need to stay in the top spot in terms of BEV vehicle production/sales (though, it would be preferable). We believe Tesla Inc. can instead sell battery packs, cross-license patents, retrofit the supply chain to work across multiple vehicle brands (increasing production scale), and can pool R&D resources.
Given its disproportionate investment, and likely investment ramp exceeding that of its competitors, we're less concerned about the Tesla vs. (insert company name), and more interested in the collaborative path Tesla takes, as its pre-existing advantage paves a path towards developing its own ecosystem assuming it attracts the right OEM partners.
As such, we reiterate our $306 price target and buy recommendation. We will revise our price target and recommendation following earnings.
About Cho's Technology Research
Cho's Technology Research is SA's premier technology research package that gives investors and traders an additional edge when investing into tech companies. It's a trade publication, research service and an idea generator. It includes short-term trade ideas that yield 5%+, long-term small cap investment ideas that yield 25% This service comes at a low annual subscription cost of $20/month. The promotional price period will end soon! Subscribers get a free two-week trial upon checkout and can cancel at any point in time. For more information click here.
Disclosure: I/we have no positions in any stocks mentioned, and no plans to initiate any positions within the next 72 hours.
I wrote this article myself, and it expresses my own opinions. I am not receiving compensation for it (other than from Seeking Alpha). I have no business relationship with any company whose stock is mentioned in this article.