Financial markets are in flux as investors are now forced to reassess the changing political agendas that are being promoted by the Trump administration. But the reality is that these moves should only be viewed as the kindling for the larger rallies in energy markets that will almost certainly come as a result of improved infrastructure spending.
The short-term rallies in the United States Oil Fund (NYSEARCA:USO) are actually looking overextended in light of nearby historical resistance at $11.40. But longer-term traders should be viewing this as the first act in a broader bullish play that should unfold over the next few months.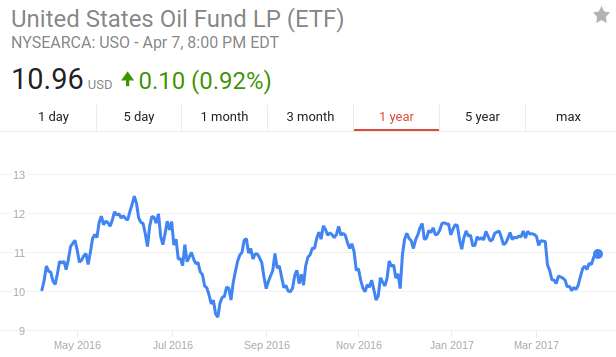 Over the past year, energy markets have been range bound and the USO ETF can be viewed as a primary indicator of this trend. Market assumptions that oil supply disruptions will come as a result of the latest tensions in the Middle East have brought short-term rallies from psychological support levels near $10. This is significant because it creates a triple bottom with the lows from September and October from last year, and these will be confirmed if we are able to break through the range to resistance at $11.40.
Many of the specifics in Trump's infrastructure spending programs have not yet been released, but we are already seeing evidence of a stronger base for growth in the U.S. economy. National consumer confidence numbers have reached levels that have not been seen in nearly 20 years.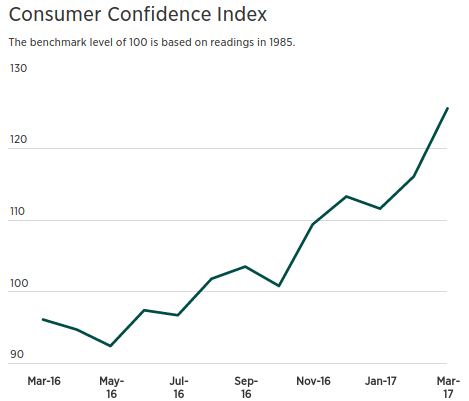 In the chart above, we can see that consumer sentiment is now back in pre-Sept. 11th territory and this is a massive development given the fact that those events made it very difficult for the market to gain much traction (for more than a decade). So when we combine these longer-term factors with the shorter-term factors now seen in the Middle East, we have a recipe for success that should solidly benefit instruments like USO.
When we are looking to establish positions in these areas, it is important avoid overlooking commonly traded stocks like Exxon Mobil Corp. (NYSE:XOM), which is still trading at extreme lows relative to the historical valuations. Higher oil prices will help sluggish corporate earnings and investors are paid to wait with the stock's elevated dividend yield (3.62%). So the options here are varied and dependent on the level of exposure you are looking to gain in assets tied to oil prices.
So while the events in Syria might look as though they have run their course, there is much more reason to believe that this is simply the start of a larger trend. Every fire needs some kindling, and the latest events should provide the spark needed for rallies later.
Disclosure: I/we have no positions in any stocks mentioned, and no plans to initiate any positions within the next 72 hours.
I wrote this article myself, and it expresses my own opinions. I am not receiving compensation for it (other than from Seeking Alpha). I have no business relationship with any company whose stock is mentioned in this article.