As usual, we will take a look at the contract totals for this fiscal year which started October 1, 2016. For those of you who are wondering where I get this information, the Department of Defense discloses their contract awards over $7 million at 5 pm EST right here. So far this FY the totals are as follows:
If you care to look at last week's totals, you'll see not much has changed. I often get asked why I track the companies I do. I feel these eight companies offer a good picture of the current state of the industry. They are the industry leaders, by and large, and provide a great pulse for the smaller firms. When one of them gets a large contract it often benefits many smaller contractors who provide parts, services, and support. A great example is the F-35 JSF program led by Lockheed. About the only company up there that doesn't have a hand in the JSF is Boeing, but wherever the JSF fails Boeing can gain with their F-18 as we have often seen. These are also all US based firms, with the exception of UK-based BAE (which is treated like a US contractor by the DoD), and the US spends the most on weapons than anybody else so this is where the money typically goes.
Significant Contracts
Raytheon was awarded a nearly $60 million contract for their Multi-Object Kill Vehicle. This space-based weapon is designed to kill multiple objects in space. The company and DoD are vague in what it is intended to kill but ICBMs and enemy satellites are likely the objects in mind.
Leidos (LDOS) will share a $900 million contract with two other contractors for technical services and field support for Product Office Tactical Unmanned Aircraft Systems.
Weekly Performance
The defense sector had a solid week thanks to missiles being fired at Syria.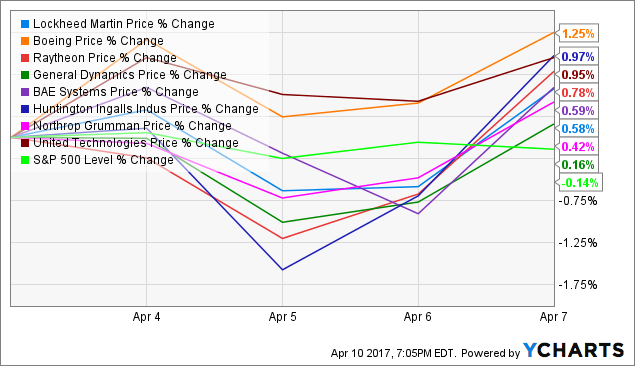 LMT data by YCharts
While the gains are tenuous, the investing world was reminded that the world we live in is dangerous. I'm one to argue that the world is actually much more peaceful than it ever has been but I'll take the unrealized gains showing up in my portfolio anyway. Raytheon, one of my favorite defense companies, saw some crazy pre-market interest on Friday because we fired $70 million worth of missiles they manufacture at Syria. At one point, $1.3 billion in market cap was added to the company. I say this to remind investors that they should approach some of these runs with caution. Even amidst the promise of increased spending on our defense, it takes years for that to reach the bottom line and I question the resolve of investors to maintain these lofty valuations until that happens.
When Bombs Get Dropped
This week I wanted to take a look at what happens to these companies when the US is engaged by or engages its enemies. I'll be going back to the USS Cole attack and going over September 11, the US invasion of Iraq, and when Osama bin Laden was killed. I will be using the day before the event and the 30 days following. Through this exercise, we can hopefully glean some useful information from how the market reacted and continued to react to the changing geopolitical landscape. Investors are welcome to build their own narratives to what the market was thinking as it moved prices up and down. Keep in mind not all the companies we follow today were being traded at the time of the incidents.
USS Cole
The USS Cole is a US Navy guided missile destroyer that was attacked by two suicide bombers on October 12th, 2000. The bombers were piloting a small explosive-laden watercraft and struck as the ship was moored off the coast of Yemen undergoing routine refueling. The blast killed 17 sailors and was a violent reminder to the United States that terrorists were not our friends.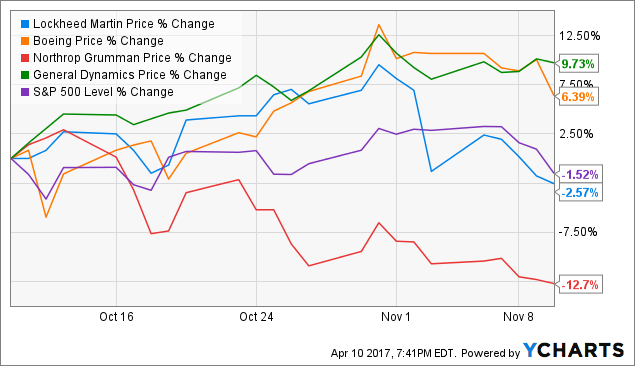 LMT data by YCharts
We can see that Lockheed, General Dynamics, and Northrop all saw small pops after the incident while Boeing dropped sharply along with the S&P 500. Gains increased for some time then mostly fell back down, with Northrop suffering an almost 13% drop over the next month.
September 11th, 2001
This day requires little introduction. It is the day our own nation's aircraft were hijacked and used as giant missiles to bring down the Twin Towers, hit the Pentagon, and thankfully crash in an empty field. Thousands died and the world was forever changed. We all remember where we were when the towers were hit, and we all remember how we felt.
LMT data by YCharts
Once again Boeing got hit swiftly amidst the turmoil, but the S&P was surprisingly resilient. Defense saw large gains in the next 30 days as war seemed imminent. Boeing stayed depressed, likely because people assumed their commercial airline sales would suffer.
The Iraq Invasion
Another one of those events many of us remember, on 20 March, 2003, the US and their allies invaded Iraq to topple Saddam Hussein and secure weapons of mass destruction we feared the dictator possessed. I recall watching the 24 hours news of the "Shock and Awe" campaign as we ripped apart Iraqi defenses with cruise missiles, stealth aircraft strikes, and other forms of incredible destruction.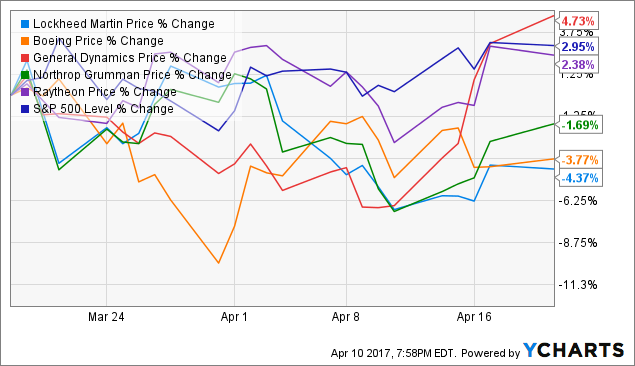 LMT data by YCharts
The volatility is incredible. Once again, Boeing gets rocked right out of the gate and underperforms basically everybody for the next 30 days. Investors would assume that sustained combat operations would be bullish for the defense sector but that doesn't appear to be the case. At least not immediately. We were dropping ordnance on Iraq around the clock and some of the biggest bomb-makers failed to move meaningfully, with only General Dynamics beating the S&P.
"We Got Him"
Osama bin Laden, the terrorist financier, and 9/11 mastermind, was killed by Navy SEALs on May 2, 2011, in a raid on his compound in Abbottabad, Pakistan. This was an important event for many reasons and a huge strike against al Qaeda.
>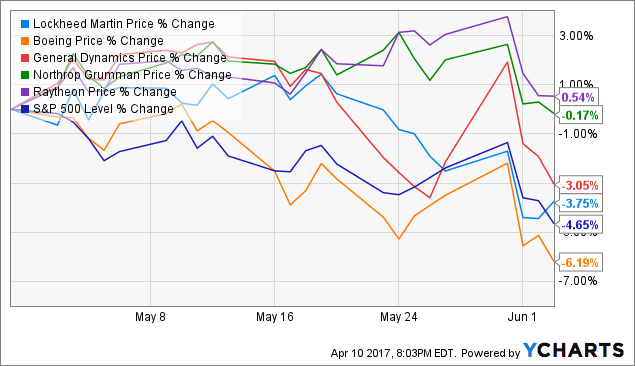 LMT data by YCharts
Another month with considerable volatility. This event I remember well and there was a discussion that now that bin Laden was killed our "War on Terror" would wind down. This was also around the time that Sequestration was creeping into the discussion and the wars in Iraq and Afghanistan were winding down. Again, Boeing did pretty poorly here.
So What?
All this is to just simply remember that the market does what the market does, and making purchases because of X or Y doesn't always guarantee returns. Trading on the news doesn't usually work out for most. This last chart should help us see the market a little clearer.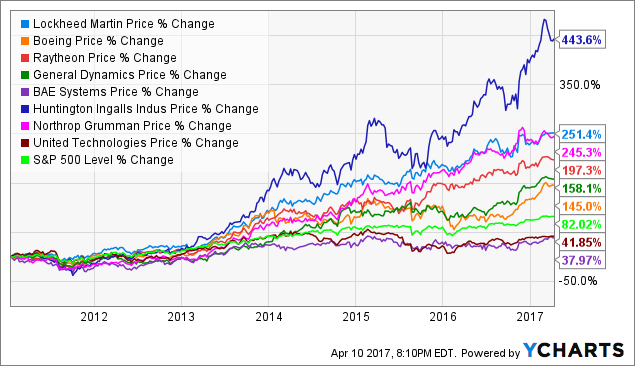 LMT data by YCharts
This chart shows the price increases from before the USS Cole attack to today. Only United Tech and BAE underperformed the S&P 500. Huntington Ingalls has slain the market increasing over 440% during this time. This goes to show us that short-term market movements mean little over the long term and investors who can be patient and see through the noise will be rewarded. This sector is a strong sector worthy of investment and short term movements because of news wash out over time.
In Other News
Iran is starting to get loud about Syria and our Tomahawk strikes. Make no mistake that Iran hates us and is our biggest threat in the region.
The battle is still raging for Mosul in Iraq as Daesh struggles to hold onto their last major holding in the country.
Don't forget about Duterte and the Philipines as their elected leader plays a bigger role in international relations.
On Seeking Alpha
Mycroft Freidrich dives into Lockheed Martin in an exceptional article.
Timothy Gornall covers both Tetra Tech (TTEK) and Orbital ATK (OA) making the case for investments in both.
Victor Dergunov gives us another look at Raytheon.
Dheiring Bechai, in his continuously top-notch coverage of Boeing and the aerospace sector, gives a great review of the company and what impacted them in March.
David Pinsen, using Portfolio Armor, covers Raytheon and offers investors some smart ways to hedge against a drop.
The Coming Week
Not much to say here but watching Syria will be important. I'm more concerned with Iran and how they will react. Also, North Korea and China will likely be interested to see how President Trump behaves in the coming weeks. Everyone is likely well aware that Secretary of Defense Mattis isn't one to trifle with.
My apologies for the later releases of this series. I've been working on other things, related and unrelated to this work, and shortly should be able to resume regular Monday morning releases.
I appreciate you reading. Please leave your thoughts and questions in the comments. If you don't already follow me and would like to receive the weekly updates on this sector along with my other posts, please hit "follow."
Disclosure: I am/we are long RTN, BAESY.
I wrote this article myself, and it expresses my own opinions. I am not receiving compensation for it (other than from Seeking Alpha). I have no business relationship with any company whose stock is mentioned in this article.
Editor's Note: This article discusses one or more securities that do not trade on a major U.S. exchange. Please be aware of the risks associated with these stocks.