The Case-Shiller Home Price Index came in last month with a 5.7% increase year-over-year. Various markets around the nation. are considered "hot". There has not been much of an abatement in the growth of the real estate sector over the past several months. Given the price index increases I expect we will continue to see larger gains in the real estate numbers due out over the next two weeks and with that real estate ETFs and the sector on a whole will continue to increase.
This is what was said when the Case-Shiller Index was released earlier:
"The S&P CoreLogic Case-Shiller composite index of 20 metropolitan areas in the US rose 5.7 percent year-on-year in January of 2017, following a downwardly revised 5.5 percent increase in the previous month. It is the biggest gain since July of 2017, beating market expectations of a 5.6 percent gain. Prices in Seattle rose the most (11.3 percent), followed by Portland (9.7 percent) and Denver (9.2 percent). On a monthly basis, prices increased 0.2 percent, easing from a 0.3 percent rise in December. Meanwhile, the national index, covering all nine US census divisions jumped 5.9 percent from the previous year and 0.2 percent on the month".
You can start to see a growing trajectory after stabilizing over the past year in the index itself: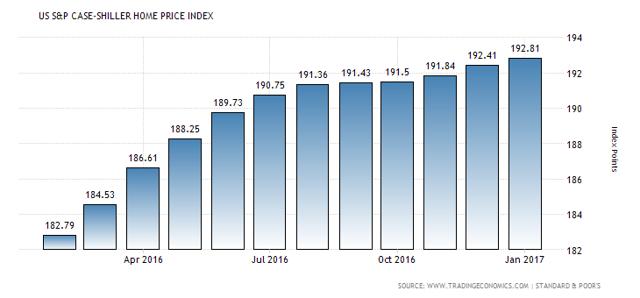 The August, September and October numbers tend to be slower for real estate and those numbers flattened out for the nation. Now, the trajectory for real estate prices is resuming its upward trajectory. I expect this rate to grow more; the year-over-year number was 5.7% and I can see this topping over 6.0% before summer hits.
I have been bullish on the real estate sector for some months now. One of the biggest reasons is that as this economy expands, and the rate of expansion increases, all of the Federal Reserve's balance sheet will kick in more and more with loans for mortgages and construction spending. Keep in mind that the Fed increased their balance sheet from $800 billion to $4.5 trillion in short order during the financial crises.
The Fed is going to have a fun time removing the policy accommodation they provided for the economy back then. I have full faith in the Fed that they will do a solid job of normalizing the balance sheet and interest rates.
The problem is that, and this may be a headwind for the real estate sector, that by removing the policy accommodation, just as it provided further liquidity for the markets during the financial crisis, will serve to restrict the economy when they adjust the size of their balance sheet.
There are two other concerns I have with respect to the real estate market going forward. I am a big believer that the Republican Party will not be able to deliver the much needed tax stimulus that the country, and by consequence the equity market, badly needs. There is going to be a stock market sell off from this.
However, I do not see this curtailing the real estate market over the long haul as I believe that the current economic landscape dictates that that the economy would advance fully on its own if the government's promises would not get in the way. Incomes are increasing and we are seeing expenditures for bigger items like new homes, increasing.
On Friday the economy received non-farm payrolls and that was a low number. I see that as a one-off, but if the equity market sells off sharply it may dent confidence.
Nonetheless, the economy will get there. And, housing, given the balance sheet from the Federal Reserve, along with other inflationary pressures will be going higher.
Here is a look at the trajectory for the building permits and new homes sales chart: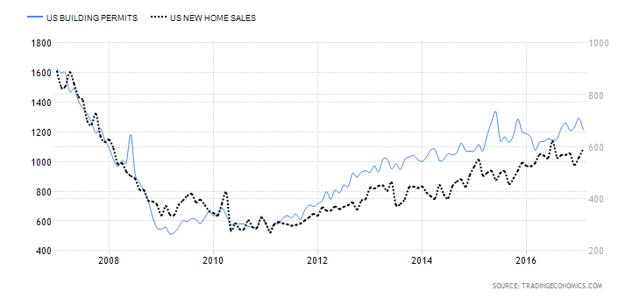 This pace and level are healthy and growing. The country is still way below the pre-crisis levels for new homes and building permits. That is definitely a good thing. The Fed is going to have to marry removing its balance sheet along with raising short term interest rates. Those two tasks do not exactly balance themselves. They do the same thing.
So, if the Fed continues to raise interest rates and remove their balance sheet then there is further impetus for someone to purchase a home. As interest rates go higher the cost of buying a home effectively goes up. That will act as an incentive for someone to get into a home.
I expect this month's real estate economic data to continue to firm. New home's sales jumped a bit, and I do not think that is a one-off. However, I also do not think this month's number is going to heavily top last month's release.
Last month's new homes sales came in at 592 and I expect a number above the 575 level, if not higher. Existing homes sales came in slightly below the 5,500 level and I expect that to be topped.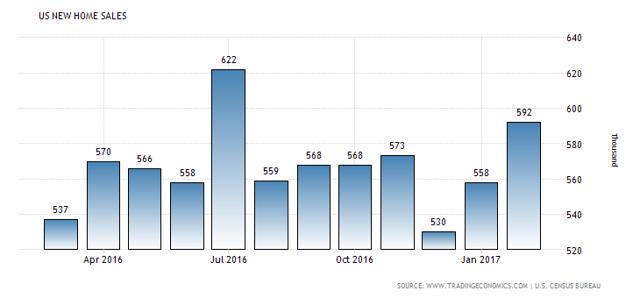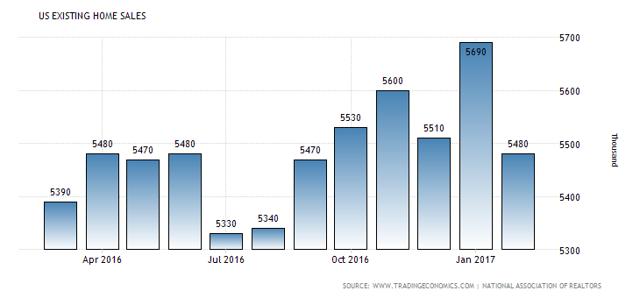 There is a lot of potential for our real estate market going forward. I just hope the government does not get in the way. In the meantime, the real estate sector is increasing along with ETFs and REITs. There are a lot of opportunities in these sectors on a whole. This would be a solid time to get into them. This month's data will help me reiterate this call.
Disclosure: I/we have no positions in any stocks mentioned, and no plans to initiate any positions within the next 72 hours.
I wrote this article myself, and it expresses my own opinions. I am not receiving compensation for it (other than from Seeking Alpha). I have no business relationship with any company whose stock is mentioned in this article.