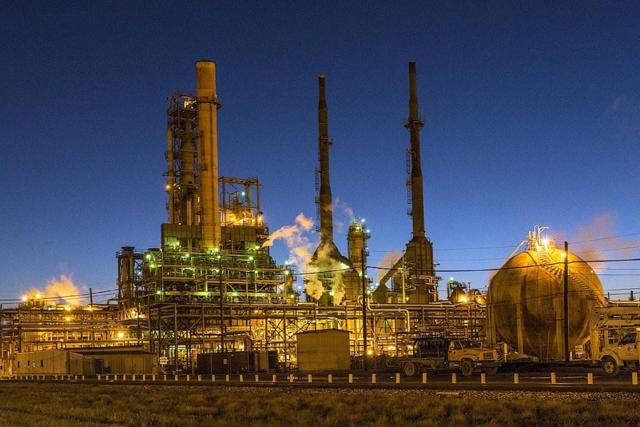 Source: Stock Photo
Libya has once again stopped its loadings at the Sharara oil field, declaring force majeure the Zawiya terminal. Sharara was producing 200,000 barrels per day before the shut down.
Of the various geopolitical situation in play, or potentially in play, as they related to oil, Libya has by far the most impact on the market, and is alone, the most likely to continue to be unpredictable.
At this time I think investors should consider Libya the on-again, off-again producer it has become, and reduce the higher end of its projections for the remainder of the year. Among the publicly traded companies directly affected are Repsol SA (OTCQX:REPYY), Total SA (NYSE:TOT), OMV AG (OTCPK:OMVKY) and Statoil ASA (NYSE:STO).
The Sharara oil field had been producing 220 barrels per day, and has full capacity to produce 330,000 barrels per day.
As for the escalating U.S. involvement in Syria, the concern there is if were to spread to other countries and end up removing oil from the market. This would obviously support the price of oil, and at least cause it to jump.
I don't see that happening, but it at least has to be taken into consideration. Taken together, I don't think this will last for a long time in either case.
2017 outlook for Libya
The problem with Libya, beyond the obvious disruptions from militants, is it is becoming hard to project its production rate through 2017.
If everything were to go on uninterrupted, it had a goal of increasing production to 900,000, with the goal of reaching 1.1 million barrels per day by the end of the year.
Now even if it were to boost production, it has been a two-steps forward, one step back situation, and that means it raises production nicely for a short period of time, and then loses much of what it gains not long afterward. Even if it were to reach its stated goal by the end of the year, it's becoming harder to believe it'll be on an even basis.
Libya still remains a growth story for oil supply, but it's now apparent it'll come in stages of growth and decline for much of this year, resulting in a gradual increase, but one that on average may produce less oil than hoped for.
The problem is it's unclear how the government can finally rein in and placate all the factions in the country, bringing stability to its production levels.
Just last week the Sharara field was shuttered for the first time, reopening after an agreement between the militants and NOC chairman Mustfafa Sanalla.
A new group has also emerged in eastern Libya which has said it may block oil from being transferred for the two largest fields in that part of the country. Combined, output from them is about 170,000 barrels per day of crude.
If government of Libya and NOC don't get a grip on the situation, it will be a major positive catalyst for the price of oil.
Effect on oil
While I haven't been overly relying on the boost in Libyan oil to make my oil price projections for 2017, I have factored it in some for my generally bearish outlook, when adding it together with U.S. shale, Canadian and Brazilian output increases.
As mentioned above, if Libya loses possibly up to half of its existing production, even if it's able to solve the issues at hand, it'll take time, and that means a lot less oil coming to market than expected over the next several months at least.
If between 300,000 to 400,000 barrels of crude per day are halted, even the robust increase in supply from those producers outside of OPEC and non-OPEC participants in the output cut deal, won't be able to offset nearly as much as had been expected.
A geopolitical event has always been the caveat for oil remaining under pressure, and it appears the Libyan problem isn't going to be solved in the near term.
If it is solved, than after a month or so the country will resume quickly ramping up production and for the remainder of the year will be an offsetting factor for the current bullish outlook. If not, oil prices will probably reach the upper side of the projection of about $60 per barrel. Assuming OPEC and others extend the current production agreement, it could even test the $70 per barrel mark, although I don't think it could hold there for a prolonged period of time.
Fundamentals
The good news for all of this is upstream oil companies will outperform prior projections based solely on fundamentals. The market shouldn't make long-term decisions based upon geopolitical events, but for those investors looking a quick play, it has provided an opportunity that didn't exist recently.
This doesn't mean oil won't pull back, but it does mean over the next month, or possibly two, we can count on the price of oil finding support it didn't have before. Brent could push into the low $60s.
Low-cost shale producers like EOG Resources (NYSE:EOG) should do very well, as it was close to turning a profit even under the existing oil price environment. Others will too. What's interesting will be how it plays out for those that had hedged, and those that didn't. Those that didn't, in the short term, may come out better, depending upon how much support oil gets from the Libyan crisis and how long the disruption lasts. It'll also depend upon how much the percentage of production specific companies have hedged.
None of this changes the fundamentals of the market, which remain in place, but it definitely potentially changes the amount of support oil will get in the next couple of months. It also appears to be giving OPEC in particular some breathing room in making the decision to extend or not, meaning the pressure isn't on them directly as it has been recently.
Conclusion
Even though there is a lot of risk in the Middle East in regard to U.S. involvement in Syria, it appears to be more predictable, considering the stakes involved.
In Libya, the militants are a much different type of combatant, and as they form and reform, are highly unpredictable; not only in what they do, but in the degree of cooperation they'll agree to with NOC and the government.
Things are further disintegrating in Libya, which means a lot less visibility or predictability in that market. With investors believing it would add another 400,000 barrels per day by the end of 2017, it has definitely changed that outlook - at least in my view.
Bulls do have to be careful though because it's possible the country could stabilize and oil start to consistently flow in the country. It's getting increasingly unlikely that is how it'll play out, but it's definitely a probability.
If I start to see starts and stops going forward, it would suggest to me the ability of the Libyan government to negotiate or deal with the militants is weakening, which will further strengthen their hands and embolden them to shut down oil even further.
However this plays out, unless something happens quickly to stabilize the oil fields and pipelines in Libya, it will supply a lot less oil to the market than estimated. That means, under the worst-case-scenario, the price of oil will also be higher for 2017. The odds of that happening are increasing daily.
This has created a good short-term play for oil, but further out it still requires caution because the longevity of the disruption isn't clear yet.
Disclosure: I/we have no positions in any stocks mentioned, and no plans to initiate any positions within the next 72 hours.
I wrote this article myself, and it expresses my own opinions. I am not receiving compensation for it (other than from Seeking Alpha). I have no business relationship with any company whose stock is mentioned in this article.
Editor's Note: This article discusses one or more securities that do not trade on a major U.S. exchange. Please be aware of the risks associated with these stocks.