We strongly believe that a tech savvy and innovative company like Amazon (NASDAQ:AMZN) will turn the tables in favor of investors (apart from the customers, which are now the priority for Amazon), but this is not going to happen soon.
For long, Amazon has been known not only for trying things differently (innovation), but also for trying different things (diversification).
The vision statement for Amazon is:
Our vision is to be earth's most customer-centric company; to build a place where people can come to find and discover anything they might want to buy online.
To show the commitment towards its vision, Amazon is doing heavy investments in new technologies, and services.
Revenue Analysis:
AWS revenue increased by 47% to $14 billion. The services offered by Amazon are the fastest growing part of the organization.
Amazon's own product sales increase slowed to 15%, likely in line with global online expansion. Expansion is in newer categories, such as grocery and clothing. The overall slowdown is due to increased competition in Media-Electronics market.
Amazon's North America unit accounts for 59% of revenue, International 32%.
AWS (Amazon Web Services) at 9% is about double its 1Q 2014 proportion. Product Revenue is 70% of the total, and Non-AWS Services 21%.
By merchandise category, electronics, and general merchandise is 72% of revenue, and media 18%.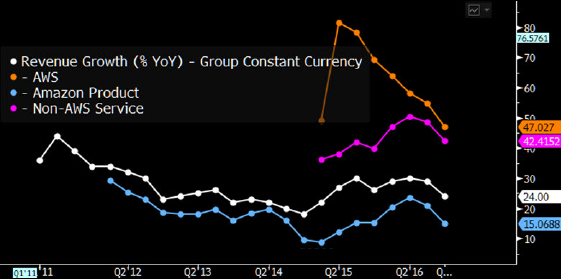 Source: Bloomberg
Margin Analysis:
Amazon Web Services' wide margin is attracting competitors, so the Dec. 1, 2016 price cut eased margin, which is likely to continue this year. Facility expansion broadens the customer base. Net shipping (6.6%) and marketing (5.7%) costs reached new highs as a percentage of relevant 4Q revenue, suggesting that online competition is increasing as legacy retailers build digital capability.
The International unit margin still trails, weighed down by heavy investment in India, a Fulfillment by Amazon-only market. AWS (Amazon Web Services) accounted for 74% of operating profit, with North American Retail generating another 56%. International retail losses, where India has seen significant revenue investment, were negative 30% of the total.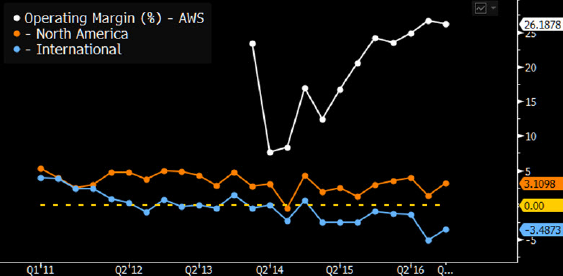 Source: Bloomberg
Earnings Review:
The foreign exchange adjusted revenue growth remained healthy on an absolute basis.
Amazon's overall paid units may have been impacted by a mix shift between third-party sales that do not use Amazon warehouses and shipments through the Amazon Fulfilled Network. Currency effects and the lapping of an extra day from 2016's leap year would lower first quarter sales 400 basis points, driving guidance below expectations, the company said.
Prime membership expansion and the services growth continue to support the company's growth opportunities.
The company's investments in 2017 are mainly focused on increasing capacity internationally, and developing content for Amazon Prime Video.
Amazon's Ad Sales:
Amazon's Ad Sales may provide a boost to its retail division's operating income. As Prime membership expands and more commerce flows through the site, ad placement in searches will see more demand. Competitive conditions, driven by fulfillment by Amazon adoption and Amazon private-label offerings will provide gains in ad sales.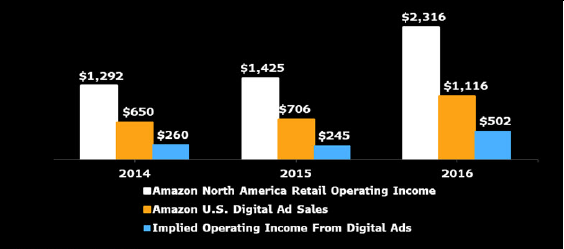 Source: Company Filings
Amazon Prime Membership Continues To Grow
A host of Amazon services bolsters Alexa's competitive advantages over Apple's (NASDAQ:AAPL) Siri, Samsung's (OTC:SSNLF) Viv and Google Assistant. Amazon's integration of its digital assistant, Alexa, with its restaurant delivery service for Prime members helps increase consumer touch points for acquiring and retaining those members longer term. Expanding the service may boost the value proposition for Alexa, which saw a rapid rise in consumer product integration at CES 2017.
The strategy adds to free shipping, video, music, and Amazon Dash offerings, which may all eventually be integrated into its digital assistant and spur Alexa adoption by other companies.
CIRP estimates U.S. Prime memberships crossed 65 million as of October. Amazon Prime members spend much more than non-Prime. Amazon Restaurants is available in 20 U.S. cities.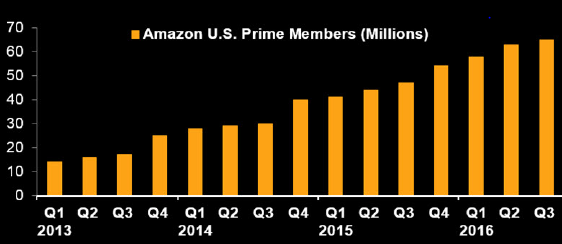 Source: CIRP
Amazon Web Services
Infrastructure-as-a-service spending is projected to grow at a 30% compound annual rate in 2016-20 to more than $72 billion, according to Gartner. Amazon.com's cloud can still expand amid rising competition, given demand continues to surge.
Microsoft (NASDAQ: MSFT) and Google (NASDAQ: GOOG) (NASDAQ:GOOGL) are gearing up services to compete with Amazon, yet the e-commerce giant's 2016 cloud revenue of $12.2 billion is ahead of the competition due to the company's early-mover advantage. Google is pitching artificial intelligence as a key differentiator to accelerate its cloud adoption, while Microsoft sees its longstanding enterprise relationships as a unique selling proposition. Amazon Web Services sales grew 55% in 2016, while profit surged 106%. Cloud accounted for 74% of Amazon's operating income and 9% of sales in 2016.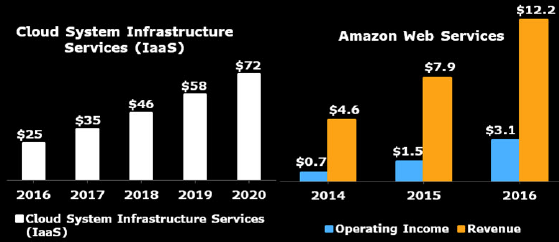 Source: Gartner
Amazon, Google Target Voice Interface:
Google Home is more focused on entertainment in the near term, with a longer-term goal of extending into home-device control. Amazon's Echo works with other smart-hub systems, including Wink. Google and Amazon's participation in the connected-home devices market could spur consumer interest and stimulate demand for peripheral products such as thermostats and lights. In total, both are eyeing the voice-based technologies to attract new customers.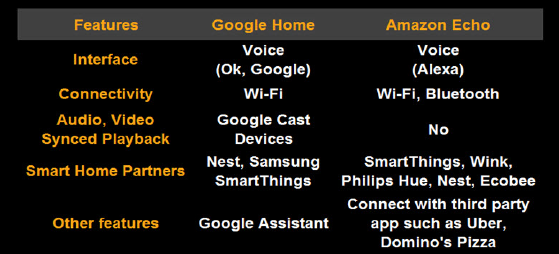 Source: Company Website
Hedge Fund Allocations For The Stock And Short Interest:
Hedge fund allocations show a mixed signal for the stock. Funds like Vanguard and State Street Corp. are increasing the allocations, while T. Rowe Price, FMR, and Capital World Investors are decreasing the allocations.
The short interest % increase (over the period: March 1, 2017 to March 15, 2017) for Amazon stands at -7.12%, which shows a decrease in the number of investors who are betting on the bullish trend for the stock. The short interest for the stock is 1.39%.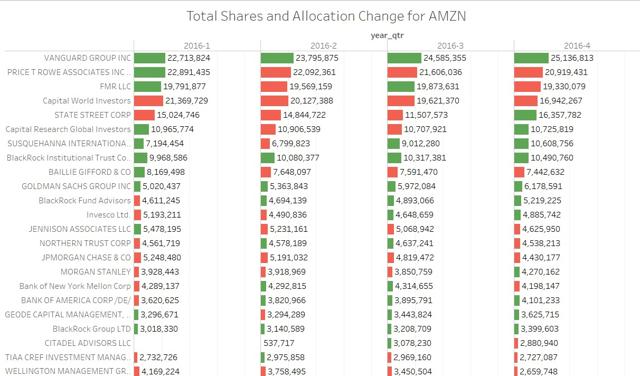 Source: TINO IQ
Quantum Analysis: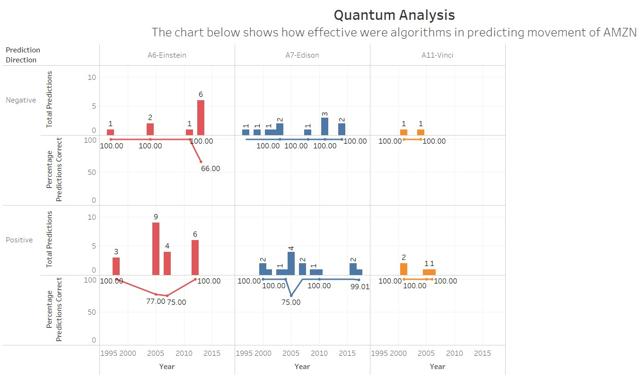 Source: TINO IQ
In a quantum analysis, as shown in the chart above, algorithms A6 and A7 were able to explain short-term movements in the stock. The manner in which quantum analysis works here is that every day as many as 10 algorithms - A-Edison, A-Einstein, A-Hayek, A-Jesse, A-Keynes, A-Newton, A-Schrödinger, A-Sigmund, A-Ramanujan and A-Vinci - are run through entire set of securities being traded on NYSE and Nasdaq.
Out of these 10 algorithms, a few come up with predictions (for 1 week or 2 weeks ahead). The prediction for a stock by any algorithm includes information like prediction date, current price, target price and the probability of reaching the target price. These algorithms use the following IQs: Overbought/Oversold IQ, Momentum IQ, Bull vs. Bear Power IQ, Money Movement IQ, Crowd Psychology IQ, News IQ and Insider IQ.
The analysis done above (for Amazon) shows that the stock has predictable behavior, especially when it's being artificially manipulated (as exposed by algorithms). So, if you are a long-term investor, do not worry about short-term fluctuations, as those are created (for someone) to take a position in a stock at a favorable price.
Technical Indicators:
Similar to the hedge fund allocations, popular technical indicators show mixed signals for the stock in the short run.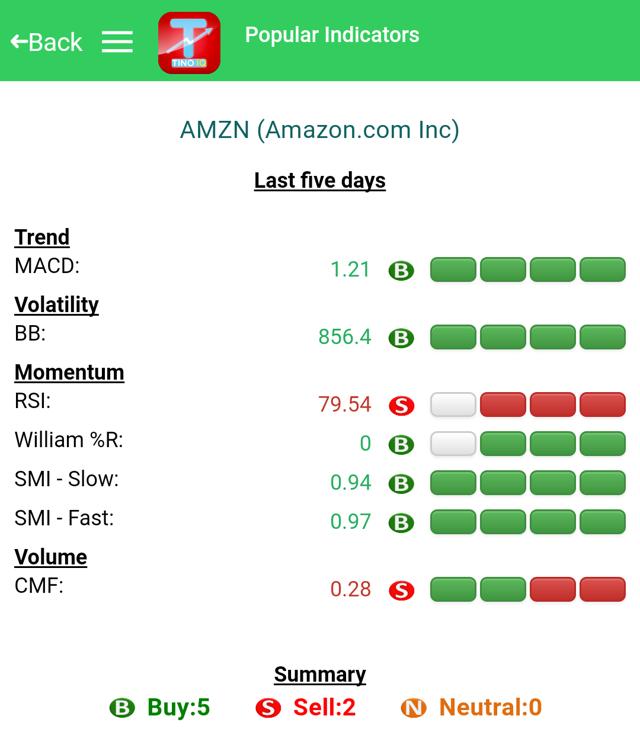 Source: TINO IQ
Conclusion:
Amazon is a company that continuously tries for innovation, to bring a change in the industry, of course, under its current leadership. Doing innovation may mean taking risk. Also the stock might not be a good select for an investor in the long run (1 to 2 years). But, it does not mean that the company is heading in a wrong direction.
For a company like Amazon, it's likely that the stock turns sour or sweet in the short run, while if investors want good returns, it's better they turn to this stock after 3 or 4 years. In the past, the company has got good returns by getting an early mover's advantage (like in providing cloud services), and this strategy seems to be at the center of fulfilling its vision.
Disclosure: I/we have no positions in any stocks mentioned, and no plans to initiate any positions within the next 72 hours.
I wrote this article myself, and it expresses my own opinions. I am not receiving compensation for it (other than from Seeking Alpha). I have no business relationship with any company whose stock is mentioned in this article.