Overview
WTI ended the day up by 1.06% rebounding from a yearly low of ~$47/bbl.

Source: FactSet
The short-run discussion among market participants centers around the OPEC deal, U.S. shale output, and geopolitical risks. The consensus seems to be mixed with some favoring the bearish set-up of rising U.S. production and others favoring the bullish set-up of OPEC supply cuts and rising demand. In our view, it makes sense to examine demand trends and the recent downturn's impact on future supply.
Note: Data tables are sourced from the IEA Oil Market Report, which can be purchased here.
Demand Outlook
The long-run picture for oil demand appears to run side by side with economic advancement. The OECD economies, which can be thought of as advanced, are expected to post slowing demand. On the other hand, developing economies, non-OECD, are expected to drive oil demand. Below is a chart from the IEA's report detailing this dynamic.

Source: IEA Oil Market Report
Slowing oil demand is a direct result of improving efficiency standards encouraged by governments and sought after by consumers. Throughout much of the early 2000s, the in-elasticity of fuel demand incentivized oil producers and catalyzed a movement towards efficient fuel extraction and efficient fuel usage. As expected, more developed nations led the charge.
Since 2005, the U.S. government has demanded auto companies to develop a range of cars that satisfy fuel efficiency requirements. Such expectations have expanded to now cover approximately three-fourths of global passenger vehicle sales. In oil terms, this represents a total of 2.3 mmb/d of lost, demand according to the EIA efficiency report.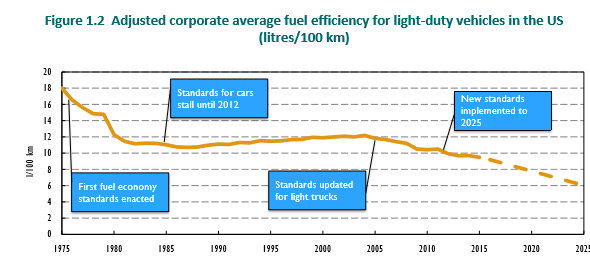 Source: IEA Oil Market Report
The shift toward fuel efficiency is indeed a structural trend that is set to continue; however, signs of softening have appeared. Looking at the 2015 and 2016 demand figures, OECD demand actually grew driven by increasing truck and SUV sales. These vehicles have since come into favor after the recent rout in oil prices that lessened the necessity for higher fuel efficiency.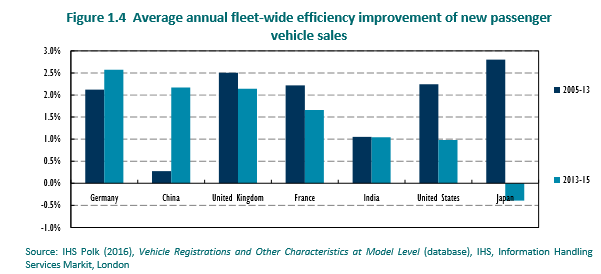 Source: IEA Oil Market Report
This chart directly implies that consumers are willing to sacrifice greater fuel efficiency for taste in a lower price environment presenting a visible upside risk to demand should current WTI prices remain. Despite this fact, the structural trends seem to remain in place as modernization prompts a shift toward higher fuel efficiency standards and slowing gasoline demand.

Source: IEA Oil Market Report
Interestingly enough, demand trends in the non-OECD region remain bullish through 2022 as fuel efficiency standards have yet to grip developing economies. Furthermore, the recent commodity price downturn weighed heavily on EM economic growth. According to the IMF, global growth is seen averaging 3.7% through 2022, underpinning a recovery for global oil demand. Demand growth in the non-OECD region is expected to come in at 1.5 mmb/d as a recovery in Africa and Latin America is supercharged from demand growth from China and India.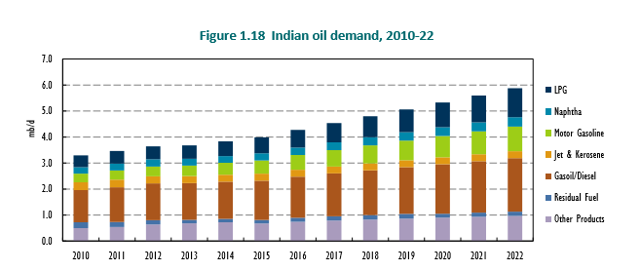 Source: IEA Oil Market Report
Growth in the developing world will likely continue as rapid industrialization supports a growing middle class boosting light vehicle sales and jet transport. A perfect example of such growth opportunities can be found in jet fuel. Currently, jet fuel demand is heavily driven by OECD economies. This is set to change as jet fuel demand will rise by 3%, according to the IEA. Jet fuel demand will be powered by improving air travel infrastructure.
To put this in perspective, in 2005, the only non-OECD airport was in Beijing. In 2015, Beijing was joined by Dubai, Shanghai, and Hong Kong. This trend is set to continue and represents many ways that a growing developing middle class can boost fuel demand.
Supply Outlook
The supply outlook is heavily dominated by the pace of U.S. shale ramp. A recent article that I published discussed the economics and outlook for the U.S. shale ramp and can be read here.
According to the IEA, non-OPEC supply is expected to reach 60.9 mmb/d growing annually by 3.3 mmb/d. This growth is dominated by U.S. light-tight oil (LTO), which is seen adding an incremental 1.6 mmb/d through 2022. It is important to point out that overall supply growth is heavily front loaded with a majority of capacity ramping through 2019 and slowing thereafter.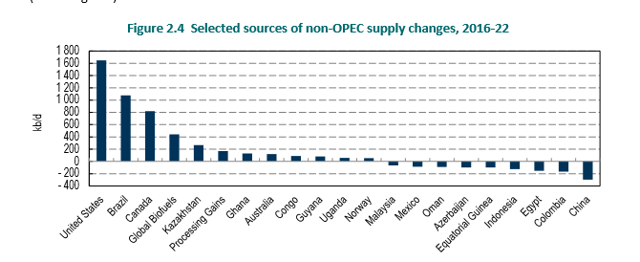 Source: IEA Oil Market Report
This growth was made possible by increasing efficiency on the supply side. To see just how efficient U.S. LTO has become one only has to look at the recent EIA data that suggests the average well performance in the U.S. increased by 25% in 2016 alone. Furthermore, improving economics boosted recoverable reserves by 12% from 88 billion barrels to 100 billion barrels. Such efficiency gains were made possible by cost cutting strategies and improving technology.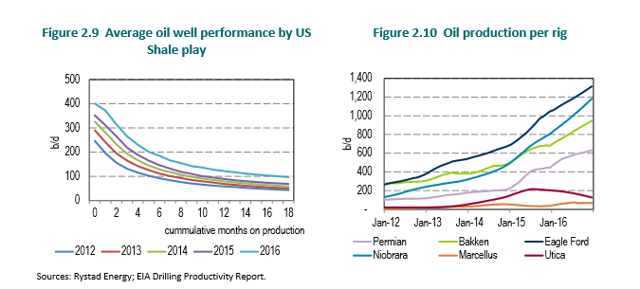 Source: IEA Oil Market Report
Looking at this picture will make any oil bull worry; however, this all must be put into the long-term perspective. We will point out several simple facts that cannot be ignored. Fact No. 1 is related to decline rates and marginal production. The shale industry is characterized by extremely inverted, exponential decline rates. In other words, shale oil produces a lot of oil really fast and then produces relatively nothing. Thus, in order for shale drillers to extract the next barrel of oil, more costs must be incurred. This is the very problem with U.S. shale that makes its rapid production model unsustainable in the current price environment.
Fact No. 2 is an aside to No. 1, which is as production rises, more wells will have to be drilled to just maintain current output. Furthermore, as per the IEA Oil Market Report, "as the best resources are developed and less productive areas are tapped, and as input costs are likely to increase, the economics of new wells will again deteriorate." Lastly, and most obviously, the more drilling that occurs, the greater the costs to drill those wells. Ultimately, this sets us up for an environment of rising service costs. According to the EIA, 50%-60% of the recent cost cutting measures will not be carried forward in the medium term -- thus pushing equilibrium prices higher.
While this represents a clear positive backdrop for oil bulls, another interesting dynamic is the shifts between short and long cycle projects. The oil industry is based on a principle of reserve replacement. Often times, current production is replaced by future production. The mechanism for this is the tendency of long-cycle investments to replace depleted current reserves. Unfortunately, this mechanism is being thwarted as overleveraged balance sheets are pushing larger players into short-cycle shale operations that are leaving little options for long-term supply growth. In other words, because nobody is choosing to focus on the long term, supply will tighten.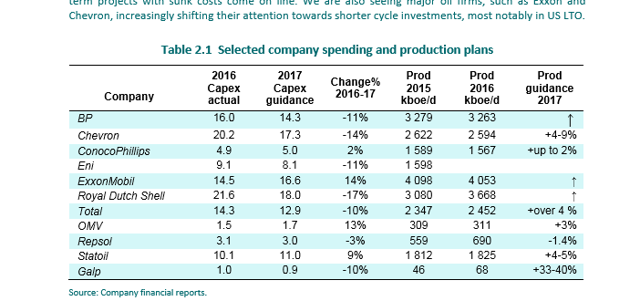 Source: IEA Oil Market Report

Source: IEA Oil Market Report
Yet again, we come to a bullish conclusion of tighter long-term supply and still rising demand.
So about OPEC?
OPEC supply is certainly important and cannot be ignored. Given the current situation, OPEC remains in a rock and a hard place as cash strapped economies need higher prices to sustain living standards.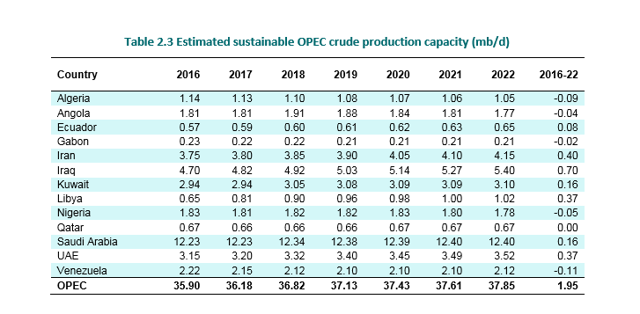 Source: IEA Oil Market Report
OPEC supply will certainly grow in the medium term, but will continue to be constrained by calls for supply cuts and geopolitical side-stepping that will limit countries from acting in their best interests.
In our view, we see geopolitical instability as representing upside risks to OPEC supply. The animosity between the U.S. presidential administration and the Iranian republic is a clear example of this. Several times along the campaign trail, Trump mentioned loathing the Iran deal. Should the deal be called into question, we can expect a tightening of Iranian supply pushing upward supply on prices. Furthermore, growing instability in Nigeria and Libya will likely continue complicating ramp-up efforts.
Conclusion
The long-term picture for crude is certainly bullish given the fact that rising demand is set to continue despite fall-offs in OECD gasoline consumption and supply is set to tighten due to a lack of long-cycle project spending. Furthermore, the fact that shale projects are going to face higher future costs due to service cost inflation that deteriorate well economics will push breakevens, and therefore WTI crude higher.
Disclaimer: This article contains the opinions of BlackVault Investments and in no way is acting as an offering and/or solicitation of securities or investment advice.
Disclosure: I/we have no positions in any stocks mentioned, and no plans to initiate any positions within the next 72 hours.
I wrote this article myself, and it expresses my own opinions. I am not receiving compensation for it (other than from Seeking Alpha). I have no business relationship with any company whose stock is mentioned in this article.