The crazy thing about the stock market is that sometimes point indicators mean a lot, while sometimes they mean very little. But maybe always looking at both is the best practice for investors. I mean this to mainly hold for fundamental metrics, such as my go-to fundamental metric, EBITDA to EV.
Let's introduce the stock of interest here: AstraZeneca (NYSE:AZN). This stock is always on my watchlist, but not by choice. Instead, it is constantly popping up because I monitor stocks for gap plays.
AZN is a gappy stock, but that's not my point today. Let's return to the issue of point metrics versus metric trends. Here is the EBITDA to EV chart for AZN: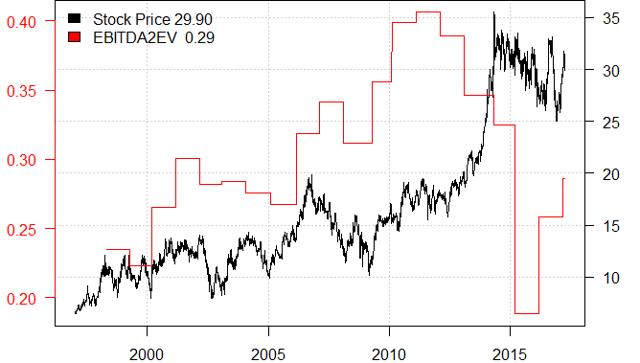 Although EBITDA2EV is much lower than it has been since around 2006, the trend of the metric is upward. Among your takeaways should be the idea that AZN is making a comeback, at least from this metric. The question I would like to bring up now is how you consider point estimates and trends of stocks: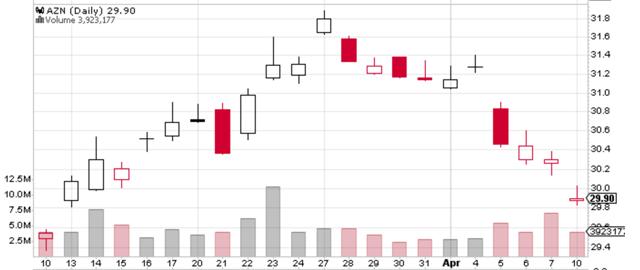 Having passed through a wild month of gains followed by a quick retracement, AZN investors seem to be more highly influenced by the recent downturn, selloff, and downgrades. Okay, fine, but take a step back and realize this: AZN is essentially even for the month; it's trading at the same price it was one month prior.
Compare an investment in AZN now versus one month ago: Does one seem better than the other simply because of the previous two weeks of trading? The reality is that AZN did not change significantly as a company in the past month. If you are to attempt to explain the past couple weeks' movements by actual news or changes in the company, the only logical explanation is that the two days of buying were thanks to the FDA approving AZN's new lung cancer medication (implying a new revenue source) and that the four-day selloff afterward were from analyst downgrades (which say nothing about the company itself).
Perhaps investors should be asking whether the tangible good news got buried under intangible bad news. Of course, an affirmative answer implies that AZN is mispriced and should be bought. My backtests on AZN shows it has a tendency to price in good news more slowly than the average stock on the market. At the same time pricing in bad news happens quickly and overshoots, implying bad news to create overreactions. In the same light, we could say good news creates under-reactions. So perhaps we have not yet seen the gains that should have come with the FDA's approval of Tagrisso.
More FDA-approved drugs means more revenue sources, implying more profits, implying more dividend stability, implying more stock buying, implying higher AZN prices…
By the way, as I have discussed in the past, I am not overly hopeful for AZN's pipeline. In addition, I believe the company has done a poor job accounting for dividend payments. Now, these are not the main issues today; the main issue is whether AZN is worth more now than it was one month ago, a question to which I answer a resounding yes.
The market says, no, however. When we investors believe the market is wrong, that's the time to buy. Assuming you were already long one month ago - and wanted to be in that position - your feeling on AZN should be even better today, despite the recent selloff.
I recommend AZN investors stay optimistic about the slow pricing-in of news into their stock but at the same time design some downside protection in the event of bad news. I recommend the following complex options strategy that will bring you income should AZN trend sideways while also protecting you from a sudden selloff.
Sell 1 Apr 21 $30 call
Buy 1 Jul 21 $30 call
Sell 1 May 19 $30 put
Buy 2 Aug 18 $25 put
These stock options above can be seen as the combination of a calendar spread, bringing you income over time and from volatility increases, plus a ratio put backspread, which protects you from a significant downturn. The ratio put backspread is designed to be opened for free, with the 1 short put and 2 long puts equal in price. The calendar spread should bring you roughly $40 of income per lot over the next week if AZN is roughly where it is now by Apr21 but will cost you roughly $100 to open.
Sources: All unlabeled figures were created by me. I used R to pull data directly from Yahoo and ADVN. Charts with blue backgrounds are from Etrade Pro. Fundamental charts from a paid subscription at simplywall.st.

Author's note: Get my articles as soon as they are published by clicking the big orange "follow" button at the top of this page. Make sure you choose "real-time alerts." Trade alerts sent through "Copy My Trades."
Upcoming Earnings Predictions
Exposing Earnings - click here for my earnings predictions. To date, we are 94% accurate on earnings report predictions. Subscribers gain access to live chat and can submit their stocks of interest for me to analyze. Considering joining us? Check out the info page. Have questions? Contact me.
Disclosure: I/we have no positions in any stocks mentioned, and no plans to initiate any positions within the next 72 hours.
I wrote this article myself, and it expresses my own opinions. I am not receiving compensation for it (other than from Seeking Alpha). I have no business relationship with any company whose stock is mentioned in this article.