Determining Fair Value Estimates is an integral part of a stock ownership thesis. In this article, we will walk through a FVE exercise for Halliburton (NYSE:HAL). Halliburton is an S&P Energy sector stock. Within the sector, the company resides in the Energy Services industry. Energy sector stocks are cyclical. As such, shares tend to ride energy commodity cycles up and down. Indeed, Energy stocks are not buy-and-forget investments. HAL shares are no exception.
Mr. Market Looks Ahead, Not Backward
Mr. Market is forward-looking. Generally, investors pay up for shares when earnings and cash are increasing; conversely, they discount stocks when the outlook declines. I cannot stress this point enough: good investors don't care where a stock has been, he/she cares where it's going. Using trailing financial data to determine fair value, especially for a cyclical company, is almost a sure bet to yield poor investment results.
Marking a Forward Path
Determining a defensible Fair Value Estimate focuses upon 2 primary objectives:
Valid the balance sheet. A sound balance sheet is a fundamental requirement; a "ticket to the ballgame," so to speak. Are the current and near-term financial underpinnings acceptable?
Select appropriate fair value estimate valuation metrics. I prefer to utilize various ratio analyses. There are a number of potential candidates. It's up to the investor to select those most appropriate. Alternatively, one may generate FVEs via a discounted cash flow analysis. Generally, I do not favor DCF for stock valuation.
A challenge for a cyclical stock like HAL is to decide how far out to relevant input data. This is a judgment call. For a cyclical on the rebound: premising too short a time frame and the fair value estimate misses the mark low; too long a time horizon, input data becomes irrelevant.
Examining Halliburton's Balance Sheet
The objective here isn't to perform an exhaustive balance sheet analysis. It's simply to determine if the company is has the ability to pay its bills, manage debt, and holds appropriate cash.
Halliburton's balance sheet experienced considerable dislocation after an ill-fated attempt to acquire Baker Hughes (BHI). In May 2016, the Company was required to pay a $3.5 billion termination payment to Baker. Of course, associated pre-merger costs were also lost.
In summary:
Near-term liquidity has been adequate. A 2.9x current ratio indicates Halliburton retains good liquidity despite the failed BHI deal and having to navigate a severe energy commodity collapse.
Debt is a concern. Prior to Baker Hughes termination payment, Net Debt-to-Equity was 0.45x. As of the end of 2016, the ratio rose to 0.89x. Unfortunately, HAL experienced a "double-whammy." First, it paid out the $3.5 billion breakup fee to Baker. Second, the energy price collapse resulted in significant balance sheet impairments. In 2016, total shareholder equity fell from $13.0 billion to $9.4 billion.
Management is well-aware of the issue; pledging to direct excess cash flow to pay down debt. Making good on this promise, in February the company announced it redeemed an aggregate $1.4 billion in senior notes. This will be reflected on the 2017 1Q financials.
Halliburton has a BBB+ investment-grade credit rating with a "Stable" outlook. Certainly, debt has put pressure on the organization. 2016 adjusted net debt-to-EBITDA was 4.2x. Adjusted interest coverage was barely 1.0x. These figures are uncomfortable. Investors are wise to monitor go-forward results carefully.
Cash on hand is adequate. At year-end 2016, Halliburton had $4 billion cash and equivalents on the balance sheet. This amounts to $4.63 per share, or ~9% of the recent share bid. The figure compares favorably with prior years' balances.
Opinion: stressed but stable. Recent events compromised the balance sheet considerably. A failed takeover, a treacherous energy price collapse, and resultant impairment/restructuring charges pounded a previously strong ledger. However, given the rebound in energy prices and management's attention to fixing the balance sheet, I am of the opinion Halliburton will regain its financial footing. I judge the balance sheet as weakened but sound (only barely!), with an upside bias.
Determining Halliburton's Fair Value Estimate
Now to the heart of the matter: determining a reasonable fair value estimate. There are a number of price-and-XX ratios to consider. Which to utilize? Let's being with broad thinking:
For energy sector stocks, I tend to favor cash flow valuation metrics, namely P/OCF (operating cash flow) and P/FCF (free cash flow). Of course, a traditional P/E analysis is warranted, too. Since Halliburton management emphasizes operating margins and operating income (EBIT), we will include a P/EBIT check, too.
P/book and P/sales are less instructive for Halliburton. Price/book has been distorted due to borrowing cash for the BHI deal, paying out a $3.5 billion breakup fee, and writing down assets. Price/sales would be an odd duck: Halliburton's highly cyclical margins require greater bottom line versus top line focus. Therefore, for purposes of this exercise, we will review P/CF, P/FCF, P/E, and P/EBIT.
The next decision (and a critical one) is to decide how long a view is appropriate when using forward estimates. HAL is particularly tricky. For a less-cyclical company, reasonable FVEs may be determined by looking out through the current year; maybe into 2018.
Conversely, Halliburton is attempting to emerge from one of the worst energy troughs in decades. Looking out even a year out is unlikely to yield meaningful results. I suggest we must consider earnings and cash flow forecasts all the way out to 2019. But there's a caveat: historically, analysts have demonstrated a less-than-stellar probability of accurately forecasting EPS or cash flow out this far. The track record: about 50/50.
As a testament to the difficulty of trying to estimate HAL earnings or cash flow, analysts tend to get caught flat-footed during down-cycles, and be overly cautious during up-cycles. For patient investors, the latter may be a silver lining.
F.A.S.T. Graphs offers the following auxiliary chart to help illustrate the aforementioned: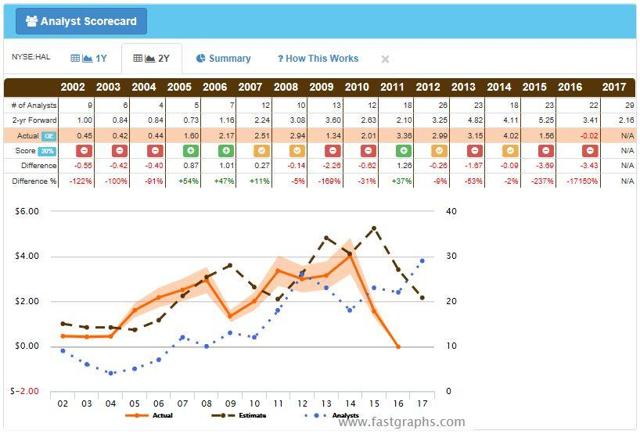 Despite the uncertainty, we will input 2019 Street analyst forward projections; premising a general energy complex up-cycle. If our view is correct, we know the Street tends to underestimate the power of such up-cycles; thereby underestimating potential share appreciation.
So let's proceed to review 4 F.A.S.T. Graphs: in succession, price-and-operating cash flow, price-and-free cash flow, price-and-earnings, and price-and-EBIT.
P/OCF
Even using 2019 estimates, Halliburton shares today appear to be trading close to fair value. An historical 9.8x trimmed-average P/CF multiple (quite reasonable) and $5.28 OCF/share suggests the FVE is only ~$52. Currently, HAL shares sell for $50.
But given the cyclical nature of the stock, might the 9.8x average multiple expand during high times? If so, perhaps we could apply a higher P/CF ratio.
Unfortunately, this isn't the case. Another chart from the F.A.S.T. Graph suite demonstrates Halliburton P/CF multiples rarely rise above 10x -- period. It is unreasonable to expect significant P/CF multiple expansion.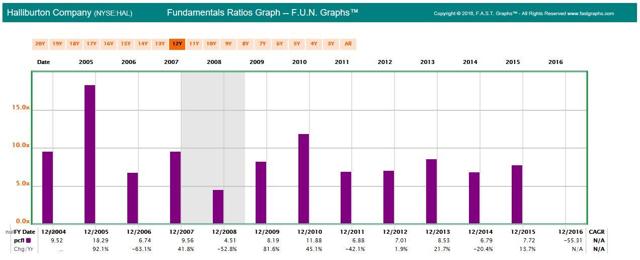 P/FCF
Turning to Price-and-Free Cash Flow: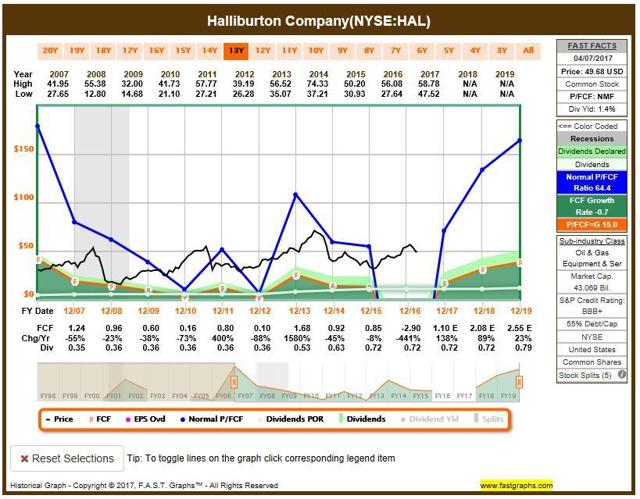 A quick look at this chart indicates it's not meaningful. I included it to make a point: sometimes, despite good intentions, certain price-and-multiple analysis selections are not helpful. Indeed, understanding and evaluating Halliburton's free cash flow is a very good exercise. However, trying to use this metric for a price/multiple valuation exercise isn't.
P/E
The most basic valuation ratio is the P/E (price-to-earnings) or EPS. When doing a P/E analysis, I prefer to use adjusted earnings, often referred to as operating earnings. operating earnings (not to be confused with operating income, discussed proceeding) is diluted EPS sans "one off" and extra-ordinary gains and losses. Operating EPS attempts to normalize EPS by isolating underlying core business unit performance, and exclude items that distort it.
Here's a 13-year, Halliburton price-and-earnings FAST graph: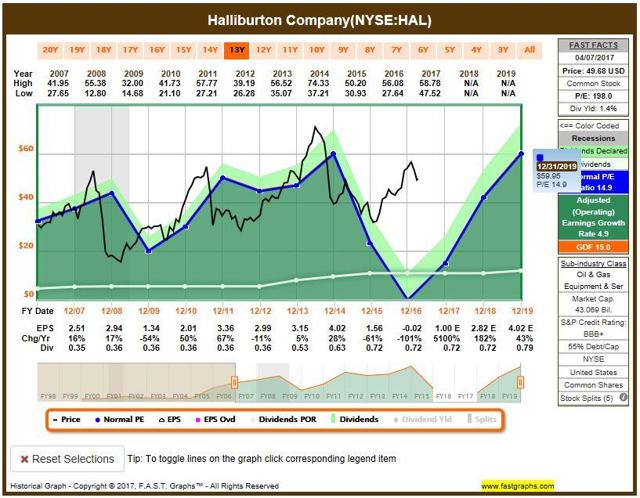 Observers note a steady 15x long-term average multiple. Plugging in 2019 consensus EPS, we can derive a $60 fair value estimate.
P/EBIT
In investor presentations, Halliburton management frequently references operating income (EBIT) and operating margins. EBIT attempts to provide un-levered business performance; interest and taxes are carved out under the assumption these are non-core, corporate functions.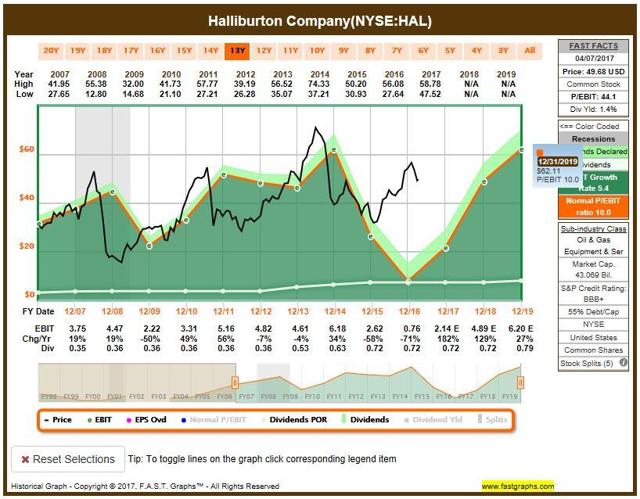 The long-term P/EBIT ratio is 10x. Accepting significant margin and related 2019 operating income, the chart combines the 10x multiple and $6.20 EBIT to yield a $62 stock.
Please note previous EBIT peaks in 2008, 2011 and 2014: Share prices tended to "overshoot" the mark. Therefore, one might conclude if Halliburton meets the 2019 earnings projections, there is a good probability the stock will once again overshoot to the upside.
Summary
A failed acquisition and horrendous energy downturn, stressed Halliburton's balance sheet, but it hasn't broken it. Debt is a concern. However, liquidity and cash on hand is acceptable. The company retains an investment-grade credit rating. If oil stabilizes in the low $50s, trends are positive. Clearly, management is focused upon cash generation and debt reduction.
Reviewing 4 price-and-multiple valuation methodologies, we obtained the following fair value results:

Importantly, these results are premised upon accepting analyst consensus 2019 projections. On one hand, we know the Street accurately estimates HAL earnings or cash flow only half the time. On the other hand, history tells us the Street tends to underestimate the businesses' cyclical troughs and peaks. Consequently, if we believe the energy complex is on the upswing, it stands to reason analyst forward estimates may be too conservative; leading to potential incremental capital appreciation. Comparing HAL with its peers, ttm P/E and P/CF isn't meaningful; in 2016, the company posted negative earnings and operating cash flow.
On balance, my current fair value estimate for these shares is ~$55. In part, this is based upon my over-weighting HAL projected cash flow and under-weighting earnings. A $55 FVE suggests ~10% upside, plus dividends. My protocol is to re-run and update my analysis quarterly.
Given the company's weakened balance sheet, competitive pressures, and HAL shares not appearing to be trading at a significant discount to fair value: Accumulating shares is unattractive. I plan to hold my stock. I may elect to generate additional income on my shares by selling limited OTM call options; seeking a delta less than 0.30, and a time frame not more than a month or so out.
Near term, I am inclined to distribute shares at $55, and seek to repurchase these below $47.
Disclaimer: Please do your own careful due diligence before making any investment. This article is not a recommendation to buy or sell any stock. Good luck with all your 2017 investments.
Disclosure: I am/we are long HAL.
I wrote this article myself, and it expresses my own opinions. I am not receiving compensation for it (other than from Seeking Alpha). I have no business relationship with any company whose stock is mentioned in this article.