When Stefan Larsson came to Ralph Lauren (NYSE:RL) from The Gap (NYSE:GPS), he was billed as the iconic retailer's savior. This is no surprise either. After his huge success at The Gap's Old Navy brand, many in the market believed he would be able to do the same at Ralph Lauren. But with sales on the decline and Mr. Larsson jumping ship long before the Way Forward strategy comes to fruition, could now be the time for investors to jump ship on Ralph Lauren as well?

Prior to Ralph Lauren, Stefan Larsson began his fashion career with the Swedish fashion juggernaut Hennes & Mauritz, better known to consumers as H&M (OTCPK:HNNMY). He served the business for almost 15 years and rose to the position of Head of Global Sales. During his time with H&M, Larsson helped grow the business from $3 billion in annual revenues to $17 billion, expanding the business from 12 to 44 countries around the world in the process. In 2012, Larsson moved to a position with Old Navy as its global president.
Before leaving the business in 2015, Old Navy achieved three consecutive years of profitable growth, increasing revenue by almost $1 billion. This transformed the Old Navy brand into The Gap's best-performing business segment, beating out both Banana Republic and The Gap. Realizing that Stefan Larsson knew what he was doing, Ralph Lauren sought to employ him to potentially transform the brand as he had done previously with H&M and Old Navy. Understandably, the market was excited by the prospect of the transformation and investors snapped up shares.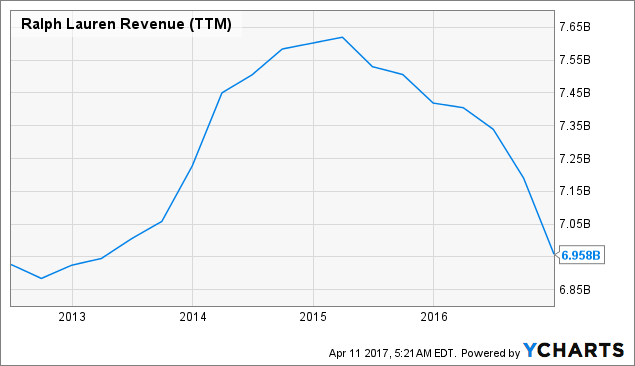 But, unfortunately, things haven't quite gone to plan. Ralph Lauren's revenue has declined quarter on quarter for seven straight quarters, and we expect further declines this year. In fact, so does the company, which has guided to a low double-digit drop in revenue. And then there is the biggest bombshell of all - Stefan Larsson has quit as CEO less than two years into his tenure. Creative differences with Ralph Lauren himself appear to be the reason he is jumping ship and abandoning the Way Forward plan he put in place.
The restructuring plan aims to deliver sustainable, profitable sales growth, and long-term value creation for its shareholders. It included plans to refocus on its core brands and evolve its product, marketing, and shopping experience to increase the brand's desirability and relevance to the consumer. Furthermore, the plan aimed to evolve the company's operating model and reduce supply chain lead times to compete with the likes of Old Navy and H&M.
Whilst the Way Forward may eventually come good, we have been far from impressed with its early progress and see little sign of a turnaround coming in the near future. In our opinion, Ralph Lauren is falling behind businesses like ASOS, which caters perfectly to the growing trend of consumers shopping online more and less at bricks-and-mortar retailers. As iconic as the brand may be, its failure to connect with the consumer means it is an uphill struggle from here in our view. This could postpone a turnaround for several years.

Source: Google Trends - Keyword "Ralph Lauren"
As you can see above, Google Trends shows that searches for the business are on the decline. We feel this supports our view that Ralph Lauren is losing relevance with the modern consumer.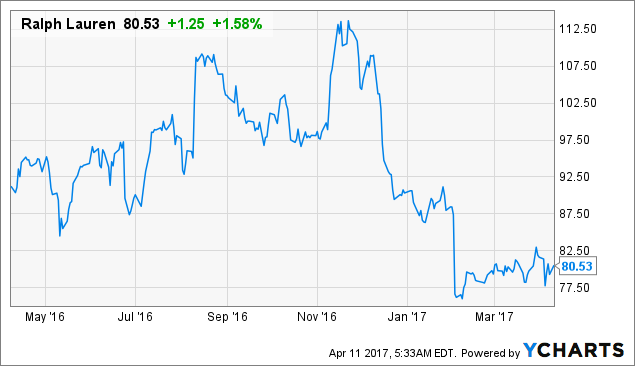 After such a sharp drop in its share price since late last year, we can understand why some investors would be tempted to snap up shares today at just 14x forward earnings. But with sales and earnings unlikely to tick upwards for some time, we think Ralph Lauren is probably best avoided for the time being.
Considering the state of the business at the moment and the disarray brought on by Stefan Larsson's exit, we wouldn't be willing to pay much more than 12x earnings to own its shares today. At this level, we could at least cope with a couple of years of zero growth as the company gets its act together. But with earnings per share forecast to come in at $5.60 this year, fair value would be close to $67.20 for us. Should the share price drop to this level, we would certainly revisit the company, but until then, we would caution against an investment as we fear 14x forward earnings could yet prove to be a value trap.
Disclosure: I/we have no positions in any stocks mentioned, and no plans to initiate any positions within the next 72 hours.
I wrote this article myself, and it expresses my own opinions. I am not receiving compensation for it (other than from Seeking Alpha). I have no business relationship with any company whose stock is mentioned in this article.