Adams Resources (NYSEMKT:AE) looks cheap. At a current price of $37.52, AE sports a market cap of $158 million. But the company also closed 2016 with some $87 million in cash on the balance sheet, putting its enterprise value barely above $70 million. Against operating cash flow - excluding working capital adjustments - over $20 million in 2016, that seems an attractive price. Meanwhile, AE's tangible book value sits just under $36, and a 1x P/TBV multiple traditionally has provided a reasonable buying opportunity: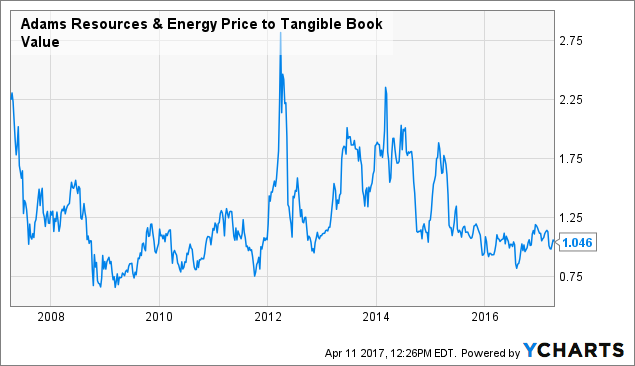 AE Price to Tangible Book Value data by YCharts
I've long been skeptical of AE, however, and Q4 and full-year 2016 results don't really change my mind. The core Marketing business continues to struggle. The Transportation segment is a mess, and Adams seems to be set to finally throw in the towel on its money-losing wildcatting business. Adams actually was unprofitable on an earnings basis in 2016 - and there's little reason at the moment to see anything but higher losses in 2017.
The problem with AE remains that it very easily could be cheap - but that doesn't mean it is. And with limited disclosure suggesting that Adams may be looking to make an acquisition, I don't expect that to change, at least in the near term.
Marketing Problems
The core Marketing business has one major problem: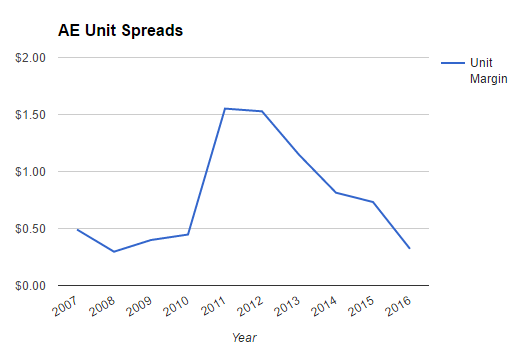 Source: Author, calculated using figures from AE filings. Figure is margin per barrel purchased, using AE's adjusted earnings metric.
Amidst the shale boom, Adams was able to buy crude at the wellhead and pocket a nice profit shipping it out of Texas. This year's 10-K cites spreads between Texas field and the "eastern region" of the U.S. as a specific opportunity that was eliminated in 2014. Better infrastructure in Texas (including the reversal of the Seaway pipeline) has compressed spreads sharply, with the Brent-WTI spread likely the best known: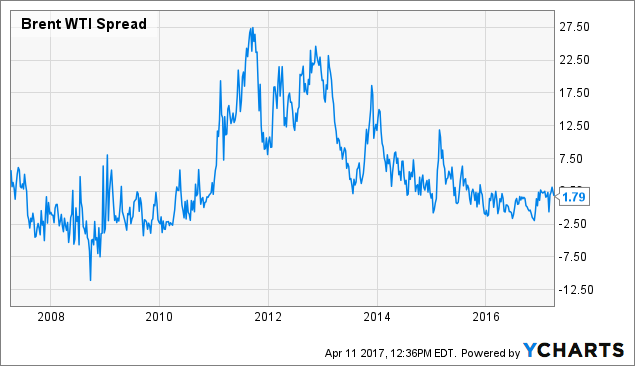 Brent WTI Spread data by YCharts
What needs to be emphasized as far as Marketing goes is that the recent weakness isn't a matter of crude going from $100+ to $40+. It's likely that lower per barrel prices have hurt unit spreads - but those spreads aren't going to rebound at a 1-to-1 ratio should crude prices rebound. And taking a longer-term view, the opportunity that Adams had in 2011-2014 - which drove reported EPS to an average of nearly $6 in 2012 and 2013 - should be considered an aberration, not a cyclical peak.
The problem at the moment is that Adams is getting squeezed in two directions. The amount of oil purchased declined 31% in 2016 - and Adams generated a lower spread on what it could purchase. Full-year unit spreads were $0.32 by my numbers, against $0.73 the year before. That combination led the company's measure of "field level operating earnings" - which adjusts out non-cash inventory valuation and derivative impacts - to decline some 70% in 2016.
There's not a lot of evidence to suggest those figures will improve. Purchase volume did improve sequentially, but comparing the 10-K to the Q3 10-Q implies further compression in spreads in Q4. In the "Outlook" section of the 10-K, Adams wrote that its goal for the Marketing business was to "manage declining supply volumes and unit margins to maximize cash flow, while looking to expand into new regions."
The company traditionally has assigned a specific profit target to the business. The fact that it didn't this year, and the language used, both strongly suggest that Adams itself is expecting further earnings weakness in 2017. The fact that neither volume nor spreads appear to have hit a bottom further supports that projection. Even Exxon Mobil (NYSE:XOM) is suffering from lower marketing margins, per its 10-K. It's not hard to imagine Adams getting somewhat squeezed out as production levels normalize and integrated majors focus more on downstream efforts to drive cash flow amidst low crude and natural gas prices.
That's a significant problem for Adams, because the Marketing segment traditionally has been the profit engine for the company as a whole. That's particularly true at the moment.
Transportation and O&G
Adams, unfortunately, built out its Transportation business - which focuses on the petrochemical industry - right into the collapse in oil prices. Capex in the segment over the past five years has been roughly equivalent to that invested in the Marketing business, despite Transportation earnings being a fraction of those generated by marketing efforts.
Transportation in fact swung to a modest loss in 2016, and cash flow contribution from the business was under $1 million. 2016 was the fourth consecutive year of earnings declines for the segment. In response, Adams apparently is looking to move beyond petrochemical customers to increase fleet utilization. But it's not as if the overall trucking industry is all that healthy at the moment, nor is it clear exactly how Adams plans to make that pivot.
Meanwhile, Adams is considering "strategic alternatives" for the oil and gas business, per the 10-K. That segment, historically, has posted an EBIT loss and modest contributions on a cash flow basis. Net reserves are just over $2 million at this point - divesting the business seems wisest (indeed, I've long wondered why Adams kept the business, as it wasn't particularly material even during the boom years). But O&G simply isn't moving the needle that much, no matter what Adams does.
Strategy And Valuation
The business overall simply seems to be in rough shape at the moment - and, again, at the moment, it seems likely that 2017 will be worse. And it's not at all clear how exactly Adams can improve either Marketing or Transportation. In Marketing, the company wrote it was looking at "new regions." But the GulfMark Energy marketing business already has a decent presence in Texas and Louisiana. Moving into the Bakken play would seem to be one option, but not an obviously attractive one given continuing, if moderating, production declines there. GulfMark has an office in Michigan; Colorado/Wyoming could potentially be another region to target. But if spreads remain low, displacing existing contracted providers seems like it will be rather difficult.
The same is true in trucking; moving away from petrochemicals simply seems like jumping from the frying pan into the fire, given weak trucking demand overall and lower rates. Certainly, incremental utilization will help from a margin and profit standpoint - but as in Marketing, expansion seems easier said than done.
There is some evidence that Adams is planning something larger, however. The company repeatedly referred to "strategic business development efforts" in both the Q4 release and the 10-K. Most notably, the 10-K attributed an increase in full-year G&A to the "increased use of outside consultants" in Q4.
But G&A actually roughly doubled in the quarter year over year, comparing the 10-K to the 10-Q, which suggests Adams could have spent close to $2 million on those consultants. Calls to AE headquarters as to the nature of the spend weren't returned - but reading the tea leaves it would appear more likely that Adams is considering an acquisition of some sort.
For one, Adams already tried to diversify (quite oddly) into the medical billing field last year, though it's abandoned those efforts. (The company maintains a stake in one startup, and forfeited the other in response to a request for a $500,000 loan.) Secondly, the limited commentary in the K (disclosure is extremely limited here, and long has been) repeatedly discusses continuing efforts to improve the business, and "strategic business development" would imply adding to the business, not selling it. And the "strategic alternatives" for the O&G business most likely aren't responsible for the jump, since those assets simply aren't valuable enough to justify that type of spend.
If Adams is making a move - and it has the cash to do so - I can't imagine investors would react very positively. Much of the limited bullish analysis there is of the stock over the past few years has focused on its fortress balance sheet and consistent profitability (at least until recently). The medical billing investments (only a few million and under a previous CFO, to be fair) haven't worked, so moving outside of O&G in some manner seems a poor choice. The existing businesses aren't strong enough to justify more capital. Some use of AE's cash that isn't a direct return to shareholders seems a poor choice - at this point, anyway.
Admittedly, this is all speculation. But the discussion in the 10-K and the consultant-driven spike in G&A all suggest Adams is at least considering something beyond simply divesting the O&G assets. And it's difficult to see what that 'something' could be that would prove a benefit for AE shareholders.
That goes to the broader problem with AE: There is real value, but no real way to monetize it. The company still is controlled by descendants of founder Bud Adams. That same family has had a public power struggle over ownership of the Tennessee Titans (which Bud Adams founded as the AFL's Houston Oilers), which I've occasionally hoped would be a catalyst for unlocking value in AE. But building out AE would bring those modest hopes to a near-term end.
After all, there is value here, even with the business concerns. Adams did post an adjusted (my calculations, removing non-cash charges from all three segments) pre-tax loss in 2016, of about $1.5 million. But Adjusted EBITDA still neared $17 million, implying a barely 4x EV/EBITDA multiple. Capex was $13 million in 2016; that figure should come down (Adams didn't guide in the 10-K, and my efforts to find that figure weren't returned) in 2017, meaning the business as is still can generate $5 million-plus in free cash flow, easily.
In 2015, EnLink Midstream Partners (NYSE:ENLK) and EnLink Midstream (NYSE:ENLC) acquired privately held LPC Crude Oil Marketing for $100 million. LPC's volumes at the time were still below those of AE at the moment. Even with tighter spreads, there's still (perhaps) a case that Marketing could cover the current $70 million enterprise value, with a ~5x EBITDA value on Transportation (~$35 million) and O&G monetization ($3-5 million) valuing the stock around $47.
But Adams has to do something in that direction, and there's little evidence. Management incentives are aligned at least; compensation is extremely low and CEO Tommy Smith is part of the controlling family. Whether it's family squabbles or simply a lack of interest in selling, however, AE continues to go it alone - and may be looking at doubling down on that strategy.
If that's the case, I'm skeptical it will work - and in the near term, I strongly believe investors will not react well. Corporate moves aside, the business still doesn't look all that healthy, and the valuation is cheap but not exactly compelling, particularly given some of the red flags. There's an outcome here where AE spends some of its cash, sees spreads compress further, and posts bigger losses in Transportation, with the combination moving AE to the point that cash generation is limited, if not non-existent. That would be a disastrous scenario for AE stock. But the problem at the moment is that at least one of those three pressures seems likely to occur in 2017.
Disclosure: I/we have no positions in any stocks mentioned, and no plans to initiate any positions within the next 72 hours.
I wrote this article myself, and it expresses my own opinions. I am not receiving compensation for it (other than from Seeking Alpha). I have no business relationship with any company whose stock is mentioned in this article.