The Saudi-Kuwait Neutral Zone, also known as the Neutral Zone, is an area containing an estimated 5 billion barrels of total proved oil reserves that are divided equally between the two countries. Before 2015, it was a very stable oil supplier contributing in the region of 500-600KBD. The official explanation behind the shutdown of Neutral Zone production was "environmental reasons." In fact, it was a dispute between Saudi Arabia and Kuwait. Kuwait has been a major obstacle in restarting the production, but the latest comments by the Kuwaiti oil minister should be very supportive for the production to resume soon.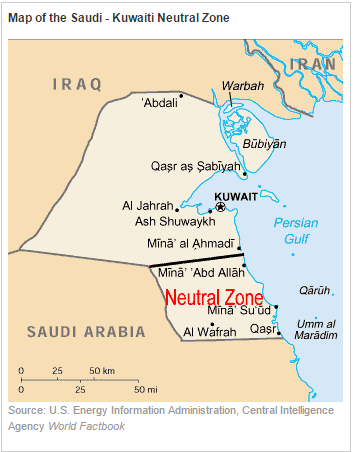 Saudi Arabia and Kuwait's view on restart of Neutral Zone
Saudi Arabia and Kuwait have both said that any increase in Neutral Zone production will not increase their overall production during the ongoing OPEC production cuts. This means that Saudi Arabia and Kuwait both must cut production from their existing fields. For Saudi Arabia, this is an easy task, as Neutral Zone is only 3% of their current production of 10MMBD. For Kuwait, this will be harder. To accommodate their share of Neutral Zone production, they would have to cut 10% of their existing 3MMBD production.
Saudi Arabia's cash burn is still occurring at a strong pace and showing no signs of slowing down. They need the extra crude oil exports to slow their cash burn rate. In addition, if Saudi Arabia gets tired of Russia's lack of commitment with their production cuts or with increased Iraq and Iranian production, they have the threat of increased Neutral Zone production. If they really want to increase production, Saudi Arabia and Kuwait can easily exempt Neutral Zone from production cuts on the same grounds on missed production over the last couple of years just like Libya and Nigeria's exemption from production cuts.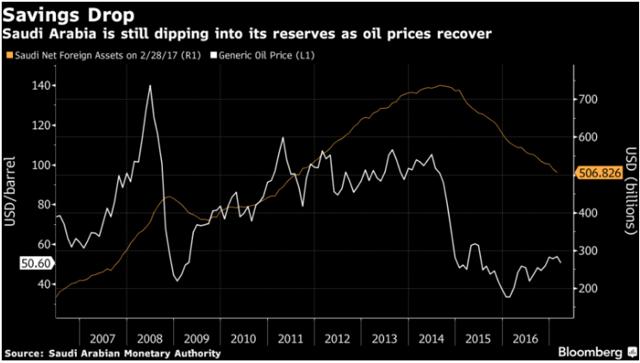 Chevron (NYSE:CVX) is the third player in the Neutral Zone situation, as they help Saudi Arabia with the production. In fact, it was Chevron that caused the rift between Saudi Arabia and Kuwait. This is because Chevron is the only international oil company to have oil concessions to produce oil in Saudi Arabia and Kuwait. When Saudi Arabia decided to extend Chevron's license until the year 2039 without informing Kuwait, Kuwait stopped issuing and renewing visas for Chevron's foreign employees.
For Chevron, the restart of Neutral Zone production is very important. In a low oil price environment, this production will provide them with one of the lowest cost barrels. Assets like these can help Chevron sustain their all-important dividend. Chevron's Q1 earnings call on April 28 might provide some updated information on when they are expected to restart production. The latest comments from CEO John Watson provided a very vague timeline to restart but he also highlighted the importance of this asset to the company:
We think those are high margin barrels when they come online. I mean if you look at the work during this time and we've been down there, our people have taken the time to dramatically reduce costs and they have taken a close look at the reservoir and we've got a queue of base business activity that is very high return, it will compete with the best we've got in the world and it's very economic.

So I think the Kuwaitis understand that. And I think there's a desire to move it back to get it back on production but look this is - these are issues between governments, I'm not going to give you a forecast of when that might be resolved.
Neutral Zone Production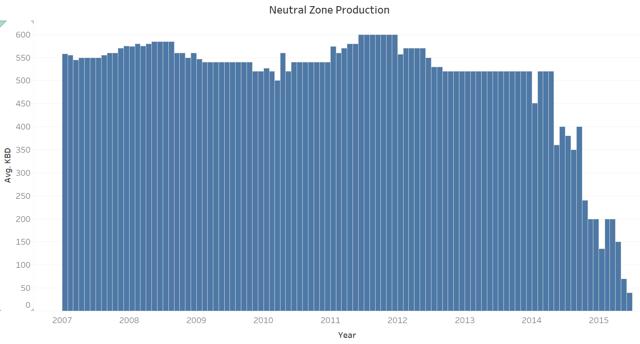 Source: IEA
Before the issues in 2015, Neutral Zone production was a very stable supplier to the oil markets in the region of 500-600KBD. Due to current reduced Libyan production, the restart of Neutral Zone production back to historic levels would mean another Libya entering the market.
Conclusion
Even if Saudi Arabia and Kuwait are to be believed on increased Neutral Zone production not affecting the current OPEC cuts, these incremental barrels will eventually enter the market. They could be as soon as June if the May OPEC cuts extension are not agreed. Or they could be in early 2018 when the OPEC extension cuts have completed the expected 12 months. This increased production will be the size of roughly another Libya (at current production levels) which will put pressure on current OPEC measures on trying to reduce the global crude inventory overhang.
Disclosure: I/we have no positions in any stocks mentioned, and no plans to initiate any positions within the next 72 hours.
I wrote this article myself, and it expresses my own opinions. I am not receiving compensation for it (other than from Seeking Alpha). I have no business relationship with any company whose stock is mentioned in this article.