This article was first published at European Small-Cap Opportunities, a Premium service by The Investment Doctor.
Introduction
Hunter Douglas (OTC:HDUGF) might be one of the weirdest companies you will come across. Even though this company is listed in the Netherlands, it was incorporated offshore, in Curacao, with a management office in Switzerland, whilst it's generating 2/3rd of its annual revenue outside of Europe.
It reports and publishes its financial results in USD, but its share price is trading in Euro. And to make things even more interesting; even though the company has one of the highest market capitalizations amongst Amsterdam-listed stocks (not high enough for the AEX, but definitely high enough for the mid-cap index), Hunter Douglas isn't part of any index.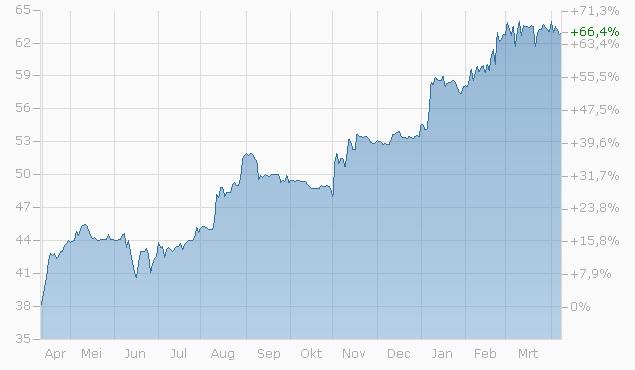 Source: finanzen.net
I would strongly recommend you to trade in Hunter Douglas shares using the facilities of Euronext Amsterdam. The company is trading with HDG as its ticker symbol, and due to the low average daily volume (6,700 shares, for a dollar volume of slightly less than $450,000), make sure you use limit orders. The current share price is 62.74 EUR, giving it a market capitalization of 2.22B EUR.
Hunter Douglas' business model
Hunter Douglas is one of the world leaders in window coverings, present in in excess of 100 countries whilst employing approximately 16,000 employees. It all started in 1946 when the company created the aluminum blind, where after Hunter Douglas continued to focus on expending and refreshing its products. As of today, the $3B in annualized revenue emphasizes Hunter Douglas' important position on the market, with Luxaflex and Silhouette as its main brands.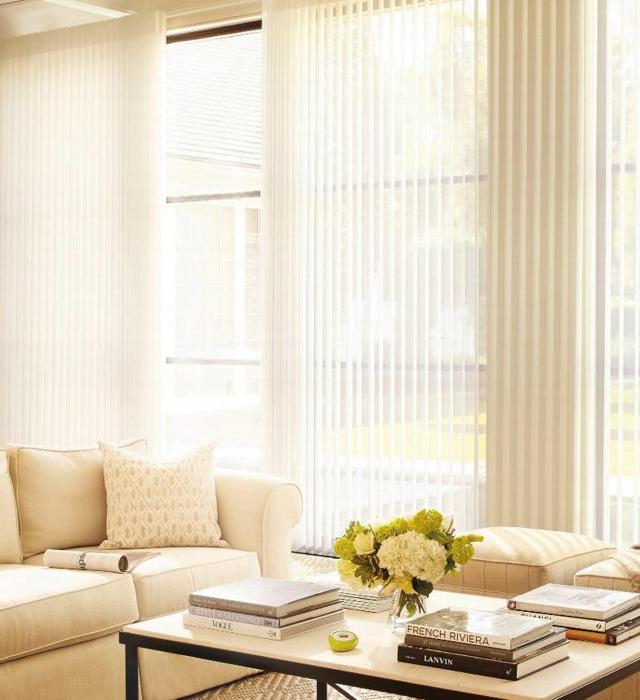 Source: annual report 2015
Approximately 50% of the company's revenue is being generated in North America, with Europe accounting for 35% of the revenue. 83% of the total revenue came from the window coverings division whilst the remaining 17% was contributed by the architectural division.
Due to Hunter Douglas' constant investment in developing new products, it has been able to remain one of the leaders, and its products regularly win awards. So, a very simple business plan and strategy. Whenever your house or condo needs blinds, there's a good chance Hunter Douglas has produced them.
The FY 2016 free cash flow funded a large part of the Newell Rubbermaid acquisition
Hunter Douglas has recently reported its financial results for 2016, and there were no huge surprises. With a total revenue of $2.82B and gross profit of $1.2B, Hunter Douglas performed as expected. Looking at the bottom line, the net income was approximately $203M, or roughly 30% higher than the $156M in 2015.
The company also reported an extraordinary tax gain of almost $66M which pushes the total net income to $268M, but as this is a non-recurring tax benefit, I will completely ignore this, as I'm predominantly trying to figure out how Hunter Douglas' sustaining profits and cash flows are.
Talking about these cash flows, I'd be very interested to see if Hunter Douglas' free cash flow is able to meet or surpass the $203M or $5.83 per share in net income.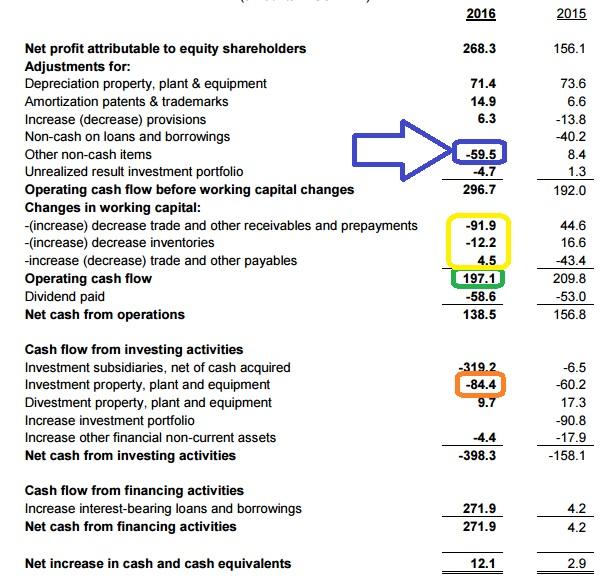 Source: press release
First of all, you should notice how the company does start its cash flow statements with the $268M which includes the non-recurring tax benefit. However, it also deducted almost $60M in 'non-cash items' whereas it was able to report a non-cash item INCOME in 2015. I would thus dare to bet this is the tax benefit which has been taken into account for the income statement, but now being neutralized as there was no effective cash inflow.
The operating cash flow was $197M, and after excluding the changes in Hunter Douglas' working capital position, the adjusted OpCF was a very impressive $296M, and after deducting the $84M in capital expenditures, Hunter Douglas reported an adjusted free cash flow of $214M, or approximately 5% MORE than its net income, for an income/FCF conversion ratio of 105%.
That's absolutely fantastic, and the $214M works out to be 202M EUR (using an EUR/USD exchange rate of 1.06), or 5.70 EUR per share. This means that at the current share price, Hunter Douglas is trading at a free cash flow yield of approximately 9%.
What should you expect for 2017?
The current free cash flow yield is already very intriguing, but I expect Hunter Douglas to perform even better in 2017.
There are several reasons for this.
First of all, the $270M acquisition of Levelor from Newell Brands (NYSE:NWL) only closed on July 1st, so it's very likely we will see a revenue and operating cash flow boost as this is the first year the Levelor acquisition will be fully accounted for to Hunter Douglas.
I think the Q4 results confirm this view, as Hunter Douglas' Q4 revenue increased by a stunning 18.4%, of which 16% was contributed by acquisitions. Additionally, the company's H2 revenue increased by 16% compared to the H1 revenue.
Secondly, Hunter Douglas confirmed a $14M restructuring expense related to the acquisition of Levelor. Whilst we might see some additional restructuring expenses in 2017, these should completely disappear in the longer run. If anything, we will see synergy advantages emerge, rather than Hunter Douglas spending more money on restructuring. On an after-tax basis, these restructuring costs have decreased the adjusted free cash flow by $10M, or approximately 5%. Pretty substantial.
That being said, Hunter Douglas will increase its capex from $84M to $100M, and the capex increase is completely the result of the Levelor acquisition. I didn't see any official note from Hunter Douglas' management team, but the fund manager of 'Add Value' says Hunter Douglas confirmed the previous owner has 'underinvested' in the Levelor (and Kirsch) brands, and HD will now catch up with that.
But even then should Hunter Douglas' revenue increase to in excess of $3B per year (in H2, the revenue was already in excess of $1.5B), I would expect the adjusted free cash flow to increase to at least $220-225M, even after taking the higher capex bill into account. This would push the adjusted free cash flow to 6 EUR/share.
The 'interesting' history of the company - Why is it (deliberately!) flying under the radar?
Hunter Douglas has historically always been a 'family' company. Originally created as Douglas Machinery in 1940 by the Sonnenberg family (which probably escaped Dusseldorf right before the war broke out), it merged later with joint venture partner Joe Hunter to develop the aluminum blinds the company was known for.
In the mid-fifties, there was a break-up, and Henry Sonnenberg moved the company's HQ to Montreal Canada, giving up the American operations, only to re-acquire them in the mid-seventies. Hunter Douglas is a company which shouldn't even have a listing, as the Sonnenberg family has clearly been annoyed with a listing in the past, as its corporate governance level has been 'questionable' at best.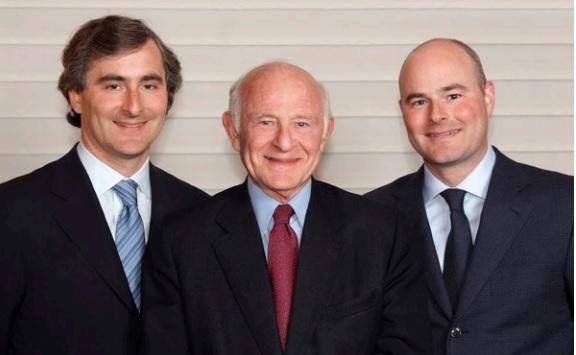 The Sonnenberg family. Source: annual report 2015
Back in 2005, the company was still resorting under the Dutch laws, and when the company launched a buyback program (taking advantage of the low share price which was just 40 EUR), the Sonnenberg family reached the threshold which forced them to make a mandatory offer to acquire all outstanding shares. The Sonnenbergs clearly weren't too keen on doing so, and made a deal with the regulator: it would issue preferred shares to remove this obligation. Surprisingly, the regulator agreed, and the Hunter Douglas preferred shares were 'born', and the Sonnenbergs didn't have to make an offer for the entire company. For a good read on the background story, click here for a Google Translate version of a Dutch article.
Side note: These preferred shares had no extra or special rights, and the preferred dividend was extremely low at just the ECB deposit rate + 2.25%. As the deposit rate is now negative, the cash outflow related to these preferred shares has always been extremely minimal. This was just a trick to avoid having to launch an offer to acquire all shares of Hunter Douglas.
I'm really surprised the regulator wanted to play ball on this structure, as the Sonnenberg's subsequently moved the company to Curacao, which does NOT have similar 'mandatory' offers. Just a few years after issuing the preferred shares, the Sonnenberg family repurchased almost all of them (and currently owns 99.4% of the preferred shares) and subsequently launched another major share repurchase program for its common shares. Just half of them were tendered, and Hunter Douglas repurchased them all.
And that's how the Sonnenberg family got to own 81.2% of the common shares and 99.4% of the preferred shares. An intriguing strategy of a family company which didn't (doesn't) even want to be listed.
The risks associated with an investment in Hunter Douglas
Of course, 'slam dunk' investments don't exist at all, and there obviously also are risks involved with an investment in Hunter Douglas.
First of all, the Sonnenberg family controls in excess of 81% of the company's common shares and will be able to push through any decisions it wants to see happen. This also reduces the possibility an activist investor will step up the plate in an attempt to see the company trying to increase its market value.
However, I think I can also immediately provide a counter-argument. Exactly BECAUSE the Sonnenberg family is the largest shareholder (with members of the family appointed as Chairman, CEO, President and COO), you know they won't do anything stupid. After all, Hunter Douglas is the 'work horse' of this billionaire family.
Secondly, now business is picking up again, Hunter Douglas is hiking its dividend again. Not only is this great for the company's (small) shareholders, the huge share position of the Sonnenberg family ensures its interests are aligned with the smaller shareholders. The dividend has now been increased from 1.50 EUR/share to 1.75 EUR/share, and this will allow the Sonnenbergs to take home 50M EUR. That'll pay their bills for quite some time. With an adjusted free cash flow of 6 EUR, share, the dividend coverage is approximately 343%.
One risk you might have to consider is another offer from the Sonnenberg family to take the company private. The company repurchased approximately 50% of its float at 43 EUR/share (as back then, a lot of shareholders didn't really know what a gem Hunter Douglas was), and an additional going-private offer is definitely possible.
However, I'd once again like to offer two counter arguments. First of all, owning 81.2% of the votes doesn't allow the Sonnenbergs to start a squeeze-out procedure, as the minimum threshold for this procedure to force people to tender their shares is 95%. So unless 13.8% of the shares would be tendered to an offer, it has no chance.
Does this mean every offer is doomed to fail? Not really. Every asset has its fair price, and so does Hunter Douglas. If the offer is enticing enough, there's no reason why shareholders wouldn't want to tender their stock. But let's be clear, a 65 EUR or 70 EUR offer would not attract a lot of sellers, as the remaining shareholders now know very well they are sitting on a proverbial gold mine.
An additional bonus: a $200M investment portfolio
Did I already tell you Hunter Douglas is an interesting (read: weird) company? As the Sonnenberg family owns in excess of 80% of the company's common shares, it has been using the Hunter Douglas cash position to start an investment portfolio. This portfolio had a value of $206M as of at the end of 2016, but it sounds like Hunter Douglas is downsizing this investment portfolio, which will allow it to reduce its net debt and interest expenses.
It looks like the portfolio was predominantly investing in liquid assets, managed by a bunch of independent managers. The annual report for 2016 hasn't been published yet, but this is how the portfolio situation was as of at the end of 2015.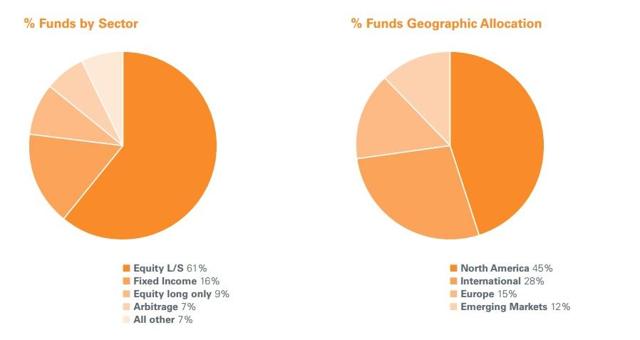 Source: 2015 annual report
So whilst this will have no impact on the company's profit, it will increase its liquidity. Should the entire portfolio be liquidated, the year-end pro forma net debt in 2016 would have been just $426M for a net debt/EBITDA ratio of just 1.17 (and again, this doesn't take the H1 EBITDA from the Newell Rubbermaid acquisition into consideration). So unless HD acquires new companies, I'm expecting the net debt/EBITDA ratio to be less than 1 by the end of this year.
Investment thesis
It's impossible to deny Hunter Douglas is cheap. I anticipate the 2017 free cash flow yield to be approximately 9-9.5% and that's definitely a sufficient compensation for the large insider ownership and the low level of corporate governance. As long as the Sonnenberg family doesn't own 95% of the common stock, it cannot initiate a squeeze-out procedure. Should the Sonnenberg's really want to get rid of the minority shareholders, the best strategy would very likely be to cancel the dividend and 'smoke them out'. However, the recent dividend increases are pointing in the direction of the Sonnenberg family having accepted the current situation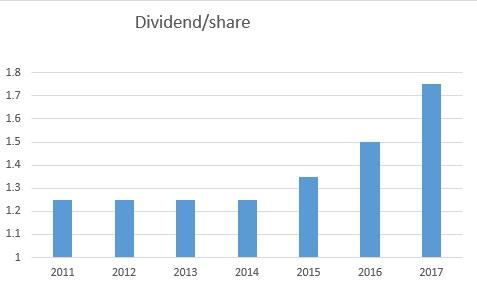 Source: Excel, based on public information
For now, Hunter Douglas seems to be a company you could add to your portfolio and just forget about. The business is performing very well, the company is trading cheap based on a free cash flow basis, whilst the dividend payments will very likely be hiked in the future, rather than slashed. Keep in mind the company has a Dutch Antilles ISIN-code, so you should check with your broker/fiscal expert to see if there are any withholding taxes on your Curacao dividend.
Consider joining European Small-Cap Opportunities to gain exclusive access to similar ideas and actionable research on appealing European-focused investment opportunities, and to the real-time chat function to discuss ideas with similar-minded investors!
This article is part of Seeking Alpha PRO. PRO members receive exclusive access to Seeking Alpha's best ideas and professional tools to fully leverage the platform.
Disclosure: I am/we are long HDUGF.
I wrote this article myself, and it expresses my own opinions. I am not receiving compensation for it (other than from Seeking Alpha). I have no business relationship with any company whose stock is mentioned in this article.
Editor's Note: This article discusses one or more securities that do not trade on a major U.S. exchange. Please be aware of the risks associated with these stocks.