Amid a delicate PR crisis that is still flooding the internet, United Airlines (NYSE:UAL) released its Q1 2017 operational results after the close on Monday.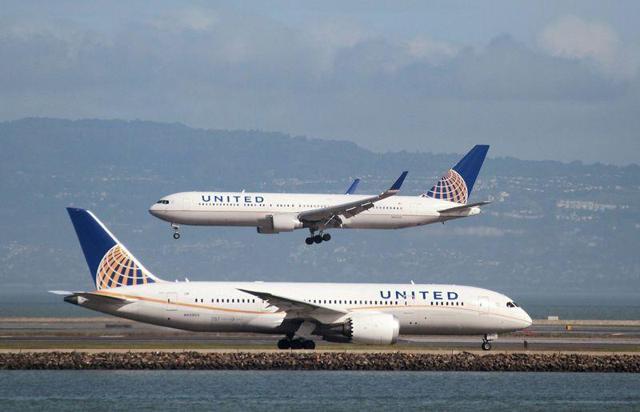 Credit: Yahoo Finance
Although shares are down about -3% intraday as I begin to write this article, the company's report came in at least on par with expectations, if not slightly better.
The image below shows some of the key metrics shared last evening.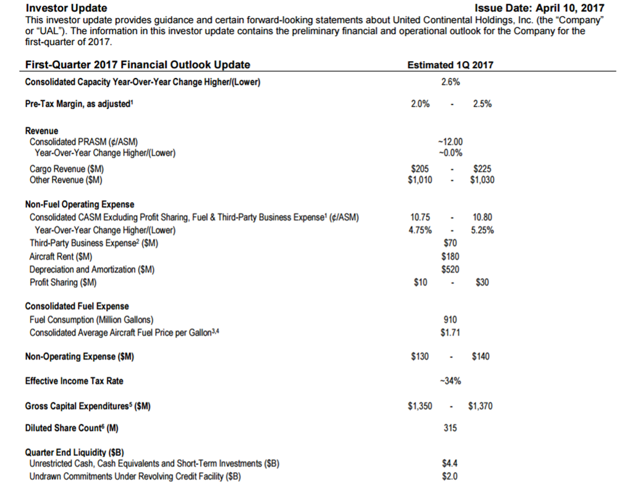 Source: United Airlines Investor Relations
In line with management's previously released guidance of -1% to +1%, PRASM (passenger revenue per available seat mile) is expected to stay flat in Q1 2017. Consolidated capacity growth of 2.6% was above the guided range of 1% to 2%, primarily driven by higher completion factor that had already ended fiscal 2016 at a peak of 99%. Largely as a result of the increased capacity, load factor (usage rate of consolidated capacity; the higher the rate, the better) came down 30 bps this quarter to 79.6% YTD. This is a small drop that I do not find concerning.
Total non-fuel CASM (cost per available seat mile) is expected to come in higher by 5% YOY at the midpoint of the range, which is exactly what management had guided for in January. This number reflects additional expenses from the purchase of leased aircraft and increased incentive payments to employees for performance. Fuel consumption of 910 million gallons represent a YOY increase of 2.2%, which is perfectly aligned with growth in revenue passenger miles.
Beating expectations, Q1 2017 adjusted pre-tax margins are now forecasted to be within 2% to 2.5%, which is better than the wider range of 0.5%-2.5% previously disclosed. Expected cargo revenue growth of 11% YOY at the midpoint of the range is very solid, beating last quarter's increase of about 8% after an overall weak 2016.
The table below illustrates my estimates for United Airlines' Q1 2017 results. Notice that my $0.39 EPS expectation exceeds the Street's by five cents.

Source: DM Martins Research
Key takeaways
At the end of the day, it looks like United Airlines will have a solid Q1 2017 to report on April 18th, with potential upside to current EPS estimates. Shares have been down all day today (off the lows as I wrap up this report) on what seems to be a delayed reaction to Sunday's passenger incident.
Although short-term biased investors might understandably want to avoid UAL due to recent developments, which could result in customer backlash and possibly cause some negative impact to Q2 2017 results, eventual price weakness across the airline services sector might open windows of opportunity. For example, Delta Air Lines (NYSE:DAL) has been down as much as 1% intraday today in sympathy, which I find unjustified.

Source: DM Martins Research, using data from Yahoo Finance and Zacks
As it pertains to United, I believe the company remains on track to meet its targets for fiscal 2017. Today's weakness might be an opportunity for long-term biased investors to buy shares about 10% off 52-week highs. UAL continues to be one of the cheapest stocks in the sector (see table immediately above), while the company's fundamentals and prospects look enticing enough to me.
Supporting Documents
Disclosure: I/we have no positions in any stocks mentioned, and no plans to initiate any positions within the next 72 hours.
I wrote this article myself, and it expresses my own opinions. I am not receiving compensation for it (other than from Seeking Alpha). I have no business relationship with any company whose stock is mentioned in this article.