Valeant (NYSE: VRX) hit a 9-year low last week. In our view, this stock is extremely undervalued because of various misunderstandings in the market.
Inappropriate valuation matrix
Sell-side research analysts are fixated on using EV/EBITDA to value Valeant. This method is flawed and unfair. The essence of a company to borrow debt is to create more profits for equity holders by paying fixed interests to debt holders. Equity holders only care about residual earnings, which are net profits or EPS. Since Valeant brings positive cash earnings and removed bankruptcy risk before 2020, it should be valued at P/E multiples.
Valeant is currently traded at around 2.6x 2017E P/E multiples, which is absolutely undervalued. In other words, if we bought all of Valeant's stock at current price level, we could get ALL the money back around end of 2019.
This stock is currently trading at bankruptcy level, while bankruptcy is not happening.
Misunderstandings in the markets
Why is Valeant undervalued?
Valeant was notorious, for reasons we all well-aware of. However, the market forgets that Valeant has changed its entire key management with professionals who have good track records in the industry. The market also ignores the facts that drug price increase are resulting from, in a broader sense, the broken healthcare system. Industry leaders' recent transparency reports help to clarify this complicated situation (Lilly , Merck and etc.).
Furthermore, Valeant is targeted by short-sellers, who pocketed BILLIONS of dollars from Valeant's freefall. Those short-sellers are smart enough to create noise in the market and try to bash Valeant's every single turnaround effort. Here are three recent examples.
1. Refinancing
On March 22nd, when Valeant announced that it completed its refinancing, the market dropped 1% in response. It is blamed that Valeant refinanced its debts only because "refinancing is a 'clear indication' that the $8 billion of asset sales the company was aiming for will not go ahead."
However, the market ignores that refinancing removed any bankruptcy risk before 2020 and increased Valeant's negotiation power in asset sales.

Figure.1 Valeant's long-term debt schedule
(Note: The amortization rate for all series F tranche B term loans was increased from 1.00% per annum to 5.00% per annum. Source: company filing)
Furthermore, it's a technical move. The demand/supply imbalance has driven the yield to maturity of leveraged loans to a cyclic bottom. Valeant is smart to seize this opportunity to extend debt maturities with minimum cost. The upsize of Valeant's bond offerings from $3.5 Billion to $4.25 Billion is another proof of this market dynamic. In this way, Valeant is able to pay off 6.75% 2018 bonds with newly issued 6.5% 2022 bonds.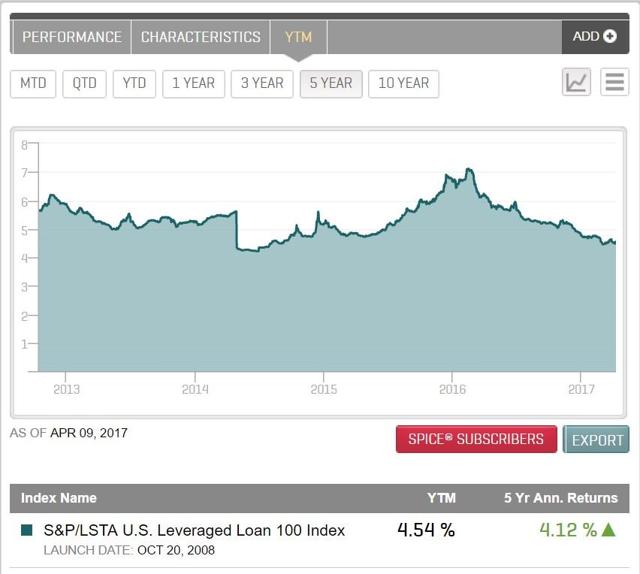 Figure.2 Yield to Maturity of leveraged loan markets
(Source: S&P Global, us.spindices.com/indices/fixed-income/sp...)
Actually it should not be a surprise, given new CFO Paul Herendeen's track records. While as CFO of Warner Chilcott, Herendeen successfully de-levered the company from 8.4x Net Debt/EBITDA to 1.4x Net Debt/EBITDA in merely four years. He also emphasized in the Valeant's 2016Q4 earning call that "we'll continually monitor the capital markets and will look for opportunities to increase our operating flexibility and extend the maturity profile of our debt".
A good CFO is always on the look for market conditions to optimize the company's debt structure. Herendeen did a great job of stretching Valeant's payment terms with very low cost. This is not the sign of the company's inability to close asset sales. It is the indication that management can fire on different barrels to improve the company's financial strength! This allows the company to walk away from low-ball bids in their asset sales process. Refinancing is certainly a piece of good news. Unfortunately, this has been buried under short-seller attacks.
2. CEO compensation
Another recent attack was based on "Valeant CEO Joseph Papa Was Paid $62.7 Million in 2016" , which led to an outcry on Twitter and investor concerns. The company had to file another proxy 10 days later which explains the compensation structure, which was already disclosed from the proxy in 2016 when Papa was hired by the company.
Papa did not take home $62.7M a year! And not in cash! This number includes Papa's incentive plan stretched out for 4-years, his relinquished $22.6 million golden parachute in Perrigo, $5 million mandatory purchase of Valeant's stock, and under assumptions that Valeant's stock price being over $52.
This is not a case that an existing CEO wrote himself a fat check after he screwed up the company. This is the case a troubled company seeking a seasoned industry veteran to clean up the mess and turn around the ship. The information was disclosed to the market a year ago! Joe Papa was already making $10.7 million a year in Perrigo. In coming to Valeant, he gave up $22.6 million severance package in exchange for mostly stock based compensation. His stock awards are mostly worthless when the stock is below $60. Papa's compensation is very closely tied to his performance and measured by shareholder return. It is a good package for shareholders, not a bad one. But when titles like "Valeant CEO Joseph Papa Was Paid $62.7 Million in 2016" appear all over the media, it certainly confuses a lot of people who do not have the time or patience to find out the history or the details……
3. iNova sales
The last piece of news brought Valeant's stock down below $10 was the expected iNova sales was not announced. There are two points we can get from the news articles. First, more bidders joined later in the process, thus the final date of bidding was extended to March 31st from March 17th. Second, the final bid price was less than the company previously expected. It was rumored that the company was expecting 1 billion AUD, yet the bid was 900 million AUD.
The company's ability to walk away from a deal that is short of 10% from its expectation, is a clear indication of their stronger negotiating position achieved by refinancing. There are multiple demands for the asset. The sale can be easily closed at 900 million AUD. For a company with multibillion dollars revenues, 100 million AUD is not a big amount. Walking away from this deal is a sign of strength, demonstration of discipline, and focus on shareholder values.
Again, the stock should be rewarded, not punished.
Exaggerated risks
Let's shift gear to discuss risks of investing in Valeant at current price level.
1. Bankruptcy risk
As mentioned above, there are negligible principle payments before 2020 (Figure. 1).
On the covenants side, refinancing created much flexibility:
1). No maintenance covenants on Term Loans.
2). For revolver, the interest covenant is 1.5x for now, and 1.75x post Mar 2019. Secured leverage ratio maintenance is 3x for now and 2.75x post Jun 2019. Given Valeant's estimated $1.75 billion interest payment, $3.53 billion EBITDA consensus, and $8.4 billion current secured loans. There's very little chance to violate these covenants.
2. Business risk
It's true that Valeant is facing headwinds from loss of exclusivity and generic competition in 2017 and coming 2018. But we would like to emphaize that all these business risks are well communicated and discussed in earning calls. The management guided $3.55~3.7 billion 2017E EBTDA, well below $4.3 2016A EBITDA. Again, these EBITDA numbers lead to over $1.5 billion cash earnings and the current market capitalization of Valeant is only $3.3 billion.
3. Legal and other risks
Prices hikes and Philidor are legacy issues and already well priced in the stock in early 2016. No significant issues have occurred since new management came to Valeant.
To sum up, Valeant's risk profile provides great margin of safety at current price level.
Conclusion
Valeant is different now. Valeant has a new management with solid track records. The new management delivered their turn-around promises in the past 3 quarters. They realigned businesses segments, divested some non-core assets at reasonable valuations, and invested $421 million in R&D in 2016 to fully realize the potential of their product pipeline. The recent refinancing completely eliminated bankruptcy risk before 2020, which put the company in a much stronger position when negotiating asset sales and gave them much needed operational flexibility. Valeant's CFO Herendeen purchased 24,000 shares on 2017 March 14th at $10.72, when the stock was brought down over 10% by the Bill Ackman news. Herendeen is the person most familiar with the company's current financial situation, and he is showing confidence in Valeant with his own money.
Trading at less than 3x P/E, the stock is priced as if the company would bankrupt tomorrow. This is clearly not happening. At this depressed valuation, meeting or beating the consensus should not be a concern. Turn-around happens in quarters, not days. The company was stabilized and is definitely moving towards the right direction.
Currently, institution investors only account 44% of outstanding shares. High retail participation contributes a lot of volatility in the stock price. The near-term pressure created by recycling and reposting old news, unrealistic explanation of positive development without respect to facts and common sense as well as simply bashing across the media has created opportunity for rational investors.
Disclosure: I am/we are long VRX.
I wrote this article myself, and it expresses my own opinions. I am not receiving compensation for it (other than from Seeking Alpha). I have no business relationship with any company whose stock is mentioned in this article.