Although much has been cited about the demise of brick-and-mortar retailers, the fact is that nearly 92% of all retail sales still occur within traditional retail stores. According to the latest U.S. Department of Commerce estimates, eCommerce sales increased from 7.3 percent of total sales in 2015 to 8.1 percent of total sales in 2016. While the share of eCommerce sales is incrementally growing year on year, there are some retailers who are succeeding: retailers that are focused on minimizing space and maximizing consumer value will have a long-term strategic advantage.
The chart below summarizes the latest statistics that rank the retailers with the highest sales per square foot. The YoY (2016-17) comparisons have been provided wherever possible. Note that there are remarkable YoY improvements to sales per square foot for Kate Spade (KATE), Birks Group (BGI) and Coach (COH). Conversely, Tiffany (TIF) and Michael Kors (KORS) have not been able to maintain the pace of sales per store from year to year. However they continue to be among the Top 8 retailers who excel at maximizing sales per store.
Except for Murphy USA (MUSA) convenience stores (approximately 440 sq. ft. per store), the top ranked retailers' store size range from an average of about 1860 sq. ft. (Kate Spade) to as high as 8400 sq. ft. (Apple Stores AAPL). Yet many retailers originally supersized their store sizes to presumably lead to economies of scale, greater consumer choice and a higher conversion rate. Given the challenges that big-box retailers have to maintain sales year-to-year, it is timely to rethink how store size matters. According to Cowen & Co. research group, the brick-and-mortar retail footprint in the US is more than 2X that of the UK and nearly 4X that of Canada.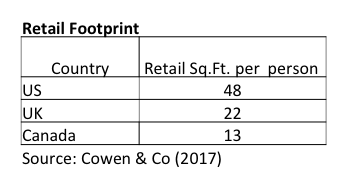 Apart from massive store closings of unproductive locations across the U.S., two of the top six leading retailers are borrowing a page from retail leaders who consistently rank high in sales per square foot: leverage small stores. Target (TGT) and Wal-Mart (NYSE:WMT) have been accelerating their pace of opening smaller stores.
More than 90% of the 32 stores that Target plans to open in 2017 will be less than 50,000 square feet - less than 40% of the average Target store size of the past. Nearly half of those will be less than 30,000 square feet - less than one-fourth of the average Target store size. Additionally, all of the store openings planned for 2018 and 2019 will be less than 50,000 sq. ft.; according to CEO Brian Cornell, this investment strategy allows Target to enter more dense urban neighborhoods and college campuses where typical store sizes are not possible. He also noted that smaller store sizes deliver nearly two times the sales productivity of an average sized Target store.
Target also released designs for its next-generation stores which will merge a smart network of digital channels (including mobile point-of-sale) with their streamlined layout to improve customer convenience with grab-and-go and easy pick up of online orders. These two moves are part of the billions of dollars of investment announced earlier this year to improve top line sales and bottom line results.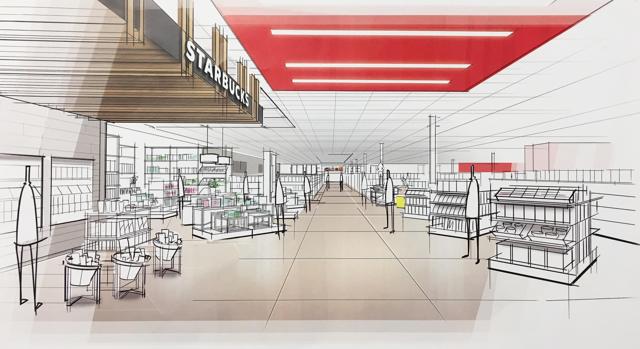 Next Generation Target Store Design; Source: Target.
Wal-Mart first started rolling out the Neighborhood Store sizes en masse in 2012 although they have been operating in various forms since 2004; these are less than half the size of a typical Wal-Mart store. Since then, it has experimented with "To Go," "Campus" and "Express" store sizes. Early last year (January 2016), Walmart announced the closure of 102 of its Express stores to help it align with its long-term strategy (not all Express Stores had been operating effectively). This represented about 40% of all similar-sized stores that operated globally under the Walmart brand. In July, 2016, Dollar General (DG) bought 41 of those stores to add to its total of over 12,000 stores across the country.
Wal-Mart continues to adapt, for it recently pivoted its small store strategy to focus on pickup and fuel convenience stores. These allow customers to merge eCommerce shopping with in-store shopping, for what they order online can be picked up at one of their pickup and fuel convenience stores. The first convenience store concept launched in Arkansas. Wal-Mart's overarching plan is to compete with and gain market share from 7-Eleven, dollar stores (like Dollar General) and other fuel-related stores like Murphy USA. This is no coincidence; Murphy USA has consistently been in the top five of retail sales per square foot in the last few years (as the chart shows above).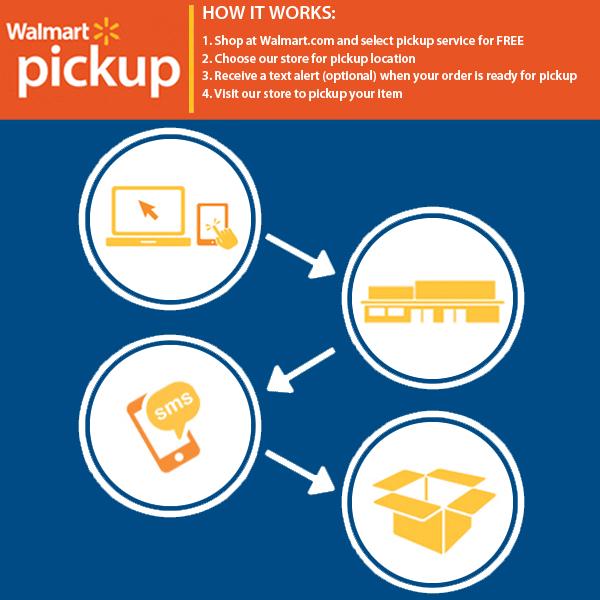 Wal-Mart Pickup Process; Source: Wal-Mart.
There's one other convenience store concept that Wal-Mart launched in Texas this year - located on supercenter parking lots or nearby supercenters. These will range in sizes of 2,500, 4,000 or 5,000 square feet per store and are well within the store size range of the top-performing retailers in annual revenue per square foot. These compact convenience stores will continue to benefit from eCommerce sales (to be picked up by customers at the small footprint stores) while optimizing conversion of in-store sales that will seek to match or outperform sales of competing 7-Elevens or equivalent stores.
There are a handful of retailers who have not sought to seriously test small store size concepts. Sears (SHLD) announced that it would do so in mid-2016 with a store concept that would be one-tenth of the standard Sears store; it was not enough. In March, Sears announced the following in its annual report: "Our historical operating results indicate substantial doubt exists related to the company's ability to continue as a going concern."
Although J.C. Penney (JCP) did experiment with many mid-west stores with a smaller store size, many of the 138 store closings were on the list for closure in 2017; these closures were timely because this slice of 13-14% of its stores represent less than 5% of its total sales. However, there is no small store strategy on their road map. Kohl's (KSS) is seeking to operate many of its stores in a smaller footprint while it or its landlord leases out the remaining space to others. This will be an interesting test case to compare the Kohl's reduced store size tactic versus the longer term strategy of Wal-Mart and Target.
Optimizing store size to maximize sales revenue per store is a priority for all retailers. Closing non-performing stores is not enough. Retailers must also adapt their strategies by leveraging that (small) size matters. This is not a panacea for success. Minimizing store footprint can be used as one strategy among many to appeal to new demographics (e.g., Millennials and Gen Z), new locations (densely populated urban areas or unique markets), and/or segmentation within the retail industry (convenience stores vs. big-box general merchandise stores).