If you're searching for companies offering consistent earnings growth, you'll be hard-pressed to find anyone beating Johnson & Johnson (NYSE:JNJ). Last year it held, to my knowledge, the record with 32 consecutive years of adjusted operational earnings growth. In 2016, it increased EPS by 8.5%, thereby extending the streak to 33 years. Impressive!
The stability of earnings growth and, as we shall see, its stability of dividend increases are unquestioned. Let's have a look at how the market values this stability.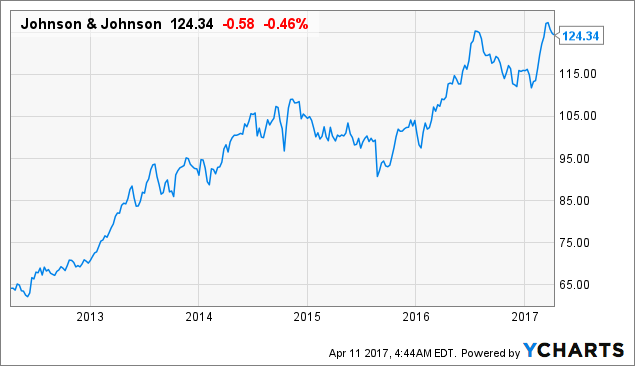 Seems like the market knows how to appreciate a high-quality company when it sees one. Capital appreciation of 88% from approximately $66 to $124 in five years is quite nice -- resulting in an annual average return of 13.3%. Adding in the dividend of approximately 2.5% gives us an annual total shareholder return of a respectable 15.8%. Stability and superior returns -- looks like the best of both worlds to me.
Historical Dividend Growth
When it comes to a history of dividend growth, few companies have a longer history than Johnson & Johnson. It has not only paid a dividend but delivered annual increases to the dividend for longer than many of today's large-cap companies have existed.
It certainly gives us some confidence in the dividend prowess of Johnson & Johnson with a track record like that. On the other hand, we all know that nothing lasts forever. We also know that some companies like to offer token dividend increases in order to stay on the dividend aristocrats list.
Looking at Johnson & Johnson, we can see that back in 2005 and 2006, a usual annual increase was to the tune of 13-15% a year. In subsequent years it fell to the 6-10% range and in later years it has been in the 6-7% range. Over the last ten years the quarterly dividend has increased from $0.375 to $0.8 for a total boost of 113% or an annual average of 7.9%. This number is above the typical number for the last couple of years, further confirming the downward trend in the increase.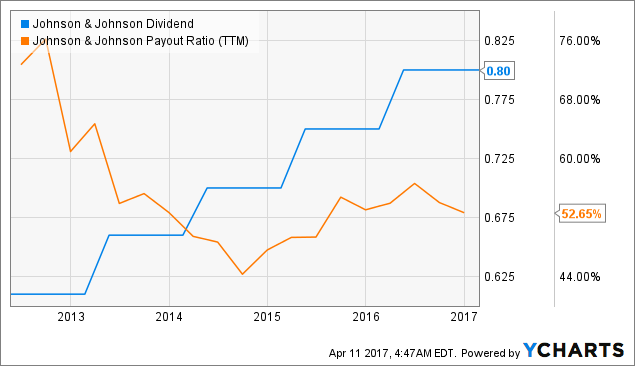 JNJ Dividend data by YCharts
From the chart above we can see that there's been a healthy development in the payout ratio -- from a high of around 76% in late 2012 to the current level of 52.65%.
Though Johnson & Johnson operates in a competitive industry across all its lines of service, retaining approximately half of earnings to reinvest in the business should be plenty to make sure the company will continue growing into the future. It also gives a nice cushion to stave off hard times and still leave room to increase the dividend. By any standard, the payout ratio of Johnson & Johnson would have to be considered conservative.
April Dividend Hike
So it's April again. That means springtime, warmer weather, Easter -- and a nice upcoming dividend announcement for Johnson & Johnson investors.
For 54 consecutive years the board has decided to give a raise to its loyal investors. Soon, investors will get their 55th raise in a row. Most dividend nerds holding the stock will be quite eager to try and gauge how much the dividend will be raised. As we have seen the earnings growth have been quite good recently, giving us confidence that the dividend has some room to be raised.
Given the EPS growth of 8.5% and the board's tendency to be fairly conservative when setting the new dividend level, I do not think there is a chance of a raise above the EPS growth, that means a ceiling of 8.5%.
On the lower end I believe they will be very reluctant to go for a raise that is lower than the lowest level of the last few years, which is 5.6% back in 2012 from $0.54 to $0.57. We therefore have a range of 5.6%-8.5% with a midpoint of 7.1%. Given its conservative nature and the tendency to go for hikes of 6-7%, I think the new dividend level is most likely to be $0.85 for a percentage-wise hike of 6.25%. It could go for $0.86, but that would imply a hike of a full 7.5%, which I think is too high for the Board to be comfortable with.
Risk Factors
Currency is a risk factor for Johnson & Johnson as it sells its products across the world in a range of currencies. Currencies tend to mean-revert over time and should therefore not impact operations of a solid company like Johnson & Johnson, but may temporarily worsen the payout ratio, putting a damper on dividend growth some years. There is constant competition within drugs, both from branded drugs and generic ones. One way to try and stay ahead, other than internal R&D, is by acquiring other companies with an interesting drug or pipeline of drugs. Johnson & Johnson recently did this with the acquisition of Actelion. That brings up another risk factor -- which is if Johnson & Johnson has overpaid. Lastly, with president Trump now in office and with the recent back and forth regarding repealing parts of Obamacare, it is hard to say how future regulations for the pharma industry will be.
Current Valuation
The pharma industry has long been known for its high profitability and nice, juicy dividends. As such, it could be interesting to see whether Johnson & Johnson is exceptional, or just one out of many. Though the company has several lines of business, the most relevant when comparing it to other companies is the pharma part, since that is the largest segment.
As competitors, I have chosen two global pharmaceutical companies: Bristol-Myers Squibb (NYSE:BMY) and Novartis (NYSE:NVS).
| | | | |
| --- | --- | --- | --- |
| | Johnson & Johnson | Bristol-Myers | Novartis |
| Price/Sales | 4.8x | 4.6x | 3.5x |
| Price/Earnings | 21.0x | 20.1x | 25.9x |
| Yield | 2.6% | 2.9% | 3.7% |
Source: Morningstar
The Price/Sales category is won by Novartis by a fairly large margin with the other two being quite equal, though Johnson & Johnson is a tad more expensive.
As for Price/Earnings, that category is actually lost by Novartis with Bristol-Myers Squibb the winner and Johnson & Johnson coming right behind at 21.0x. As for the yield, Novartis comes back to first place, leaving the other two in the dust. On this measure, Johnson & Johnson is the most expensive of them all.
All of the companies above must be considered high-quality, fairly low-risk stocks and consequently none should be cheap -- and they aren't. The S&P 500 trades at a Price/Earnings ratio of 21.3x, pretty similar to both Johnson & Johnson and Bristol-Myers Squibb. All things considered, then, I think the companies above are quite fairly priced as compared to the overall market.
The analysts on Wall Street expect Johnson & Johnson to put in an average annual EPS growth rate of 5.9% over the next five years. If we assume a stable earnings multiple and add in the current dividend yield of 2.6%, we arrive at an expected total annual shareholder return of 8.5%. Not bad considering you get that from one of the absolutely most stable companies you can find out there. Still, it might be a bit on the low side for people seeking returns more in line with what the stock market has delivered in the past. It really depends on your preferences. If stability, certainty and some nice dividend income are important for you, I would add some shares on the next pullback. If you are more aggressive, there might be more interesting opportunities out there.
Conclusion
If you're looking for stability, Johnson & Johnson is the stock for you. This company delivers EPS growth every year -- for 33 years running! This has translated into steadily increasing dividends with the 55th hike in a row coming later this month. If you want a minimum of surprises and a nice dividend income coming your way, Johnson & Johnson should be high up on your list of stocks to add during the next market pullback.
Disclosure: I/we have no positions in any stocks mentioned, and no plans to initiate any positions within the next 72 hours.
I wrote this article myself, and it expresses my own opinions. I am not receiving compensation for it (other than from Seeking Alpha). I have no business relationship with any company whose stock is mentioned in this article.