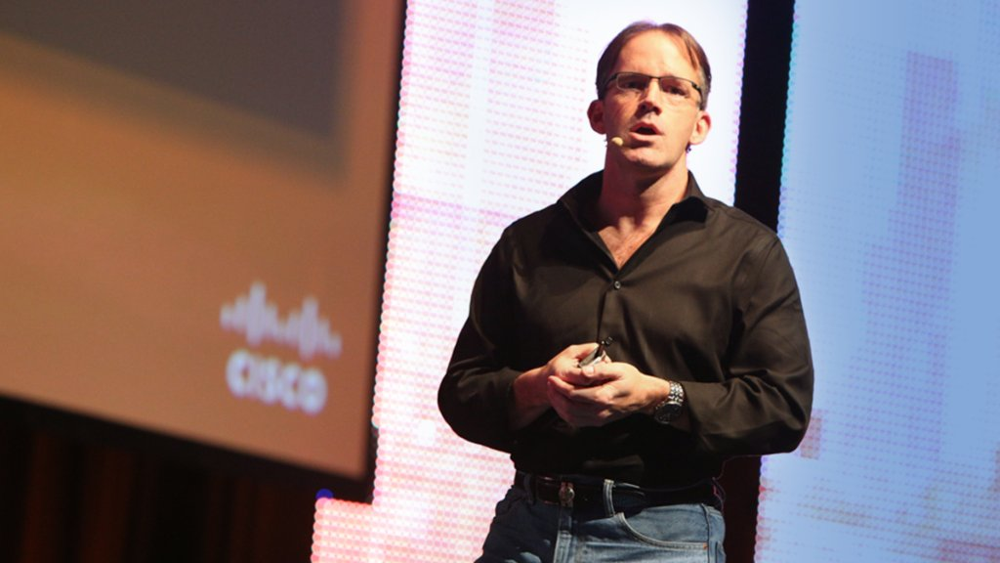 The Cisco (CSCO) narrative that played out between the dot-com bubble and the housing crisis no longer holds water. Yes, I hate to break it to you, but the technology landscape has shifted and Cisco (CSCO) let some enemies slip into its castle. With its competitive moat in networking now penetrated, where do we go from here?
Recent valuations in the capital market have revealed that both equity and debt investors are more willing than ever to extend capital to their favorite investments in return for the protection of their competitive moats. For companies like Cisco that have enjoyed a great ride over the last decade, investors are not willing to let go of the leash, especially on those that are deemed dividend cash cows given their ability to raise dividends year-over-year regardless of macro headwinds and other pushbacks.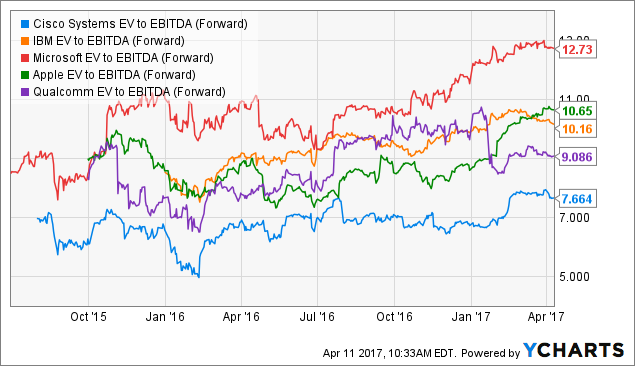 The graph above indicates the trend of the EV/EBITDA multiple of top dividend stocks in the tech space.
Clearly, investors are willing to take up more risk to own these great companies. For Cisco, its strategy for breaking into adjacent segments of the tech industry has largely stemmed from acquisitions. Essentially, rather than build a solid IP, it takes a gamble on the next big winner in a new tech trend and acquires a few of the fastest-growing performers in that cohort. This has expanded its playing field into video conferencing, wireless technologies, data centers, data analytics and cyber security.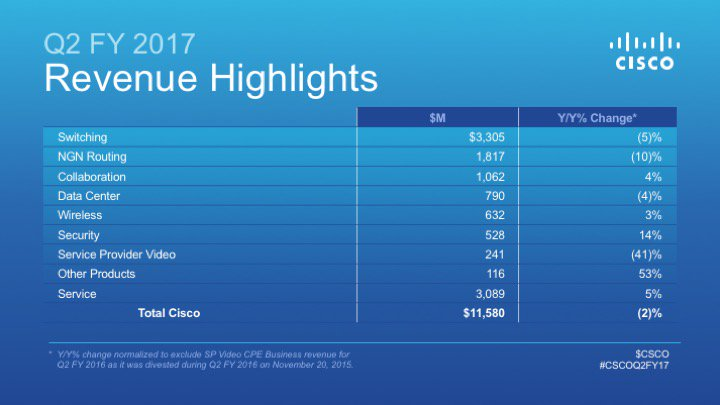 However, as strong as its strategy to upsell/cross-sell its networking devices appears to be, the loss of market share in its core playing fields (switching and routing) has erased the gains from upselling its networking capabilities into its new playing fields.
Cisco's brand advantage has always been in high-end networking appliances. Since the advent of SDN (software-defined networking), its profit pyramid appears to be collapsing as if it was only patched with no redundant foundational support in any of the newly acquired playing fields.
I'm referring to the danger of being overly bullish on a cash cow which suddenly starts getting leaner in the face of serious competition.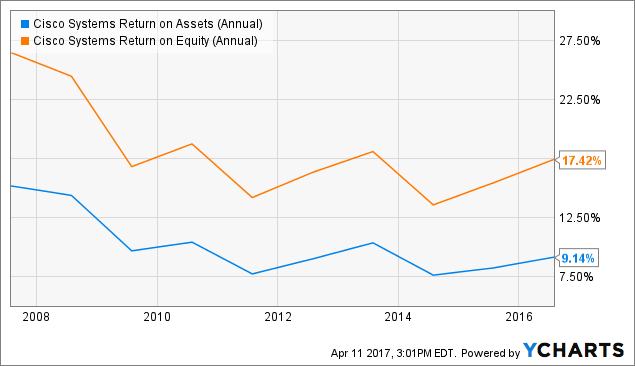 CSCO Return on Assets (Annual)
data by
YCharts
Internally, management has ensured improving ROA on most projects from every level of the value chain as highlighted by gains in ROE/ROA over the past few years.
However, with every new acquisition, a long-term trend highlights the gradual decline in ROA/ROE, indicating the danger of overpricing the value from new acquisitions that aren't capable of moving the needle.
Essentially, the Street has made the mistake of overpricing the ARR and contribution of most of the recent acquisitions and I forecast a need to digest the implication of a market share erosion (in routing and switching) and the drivers of bigger upticks in promising growth segments such as security, cloud and data analytics.
On the short term, growth in these promising segments might ensure a bigger portion of Cisco's valuation will continue to be driven by the narrative of more growth in segments like security, thereby clouding the stagnancy of top line revenue growth. This will depend on how much investors love their dividend and their reluctance to find opportunities elsewhere.
Of course, the recent bullish run, driven by the Trump trade narrative, has been supportive of valuation multiples. However, in the absence of macro tailwinds, it will be hard to justify the willingness of equity investors to back up the truck.
My projection is that investors are now pricing the stock based on the strong capabilities and resolve of the management team. Like most value investors, the confidence in the leadership team will continue to provide an upward pull as investors weigh their risk appetite for Cisco's ability to retain market share in routing and switching.
Therefore, numbers to monitor will include renewal rate, deal sizes and deal volumes. All these numbers trended up in the last quarter, indicating Cisco's ability to win market share. Leading growth indicators will provide an idea of management's resolve to drive down volatility that has spiked as a result of the increasing level of competition in the networking industry.
Valuation
It is important to monitor the balance sheet to ensure management is not over-investing to stay afloat. In the absence of an excessive exposure to liquidity and solvency risk, it is safe to bet that management will continue to ramp up revenue contribution from fast growing segments in an attempt to offset declines from the key revenue drivers (routing and switching) either via more acquisitions or wider market penetration at an increasing OpEx.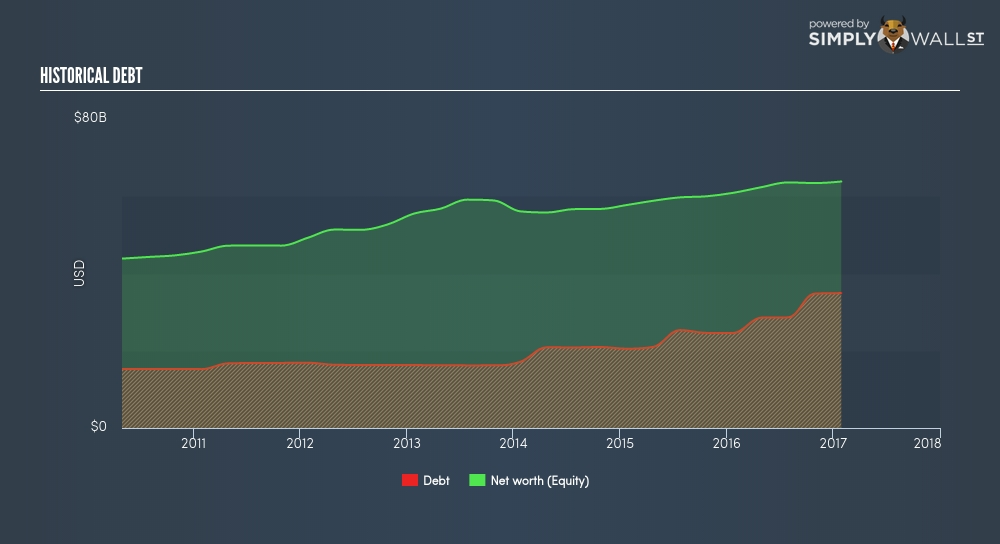 Source: SimplyWallSt
However, debt level has been increasing, indicating a need to be more cautious on Cisco's ability to generate FCF from future growth projects. However, placing a bullish bet on management to contain growing debt means we can expect steady FCF from growing segments.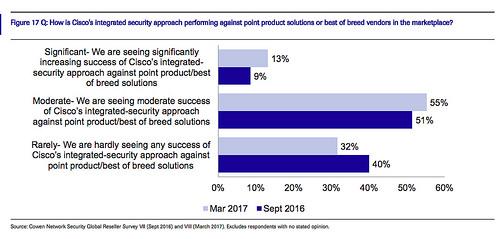 Source: Barrons
The chart above highlights Cisco's increasing success in the marketplace for security products ( its fastest growing segment) and I project more gains mainly on better pricing and synergies for customers subscribed to other Cisco networking services.
I expect similar repetition in other segments including wireless, collaboration, analytics and cloud, given Cisco's superior advantage at landing and expanding new deals based on its strong sales force and multiple technology overlaps.
Conclusion
Near term, I'm bullish on Cisco as investors have more to lose by shrinking Cisco's valuation multiple given the soundness and ubiquity of its business model, its cash generating abilities and the absence of fewer alternative investments with better yields which is supportive of more multiples expansion.
Disclosure: I/we have no positions in any stocks mentioned, and no plans to initiate any positions within the next 72 hours.
I wrote this article myself, and it expresses my own opinions. I am not receiving compensation for it (other than from Seeking Alpha). I have no business relationship with any company whose stock is mentioned in this article.