Near-term Expectations Taken into Account In Current Price
Ford Motor (NYSE:F) has recently been battered by the market and is expecting lower sales for full-year 2017 than in full-year 2016. The months of February and March have already seen the start of the lowered expectations come to light with sales volumes taking drops compared to a year earlier. The stock price has taken into account these lowered expectations, and in turn, has fallen within 2% of its 52-week low. F announced that it expects pretax profit of $9 billion in 2017 compared to $10.4 billion in 2016. The company stated that pretax profit will improve in 2018 driven by planned investments in emerging opportunities.
Ford is Undervalued
F has been overtaken by Tesla (NASDAQ:TSLA) in terms of value with the former currently valued at $44.8 billion and latter at $50.95 billion. Investors have extremely high expectations of TSLA, currently trading at a price-to-earnings ratio of over 300 based on 2018 earnings per share. Meanwhile F, with its lowered expectations already priced into its current price, is trading at a price-to-earnings ratio of just 6. With Ford being a highly profitable company, its stock is currently undervalued, being among the lowest of the companies that make up the Standard & Poor's 500 index.
Goal to Have First Fully Autonomous Car
Numerous companies are vying to have the first self-driving car on the road that is available to the public. Navigant Research recently released a report looking at the top 18 companies currently developing automated driving systems and named Ford as the leader among the pack, ahead of the likes of General Motors (NYSE:GM) and Tesla. The report stated F had the strategic vision and execution capabilities to both develop automated driving systems as well as deploy them across a range of mobility platforms. Ford will have 90 autonomous Ford Fusions on the road this year in the U.S. to refine their technology.
Many of the automakers are hoping to roll out autonomous vehicles around the year 2021, likely to be part of a ride-sharing network. Personal ownership of autonomous vehicles is considered to be far off due to high purchase and maintenance costs.
F raced to the top of the leaders which are developing autonomous vehicles largely due to the investments it has been making. The investments include:
$150 million co-investment with Baidu (NASDAQ:BIDU) in Velodyne, the makers of light detection and ranging systems (LiDAR)
An investment in Civil Maps (3D mapmaker)
A $1 billion investment on self-driving tech startup Argo AI.
Ford also recently invested in Chariot, a ride-sharing van network that could realistically go autonomous.
Ford's chief technology officer recently was quoted in the USA TODAY as saying, "I'd call this an 11-year overnight success story". Nair said the company is expecting to roll out SAE Level 4 autonomous vehicles in 2021.
If F can continue to make advancements and invest in its fully autonomous car goal, it should continue to lead the pack and very well could bring the first driverless car to the commercial market.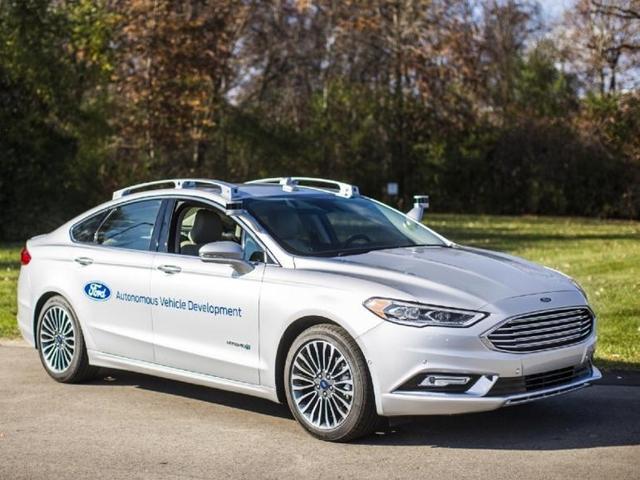 Ford Adding Electric Vehicles
In January, F confirmed it is adding 13 new electric vehicles to its fleet in the next five years. The models include F-150 Hybrid, Mustang Hybrid, Transit plug-in Hybrid, a fully electric SUV with a range of at least 300 miles and two new electrified police vehicles. With a focus on electric vehicle development, F is positioning itself to gain market share in the electric car market.
More and more consumers around the world are becoming interested in fuel-efficient electric vehicles and Ford is committed to being a leader in providing a range of electrified vehicles to choose from. The company knows that the number of electrified vehicles will exceed the number of gasoline-powered vehicles in the next 15 years and is making investments to expand its line offering.
Ford Not Going Anywhere Anytime Soon
Rest assured that F is not going to disappear anytime soon. Having been founded in 1903, Ford has been through much worse than lowered expectations for one year, 2017. It escaped the 2008 financial crisis without taking an official bailout, which its peers had to do to survive. In the most recent earnings report, F highlighted some key facts that should ease any concerns you have about the viability of the company:
Best-selling brand in the U.S. for seven straight years.
F-Series has been the best-selling truck in the U.S. for 40 years in a row.
Transit was the best selling cargo van in the world; Ford, best-selling commercial vehicle brand in Europe.
Ford awarded the most U.S. patents of any automotive OEM in 2016.
Launched next-generation autonomous development vehicle; expanded test fleet to 30.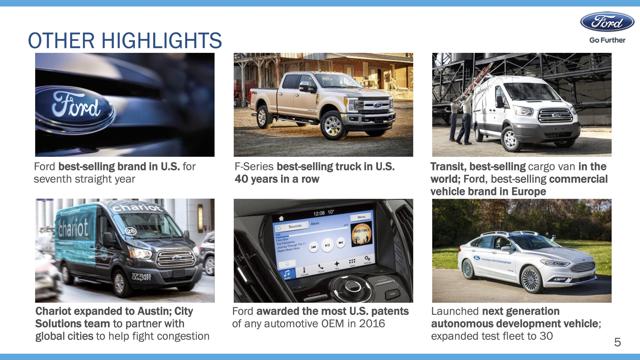 Summary
With the near-term lowered expectations for F already priced into the stock, now is a good time to buy. Currently, it is undervalued as a company with a P/E ratio near 6. With numerous investments in self-driving technology, Ford has become the leader in the field to develop autonomous cars. It is also committed to the electric car field, having announced the upcoming release of both hybrid and fully electric vehicles. The company is not going anywhere anytime soon, having one of the best selling brands in the U.S. with huge profits year after year. In the end, Ford is a well-known brand with key investments for future growth while being a cash cow today and yielding a dividend of over 5% to its shareholders.
Disclosure: I am/we are long F.
I wrote this article myself, and it expresses my own opinions. I am not receiving compensation for it (other than from Seeking Alpha). I have no business relationship with any company whose stock is mentioned in this article.