I'll confess that it's getting more and more difficult for me to determine what this audience is interested in hearing about.
I've got a pretty good read on it over at HR, but not so much on this platform.
Forgive me, but it kind of seems like maybe understanding what drives asset prices and/or what professional traders and big money investors generally trade on isn't something a lot of people here are interested in.
And to be sure, that's perfectly fine. I don't think I've ever known anyone who died because they couldn't extrapolate something about risk assets from looking at the eurodollar strip.
Relatedly, at the end of the day, none of this really matters, right? I mean if you ever find yourself on this island having a cigar with me on the porch at sunset, we'll invariably find more important things to talk about than whatever price the market is assigning to what, in the grand scheme of things, are just pieces of paper.
But frankly - and I'm nothing if not a straight shooter - a whole lot of people on this platform believe they understand markets when they in fact do not.
The post-crisis environment has rendered a lot of market participants numb. And understandably so. There's nothing wrong with realizing that when a rising tide is lifting all boats, the wise man rides the wave.
The problem comes in when people start to confuse that rising tide with market acumen.
And look, that applies right on up the line. That is, not just to regular investors. Recall this from BofAML (I noted it previously):
HF least net short ETF since 2012 in Q4; record long positions. Hedge funds increased their ETF long notionals by $7.4bn to a record high of $45.1bn (from Q2 2011), while decreasing their ETF short notionals to the lowest since Q2 2013. Hedge fund net short notional in ETFs fell to the lowest since 2012, driven by equity class which saw the least HF short in record. HFs net bought SPY, XLF and QQQ the most during Q4, by $8.2bn, $1.6bn and $1.3bn. Meanwhile, they net sold AGG, XLU and EMB the most and by $0.8bn, $0.5bn and $0.4bn respectively.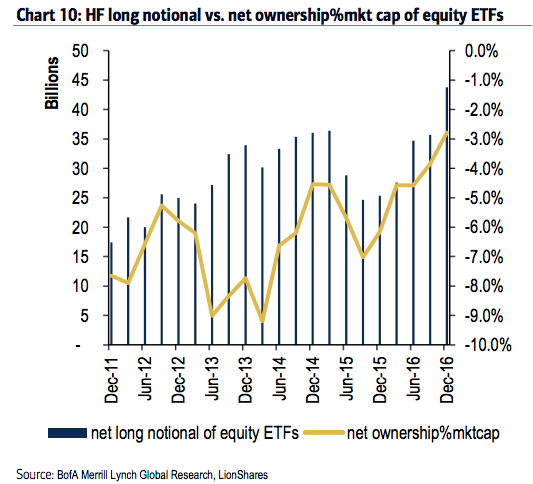 Do you see what's going on here? Hedge funds are throwing in the towel on outperforming benchmarks. Consider this from Bloomberg's Cameron Crise (full note here):
Hedge funds' returns have started to track the SPX more closely. As that happens, their ability to outperform has collapsed. This makes intuitive sense; there's no way you can beat an index when you're paying 2 and 20 on an investment vehicle that largely replicates the return of the index!
You're seeing a similar shift in sentiment towards sell-side research. Put simply, it's a dying industry. Have a look at the following chart, for instance: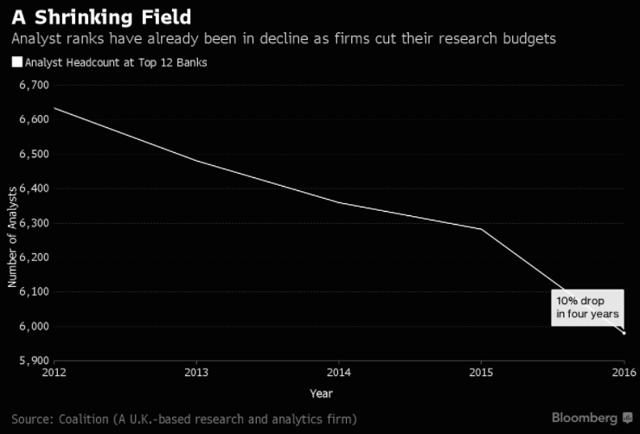 (Bloomberg)
That speaks for itself.
There is a problem with this. And I'm fully aware that my take on this runs counter to the mission statement of this particular platform.
This is not an industry that needs to be further democratized. In our zeal to push back against malfeasance on Wall Street, we're killing an entire profession on the assumption that crowdsourced investment research is just as good as what comes from sell-side desks.
"And besides," we tell ourselves, "even if it's not as good, those crooks on the Street are so corrupt that their predisposition towards greed outweighs whatever value add we would otherwise get from their expertise."
The push towards low-cost, passive investment vehicles and the demise of the "2 and 20" fee structure at hedge funds is a testament to, and a consequence of, this mentality.
My worry is that maybe - just maybe - the rising tide mentioned above has slowly but surely imbued investors with a false sense of confidence.
When Warren Buffett (who built his fortune on the exact opposite of passive investing) tells you that you too can become rich by simply buying an index fund and holding it for five decades, he does you a disservice by not mentioning the fact that the investment landscape we've all been operating in for the past nine years is anything but normal.
Everyone thinks they're a guru these days because they've ridden the central bank liquidity wave. But so has the next guy. And the guy next to that guy. And the woman next door (literally, in the case of Sharon).
The problem is that this has gone on for so long that people have forgotten that they aren't experts. And when you try to warn them, they won't listen. And why should they? They've been in the market. They're up 30% on the S&P (NYSEARCA:SPY). They have found the magic formula. You're just jealous.
No one wants to think that maybe they actually aren't all that smart. Similarly, no one wants to think about the fact that the shift to passive investment vehicles depicted in the following chart means that by definition, everyone is in this together.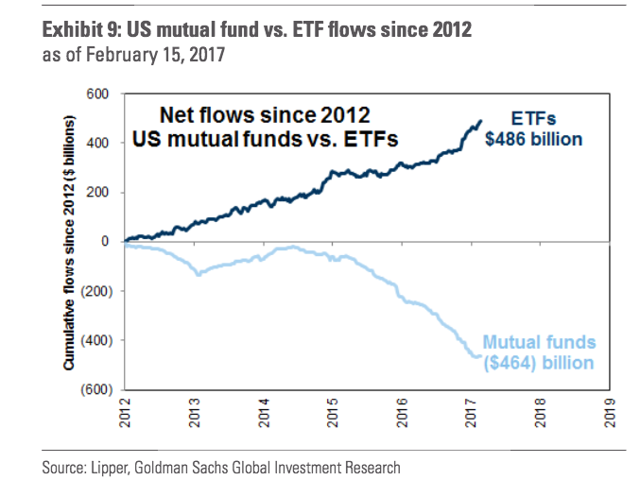 Your 30% return isn't any different from Sharon's. Neither of you are "seeking alpha" (so to speak). Both of you are just sitting back and watching the benchmark print money for you. You're "seeking beta." And finding it.
Which is fine - right up until you stop appreciating why that seemingly too-good-to-be-true strategy works.
Or more poignantly, why it seems like every mom-and-pop investor and newsletter purveyor just happened to start outperforming virtually every professional investor on the planet right on the dot in 2009. Outperformance which has "mysteriously" continued for eight years, uninterrupted.
There are only three possible explanations for that:
the "crowd" suddenly got a whole lot smarter in 2009
the pros suddenly got a whole lot dumber in 2009
or trillions upon trillions upon trillions in freshly-printed dollars, euros, and yen poured directly into government bonds, corporate bonds, and stocks has kept this tide from receding
For my part, I'm going to be devoting the vast majority of my time and energy to the Heisenberg Report going forward. That isn't a plug. It's absolutely free and the link is up at the top of this article just like it's been at the top of every article for the past six months. To be quite honest, that site started as a hobby but has since injected meaning into my life at a time when I was convinced that there was no more meaning to be had. It has become my sole source of happiness.
As for Wall Street, I'm not optimistic about the future of professional research. I think it will likely all but disappear.
Since the crisis, revelations of manipulation and all manner of other shenanigans have permanently blighted the reputation of the Street which is now characterized as something akin to the mafia. Indeed, some of the LIBOR transcripts reveal that traders quite literally saw themselves as white collar mobsters.
Thanks to the democratization of investment research and the proliferation of new, low-cost vehicles promising easy access to even the most esoteric of assets that all seem to only rise in value, the market has become a free-for-all as everyone gathers around the punchbowl provided by the world's central banks.
I can tell you definitively how this will turn out for investors and for markets: very, very badly.
By the time the punchbowl is pulled away, there won't be anything left in terms of carbon-based analysts or traders on Wall Street.
The mobsters will have all been chased away.
And it will be at exactly that point when the world will realize they were actually necessary.
On that note, I'll close with a famous quote attributed (maybe falsely) to John Gotti:
This Cosa Nostra? 120 years. What's it about? It's about the rules, parameters. So what you got now? There's no rules. There's no parameters. You got anarchy. So... 5-10 years from now, they're gonna wish there was an American Cosa Nostra. 5-10 years from now, they're gonna miss John Gotti.
Disclosure: I/we have no positions in any stocks mentioned, and no plans to initiate any positions within the next 72 hours.
I wrote this article myself, and it expresses my own opinions. I am not receiving compensation for it (other than from Seeking Alpha). I have no business relationship with any company whose stock is mentioned in this article.