Is the world done with coal? Certainly not. Coal still provides approximately 30% of world's energy, but its share in the global electric generation mix will decline significantly with the continued evolution of clean energy. It's not a biased opinion. The recent stats from the International Renewable Energy Agency (IRENA) show that the global economies added 161 gigawatts of new renewable generation capacity last year.
The coal industry is struggling as demand growth from developed countries is diminishing. According to the International Energy Agency, coal demand growth will average 0.6% between 2015 and 2021. On the other hand, coal's share in the global generation mix will shrink significantly with the rapidly growing demand for renewable energy around the globe, though continued regulatory support is essential for a smooth transition.
The health of the U.S. coal industry is even weaker. And production level has plunged to its lowest level since 1978 due to a sharp 26.9% decline in exports, early retirements of older coal power plants, and the addition of record 15.2 gigawatts of new renewable generation capacity installed during 2016.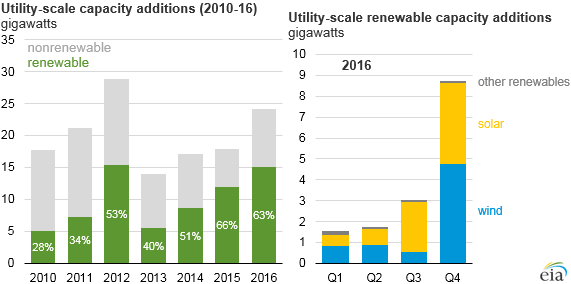 Source: EIA
The Transition
A survey conducted by Reuters reveals that most of the electric power generating companies will continue their current investment plan despite potential changes in environmental regulations and repulsion of Clean Power Plan under Donald Trump administration. The following graph shows that several utilities have aggressively reduced their exposure to coal in the past few years. Duke Energy (NYSE:DUK), one of the largest utilities in the U.S., has slashed almost half of its coal-fired capacity over the past one decade.

Source: SEC Filings
Duke Energy gets 34% of total electricity output from coal, down from 61% in 2005. The transition from coal and nuclear to natural gas and renewables will continue going forward but at a rather slow pace. However, the cost to deliver spread between coal and natural gas, which dropped from 1.16 cents/kWh in 2014 to nil last year, would also impact the pace of transition process. Nonetheless, I'm not expecting any dramatic change in the company's generation mix strategy if Trump administration proceeds with the rollback of Obama-era regulations.
Source: Duke Energy Presentation
Coal ash could be another major reason the management is losing interest in new coal-fired power plants. Duke Energy is already under a lot of regulatory pressure as the Coal Ash Act requires the closure of 34 ash basins in North Carolina by 2029. Last year, Duke Energy spent $550 million in managing coal ash, but the total cost to close the ash basins will exceed $6.2 billion. A significant increase in cost will put pressure on the cash flow position, but the expected rate case approvals in the second half of 2017 will allow the company to recover the cash.
Duke Energy is facing a strong backlash from the ratepayers. A recent poll conducted by Strategic Partners Solutions shows that 80% respondents want Duke Energy to pay for the cleanup cost. On the other hand, Duke Energy is taking legal action against a handful of insurers seeking payment for liabilities linked to coal ash. The claims for damages, which could exceed $1 billion, will enable Duke Energy lower cost cleanup to ratepayers and strengthen its case for an increase in rate cases.
Renewable Energy Is Not Duke's Big Bet, For Now
According to the Energy Information Administration (EIA)), renewables now account for 14.9% of the U.S. electricity generation at utility scale, and this growth momentum will continue in the future. Duke Energy is adopting the evolving generation mix, which is evident from almost 100% growth renewables between 2006 and 2016.
After years of robust progress, Duke Energy is showing reluctance to heavily invest in solar and wind under some strict regulatory policies. The management claims that Duke Energy is paying $20-35/MWh higher for solar under the Public Utility Regulatory Policies Act (PURPA)), as the average per megawatt hour cost of the wind and solar has fallen significantly in the recent past. As the Public Utility Regulatory Policies Act could cost Duke Energy more than $1 billion over next 15 years, the management is seeking amendments to those policies, including shorter-term power purchase agreement for utility-scale projects and annual competitive bidding for solar in North Carolina.
Two years ago, the North Carolina Utilities Commission rejected Duke Energy's request to limit the size of renewable facilities and a shorter power purchase time span. Duke Energy will face resistance yet again, but chances of getting favorable terms are higher this time as economic conditions have dramatically changed in the past couple of years and PURPA is no more a fair ground for the utilities.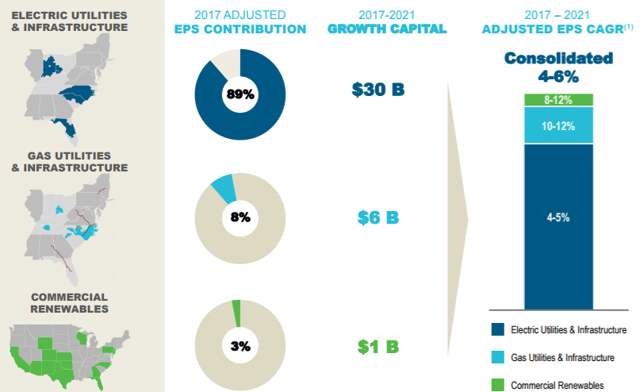 Source: Duke Energy Presentation
Going forward, Duke Energy will accelerate its efforts to build a bigger portfolio of renewable energy while taking advantage tax credits. However, the company's $1.3 billion investment in regulated wind and solar is just 4% of $37.1 billion growth CapEx plan 2017-2021. The notable aspect of growth CapEx plan is that Duke Energy will invest $7.5 billion, or 20% of $37.1 billion, in new power generation projects. It makes sense as electricity demand growth is likely to remain stagnant with only 5% increase in consumption between 2016 and 2040.
Duke Energy's big bet on natural gas will pay off in the long run. Duke Energy will invest $3.3 billion in regulated gas-fired power facilities by 2021, which will help replace older poor performing coal plants. However, its growth CapEx plan is more skewed towards the expansion of electric and natural gas distribution. While the amplification of electricity distribution will enable Duke Energy to grow customer base in the midst of subdued load growth, the aggressive expansion of natural gas distribution network will help generate double-digit adjusted earnings growth in regulated gas utilities and infrastructure segment.
Improved Dividend Growth Prospects
Despite 10% rally over the past six months, Duke Energy is still not an expensive stock at current valuation levels when compared to the peer group. Duke Energy is trading at EV/EBITDA of 10x against the industry average of 10.5x. The market is valuing the stock at a forward PE of 17.8x and 17.1x based on the consensus earnings per share estimates of $4.62 and $4.83 for 2017 and 2018, respectively. In comparison, the whole sector is trading at a one-year forward price to earnings multiple of 17.8x - slightly above its traditional PE average of 15x to 16x.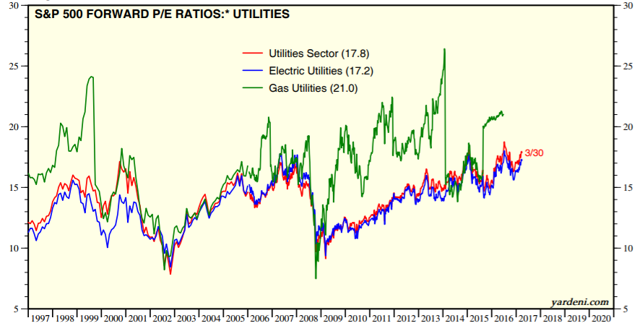 Source: Yardeni
The catch is that the spread between utilities' yield and the one-year U.S. Treasury yield has dropped to approximately 150 basis points - making utility stocks more sensitive to potential interest rate changes. However, Duke Energy is one of the utilities that still offer a wider spread, an attractive yield of 4.2%, compared to the sector yield of 3.86% and improved dividend growth prospects.
Over the past five years, Duke Energy has hiked the annual dividends by an average growth rate of approximately 2.6% while utilities at large lifted annual dividend payments by 4% over the same period. The dividend growth performance looks disappointing at first glance, but the fact of the matter is that Duke Energy is accelerating dividend growth.
The management has completely transformed Duke Energy into a fully regulated utility by divesting merchant Midwest and Latin America generation assets and the acquisition of natural gas assets. Thus, the improved earnings visibility, the expected increase in ROE due to a massive $37.1 billion growth CapEx plan, and further stability in free cash flows will support a long-term dividend growth rate of 4.5%, which is in line with the estimated earnings per share growth rate of 4-5%. Thus, accumulating a long-term position in Duke Energy will increase the value of your portfolio.
Disclosure: I/we have no positions in any stocks mentioned, and no plans to initiate any positions within the next 72 hours.
I wrote this article myself, and it expresses my own opinions. I am not receiving compensation for it (other than from Seeking Alpha). I have no business relationship with any company whose stock is mentioned in this article.