This week marks the beginning of 1Q17 earnings season in the diversified financials sector (i.e. banks). Today, I will face off some of the key players in the industry and try to identify names that might be worth further looking into.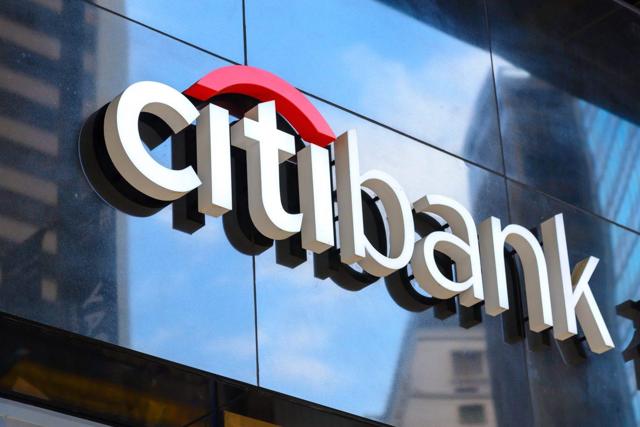 Credit: CoinDesk
Shares of these financial services companies were propelled late in 2016, following the election of President Donald Trump and the expectations for higher interest rates in the not-too-distant future. Within my sample of eight major global banks, shares of six of them are currently sitting within 10% of their 52-week highs.
Facing off the big players in the banking sector
The table below compares several metrics, from valuation to fundamentals, across top eight global banks:
2016 and 2017 P/E: group median is 13.1x and 11.3x, respectively
2016 PEG: group median is 1.0x
Price-to-book: group median is 1.0x
Leverage: measured as assets over book equity, the group median is 10.3x
Next-year EPS growth: group median is 12.5%
Trailing ROE: group median is 7.8%
Dividend yield: group median is 2.1%
"Distance" from 52-week highs: group median is 8.1%

Source: DM Martins Research, using data from Yahoo Finance and Zacks
To help better contrast the differences across the peer group, I also created the ranking below:

Source: DM Martins Research, using data from Yahoo Finance and Zacks
Of the names listed above, Citigroup (NYSE:C) stands out as one of the most interesting to further dig into.
By the numbers
The company's participation in the so-called "Trump trade" has been short-lived. The stock was up 27% in the two months between November 4th and January 4th. Since then, shares have been range-bound and are slightly down for the year, not unlike the stocks of many others within the peer group.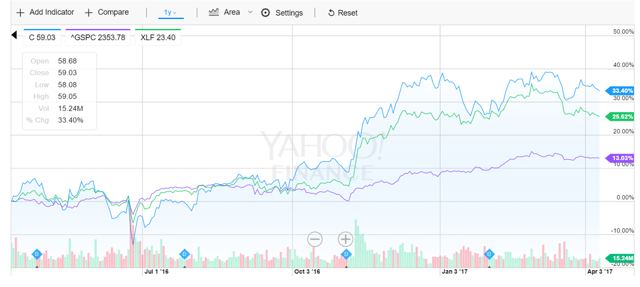 Source: Yahoo Finance
From a fundamentals perspective, Citi features as the least leveraged of the banks: 7.9x vs. comp median 10.3x. Next-year EPS growth and trailing ROE, however, rank towards the bottom of the pack at 11.5% and 7.1%, respectively. The dividend yield of 1.1% is timid, but stock repurchases (another form of shareholder distribution) have surged in the past 5 years.
On valuation, C stands out compared to shares of other banks. The stock trades below the sector average on a P/E, PEG and P/B basis. Forward P/E has dipped from 12.5x at the beginning of 2017 to about 11.5x today (see below, on the left). Meanwhile, EPS expectations for next year have increased by just above 1% in the past 90 days.

Source: YCharts
Bull vs. bear
On the bull side, FIG Ideas seems excited about the end of Citi's restructuring efforts and the return to revenue growth (which has been immaterial since late 2013 on a trailing twelve-month basis, to down in 2016) on potential emerging market upside. David Zanoni sticks to his long-term view that increasing interest rates and a de-risked (i.e. cheaply valued) stock will likely culminate in substantial upside over the next 12-24 months.
On the bear side, Tusk Media sees short-term risk in the potential lowering of tax rates. Under this scenario, Citigroup might need to write off some of its substantial deferred tax assets in 2017, which could result in the bank being able to deploy less capital in the future. As a long-term investor, however, I remain less concerned about these headwinds than a short-term trader might be.
My take on C
Citi is a highly diversified financial behemoth, both in terms of the product portfolio and geo/demographic markets. In my view, finding alpha in such a name is a very difficult task.
However, I like the company's fundamentals, particularly the low leverage levels, the improved prospects for top-line growth (modest but positive 4%-plus next year, per consensus), and even more so the stock's valuation.
I believe C is a stock worth keeping an eye on.
Supporting Documents
Disclosure: I/we have no positions in any stocks mentioned, and no plans to initiate any positions within the next 72 hours.
I wrote this article myself, and it expresses my own opinions. I am not receiving compensation for it (other than from Seeking Alpha). I have no business relationship with any company whose stock is mentioned in this article.