Introduction
This report seeks to accomplish a value investing analysis and subsequent recommendation for investment action with regard to Cameco Corporation (NYSE:CCJ).
It will provide analysis in the following order:
Uranium: Price Fundamentals
Cameco Introduction
Operations Overview
Financial Statement Considerations
Net Present Value Matrices - Analysis
Qualitative Considerations and Risks
Recommendation
Conclusion
Uranium: Price Fundamentals
State of the Market
For the past ten years, the uranium sector has been enduring one of the deepest bear markets it has ever witnessed. The spot price for U3O8, currently $24.50/lb., has been jumping above and below a $25/lb. average for the past year, with a high/low of $33.50/$18.50 throughout that time.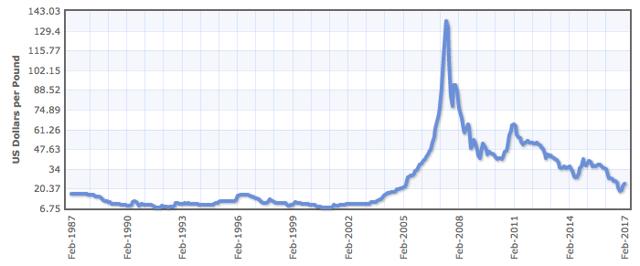 Source: IndexMundi
While the price gives the appearance of having returned to historical norms after the bull market of the mid-2000s, the majority of the industry is failing to meet its cost of production at current prices. Many uranium mines have maintained operations in spite of this fact, which is due to the structure of the uranium market. Unlike other commodities, uranium is not traded on an exchange, but rather through long-term contracts between buyers and suppliers. Thus, companies have been able to realize above-spot returns on their U3O8 sales (something near $40/lb), thinning losses and assisting in fixed costs coverage through maintaining or increasing production volume.
Quite simply, this is not an attractive industry to be an investor in - for the moment. That being said, there are many reasons to invest in uranium, given the superiority of its long-term fundamentals. A summary of those supply and demand fundamentals is below.
Demand Fundamentals
Since the Fukushima tragedy in 2011, market and social sentiment for uranium demand has been negative. This negative sentiment is fascinating, given the multitude of attractive long-term fundamentals.
Demand is expected to increase substantially over the course of the next few years, largely driven by Asian consumption. As of 2015, the continent had planned nearly $800 billion in new reactors in a push for a clean energy source. Particularly, the Chinese government has been driving for an improved nuclear energy program in order to combat the effects of pollution that currently plague the country. Chinese uranium demand is set to double by 2020 as they expand their reactor building program. Additionally, Japan will resume their pre-Fukushima role in uranium consumption, as many Japanese reactors are set to restart in 2017.
Given these fundamentals, demand for yellowcake is set to substantially outstrip supply in the years to come. Cantor-Fitzgerald predicts that by 2020, 34% of global demand will be uncovered, while 77% of demand will be uncovered by 2025. Naturally, deficits to this extent will ultimately resolve themselves in the form of higher spot prices: this is the function of markets. The cure for low prices is low prices, or so the saying goes.
Source: Cantor-Fitzgerald
These buy-side fundamentals must still be understood in the context of the current market. In the near term, social sentiment for uranium will remain negative due to the fallout of Fukushima. However, global consumers will likely soon come around to the idea of nuclear power as social desire for cheap, clean energy increases.
Supply Fundamentals
The long-term supply fundamentals for the price of yellowcake are perhaps even more attractive than the demand. The depressed price environment has brought about a certain amount of market capitulation, as producers are shutting down operations. That being said, the market remains in a state of oversupply on account of secondary inventories.
As previously mentioned, producers have been able to exploit their above-spot contract prices in order to survive at uranium prices below sustaining costs. However, many of these long-term supply contracts are set to expire in 2017-2018, and there is only so long that producers can maintain operations in this state. In the absence of any significant price increase, a supply crunch is sure to come sooner rather than later. In January 2017, the world's top producer, Kazakhstan, announced it was cutting production by 10%, affecting global supply by 3%. Similarly, industry leaders, including Cameco and Areva, have scaled back operations given the price environment.
These shrinking supply sources will leave market deficits to be filled by above-ground inventories. And while there are nearly 1.4 billion lbs. of inventory, this source of supply didn't prevent the mid-2000s bull run in uranium, when inventories were likely higher than they are today.
Of secondary note is the impact that the price environment post Fukushima is having on long-term supply. Exploration and development of uranium deposits has considerably decreased given the poor market incentives: this will have the consequence of tighter global supply, and will exacerbate the market deficit in the coming decade.
Summary
In summary, the supply and demand fundamentals for the price of uranium are exceptionally strong. Promising aspects of the market include:
Steadily increasing demand, driven by factors such as Asian consumption, Japanese reactor restarts, and a growing social concern for cheap, clean energy.
Weak source of mid-to-long term supply with the industry in capitulation, current and planned production cuts, as well as an insufficient amount exploration and development projects on account of poor market incentives.
A market supply deficit of 34% by 2020 and 84% by 2025.
The current uranium market is the quintessential market for a value investor. Prices are depressed, not due to weak economic fundamentals, but rather a negative market sentiment created by the Fukushima tragedy. In spite of this sentiment, the market appears to be experiencing a sort of cognitive dissonance: uranium, and consequently its price, remain out of social favour, while in reality, the market will be demanding more of the energy source in the future.
That being said, the negative sentiment surrounding yellowcake is likely here to stay in the near term. While it is possible that spot prices will show signs of life in 2017-2018, the violent bull market that the commodity price is accustomed to may not begin until 2020 and beyond.
Cameco Corporation : Introduction
Cameco Corporation is one of the largest uranium production companies on a global basis. They hold a number of world-class deposits in terms of both volume and grade.
The company's share price, currently trading on the Canadian market within the $14-15 range, has been on a slight bull run since hitting a ten-year low around $10 in late 2016.

Source: TMX Money
Operations Overview
Production Properties
Cameco owns six different production properties, which the following table summarizes:
Cameco: Production Properties

Property

McArthur River/Key Lake

Cigar Lake

Inkai

Rabbit Lake

Smith Ranch-Highland/North Butte-Brown Ranch

Crow Butte

Location

Saskatchewan, Canada

Saskatchewan, Canada

South Kazakhstan

Saskatchewan, Canada

Wyoming, US

Nebraska, US

End Product

Uranium concentrate

Uranium concentrate

Uranium concentrate

Uranium concentrate

Uranium concentrate

Uranium concentrate

Mining Type

Underground

Underground

In-situ recovery

Underground

In-situ recovery

In-situ recovery

Interest

McArthur River - 70%; Key Lake - 83%

50%

60%

100%

100%

100%

Estimated Reserves

258.1m lbs (P+P) @ 9.6% grade U308

107.6m lbs (P+P) @ 15.9%

46.3m lbs (P+P) @ .06%

11.9m lbs (P+P) @ .59%

Smith - 6.2m lbs (P+P) @ .09%; North Butte - 1.8m lbs (P+P) @ .08%

.7m (P) @ .08%

Estimated Resources

3.4m lbs (M+I) @ 3.65%; 7.7m lbs (Inf.) @ 5.2%

42.3m lbs (M+I) @16.2%; 10.4m (Inf.) @ 7.36%

81.3m lbs (M+I) @ .06%; 86.2m lbs (Inf.) @ .05%

26.7m lbs (Ind.) @ .86%; 33.7m lbs (Inf.) @ .58%

Smith North Butte - 8.8m lbs (M+I) @ .07%, .4m lbs (Inf.) @ .07%

15.2m lbs (M+I) @.25%; 2.9m lbs (Inf.) @.12%

Capacity (100% Basis)

25m lbs

18m lbs

5.2m lbs

16.9m

Wellfields - 3m lbs; Processing Plants - 5.5m lbs

2m lbs

2016 Actual Production

12.6m lbs (18m 100% basis)

8.7m lbs @ 50%

3.4m lbs @ 60%

1.1m lbs @ 100%

.896m lbs @ 100%

.3m lbs @ 100%

2017 Planned Production

12.6m lbs (18m 100% basis)

9m lbs @ 50%

3.1m lbs @ 60%

Suspended

.4m lbs

.1m lbs

Decommissioning Costs

$48m (McArthur, 100% basis); $218m (Key Lake, 100%)

$49m @ 100%

$10m @ 100%

$203m @ 100%

Smith - $206m; North Butte - $22m

$46m @ 100%

Estimated Mine Life

2037

2028

2030

N/A

N/A

N/A

Other Notes

1. World's largest high-grade uranium mine

2. $15/lb. operating cost

3. Water inflow risks exist

1. World's highest grade uranium mine

2. $16/lb. operating cost

3. Water inflow risks exist

1. Cameco financing third block expansion with $170m loan

2. JV with Kazatomprom

3. $13/lb. operating cost

1. Production suspended in Q2 2016 due to market conditions

2. Impaired for full carrying value to date

3. $35m-40m maintenance charges annually

1. Production curtailed given market conditions

2. Company is exploring potential sale of property

1. Production curtailed due to market conditions

2. Company is exploring potential sale of property
Author created using data from Cameco's 2016 Annual Report
Cameco's average unit costs per pound of uranium produced in 2016 was roughly $40, which is extremely low compared to the $60-70 industry average.
The company's business strategy revolves around collecting top-tier assets, as shown by its properties. McArthur River, the largest high-grade uranium mine in the world, as well as Cigar Lake, the second-largest high-grade mine and highest-grade mine in the world, are remarkable assets. Its economies of scale and high grades allow the company to remain profitable despite the yellowcake spot price being in a deep bear market.
While McArthur River and Cigar Lake have remained in production throughout this bear market, Cameco has curtailed production at all other operations on account of the market.
Exploration Properties
The company has a small portfolio of exploration properties. The following table offers a summary:
Cameco: Exploration Properties

Property

Millennium

Yeelirrie

Kintyre

Location

Saskatchewan, Canada

Western Australia

South Kazakhstan

End Product

Uranium concentrate

Uranium concentrate

Uranium concentrate

Mining Type

Underground

Open pit

Open pit

Interest

70%

100%

70%

Estimated Reserves

N/A

N/A

N/A

Estimated Resources

53m lbs (Ind.) @ 2.39%;

20.2m lbs (Inf.) @ 3.19%

128.1m lbs (M+I) @.15%

4.2m lbs (Inf.) @ .53%
Author created using data from Cameco's 2016 Annual Report
The exploration properties are non-material to value given current market conditions. Millennium might one day hold value given the high indicated grade. Ultimately, however, if Cameco wants to expand its future operations, it will be forced to acquire juniors, likely in the Athabasca basin geographically close to its other assets. Fission Uranium (OTCQX:FCUUF, FCU.TO) or NexGen Energy (NXGEF, NXE.TO) come to mind.
Other Operations and Services
Cameco conducts a number of different uranium services and operations. The following table offers a summary:
Cameco: Other Operations

Business

Blind River Refinery

Port Hope Conversion Services

Cameco Fuel Manufacturing (CFM)

NUKEM GmbH

Location

Ontario, Canada

Western Australia

Ontario, Canada

Germany, US

End Product

UO3

UF6, UO2

CANDU fuel bundles, components

Uranium product sales

Interest

100%

100%

100%%

100%

Other Notes

1. World's largest uranium refinery

2. Production decreasing due to market conditions

1. Production decreasing due to market conditions

1. Production decreasing due to market conditions

1. Sells purchase contracts to supply partners, acting as market intermediary
Author created using data from Cameco's 2016 Annual Report
Of particular interest is the NUKEM segment, which is an impressive strategic asset for the company. NUKEM facilitates uranium contracts and transactions, which will assist Cameco in being able to realize rapid and efficient profits on their uranium inventories.
Operations Summary
Cameco holds a strong portfolio of operations. In summary:
Top-tier production assets like Cigar Lake, Key Lake and McArthur River will continue profitable production, allowing the company to maintain cash flows in a bear market.
All other production properties are being curtailed, and a sale of US properties is being considered.
The exploration segment has one deposit of mild interest in Millennium, but the company will have to acquire deposits if it wants to expand operations significantly.
Other operations, such as NUKEM and the various uranium manufacturing services, offer a unique source of strategic strength.
Financial Statement Considerations
Cameco's financial statements indicate a company that has placed itself in an excellent position for value maintenance and long-term growth.
Balance Sheet
The 2016 balance sheet is strong, even ignoring the bear market. Items of note are:
A substantial, yet shrinking, cash position at $320 million, or 4% of total assets.
Current assets are a healthy 25% of the total asset base, stable over four years.
Total current liabilities and long-term debt are only 25% of the total asset base.
Long-term debt has remained stable, and current liabilities have shrunk over four years.
These are all indicators that Cameco is solvent and liquid, and that it should retain value outside of extreme market scenarios.
CRA Dispute: An Unrecorded Liability
Any discussion of Cameco's balance sheet must be immediately qualified by the company's lawsuit with the CRA over transfer pricing. Without diving into the details, the company could be liable for $1.5-1.7 billion in back taxes with a court decision coming within the next 18 months.
Any deep pontification on the outcome of the matter is fruitless, seeing as it is in the hands of the Canadian courts. A number of key issues are at stake, including Canada's persona as a business-friendly jurisdiction for natural resources and future precedence for transfer-pricing arrangements. These deeper factors give the lawsuit major unpredictability.
What can be said about the dispute is that it looks suspiciously like Cameco set up its subsidiary simply to avoid taxes. Thus, this analysis will proceed with the opinion that the court will not rule in favour of Cameco.
The liability could be as much as $1.7 billion ($2.4 billion less the $700 million already paid), but will almost certainly be less than this figure. As of 2016, the company has only set up a $60 million tax provision for the liability. The balance sheet will change materially given a negative decision.
Income Statement
Cameco had a slight loss in 2016, but this isn't indicative of long-term cash flows for the following reasons:
Non-cash impairment charges have totalled $1 billion in the last four years.
Ignoring these, operating incomes have averaged $185 million per year.
G&A costs remain under 8.5% of revenue, indicating fiscal responsibility, though they have grown over the last three years.
Exploration costs are a mere $42 million, as Cameco has cut back on this aspect of the business.
Though the company continues to release unimpressive earnings figures, it quietly remains profitable in this bear market.
Cash Flow Statement
The cash flow statement further reveals Cameco's profitability:
Positive cash flows from operations greater than $300 million in each of the last four years.
Cash expenditures have largely been due to PP&E additions, averaging $360,000. Interest payments are very manageable at $70 million per year.
The company has maintained a consistent cash dividend payout in spite of the bear market. Dividends haven't been cut in over fifteen years.
The cash flow statement offers clarity as to Cameco's level of profitability, in contrast to the income statement, which includes significant non-cash items.
Financial Ratios
A basic analysis of Cameco's financial ratios confirms the previous conclusions:
The company is liquid with a 4.35x current ratio.
Good solvency with a .57x debt/total assets ratio including the potential $1.7 billion CRA tax liability; .28x debt/total assets excluding.
Solid interest coverage from operating cash flows with a 4.4x ratio.
A $9/share book value with the CRA tax liability (60% of share price); $13/share without (90% of share price).
Summary
To summarize the company's current financial position:
The potential $1.7 billion (at most) CRA tax lawsuit is a significant unrecorded liability that could be realized in the next 18 months.
The company is both liquid and solvent, even considering the CRA tax liability.
Declining earnings figures in recent years have been mostly on account of non-cash items, like asset impairments.
More than $300 million in operating cash flows have been generated in each of the past four years.
Book value covers anywhere from 60% to 90% of the share price.
Dividend payouts have only grown since 2001.
Cameco's financial position would be impeccable if it were not for the CRA lawsuit. The company is cash flow-positive, solvent, and pays a stable and growing dividend. These attributes will largely remain intact if a negative lawsuit decision is realized. However, the financial position could only be considered "strong", as opposed to "impeccable", in that case.
Net Present Value Matrices - Analysis
Two net present value matrices were developed for Cameco by applying different variables:
Unique price assumptions for the first five years of production
Multiple discount rates
Two scenarios for the CRA penalty: full and half
The full CRA penalty is a $1.7 billion ($2.4 billion - $700 million) cash outflow over two years, 2019 and 2020. The half CRA penalty is a $500 million ($2.4 billion / 2 - $700 million) cash outflow over that same period.
A description of the assumptions and methodology used to approximate normalized cash flows and estimate NPV can be found here.

Author created using data from Cameco's 2016 Annual Report

Author created using data from Cameco's 2016 Annual Report
Value at Sustained Spot Price
If current spot prices sustain - the absolute worst-case scenario for Cameco - the company has no value on a discounted basis. This is exceptionally telling of how depressed the uranium industry is: the flagship producer with the lowest costs and top-quality deposits has its greatest value in liquidation.
Value at 15% Annual Spot Growth
At future price forecasts above spot, the company begins to develop value. Taking the most conservative scenario of 15% annual growth in spot prices (a $5/lb. growth leading to a $56 spot price by 2021) and a 13% WACC, we see that Cameco shares will have an NPV of $9-11/share, which is roughly 70% of the current market price.
At a lower WACC, which is more appropriate given the lower risk of a top-tier producer, shares will start to see an NPV ranging from $17-22/share, offering a 20-45% margin of safety at the current market price.
Note that while a doubling in spot prices isn't normally a "conservative" estimate, spot at $56 is still below the $60-70 cost of production and takes place over a five-year period.
Value at Three-Year Price Return to Cost of Production
This price forecast assumes a $10/lb. growth in the spot price over the next three years, arriving at $60 by 2020. A substantial 30% margin of safety exists for Cameco at the highest applied WACC with shares trading $3.50-5.50 below NPV, while the lowest WACC rate indicates shares are selling at less than half of their NPV.
Value at 30% Annual Spot Growth
A 30% annual growth in spot leads to a $100/lb. uranium price by 2021. This is far from a conservative estimate. But it functions as an illustration of the potential value of Cameco in the face of another uranium bull market, which could lead to a three or four times ROI at today's share prices.
NPV Summary
To summarize the NPV of Cameco:
The company has no value, outside liquidation, if spot prices sustain; current investors are paying a $14-15/share price for optionality.
Cameco has significant leverage to the price of uranium.
Conservative forecasts for price indicate shares are trading at least close to NPV and at least a 20-45% discount.
Aggressive forecasts for price indicate the stock has potential to triple or quadruple in the next uranium bull market.
It is important to contextualize forecasts for the yellowcake spot price. In a uranium bull market, prices tend to shift well beyond $5/lb. annually, as was used in the conservative estimate over five years. For reference, in the brief bull market from March 2010 to March 2011, the price grew $25/lb. From June 2003 to June 2007, prices rose $120 until reaching their peak.
In this way, one can begin to understand how Cameco's value might well exceed the estimates made in the NPV matrix. Bull markets in this commodity are violent - if prices rise, they will almost surely rise above $60/lb. Thus, current uranium investments are a question of timing, rather than magnitude of price movements.
Qualitative Considerations and Risks
Business Strategy
Cameco's business strategy of acquiring and holding top-tier uranium assets in a bear market of this depth is a qualitative strength.
Oftentimes, cyclical bear markets in commodities force management teams to raise production in order to service fixed costs. This saps future earnings by depleting deposits, simply in order to survive: profit and long-term value are considered irrelevant.
In contrast, Cameco's management team has built a financial position and operations that are optimized to weather this bear market. This is illustrated through the low debt/total assets ratio, strong working capital position, and extremely low-cost uranium operations which still yield impressive cash flows.
Weak Uranium Market
A languishing uranium price is the greatest risk Cameco faces today, far above the CRA lawsuit. As shown by the NPV matrices, the company has no value if spot prices sustain at current levels. And while fundamental economic analysis is suggesting that the price of yellowcake has nowhere to go but up, commodity prices are extremely difficult to predict. The market could very well remain in a state of oversupply for the next few years.
It is for this reason that the timing of any Cameco investment must be handled with extreme care.
Further Litigation Risk
The analysis in this report has quantified the current litigation risks for the CRA lawsuit. What has not been quantified is the potential for further litigation by the CRA unto Cameco, which is a definite possibility depending on the outcome of the current transfer pricing lawsuit. In its annual report, the company identified the future potential for $1.75-1.95 billion in further transfer pricing penalties by the CRA if the courts rule against it in the current case. Cameco plans on disputing any future penalties.
This report chose to not quantify this issue, given that it is contingent on the current suit, and the dispute would similarly not be resolved for a number of years, likely making it non-material to the present value of cash flows. However, a wary investor should consider this risk.
Recommendation
Cameco presents a fascinating investment case.
On the one hand, the company is exceptionally impressive from any quantitative or qualitative perspective. Management has built a company with:
Sublime financial health
Impressive operating cash flows
World-class uranium projects
An intelligent business strategy given the current market
An NPV range that indicates a comfortable margin of safety under conservative uranium price forecasts and incredible optionality value under aggressive forecasts
On the other hand, it must face a select few, yet highly critical, issues:
The uranium market is severely depressed and may remain in a state of oversupply for the next few years, making investment timing important.
The decision on the CRA lawsuit, likely to be negative, hangs like a cloud over the share price.
Given these factors, the following course of action is recommended:
1. Wait out the market for the next 12-18 months.
A decision on the CRA lawsuit will likely offer a great buying opportunity due to the likelihood of a negative impact on shares.
This also delays the investment, giving more time for the uranium market to align with its economic fundamentals.
The uranium price is unlikely to shift in any major way over the next 12-18 months.
That being said, timing the market is risky, and Cameco shares could continue the run they have been on since late 2016.
2. Both buying and holding existing investments are acceptable.
There remains a satisfactory 15-20% margin of safety at a $14-15 share price considering optionality value.
Cameco's fundamental value and investment thesis will sustain, independent of the CRA lawsuit decision.
Conclusion
In conclusion, Cameco is far from the perfect investment. The company's cash flows have no value in the current uranium market, and the investment involves a number of different risks.
That being said, Cameco has the makings to be a great investment for those investors that are concerned with long-term value. It represents a stable vehicle with great optionality value for those who believe in the economics of the uranium thesis. And as Benjamin Graham puts forth in his classic tome, Security Analysis:
"Abnormally good or abnormally bad conditions do not last forever."
It is only a matter of time before the uranium market shifts, and it will be those value investors who enjoy the foresight to buy into a cyclical bear market that reap the rewards.
Disclosure: I/we have no positions in any stocks mentioned, and no plans to initiate any positions within the next 72 hours.
I wrote this article myself, and it expresses my own opinions. I am not receiving compensation for it (other than from Seeking Alpha). I have no business relationship with any company whose stock is mentioned in this article.