Subscribers to The Mortgage REIT Forum had early access to this article.
This is an article I didn't expect to write. This is an area I didn't think would offer value. It shouldn't. Investors are over the moon with optimism. The market rages ever higher. This is a sector where I expect bad things to happen, but price covers over almost all flaws. Shy of an accounting scandal or a company I morally refuse to own (very few), the right price can bring me to buy just about anything. It wasn't so long ago that I discussed my lack of interest in mall REITs because I see fundamental challenges facing the business. The right price can bring the bear around.
The company in question is Washington Prime Group (NYSE:WPG). It internally classifies its malls (excluding "community centers") as being "Tier 1" or "Tier 2". In my view, very little qualifies as what might be considered an "A class" mall. These are not great quality malls. However, the market perception became so bearish, it thoroughly overcorrected.
My Estimates
Fair value for WPG should be somewhere around $10-12 per share. There is the potential for a climb higher than that, but the latest price of $8.64 is significantly below the middle of the fair value range. In my view, risk-adjusted returns look great here with entry prices under $9. Intense pressure on shares could send them as low as $7 or so, but I find that unlikely because the fundamentals simply don't justify it.
Why The Market Got it Wrong
You can hardly read anything on equity REITs without hearing about mall REITs are garbage, how CMBS on malls is the new big short, and so on. I support the idea that CMBS on malls is generally a bad play. It isn't just my view - it is the strategy employed by WPG. This one has to mislead most analysts.
WPG is literally defaulting on its debts, and I love it.
The REIT announced it was already in default or expecting to default on three different loans. Those are on the Mesa Mall, Southern Hills Mall, and Valle Vista Mall. Take a look at these properties and it may make better sense:

If we add back the entire amount of accumulated depreciation on the properties, the debt on them is still worth more than the original asset value. WPG is basically saying:
"They loaned us more than the collateral was worth. They can have the property, we'll keep the cash."
This is a huge winning play in this scenario, because it means the company is shedding assets and debt at a favorable ratio. For the most part, when WPG has a chance to do that (and it doesn't look like it'll get another), I support the strategy. That is why the bearish view on those retail CMBS makes sense.
Complication
The company has common stock and limited partnership units outstanding. For all fundamental purposes, I think it makes more sense to just treat them as the same thing. We can add in the weighted average dilutive securities as well and get to about 220.74 million. For investors scared to handle the other terms, these small issues could drive them off. Who wants to buy equity in the security when they think the debt is "the next big short" and they don't even understand the income statement?
Treat it as 220.74 million common shares. You're set now.
Per Share Values
You may never see another analyst pull this technique out. However, I think it is very useful when we start trying to establish some kind of base valuation.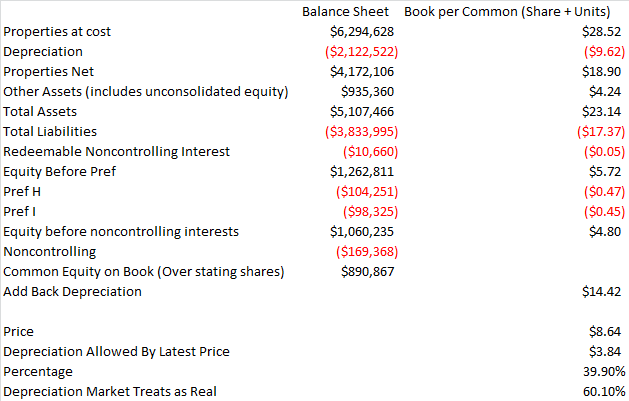 I consolidated several parts of the balance sheet to establish some ideas about book value. The premise I'm establishing here is that on a book value basis (no, you don't use those for equity REITs!), WPG would only show about $4.80 in value.
What Am I Doing?
I'm establishing a baseline for valuations and for why it makes sense for WPG to be defaulting on properties. This is how a bear goes into the valuation.
Now, I'm ignoring the non-controlling interest because that is represented by those partnership units. Since we're using the higher value for shares outstanding, this works out mathematically.
We find that if depreciation was $0, then the book value for WPG would come in at $14.42. The share price is at $8.64, which means the market is valuing the company as if 60% of the depreciation represented a real loss of value. While mall values aren't so hot, I think the real value of the real estate will land materially above the depreciated real estate but below the full historical cost. That starts us in on a range that says my best-case upside estimate has to be less than $14.42 but my worst-case estimate is still more than $4.80.
More on Valuation
Let's take a look at the REIT's weighted average cost of capital.

The preferred dividends by the equity value on the balance sheet didn't quite match up. It should be a bit higher. But I'm not concerned enough to dig much deeper on that.
The major point I want to stress here is that 9.59% across the total capital structure is pretty high, and 20.37% on common equity would imply absolutely insane risk levels. Further, this is what I call "FFO Minus Non-Cash Stock". That means I went through the financial statements, found the value for stock-based compensation (listed at $9.5 million) and stripped it out, because it is a poor-quality adjustment (most REITs do this, and it is wrong in every case).
The funny thing is I didn't find anything else to strip out. The company is internally managed. I saw no massive red flags. Payments to departing executives were too high, in my view, but they are also non-recurring.
That insane FFO amount translated into $1.80 per share. Even my adjustments would've dropped out less than $.05 per share. Compared to a dividend at $1.00, this is dramatically more than covered. Remember, since depreciation is a fair "expense" on the income statement, the company isn't required to pay out anything near FFO. I don't expect WPG to have any problem sustaining the dividend, but the company also won't be required to raise it.
To put it another way, WPG trades at 5x FFO.
For a comparison, I pulled up Simon Property Group (NYSE:SPG). SPG operates higher-quality malls and is less exposed to the weakness in the sector. I didn't adjust its FFO for any low-quality additions. This gives it the highest value possible for FFO.
Anyone who doesn't cover the company want to take a guess at the multiple? 8x? 10x? 12x? No, no, and no. SPG is trading at 16x.
For all of WPG's problems, it doesn't merit trading at 5x FFO.
What About Retail Going Under?
That is a solid theme in the economy and it is worth paying attention to it. However, it hasn't hammered away at WPG. Here is a recent slide from the CEO's presentation: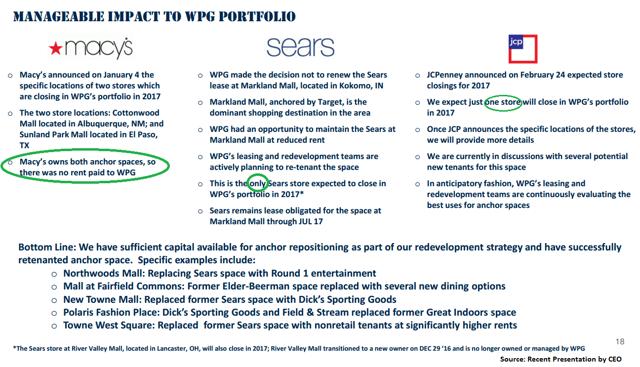 Macy's (NYSE:M) owned its own stores, no rent lost. Yes, losing an anchor hurts traffic, but these anchors are dying because they weren't bringing in traffic. In a nutshell, they were bad anchors to begin with. There is a total of one Sears (NASDAQ:SHLD) and one J.C. Penney (NYSE:JCP) closure to impact the results. It had a little over 110 malls. Anyone feeling terrified now?
So why did the CEO need to stress those points? Because WPG rents a great deal of space to them.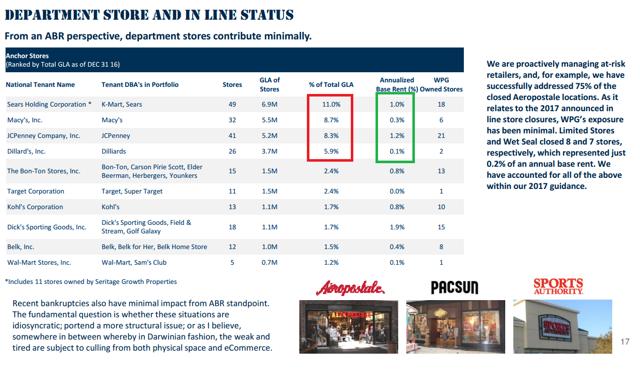 The percentage of GLA (gross leasable area) is extremely high. It is downright terrifying. However, the funny thing about mall REITs is that they offer dramatically cheaper rental rates to their "anchor" tenants as a reward for those tenants bringing customers into the mall. Plenty of other stores - some where customers actually want to shop - may be interested in locating there at the right price. WPG could lose quite a bit of revenue without being a failure of an investment. Remember, it is trading around 5x FFO.
It All Comes Back to Valuation
I wouldn't want to pay the cost of developing a mall to own it. I would want a massive discount. That kind of discount is already priced into shares. Given that the dividend is covered so thoroughly, I spent around 40% of my time looking for some sign of accounting tricks. The only adjustment I felt compelled to add is one that most REITs need. There was no garbage external management agreement. This appears to simply be a REIT that everyone is scared to hold on the premise that the CMBS on malls looks terrible. I agree - I wouldn't want to make a loan for more than the value of the collateral. Those non-recourse loans are pretty ugly for the sucker holding them. Too bad. WPG is taking care of its shareholders, and it is doing what it agreed to do - either pay the loan or turn over the collateral.
By my estimate, WPG is a reasonable buy under $9. I think fair value is within $10-12. The target for under $9 reflects the discount I want to feel comfortable about taking on this investment. I would suggest allocations to WPG to run 1-2.5% of portfolio value initially, with the courage to double the position if it dips back to $8.
Since I think the dividend is unlikely to be cut in the next few years, we are looking at less than 9 years to recover the full cost. This is one of the only 11% yields that I don't expect to see on the chopping block. It isn't a great REIT, but the market priced it for being terrible. It isn't terrible, not even from the perspective of an analyst that is bearish on the future of the sector. Remember Resource Capital Corporation (NYSE:RSO)? The two companies have almost nothing in common, except in both cases the market came up with a stupid narrative, repeated it ad nauseam, and left every investor wanting to avoid being the sucker that was holding it.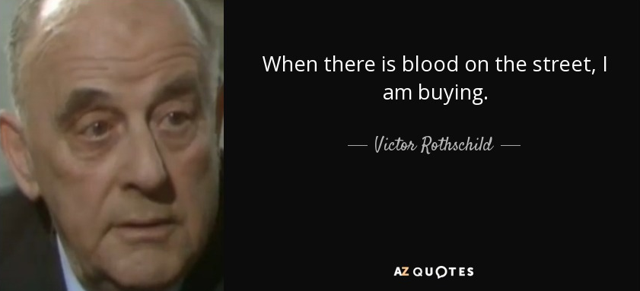 Finally, we have an opportunity to go shopping.
I'll have a limit-buy order active on Monday, and I'm thinking between 1.5% and 2% sounds right. I'll leave dividend reinvestment off. I want the investment to start paying me back for owning it.
For investors interested in the preferred shares, they look like a fine choice as well, especially for the buy-and-hold investor. Look for WPG/PRH at or under $25.10. I really like them around $25.00. I expect these shares to mostly just sit around $25 for the next few years. That isn't a bad deal for an income investor. The H series has a 7.5% coupon rate. I prefer the common here because I see the potential for a pretty large capital gain and think the odds of a common dividend cut remain quite low. Still, WPG/PRH looks like a very reasonable investment. An investor could run around 4% of portfolio value in WPG/PRH before I would consider it excessive.
There is also WPG/PRI, but the shares run just under $25 and only have a 6.88% coupon rate. I like the H series better with this kind of yield spread.
*Update*
As of 4/11/2017, shares closed at $8.93. This is still $.07 within my suggested range for entry prices. I wrote this piece and published it for subscribers prior to entering my order. My limit-buy triggered Monday morning, and I am now long WPG.
Sign up by April 15th and get a free two week trial. This is your opportunity to lock in prices at $310 per year before the next price increase on May 1st, 2017. Rates are going up because of the high cost of providing such detailed analysis. By signing up today, your price is locked in against future increases. I put together a guide showing my strategy for generating returns. If you want to learn more about investing in high yield instruments, specifically mortgage REITs and their preferred shares, check out the reviews from my subscribers. In the last month, I was able to correctly call the opportunity in shorting Orchid Island Capital (NYSE:ORC) (about a 20% return), shorting Western Asset Mortgage Capital (NYSE:WMC) (for a 6-7% return), which included a release when shares hit the target range to close the trade, and buying Resource Capital Corporation (up over 20% since the call) going into the earnings release. As of 04/11/2017, a new SMS alert service is available for subscribers.
Disclosure: I am/we are long WPG, RSO, BMNM.
I wrote this article myself, and it expresses my own opinions. I am not receiving compensation for it (other than from Seeking Alpha). I have no business relationship with any company whose stock is mentioned in this article.
Additional disclosure: No financial advice. Consult a professional who knows your objectives and constraints.