Here's what investors need to know going into Q1 2017 earnings. It has been another strong start for the data center REIT sector, up an average of ~12.5% year to date.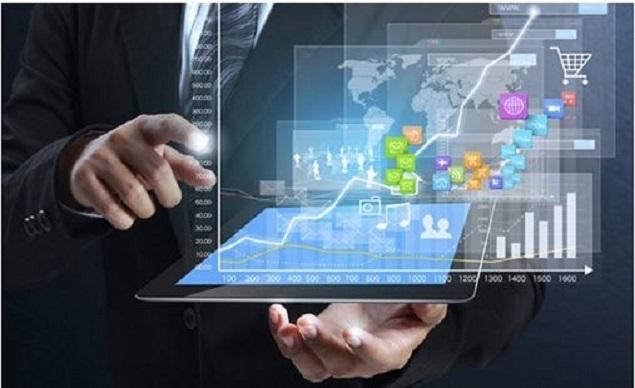 Source: CyrusOne
Data center sector price appreciation has considerably outperformed the broader property REIT performance, which includes more traditional asset classes like retail, office, hotels, and apartments.
Data center REITs are leveraged to the tailwinds of big data, cloud computing, streaming content and wireless data, virtual and augmented reality, and social media. The focus is often on the growth of data in world, which is reported to double about every two years, and growth of connected devices.
But all data isn't created equally and treated the same way. Supply and demand for the data center space is impacted by the size of a given market, cost of land and power, and access to the fiber backbone that connects towns and cities to regions and ultimately the entire world.
In January, I wrote a Seeking Alpha data center REIT sector recap of last year's performance:
"By the end of 2015, it became clear to me that supply/demand fundamentals in key US data center markets were setting up for a strong 2016. My conclusions were based upon presentations made at industry conferences, and reports by industry experts, including top brokers with boots on the ground."
It is true that 2015 and 2016 were both record years for wholesale leasing in many markets, including a record 113 MW of wholesale absorption in Northern Virginia alone. However, during Q4 2017, there weren't any large lease signings in that crucial wholesale market.
Earnings season is almost upon us, and REITs that depend on wholesale or large-scale deployments of servers by public cloud, IT services and Fortune 1000 enterprise customers will be under close scrutiny.
Why do I say that? Because in my view, data center REIT valuations are once again becoming a bit frothy. Most of the sector names are once again approaching and/or setting new 52-week highs.
The Dog That Didn't Bark
In fact, large scale leasing activity was quiet in most of the major markets in Q4 2016. While the deal funnel remained full of prospects, the wholesale leasing pipeline shut off almost completely and the end of last year, according to my broker channel checks. The lack of available space in some markets was certainly a factor (due to the accelerated leasing of the previous four quarters, compared with historical averages). Additionally, election uncertainty contributed to the paucity of large deals signed during the end of last year.
Notably, significant leasing activity by Microsoft (NASDAQ: MSFT) and Oracle (NASDAQ: ORCL) were major contributors to the rising tide last year. Who is going to step up in 2017? That remains the most important question looking ahead to earnings later this month.
Understanding the "new normal" in a wholesale leasing environment primarily driven by hyperscale cloud provider demand is still very much a work in progress.
Tale Of The Tape – DC REIT Outperformance
It appears that a lot of good news is once again being baked into the shares of CyrusOne (NASDAQ: CONE), CoreSite Realty (NYSE: COR), Digital Realty (NYSE: DLR), DuPont Fabros (NYSE: DFT) and Equinix, Inc. (NASDAQ: EQIX). QTS Realty (NYSE: QTS) has been lagging a bit, after its nice run since its IPO.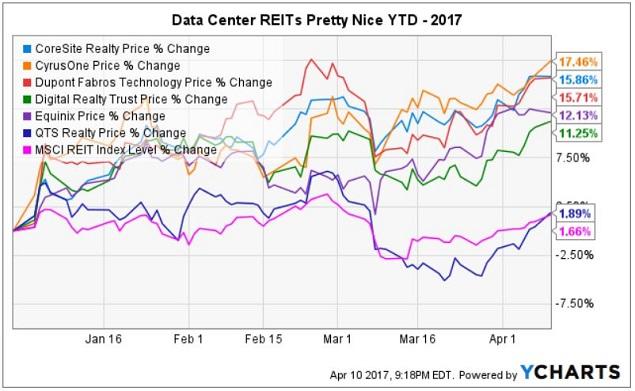 However, the run-up in data center REITs is even more spectacular when you go back to the last month of 2016.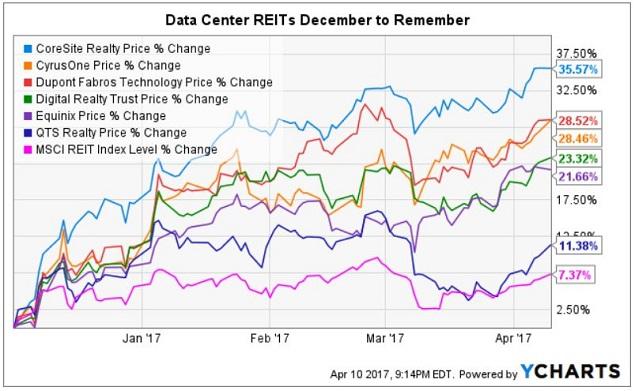 If this looks familiar, it is because we saw the same thing last year. Data centers had been top performers during 1H2016, up ~50% on average through June 30, 2016, as shown below.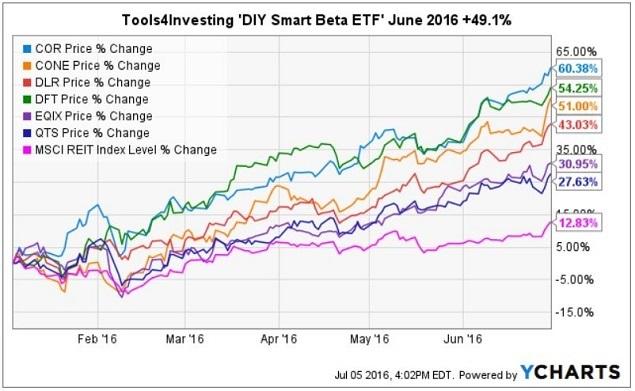 Investors who got in on the action in mid-summer bid up the data center sector to frothy valuations.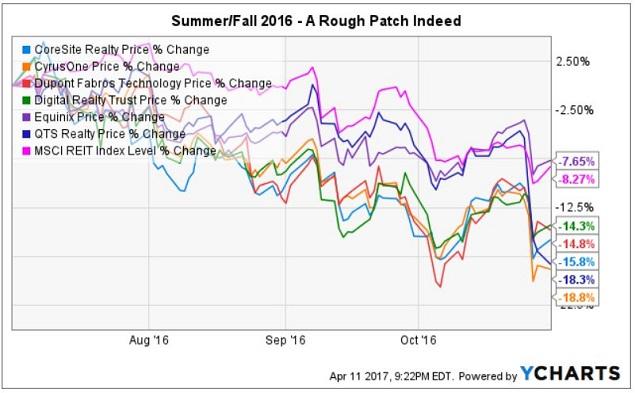 If you went to a deserted island for 10 months or so, and came back today and checked the prices, the data center REITs are close to those June 30, 2016, valuations once again.
When the rebound comes in this sector, it tends to be sharp and quick. So, for folks out there who don't currently own shares, my suggestion is to be cautious regarding buying at current price levels prior to earnings.
Piling in near the top of a feeding frenzy is rarely an effective way to build wealth, at least in the short run. However, owning these data center REIT names for the long term is a great plan.
I have been a proponent of over weighting this REIT sector, and owning multiple names rather than trying to pick "the best one."
Data Center REITs - Overview
The six publicly traded data center REITs follow different strategies and have portfolios distributed across different geographic markets. While both strategies and markets do overlap, upon closer examination, there are unique aspects to each of these REITs.
Many smaller metros do not have a public data center REIT presence, but most major cities have one or more. There are six Tier 1 data center markets: Northern Virginia, Silicon Valley, Chicago, Dallas, New York/Northern NJ, and Los Angeles. Tier 1 cities connect between each other and different regions of the US, as well as sub-sea cable landing sites which provide access routes to other continents.
Wholesale: Data center REIT DuPont Fabros has a 100% focus on large-scale deployments, typically 2 MW, or more. DuPont is currently active in Northern Virginia, Silicon Valley, and Chicago.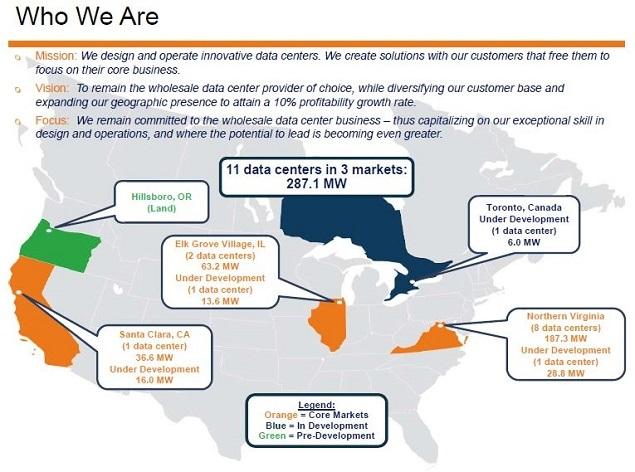 Source: DFT – Jan 2017, Citi presentation
DFT is currently expanding in Toronto, Portland is in pre-development stage, and land has recently been purchased in Phoenix. This wholesale landlord currently has about three dozen customers. Tenants typically sign for longer-term leases of 7 to 10 years, and the majority are investment grade technology firms.
Retail: On the other side of the coin are the retail data centers who lease cabinets, cages and small data halls. Global connectivity giant Equinix is at the other extreme, operating in 41 metros, across 21 countries on five continents.
Equinix leases small chunks of valuable colocation space to ~9,500 customers who tend to deploy in multiple markets and are willing to pay a premium for connectivity and low-latency for high-performance applications.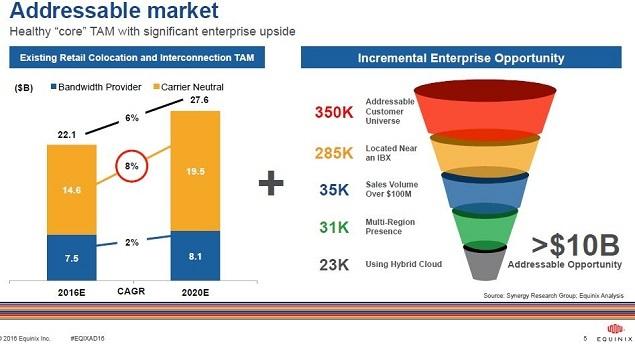 Source: Equinix Investor Day presentation
Notably, Equinix sees the total addressable market to be over 350,000 customers worldwide. These are typically customers who sign shorter duration two or three-year leases, but tend to renew.
Equinix has been growing through M&A for well over a decade, and expects to close on the $3.6 billion Verizon Americas data center portfolio by mid-year. While no formal guidance has been issued by management, the telecom and REIT analysts believe that this deal will be accretive.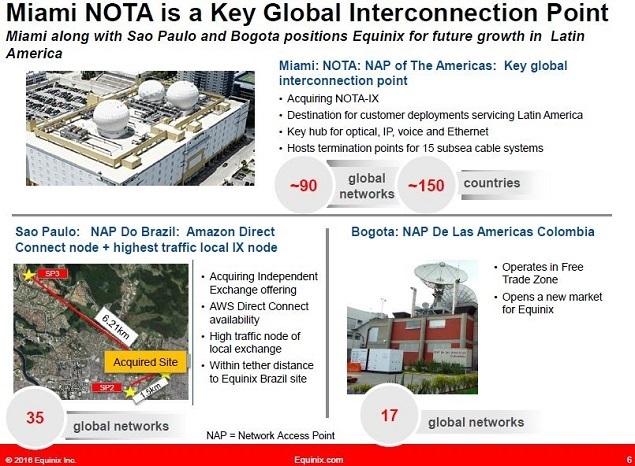 Source: EQIX – Verizon presentation
Additionally, it will help grow the moat, especially with Verizon crown jewels located in Miami (NAP of the Americas), Culpeper, VA (government and defense), and exposure to oil and gas in Houston, a new market for Equinix. Unfortunately, a lot of this good news already is baked into the shares.
CoreSite Realty is primarily focused on providing smaller retail colocation and connectivity in eight US markets, including Los Angeles, Silicon Valley, N. Virginia, and Chicago. However, this REIT is a bit of a hybrid, will also lease larger chunks of space to strategic anchor tenants who act as ecosystem magnets.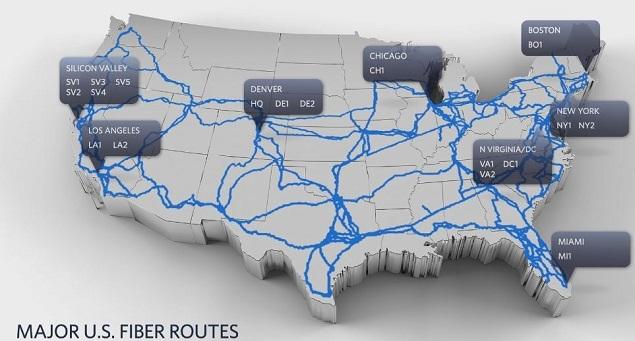 Source: CoreSite July 2016
However, highly interconnected ecosystems and cloud dense on-ramps to the public cloud remain the secret sauce. These tenants with multiple cross-connects tend to be quite sticky, although there is always a small amount of churn in retail.
Hybrid: Digital Realty is by far the largest provider of wholesale space owning and operating ~24 million square-feet worldwide.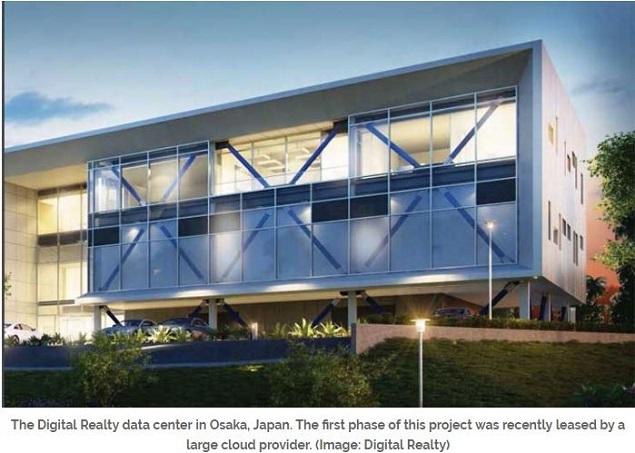 Source: Data Center Knowledge
However, Digital recently pivoted toward connectivity to become a hybrid REIT able to provide end-to-end solutions. Digital purchased one of its largest tenants Telx, which operated highly interconnected colocation space in metros like NYC, Chicago, and Atlanta.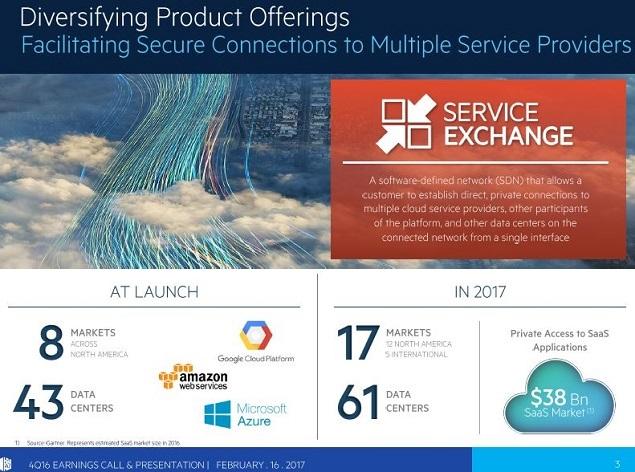 Digital/Telx is expanding at several large DLR campuses including Dallas and Northern Virginia. Additionally, Digital recently bought certain colocation assets and business from Equinix in the UK, Amsterdam and in Frankfurt as part of the Equinix/TelecityGroup merger approval by the EU commission.
Hybrid REIT CyrusOne has noticeably pivoted toward catering to the largest cloud service providers over the last couple of years.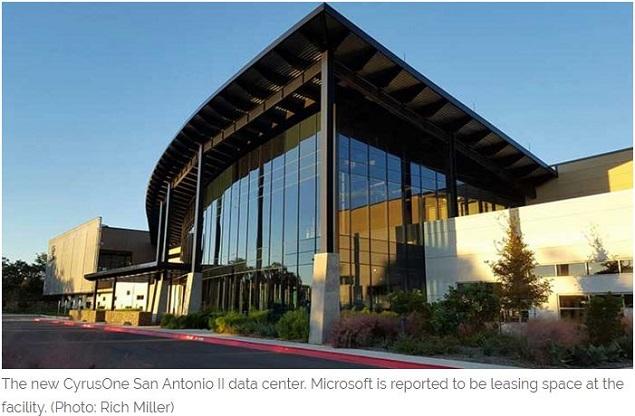 Source: Data Center Frontier
However, the bread and butter focus for CyrusOne has been Fortune 1000 enterprise clients. This was recently highlighted by CONE winning a large sale-leaseback deal with CME Group for its data center campus in Aurora, IL outside of Chicago. CyrusOne also leases to much smaller colocation tenants, all the way down to a single cabinet.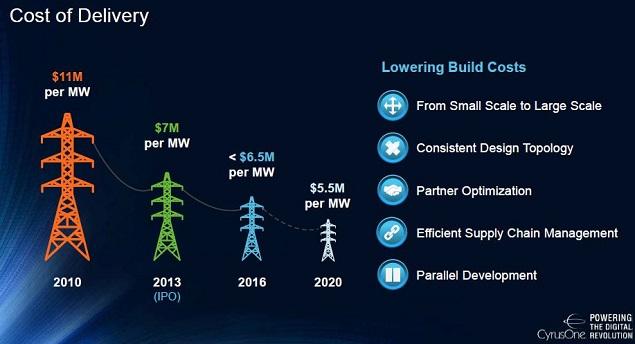 Source: CyrusOne Investor Day 2016
Meanwhile, CyrusOne has been using speed to market, and cost savings from its Massively Modular large-scale powered shell design-build program to win deals with the cloud giants.
QTS Reality is also considered a hybrid REIT, with the ability to provide strategic wholesale solutions, along with its bread and butter colocation and in-house cloud and managed services. Security and compliance are also a large part of the QTS suite of services, including multiple FedRAMP government agency approvals.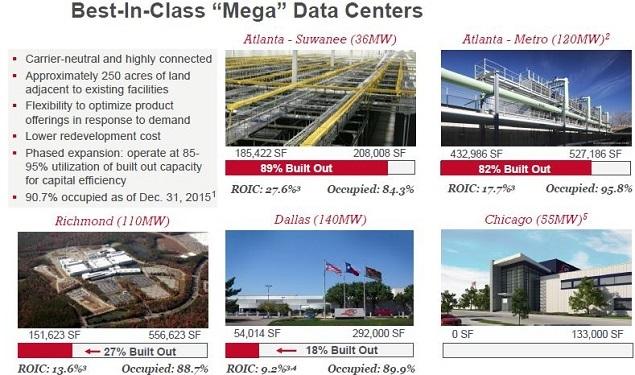 Source: QTS – Q1 2016 presentation
The QTS secret sauce has been purchasing large infrastructure-rich campuses like chip plants and printing plants at a low-cost basis, to re-purpose into state-of-the-art data center campuses. QTS Realty can double the size of its raised floor data hall footprint within its existing powered shell space.
Factors To Consider
There also is private sector competition in both primary (Tier 1) and secondary (Tier 2) markets for both wholesale and retail customers.
Edge data centers located in smaller markets at the "edge" of the network can deliver content like on-demand programs, cloud-based software and streaming video to end users, or "eyeballs," with low-latency to reduce buffering and improve the user experience.
The IoT or Internet of Things will require smaller self-contained data centers located closer to the action to support machine-to-machine communication required for autonomous vehicles and other applications. Micro data centers might end up being deployed at cell tower sites, connected to edge data centers, and larger remote storage and compute locations.
Data which is not accessed regularly can be stored in large data centers in remote locations where the cost of land, power and water for cooling thousands of servers is the lowest. However, those huge public cloud and social media data center campuses are not owned and operated by the public REITs.
Must Be Present To Win
This really begs the question what is the new normal?
The growth of big data, public cloud, wireless data and streaming media, is a fire hose and it can quickly fill a lot of buckets. Even if those buckets are huge data center powered shells which can be 500,000 square feet, or larger.
All six of the data center REITs are deploying new capital underwritten at double-digit ROIC, which helps to drive earnings growth (FFO/AFFO per share) and support a growing dividend. I am not aware of another REIT sector that offers investors this kind of growth opportunity in a rising interest rate environment.
Notably, CoreSite and Equinix and QTS Realty are not as dependent on larger wholesale deals. While on the other hand, CyrusOne, DuPont Fabros and Digital Realty can ink a few mega-deals and have a blowout quarter.
One key takeaway is that wholesale leasing tends to be lumpy and can cut either way in a given quarter. However, this can provide investors an opportunity to initiate a position in one of these names if the Q1'17 earnings print and guidance disappoints.
My advice to SA readers has been to thoughtfully acquire shares of the data center REITs (and to back up the truck when Mr. Market puts them on sale). Folks that are semi-active investors - with a trading bucket to go along with their long-term portfolio - can trim back a bit when the shares get frothy, while keeping a position for the inevitable growth down the line.
I recently launched my REITs 4 Alpha: High-Yield | DGI | Technology Seeking Alpha Marketplace Premium subscription service. Over three dozen REITs 4 Alpha members are provided with entry target prices, the rationale behind them, and suggestions when to trim an overweight position. I welcome any feedback and would be happy to answer questions from readers who may be interested. Feel free to share them with me in an SA Inbox message.
I relentlessly hunt for diamonds in the rough and rising stars, in addition to closely following data centers, covering REIT blue-chips and breaking news. Please consider following me as a Seeking Alpha author if you would like to be notified when my future articles are published.
Disclosure: I am/we are long COR, CONE, DFT. I wrote this article myself, and it expresses my own opinions. I am not receiving compensation for it (other than from Seeking Alpha). I have no business relationship with any company whose stock is mentioned in this article.
Additional disclosure: A member of my household in a retirement account owns: COR, CONE, DFT