U.S. stocks closed lower on Tuesday, after investors ditched risk assets amid rising geopolitical tensions, while a rise in oil prices capped losses.
Geopolitical jitters triggered a 'flight to safety' sentiment, as investors poured into safe-haven assets, on the back of recent developments in Syria, which include last week's U.S. airstrike on an airbase in Syria and possible U.S. military action against North Korea.
President Donald Trump tweeted on Tuesday, "North Korea is looking for trouble," and signalled that the U.S. is prepared to solve the problem on its own, should China decline to offer assistance.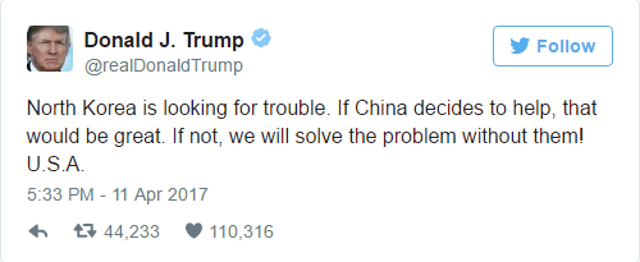 Meanwhile, U.S.-Russia relations were subject to further strain, after U.S. Secretary of State Rex Tillerson delivered a message to Moscow on Tuesday denouncing Russian support for Syria's Bashar al-Assad.
U.S. equities attempted to mount a late recovery during the session, led by energy stocks, after oil prices rallied, buoyed by reports that Saudi Arabia told OPEC officials, it favored a six-month extension to the current deal to cut global supply.
On the New York Mercantile Exchange crude futures for May delivery gained 32 cents to settle at $53.40 a barrel.
In corporate news, shares of Snap Inc. (NYSE:SNAP) fell more than 2%, after Instagram replicated Snapchat's popular messaging feature, which includes disappearing photos and videos alongside text.
The slump in U.S. equities came ahead of the first quarter earnings season, as Citigroup Inc. (NYSE:C), JPMorgan (NYSE:JPM) and Wells Fargo (NYSE:WFC) report results on Thursday before the US market opens.
The Dow Jones Industrial Average closed at 20,651, down 0.03%. The S&P 500 lost 0.14% and the Nasdaq Composite closed 0.24% lower at 5866.77.
S&P 500 'movers and shakers'
The top S&P 500 gainers included; American Airlines Group (NASDAQ:AAL), up 3.8%, and Seagate Technology PLC (NASDAQ:STX) 3.1%, while Nordstrom Inc (NYSE:JWN) added 2.6%.
Alliance Data Systems Corporation (NYSE:ADS) down 3.8%, Royal Caribbean Cruises Ltd (NYSE:RCL) down 2.7% and Mallinckrodt (NYSE:MNK) down 2.7%, were among the worst S&P 500 performers of the session.