By Gary Alexander
A century ago last Thursday, Woodrow Wilson and Congress declared war on Germany. Despite his firm campaign promise against U.S. entry into the Great War, German submarine activity and subterfuge in Mexico forced the President's hand. The U.S. entered World War I fairly late in the game (April 6, 1917), after nearly three years and millions of lives were lost in the trenches of northeastern France.
Last week, President Trump seemed to mark that anniversary in an odd coincidence of dates by bombing Syrian air bases on the exact centennial date. How did the market react? Last Friday, the stock market shrugged off the U.S. bombing sortie, neither rising nor falling much. Something similar happened when America entered World War I. The market basically yawned. The New York Stock Exchange was closed for most of late 1914, but when it re-opened in 1915, stocks soared. After a correction, stocks reached higher highs (Dow 110) in late 1916. Stocks were flat after the war declaration, but fell in late 1917. After the war ended, in 1919, as odd as it may seem, the Dow rose strongly during a global influenza epidemic!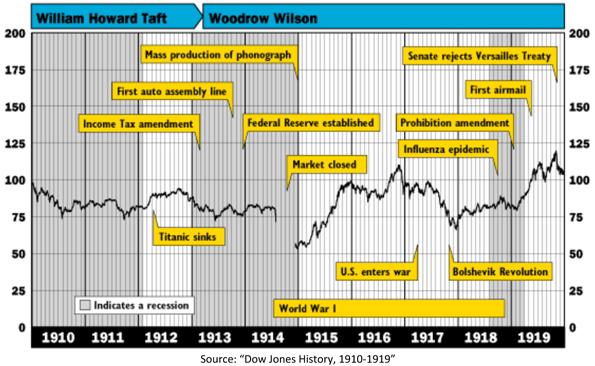 I keep hearing the cynical statement that "Wall Street likes war," or war is good for stocks. Sometimes, that seems to be true, but what does the historical evidence of America's wars in the last century tell us?
Robert Prechter has just published a fascinating book, "The Socionomic Theory of Finance," in which he spends the first few chapters demystifying all the exogenous "causes" of financial market action. In Chapter 2, for instance, Prechter tests and refutes the "fact" that (1) interest rates drive stock prices; (2) rising (or falling) oil prices are bearish for stocks; (3) a trade deficit is bad for the economy and stocks; (4) earnings drive stock prices; (5) jobs drive stock prices; (6) GDP drives stock prices; and (7) wars (or peace) are bullish (or bearish) for stocks. He moves on to more myths, but I want to focus on war here.
In America's four major wars in the last century, stocks fluctuated wildly in three cases, as seen in the charts below. First came World War I, when stocks rose in 1915 while Europe fought but fell after the U.S. entry. In World War II, stocks did the opposite: They fell sharply from September 1939 (after Hitler invaded Poland) until April 1942, when the first rays of hope for Allied victory emerged. Then stocks rose for four years, until mid-1946. The opposite happened in the Vietnam War, as stocks rose strongly in the early 1960s, when Vietnam seemed winnable, but then the market sagged sharply from 1968 to 1970 and again from 1972 to 1974, when America lost that war and had to watch the enemy enter Saigon.
Here is Prechter's summary of market actions during America's four largest 20th Century wars. (Please note that this 1917 chart differs from the Dow chart, above, since these charts are adjusted for inflation.)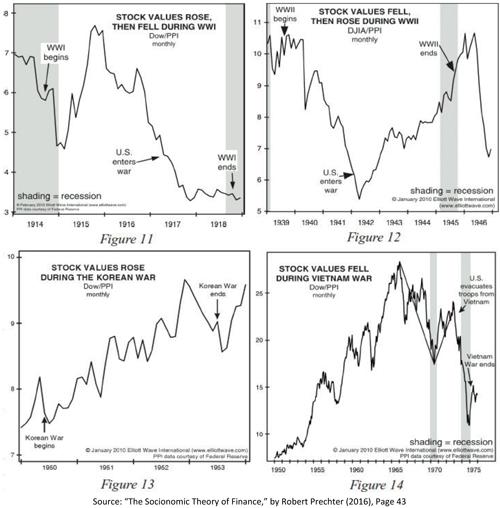 During the Korean War, as you can see from Figure 13, stocks rose each year, 1950-53. The market also soared during the quick initial victories in Gulf War I (in early 1991) and Gulf War II (in early 2003).
In the past, I have written about how stocks generally go up or remain unchanged after serious traumatic events like Pearl Harbor, the assassination of John F. Kennedy, the Challenger explosion, or 9/11. Stocks also remained relatively calm during the Cuban missile crisis of October 1962, but there was a serious correction earlier that year, and that contains a lesson, too, about why stocks and sectors can rise or fall.
Presidents Can (and Do) Attack (or Favor) Specific Sectors
While outside events don't usually impact the markets as much as the pundits tell us, a President can hurt or help a specific industry. We've all seen how Big Pharma stocks tanked after candidate Hillary Clinton threatened that she would put a cap on prescription drug prices - and she was just a candidate!
Fifty-five years ago this week, on April 12, 1962, President John Kennedy held a special press conference to demand that the executives of U.S. Steel (and many other domestic steel companies) roll back their recently-announced $6 per ton price increase. He accused steel executives of being virtually traitorous in their "pursuit of private power and profit." He said that the Department of Defense would only order steel from the firms that rolled back prices. Steel companies quickly complied, rolling back prices the next day.
By the next day, Friday the 13th of April 1962, the nation's eight biggest steel companies surrendered to the President's demands in quick succession: At 3:05 pm, Kaiser Steel was the first domino, followed by Bethlehem Steel at 3:21. U.S. Steel bowed at 5:25, followed by Republic Steel (5:57), Pittsburgh Steel (6:26), Jones & Laughlin (6:37), National Steel (7:33), and finally Youngstown Sheet & Tube (at 9:09).
That did not end the war of words. When it came time to announce U.S. Steel's disappointing first-quarter 1962 earnings on May 7, CEO Roger Blough told his shareholders: "This concept is incomprehensible to me - the belief that Government can ever serve the national interest in peacetime by seeking to control prices in competitive American business, directly or indirectly, through force of law or otherwise."
All through May of 1962, stocks kept falling. From its December 1961 peak at 741, the Dow fell by 29% in six months, to 525 by late June, 1962. It turned out to be the worst bear market to befall America in the 32-year expansion between 1942 and 1974. May 28, 1962 was the worst day on Wall Street since the 1929 crash. On that day, steel stocks dropped to 50% of their 1960 levels, as part of a long, long decline.
Steel companies weren't price-gouging. Profits at U.S. Steel fell 61% from 1958 to 1963, with the biggest drop coming in 1962. The industry lost over 100,000 jobs from 1958 to 1960, including 70,000 jobs lost at U.S. Steel alone. Their profit margin was cut in half. While salaries in the steel industry rose 13% from 1958 to 1961, profits fell, as 85% of U.S. Steel's 1961 profits were paid out in shareholder dividends.
In 1958, U.S. Steel was #4 in the Fortune 500, and Bethlehem Steel was #9. By 1985, U.S. Steel was in the process of changing its mix of businesses, emerging as USX Corp. The only pure steel company in the Fortune 100 in 1985 was Bethlehem Steel, ranked #68. Clearly, the U.S. steel industry was slowly dying.
The President killed an already-dying industry. By July 1962, the steel industry was working at just 55% capacity, vs. 70% in April, when the President attacked them. Very soon, Japan began to dominate the steel market, which was already beset by competition from non-steel construction products made from plastics, aluminum, cement, or glass. While the normal challenges of business are always present, the President's attack contributed greatly to the decline of the U.S. steel industry over the next few decades.
As history shows, Presidents possess great powers to inspire or destroy when they propose to take any particular industry to the woodshed. Chances are, market forces are already disciplining those companies.
Disclosure: *Navellier may hold securities in one or more investment strategies offered to its clients.
Disclaimer: Please click here for important disclosures located in the "About" section of the Navellier & Associates profile that accompany this article.