BDC Total Returns Since 2014:
Since 2014, the average BDC has beat the S&P 500 with total returns of over 20%.
Explanation of total returns: The Change in Price assumes you purchased the stock at the end of 2014. Dividends do not assume reinvestment and are calculated using the amounts paid (or accrued) divided by the purchase price.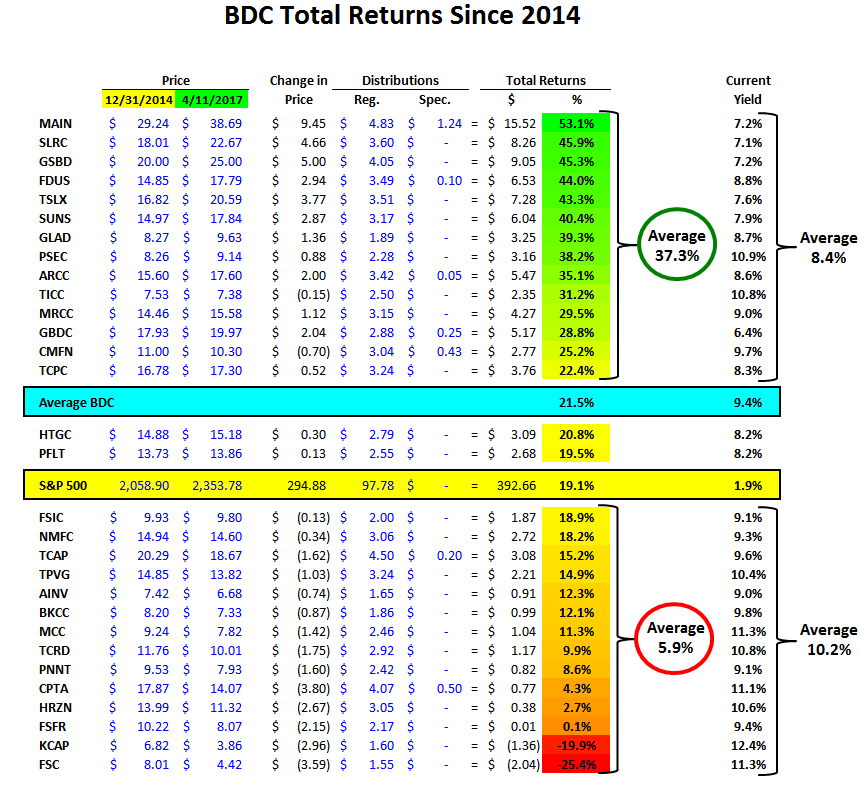 Outperformers:
As usual, many of the lower yield BDCs continue to outperform the average including Main Street Capital (MAIN), Golub Capital BDC (GBDC), Goldman Sachs BDC (GSBD), Solar Capital (SLRC), Solar Senior Capital (SUNS), Fidus Investment (FDUS), TPG Specialty Lending (TSLX), TCP Capital (TCPC), Gladstone Capital (GLAD), Ares Capital (ARCC), and Monroe Capital (MRCC). It should be noted that these BDCs have consistently had lower-than-average yields, even before the recent rally.
TICC Capital (TICC), CM Finance (CMFN), and Prospect Capital (PSEC) had much less capital gains during this period but are higher yield, so total returns are above average.
Underperformers:
Most of the underperformers were higher yield in 2014, as investors were likely pricing these BDCs to take into account higher risk and/or potential dividend cuts as discussed extensively in "Pricing For The BDC Sector."
Fifth Street Finance (FSC), Fifth Street Senior Floating Rate (FSFR), KCAP Financial (KCAP), Medley Capital (MCC), Capitala Finance (CPTA), Horizon Technology Finance (HRZN), PennantPark Investment (PNNT), THL Credit (TCRD), Apollo Investment (OTC:AINV), Triangle Capital (TCAP-OLD), and BlackRock Capital Investment (BKCC) have all cut dividends recently. This is not a coincidence and investors looking for higher total returns and sustainable dividends should take the time to go through the following articles that discuss how to analyze BDCs:
Increased Market Volatility?
As always, investors should be prepared for BDC price volatility. The chart below shows S&P 500 Volatility Index (VIXY) heading toward highs not seen since before the US elections. Also, BDCs will begin reporting March 31, 2017, results in a couple weeks that could spell trouble for certain BDCs likely to cut dividends as indicated in "Assessing Dividend Coverage For The BDC Sector: Part 2." I will discuss this further in articles next week.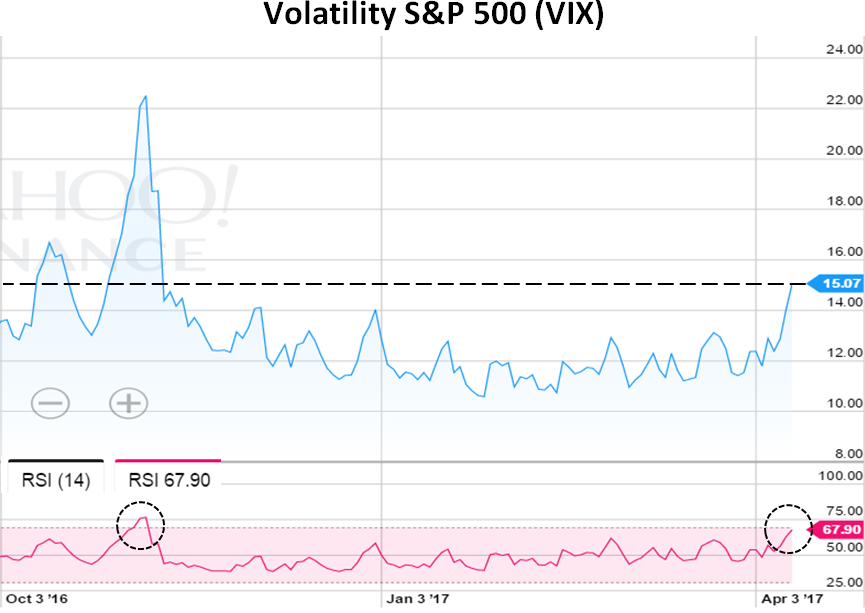 Personal note: I have updated my positions to reflect changes in my holdings, but please keep in mind that some of the positions are very small and mostly for research purposes. There are over 50 publicly traded BDCs, and I try to cover as many as possible, but I do not have the bandwidth to include each company for each article.
Disclosure: I am/we are long ABDC, ACSF, AINV, ARCC, BKCC, FDUS, FSC, FSFR, FSIC, GAIN, GARS, GBDC, GLAD, GSBD, HCAP, HTGC, MAIN, MCC, MRCC, MVC, NMFC, PFLT, PNNT, PSEC, SAR, SCM, SLRC, SUNS, SVVC, TCAP, TCPC, TPVG, TSLX, WHF. I wrote this article myself, and it expresses my own opinions. I am not receiving compensation for it (other than from Seeking Alpha). I have no business relationship with any company whose stock is mentioned in this article.