By Neuberger Berman Asset Allocation Committee
Valuations in private equity markets are elevated, but we still anticipate an illiquidity premium.
Commodities
In commodities, we decided to lower our outlook to neutral due to an increased supply in industrial metals and energy. However, if inflation picks up, commodities could act as a hedge. In energy, we are concerned about rising supply as the U.S. is increasing its shale production amidst uncertainty around OPEC's continuing production cuts.
Hedge Funds
We maintained our slight overweight on the hedge fund sector; inter-stock correlations have come down significantly, creating alpha opportunities on both the long and short side. In our view, distressed debt (with default rates low at around 3.2%) and global macro (with increased volatility in interest rates and currencies) strategies both look appealing. Managed futures, however, are not as attractive as they were because many market trends are breaking down.
Private Equity and Debt
As in public markets, valuations in private equity markets are currently elevated. However, we still anticipate an illiquidity premium over public equities. The trick is to get the execution right. Private debt markets are also experiencing large inflows and tighter valuations. We prefer adopting a steady investment plan rather than trying to time investments in the private markets.
Currency
USD: We have an overweight view on the U.S. dollar as the U.S. economy is expected to continue adding jobs above equilibrium job growth. Short-term yield differentials are also supportive, and tax reform may cause further dollar strength. The risks to this outlook are that inflation is still contained, the U.S. dollar is moderately overvalued, and there are lingering uncertainties around President Trump's policies. It is also questionable how much dollar strength policymakers in Washington are willing to accept.
Inflation Has Begun to Pick Up in Europe
Euro Zone Consumer Price Inflation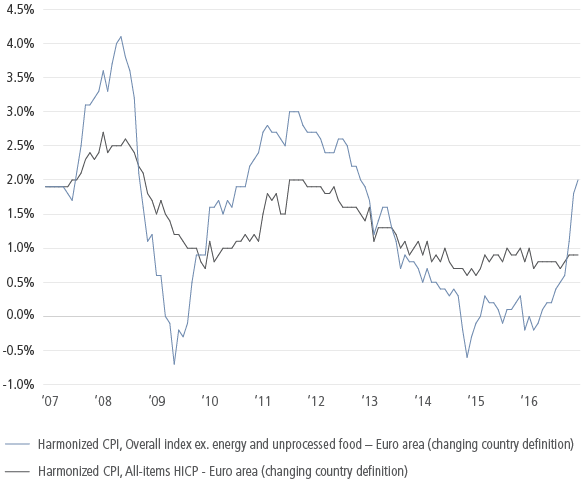 Source: FactSet.
Euro: We also have an overweight view on the euro. Forward-looking indicators such as PMIs and business surveys suggest that growth in the region will likely accelerate, while higher global growth in general could support the eurozone more than other countries. Other supporting factors include a large current account surplus and acceleration in headline inflation. Political risks are significant, as the French and German elections may create volatility. A Marine Le Pen victory in France is arguably the biggest threat. It's also worth noting that ECB policy is still loose and any further pickup in inflation will make real yields even more negative. There are also lingering concerns about the banking system.
Yen: We have an overweight view on the yen and believe that the long yen remains a valid trade during a period of risk aversion. In support of our positive outlook, there is a growing current account surplus while purchasing power parity and real exchange rates suggest the yen is undervalued after its fourth quarter 2016 depreciation. There are also signs of reflation, which may alter the market's perception of Bank of Japan policy. In terms of risks, there are now wide yield differentials after the increase in global yields. Also, market participants are not overly short the Japanese yen after paring back their positioning this year and disinflation is still apparent. Indeed, BoJ yield curve policy exacerbates the yield differentials against the yen.
Pound: We have a slight underweight view on sterling as recent economic data has surprised on the downside and suggests that the "Brexit" process will slow the economy in 2017. Political uncertainty is also likely to persist for an extended period now that Article 50 has been triggered. It is also possible that there will be a significant deterioration in confidence once inflation begins to bite. A weaker pound could also import inflation at a time when the Bank of England cannot raise rates. That said, the pound is already very undervalued, and there is also a risk that the BoE halts further easing and starts to react to higher inflation, which could attract foreign investors drawn by the weaker pound.
Swiss Franc: We have an underweight view on the Swiss franc, which we believe is still very overvalued. The Swiss National Bank will attempt to fight further appreciation, but its strong currency continues to cause disinflation and Swiss growth has slowed. However, the Swiss franc is one of the world's most attractive funding currencies, and its appeal could be enhanced even further by increases in geopolitical uncertainty, the country's positive current account balance and the large number of inbound M&A transactions.
This material is provided for informational purposes only and nothing herein constitutes investment, legal, accounting or tax advice, or a recommendation to buy, sell or hold a security. Information is obtained from sources deemed reliable, but there is no representation or warranty as to its accuracy, completeness or reliability. All information is current as of the date of this material and is subject to change without notice. Any views or opinions expressed may not reflect those of the firm as a whole. Neuberger Berman products and services may not be available in all jurisdictions or to all client types. Investing entails risks, including possible loss of principal. Investments in hedge funds and private equity are speculative and involve a higher degree of risk than more traditional investments. Investments in hedge funds and private equity are intended for sophisticated investors only. Indexes are unmanaged and are not available for direct investment. Past performance is no guarantee of future results.
The views expressed herein are generally those of Neuberger Berman's Asset Allocation Committee which comprises professionals across multiple disciplines, including equity and fixed income strategists and portfolio managers. The Asset Allocation Committee reviews and sets long-term asset allocation models, establishes preferred near-term tactical asset class allocations and, upon request, reviews asset allocations for large diversified mandates and makes client-specific asset allocation recommendations. The views and recommendations of the Asset Allocation Committee may not reflect the views of the firm as a whole and Neuberger Berman advisors and portfolio managers may recommend or take contrary positions to the views and recommendation of the Asset Allocation Committee. Any currency outlooks are not against the U.S. dollar but stated against the other major currencies. As such, the currency outlooks should be seen as relative value forecasts and not directional U.S. dollar pair forecasts. Currency outlooks are shorter-term in nature, with a duration of 1–3 months. Regional equity and fixed income views reflect a 1-year outlook. Asset Allocation Committee members are polled on asset classes and the positional views are representative of an Asset Allocation Committee consensus. The Asset Allocation Committee views do not constitute a prediction or projection of future events or future market behavior. This material may include estimates, outlooks, projections and other "forward-looking statements." Due to a variety of factors, actual events or market behavior may differ significantly from any views expressed.
A bond's value may fluctuate based on interest rates, market conditions, credit quality and other factors. You may have a gain or a loss if you sell your bonds prior to maturity. Of course, bonds are subject to the credit risk of the issuer. If sold prior to maturity, municipal securities are subject to gain/losses based on the level of interest rates, market conditions and the credit quality of the issuer. Income may be subject to the alternative minimum tax (AMT) and/or state and local taxes, based on the investor's state of residence. High-yield bonds, also known as "junk bonds," are considered speculative and carry a greater risk of default than investment-grade bonds. Their market value tends to be more volatile than investment-grade bonds and may fluctuate based on interest rates, market conditions, credit quality, political events, currency devaluation and other factors. High Yield Bonds are not suitable for all investors and the risks of these bonds should be weighed against the potential rewards. Neither Neuberger Berman nor its employees provide tax or legal advice. You should contact a tax advisor regarding the suitability of tax-exempt investments in your portfolio. Government Bonds and Treasury Bills are backed by the full faith and credit of the United States Government as to the timely payment of principal and interest. Investing in the stocks of even the largest companies involves all the risks of stock market investing, including the risk that they may lose value due to overall market or economic conditions. Small- and mid-capitalization stocks are more vulnerable to financial risks and other risks than stocks of larger companies. They also trade less frequently and in lower volume than larger company stocks, so their market prices tend to be more volatile. Investing in foreign securities involves greater risks than investing in securities of U.S. issuers, including currency fluctuations, interest rates, potential political instability, restrictions on foreign investors, less regulation and less market liquidity. The sale or purchase of commodities is usually carried out through futures contracts or options on futures, which involve significant risks, such as volatility in price, high leverage and illiquidity.
This material is being issued on a limited basis through various global subsidiaries and affiliates of Neuberger Berman Group LLC. Please visit www.nb.com/disclosure-global-communications for the specific entities and jurisdictional limitations and restrictions.
The "Neuberger Berman" name and logo are registered service marks of Neuberger Berman Group LLC.
© 2009-2017 Neuberger Berman Group LLC. | All rights reserved