After the bell, the NYSE short interest data for the period ending March 31, 2017, was just released. Not surprisingly, and per the WSJ, GNC Holdings, Inc.'s (NYSE:GNC) short interest leapt, yet again, by 3.67 million shares, and now stands at 29.226 million shares. All I can say is that I almost fell off my chair when I saw the figures.
With GNC's management proactively pulling forward its earnings release data by ten days (compared to last year), soon enough, investors will see the Q1 2017 earnings print and get management's forward-looking commentary. The poker table is now set. Seated at the table are the Masters of the Universe (the hedge funds collectively short 29.226 million shares), Goldman Sachs' Stephen Tanal who has set an aggressive $5 price target, the rest of the sell side analyst community (most of whom are 50 shades of bearish), then there is me and my friend, the former Paulson & Co. bond trader. Perhaps, the market thinks we both are the proverbial patsy at the Poker Table.
Incidentally, back in 2011, I got a chance to attend the 3rd Annual Babson College Investment Management Conference. Mr. Seth Klarman, the well-regarded founder of Baupost Group, was the Keynote speaker. Given that this was six years ago, my memory is bit foggy, but I do recall that Mr. Klarman's main theme was discussing an extremely rare type of moth that isn't attracted to the light. This was a metaphor suggesting that to make outsized market returns, you need to find rare situations that are completely mis-priced by market participants, often going against the collective wisdom of the crowd. I also recall him specifically using the reference to the term "patsy" and explicitly saying that he generally likes to buy distressed debt or discounted debt, as clipping a 5% coupon and hoping to get back par wasn't his cup of tea. Oh yeah, and he said he places a higher value on liquidity than some market participants, so he prefers publicly traded companies to privately-held businesses.
So, getting back to the poker table imagery, given the high stakes, it goes without saying that April 18th is a pivotal day for GNC, where the "turn" and possibly the "river" is revealed.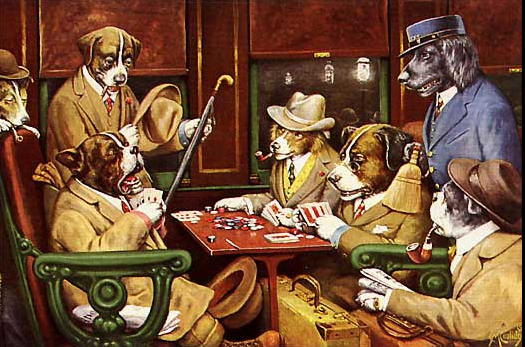 His Station and Four Aces by C. M. Coolidge, 1903.
In terms of the technicals, leading up to April 18th, GNC's stock price action could get interesting, if GNC pierces its 50-day moving average, which is $7.73, as of today, then who knows what will happen.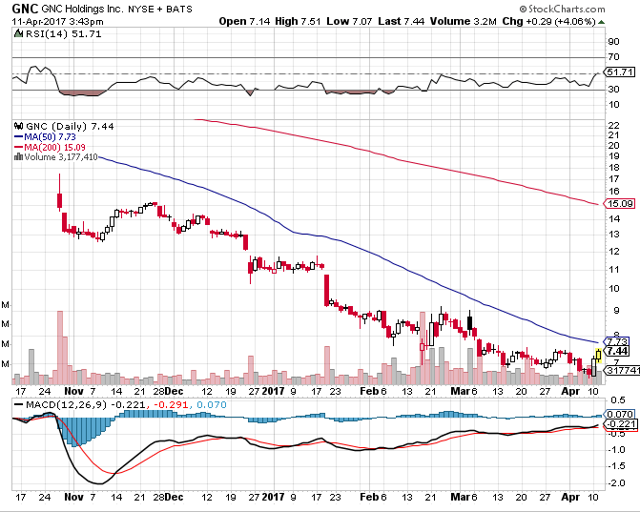 Source: Stockcharts.com
For perspective, the last time GNC's stock was trading above its 50-day moving average was in October 2016.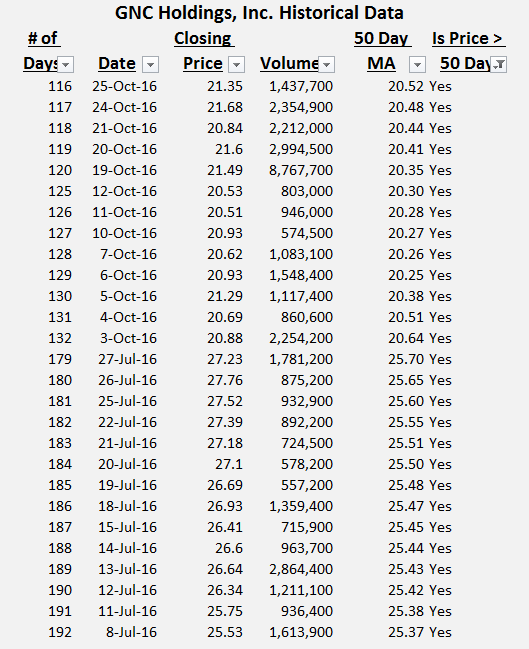 Turning to my handy, dandy short interest chart, October 25, 2016, was the precise last day GNC was trading above its 50-day moving average. Short interest in late October was less than 6 million shares, and GNC was trading at north of $20 per share. Fast forward to today and short interest has increased by 23 million shares since October 25th.
If the shorts aren't nervous, then why did they try to push GNC lower into today's close?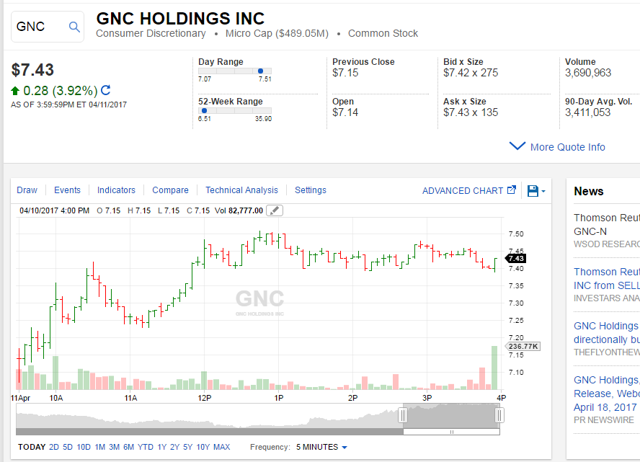 Source: Fidelity
Here is my latest short interest chart.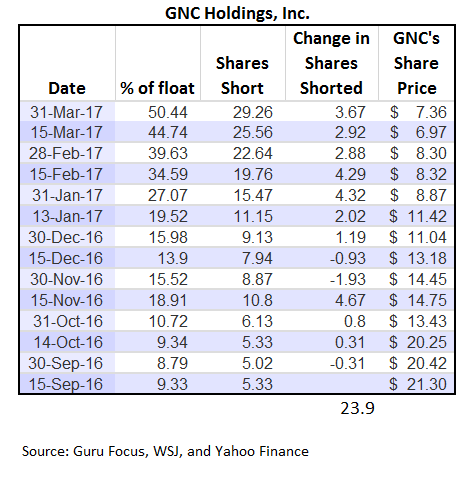 Here is the snapshot from the WSJ.

Also, to remind people, I was the analyst who wrote extensively about Weight Watchers (NYSE:WTW) and recommended the stock at $11.50 on December 22, 2016. I chronicled (and modeled) in excruciating detail that WTW could squeeze to $20 based on a February 28, 2017, earnings beat and raise. Lo and behold, my $20 target was off by $0.14 as WTW squeezed to $19.86. For proof, see these two articles (My Spidey Sense Suggests The Shorts Are Nervous and Oprah Has The Momentum). I would argue that shorting GNC at under $8 is far, far more dangerous than WTW at $11.50.
Takeaway
Good luck to the Masters of the Universe on April 18, 2017. As I have no idea why on God's green Earth they are collectively short 29.226 million shares ahead of GNC's Q1 2017 earnings print. It is simply impossible to cover that many shares on better-than-expected news, without GNC's share price doubling or more. For a case and point, look at how the shorts scrambled to covered 8 million shares of WTW after its February 28, 2017, better than expected news. This was the catalyst that propelled WTW shares to nearly $20.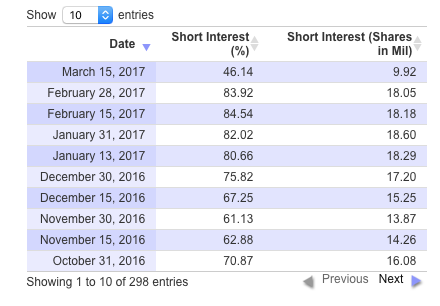 Source: GuruFocus
Disclosure: I am/we are long GNC.
I wrote this article myself, and it expresses my own opinions. I am not receiving compensation for it (other than from Seeking Alpha). I have no business relationship with any company whose stock is mentioned in this article.