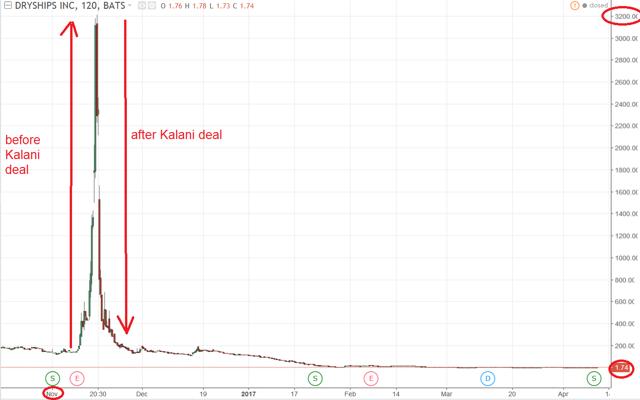 Source: Tradingview
DryShips (NASDAQ:DRYS) is down by 99.95% since November 2016 (within 4 months). As we can see from the above picture, just before the Kalani deal (November 16, 2016), the DryShips stock spiked from $200 a share to $3200 a share (adjusted price caused by R/S). A big spike just before Kalani deal has shown to be something suspicious. The company today (April 11, 2017) announced that they are going to pay a dividend for the common shareholders; the company further stated as follows:
With respect to the quarter ended March 31, 2017, the Board of Directors declared a dividend of $2.5 million to the common shareholders of record as of May 1, 2017 and payable on or about May 15, 2017. The dividend per share amount to be paid by the Company will be determined based on the number of shares outstanding on the record date."

Updated Key Information as of April 11, 2017:

Cash and cash equivalents about $422.0 million (or $8.98 per share)
Book value of vessels, including deposits about $194.3 million (or $4.13 per share)
Third-party loans about $16.5 million
Sifnos Loan Facility balance of about $200 million
Number of shares outstanding of about 47,010,986
Will This Dividend Offer By DryShips Offset The Shareholders' Loss?
Well, let us calculate. DryShips is down by 99.95% within a few months. If the stock is down by 99%, the stock will have to go up by 9900% to break even.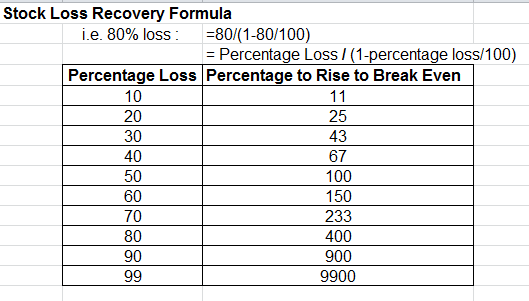 Source: Created by Author
Dividend
= $2.5 million
= Shares outstanding = 47,010,986 (as of April 11, 2017)
Dividend per share = $2,500,000/47,010,986 = $0.05
If one invested i.e. $5000 (1 share) last November, they would be down by $4,997, and they would have only $3 left on their account. The interesting thing is that DryShips is now offering a dividend of 5 cents a share. The 5 cents is not going to help a $4,997 loss. I can't comprehend what George Economou is thinking. George Economou once said that Americans are the dumbest investors around in a response to a question regarding his decision to raise money in the American public securities markets.
DryShips May Not Hold Up In The Long Run
As a foreign company, it is currently enjoying very limited SEC filings. Consequently, shareholders may not know what is going on with the company. The officers, directors and substantial shareholders can participate in a swing trade to buy and sell shares in less than six months without disclosing to the SEC. Below are the other benefits of the foreign company:
The reporting requirements for Form 20-F annual reports (foreign companies) are not as strict as those required for Form 10-K annual reports (domestic companies), particularly in the area of audited financial statements.
For domestic companies, when a Form 10-K is filed, it must include US GAAP audited financial statements for the year for which the report is filed.
A Foreign private issuer does not have to file a quarterly report with the SEC on Form 10-Q. Another substantial benefit of qualification as a foreign private issuer is that officers, directors, and substantial shareholders of foreign private issuers are exempt from filing beneficial ownership.
A foreign private issuer (officers, directors, and substantial shareholders) can participate in swing trade and buy and sell shares in less than six months.
Foreign private issuers are exempt from the disclosure requirements of Regulation FD, which is short for "fair disclosure." Regulation FD generally requires a company whose securities are registered with the SEC to disclose materially nonpublic information through public disclosure that is broadly available to all members of the public at the same time.
This limits much of the regulatory burden imposed on such companies by the Exchange Act and the SEC if the company qualifies as a foreign private issuer and complies with the requirements of the applicable rules of the SEC, or if the foreign private issuer qualifies for the exemption from the SEC registration provided by Rule 12g3-2(b).
Conclusion
DryShips still has $188.3 million worth of shares to be sold to Kalani. DryShips is helping Kalani with dividend news to push the share price higher so that Kalani can dump the shares on the general public. They both will benefit except common shareholders (general public). I strongly believe that the dividend news is related to the Kalani deal, and this is one of the suspicious activities that SEC should investigate.
Based on my analysis, I recommend DRYS as a SELL. A short may be a dangerous thing as you may not know when they are going to push it.
Disclosure: I/we have no positions in any stocks mentioned, and no plans to initiate any positions within the next 72 hours.
I wrote this article myself, and it expresses my own opinions. I am not receiving compensation for it (other than from Seeking Alpha). I have no business relationship with any company whose stock is mentioned in this article.
Editor's Note: This article covers one or more stocks trading at less than $1 per share and/or with less than a $100 million market cap. Please be aware of the risks associated with these stocks.