Resource Capital Corporation (NYSE:RSO) has one of the weirdest stock price charts I've seen lately. The sheer size and speed of the movement makes me wonder if there some significant capital behind the latest move. When a company skyrockets this suddenly without comparable movements for peers such as Blackstone Mortgage Trust (NYSE:BXMT) or Apollo Commercial Real Estate (NYSE:ARI), it sticks out. Yes, the mortgage REIT sector is up significantly today on a major decline in bond yields.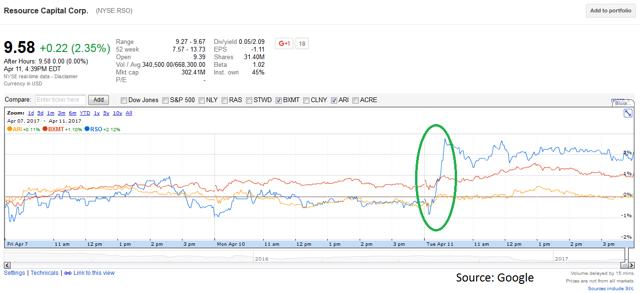 Perhaps we finally have some other institutional buyers getting their research together. Or perhaps we simply have a random price movement. When the movements are that sharp, I would usually expect some kind of story, but there was precisely none. Oh, there were certainly some spam news releases today, but nothing with any credibility. What is a spam news release? It is triggered when an irrelevant website issues a "news" article with nothing but data that can be retrieved from other quote pages.
The nice thing for RSO is that the old spam stories are dying off. Those were the ones that indicated various law firms wanted shareholders to contact them and sign up to be plaintiffs so they could prosecute the company.
Why So Much Talk About News?
Since the news doesn't matter, why am I talking about it? Because investor perception can be a significant factor moving prices. When companies are small and complex, the importance of perception becomes even larger.
One Good Story
I checked a search for Resource Capital Corporation and did see one positive development.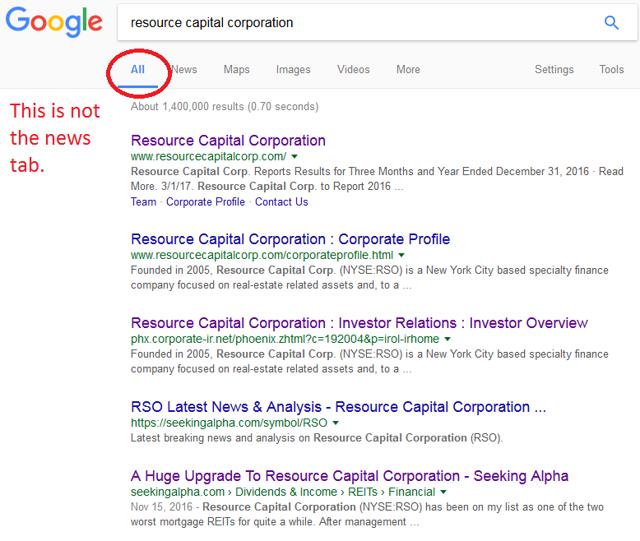 An old article - the one immediately after the Q3 earnings release - is now on the front page. That is the one where I upgraded Resource Capital Corporation immediately after the price collapse following Q3.
Enough "News," Let's Talk Business
Resource Capital Corporation is a mortgage REIT in transition. It is selling off parts of the company that don't make sense and focusing its capital into the largest segment. That segment is CRE lending, and it is similar to the portfolios ran by BXMT and ARI. If RSO successfully transitions all of its capital into that portfolio, it should lead to materially lower total operating expenses and materially higher levels of net interest income available for shareholders.
Analyst forecasts are still calling for fairly weak performance, but upgrades could be on the horizon, since Wall Street recommendations tend to follow price more than predict it.
How the Business Works
Resource Capital Corp. lends money on commercial real estate. The loans generally carry adjustable interest rates with a fairly short reset period. The result is that an increase in short-term interest rates will drive net interest income higher for Resource Capital so long as its loans continue to perform. That was a problem in prior periods. After the external manager was bought out, new management had to scrub the books to get rid of garbage loan values. The result was some substantial impairment charges taken for Q3 2016 and Q4 2016. The loans that remain should be solid.
Aren't Commercial Properties Defaulting?
The only sector with a ton of fear going on right now is the retail sector. Let's take a look at Resource Capital's portfolio: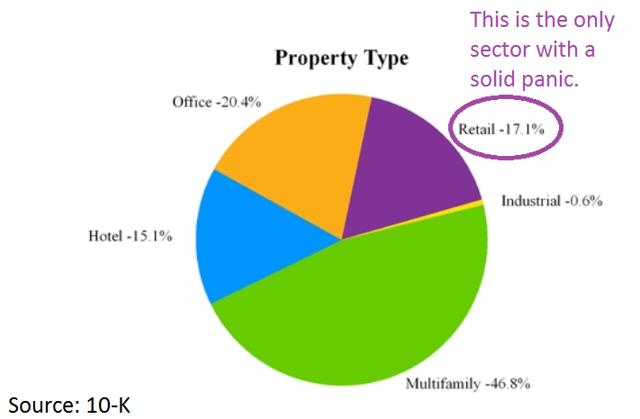 That isn't too bad. 17.1% in the retail sector is within reason. The major exposure is multifamily. Do you know how apartment buildings are doing? They're great. Rental rates had a substantial climb over the last couple years. However, 17.1% is still worth looking at. Hopefully, management scrubbed that segment carefully. Here is what management had to say:
"At December 31, 2016, 2016, we had one CRE loan with a credit quality rating of 4 due to short term vacancy/tenant concerns and a near term maturity. The loan was collateralized by a retail shopping center in Roswell, GA and had an amortized cost of $7.0 million. We obtained an appraisal and used the value indicated in the appraisal as a practical expedient in determining the fair value of the loan. The appraisal indicated a fair value of $4.5 million. As such, we recorded a specific provision of $2.5 million on the loan."
That quote comes directly from page 68 of the company's 10-K.
There are a few things I love to see. One of them is independent appraisals. RSO proactively had the loan analyzed and recorded the impairment. That is far better than just hoping for the best.
Outlook
I'm still long RSO, and I still like the company with a last price of $9.58, but I am not as long as I was on the earnings release date or as bullish. Prices rallied up from under $8, which caused me to reduce my exposure and enthusiasm. I still like the mREIT enough to maintain a position and think it has some room to run. On the earnings release date, I had over 20% of my portfolio in RSO. It is the only time I've allocated that heavily to a single security (excluding index funds) in the last several years.
My rating on RSO is a buy. It isn't the same level of fierce bullishness I was showing earlier, but that is merely due to the change in price. Trailing book value of $14.17 puts shares at roughly 67% of book value. This is unique, as the mREIT sector is getting fairly expensive.
Sign up by April 15th and get a free two-week trial. This is your opportunity to lock in prices at $310 per year before the next price increase on May 1st, 2017. Rates are going up because of the high cost of providing such detailed analysis. By signing up today, your price is locked in against future increases. I put together a guide showing my strategy for generating returns. If you want to learn more about investing in high yield instruments, specifically mortgage REITs and their preferred shares, check out the reviews from my subscribers. In the last month, I was able to correctly call the opportunity in shorting Orchid Island Capital (NYSE:ORC) (about a 20% return), shorting Western Asset Mortgage Capital (NYSE:WMC) (for a 6-7% return), which included a release when shares hit the target range to close the trade, and buying Resource Capital Corporation (up over 20% since the call) going into the earnings release. As of 04/11/2017, a new SMS alert service is available for subscribers.
Disclosure: I am/we are long RSO, BMNM.
I wrote this article myself, and it expresses my own opinions. I am not receiving compensation for it (other than from Seeking Alpha). I have no business relationship with any company whose stock is mentioned in this article.
Additional disclosure: No financial advice. Consult a professional who knows your objectives and constraints. I might buy into the preferred shares if the right price is available.