We previously revisited Iran's production claims as part of our methodology to understand how our oil investment thesis is progressing. Today we'll take a quick look at Saudi Arabia, and their ability to ramp-up production following its decision in November 2014 to compete for market share.
As we've detailed in prior articles, our oil thesis was greatly supported when Saudi Arabia announced Vision 2030, the economic transformation plan advanced by Crown Prince Mohammed bin Salman ("MbS"). Prince MbS's plans to sell a stake of Saudi Aramco, Saudi Arabia's national oil company, signaled a shift to us that Saudi Arabia would have to support oil prices going forward, essentially serving as a "put" for the oil market, something we detailed in this article.
Since our oil thesis continues to play out as the market rebalances going into 2018, we wanted to step back and examine Saudi Arabia's production over the past two years to get a reality check. Bulls have argued that OPEC production has peaked, and that even amidst the two-year period (i.e., 2015-2016) where OPEC competed for market share, it had difficulty increasing production.
As you know, Saudi Arabia essentially led OPEC on this failed strategy, to overproduce and force a price war with higher-cost producers. Its attempt to grab market share, however, appears to have been muted. Take a look at Saudi Arabia's production during these past two years (OPEC Monthly Oil Market Report 03/2017).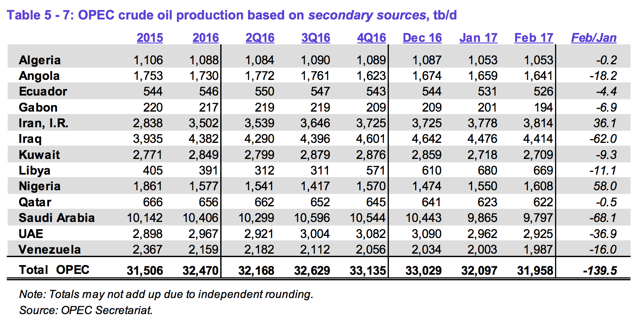 Saudi Arabia's production increased from 10.142M bpd to 10.406M bpd, a 264K bpd increase. This was in the context of OPEC's overall production rise of 964K bpd, and a figure dwarfed by Iran and Iraq's 664K bpd and 447K bpd increase, respectively. Said another way, Iran, which emerged from international oil sanctions and Iraq, which increased oil productions after years of war and strife, were largely responsible for offsetting other OPEC members' declining production and OPEC's overall production increase of 964K bpd.
An increase for Saudi Arabia is an increase, though, right? Yes and no. When we pair it with Warren Pies' recent graph depicting Saudi Arabia's inventory, we're getting a clearer picture.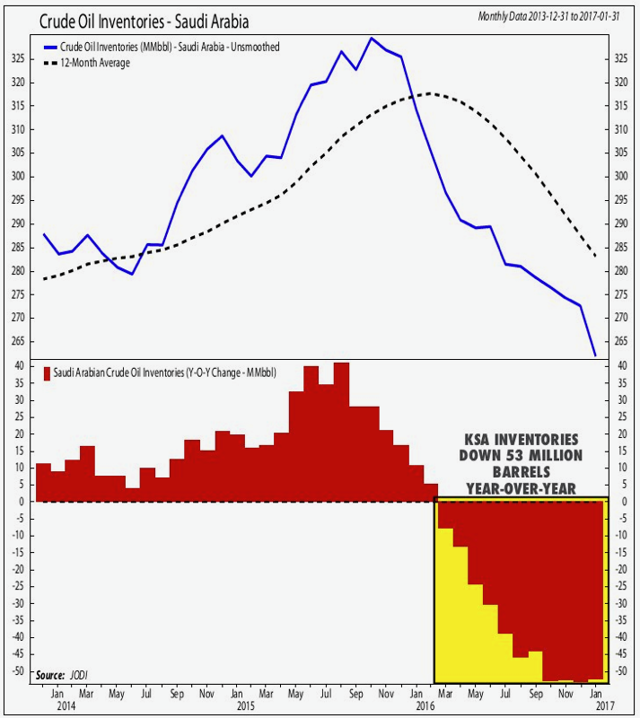 Much like Iran, what we believe secondary sources are classifying as production may actually be a combination of destocking and production.
On a year-over-year basis, Saudi Arabia's crude inventory is down approximately 53M. From February 2016 to February 2017, this represents a draw of close to 150K bpd from storage. If Saudi Arabia's production increased only by 264K per OPEC's secondary source data, and inventories decreased by 150K bpd, we believe even Saudi Arabia is playing the same hand as Iran (i.e., artificially supplementing its exports by drawing from storage). This would seem to support the conclusion that Saudi Arabia's ability to increase production is capped, or perhaps capped when oil is at a sub-$60/barrel price as it has been the past few years.
Interestingly, OPEC's overall production in 2016 would have been down without Iran and Iraq's one-off increases. As oil demand continues to climb and the low investments in oil projects for the past 2 years (going onto 3 in 2017) bite, the call on OPEC increasing production will only get louder. We're just not sure OPEC will be able to answer, or at least not on the first ring, and even a hint of a short-term shortage means higher oil prices.
As always, we welcome your comments. If you would like to read more of our articles, please be sure to hit the "Follow" button above.
Disclosure: I/we have no positions in any stocks mentioned, and no plans to initiate any positions within the next 72 hours. I wrote this article myself, and it expresses my own opinions. I am not receiving compensation for it (other than from Seeking Alpha). I have no business relationship with any company whose stock is mentioned in this article.