Bull Case
This year, 20,000 to 100,000 people will die from antibiotic-resistant infections. A future filled with antibiotic-resistant bacteria is a bleak one. Much of modern medicine would be rendered useless without antibiotics. Simple diseases, once curable, could prove fatal. Antibiotic development is an emerging opportunity in the pharmaceutical industry, so it makes sense that companies which are attacking this problem are some of the most promising investments in the sector. Motif Bio (NASDAQ:MTFB) is one of those companies developing novel antibiotics.
To understand Motif, you must understand how antibiotics work and why its drug is special. Antibiotics target a specific cell function in a bacterium and shut it down, thus destabilizing the cell. This causes the cell to either die or stop reproducing. Antibiotics that kill bacteria are called cidal antibiotics. Those that stop reproduction are called static. Penicillin binds to enzymes that keep the cell wall together. Once bound, these enzymes stop working and the cell wall bursts, killing the cell. Wall busters like this are very common, which means bacteria is most resistant to this kind of antibiotics. Iclaprim, Motif's new drug, attacks folate production, which is a novel way of killing bacteria. This means there will be much less resistance to Iclaprim than most other antibiotics.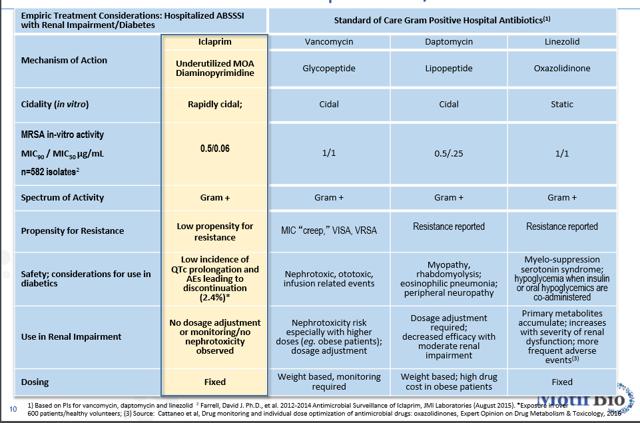 This chart, taken from one of Motif Bio's slide decks, shows a direct spec comparison between Iclaprim and comparables in its class.
This drug used to be the intellectual property of another company. When that company tried to get Iclaprim approved, it was denied for failing to prove non-inferiority. However, the data shows that the drug essentially works. The issue in the past study was how the study was constructed. The other company used just enough people in its study to hit a non-inferiority bar. However, during the study process, the FDA moved the non-inferiority bar higher. While the drug passed the bar, the margin of error did not pass the updated scenario. Motif has increased the study size to decrease the margin of error. Essentially, what this boils down to is a pretty decent chance of approval. Chances are much better than the typical drug company.
Bear Case
The bear case around this company should revolve around its strategic decisions. It has decided to bring this drug to market without a partner. This means it is taking on all the risk and will reap all the reward. I believe this is a horrible choice, and I will lay out this case now.
Bringing a drug to market is an expensive and complex process. It costs lots of money and is very financially risky. There is a reason partnerships and licensing agreements are commonplace in the pharma industry, especially among small companies. The first risk is the wide proliferation of competitors. Here is a list taken from Donovan Jones's article on Motif Bio's IPO.
"There are numerous potential and current competitors developing a variety of next generation antibiotics to fight drug-resistant infections:

Durata Therapeutics - dalbavancin
The Medicines Company (NASDAQ:MDCO) - oritavancin
Tetraphase (NASDAQ:TTPH) - tetracycline
Paratek (NASDAQ:PRTK) - tetracycline
Basilea (OTC:BPMUF) - cephalosporin
GlaxoSmithKline (NYSE:GSK) - cephalosporin
Merck (NYSE:MRK) - cephalosporin
Cempra (NASDAQ:CEMP) - macrolides
Melinta - quinolones
Actavis - quinolones

The above list is not comprehensive by any means, and the opportunity to develop effective treatments for drug-resistant bacterial infections is large and growing."
As you can see, Motif is not alone in this market, and the list of competitors is sure to grow.
Motif's financial position is also of great concern. Approval (or denial) from the FDA will most likely come around the middle of this year. The drug will probably go on sale around three months later. The market size is estimated by Motif at around 2 million patients. I estimate its drug will be at a competitive price at around $2,500. This is based on comparing the prices of long-acting oritavancin, vancomycin, and linezolid.
Motif ran a small study asking doctors how much they would prescribe Iclaprim. Based off that very small study, I peg its peak market penetration at a very high 25%. This is extremely generous and leaves almost no room for upside. This entire bear estimate has been constructed to be extremely generous. I estimate that it can reach peak market share in six years. This means it will capture 4.1% of the market per year on average. To achieve this growth, this drug must be an absolute smash hit. This is also a very aggressive estimate that leaves a lot of downside room.
I estimate a gross profit margin of 30%, an annual base cost of $12 million, a launch cost of $6 million (initial marketing push), and an SGA increase of 500%. These numbers are derived from Braeburn Pharmaceuticals' recent product launch and were adjusted downward for Iclaprim.
| | | | | | | |
| --- | --- | --- | --- | --- | --- | --- |
| Year | 2017 | 2018 | 2019 | 2020 | 2021 | 2022 |
| Market share | .5% | 3% | 6% | 10% | 16% | 24% |
| Revenue*30% profit margin | 7.5 million | 45 million | 90 million | 150 million | 240 million | 360 million |
| Base cost + launch cost +SGA increase | 12+6+6 million | 12+28 million | 12+30 million | 12+31 million | 12+31 million | 12+31 million |
| cash | -2.5 million | 5 million | 53 million | etc. | | |
The first year's costs and revenue have been adjusted to reflect the late launch. As you can see, Motif Bio will not make it to the end of the year without intervening. It can raise money through debt or a secondary offering. It can also partner with someone to avoid costs or secure an upfront payment. A secondary offering would mean selling 3% of its market cap, and taking on debt would increase its short-term debt by almost 100%.
Keep in mind that the above estimate is a very generous reflection. It leaves no room for upside and a lot of room for downside. Many companies struggle for years to market their products. Motif Bio can decrease the launch cost or SGA cost and remain solvent, but it would most likely not achieve anywhere near the growth rate stated above.
Without a partner, or raising significant amounts of money either by sinking itself into debt or diluting the stock, it cannot remain afloat. For this reason, I recommend waiting until gross profit reaches $40-45 million. If things are going well, this will be at the end of 2018. Once at this point, there is still significant upside with much less downside.
As of right now, the financial position of the company means early investors will be suffering through a rough stressful ride. Avoid this stock until it is significantly derisked.
Disclosure: I/we have no positions in any stocks mentioned, and no plans to initiate any positions within the next 72 hours.
I wrote this article myself, and it expresses my own opinions. I am not receiving compensation for it (other than from Seeking Alpha). I have no business relationship with any company whose stock is mentioned in this article.
Editor's Note: This article discusses one or more securities that do not trade on a major U.S. exchange. Please be aware of the risks associated with these stocks.