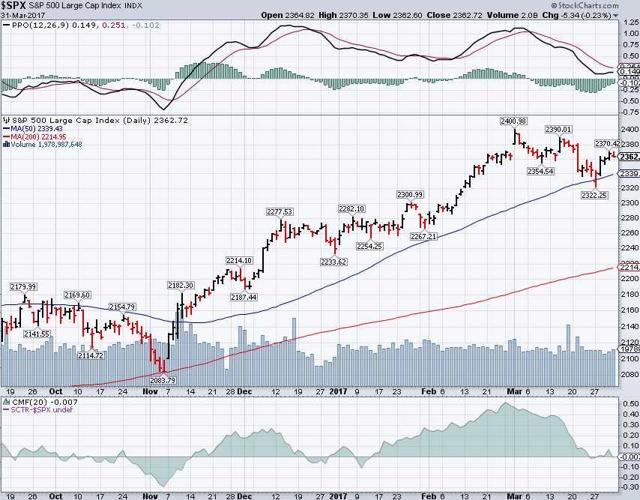 What a first quarter!
When we last reviewed, back on Jan 22nd, the S&P closed at 2,271 and we were generally playing for a flat market and worried that we might be a bit too bearish but, now that the S&P is at 2,362 (up 4%), we're a lot more comfortable with a more bearish stance - albeit after adding a few bullish positions along the way.
Before we get into a review I want to make a very important point. Our Options Opportunity Portfolio (OOP) was last reviewed on March 15th, and it's a self-contained portfolio, with the hedges right alongside the long-term positions. As I've noted on many occasions, when you have a well-balanced portfolio and you are practicing our system of BEING THE HOUSE - Not the Gambler, you shouldn't have to do much from month to month.
We did add 4 bullish trades in the last two weeks (ATI, CDE, CHK & NLY) and, on the 15th, we called for 2 of our positions to be adjusted and one was closed (NASDAQ:SONC) - that's it. On March 15th our OOP was at $270,475 and, as of Yesterday's close, we're at $291,942 - up $21,467, which is 21.5% of our original $100,000 start (8/8/15) and that's just fine for a month's "work", isn't it?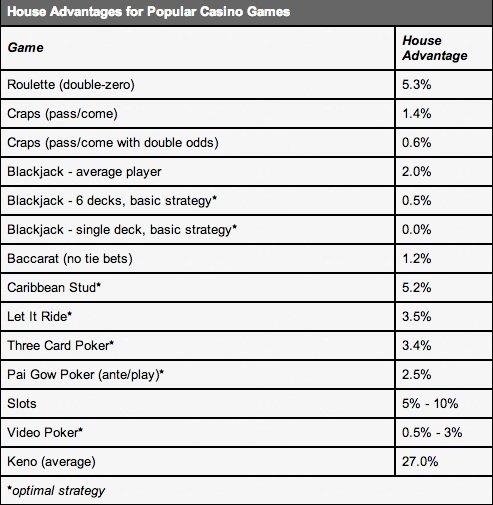 Investing doesn't have to be stressful - certainly not if you are on the house side of the table. Mostly it's a matter of keeping ourselves well-balanced and letting the premiums we sold run down over time - that's what casinos do and they seem to do very well for themselves!
You just need to accept the fact that betting on the markets is no better than betting on casino games - you may win or you may lose but, over time, the odds are rigged against you - especially with options so, logically, if we SELL options to suckers who think they can beat the house - we'll do very well! That's it - that's the whole secret to our success....
Our last major Portfolio Review was back on Jan 22nd and, since then, we've been able to grind out a nice little profit over the past 71 days:
Our Options Opportunity Portfolio (OOP) is up $45,365 (45.4%) at $291,942, which is up 192% since it's 8/8/15 inception - our youngest portfolio and, as noted above, self-balancing.
Our Butterfly Portfolio is our steadiest performer and also one that has the least touching but it's been a poor two months, as we're only up $2,662 (2.6%) due to a few of positions moving out of our range - including our beloved AAPL, who are doing too well at the moment. However, at $334,070, we're up 234% since our 7/29/13 inception and it's our 2nd best overall performer.
Our Short-Term Portfolio (STP) is down $31,155 (31.2%), as it's supposed to be if our Long-Term Portfolio is doing well (hopefully it is!). The main purpose of the STP is to protect the LTP so this is where we have our hedges and bearish positions which are, of course, not doing well with the market at all-time highs. However, in the 3+ years we've been running it (11/26/13), it's up 353% because, when we do catch a dip - it pays very well!
Our Long-Term Portfolio (LTP) is our largest portfolio (the only one that didn't start at $100K, in fact) and we started this one with $500,000 on 11/26/13 along with our $100,000 STP for the purpose of teaching long-term balancing and hedging techniques. The other major lesson of the LTP is meant to demonstrate the concept of scaling into positions and then (and this is the hard part) LEAVING THEM ALONE! We have barely touched to LTP in the past 71 days yet we're up $85,467 and, overall, up 159%. Giving up 1/3 of our gains to our hedges (STP) is exactly right in this kind of market.
In addition to our 4 virtual tracking portfolios, we also have our Top Trade Ideas, which do not go into a portfolio and those were reviewed separately just last month. In mid-February, we felt the need to add two hedges hedges for the first time - that should let you know where our mind-set is. Perhaps we are too cautious, but that's a lot better than being not cautious enough.
All of our Member portfolios are 60-85% CASH!!! at the moment and using 1/4-1/2 margin - leaving us plenty of room to adjust if the market does turn sour - something I feel is very likely to happen in the next two months and yes, I know I've said this before but, really, how much over our 2,100 top call on the S&P are we? It's at 3,262, so we're 262 points over what I called a value top and that's 10% but, in fairness, the Dollar is down 3% and that explains a lot of it.
The rest of the pop comes from runaway expectations from the Trump Presidency but, with the failure of repeal and replace, the rest of the President's agenda is certainly not a lock to come through. Of course, rising oil prices have boosted the Energy Sector but that's bad for consumers - it's a self-braking system and we're beginning to see cracks in Consumer Sentiment that isn't a danger yet, but could easily become one.
So we are still shorting the Russell Futures (/TF) at 1,384 and Oil (/cl) at $53.50 and we'll see how those pan out. Meanwhile, here's a review of our Member Portfolios and I'll try to note which trades are still good for new entries:
If it isn't bold and blue then it's a POSSIBLE adjustment, not an actual adjustment - keep that in mind.
Options Opportunity Portfolio (OOP): Wow! We jumped up to $291,942, which is up 191.9% since our 8/15/15 inception at $100K but also up an amazing $80,487 (80.5%) since our November review and up over $21,000 since our 3/15 review - not bad for a month in a "conservative" portfolio!
Of course, this makes me think we need to be more bearish as I certainly didn't intend to make $20,000 in less than 30 days so we'll be looking for ways to either lighten up or up our hedges into earnings season though we did add 4 new trades and only one (NYSEARCA:FXP) was bearish (but offset with a bullish hedge on CHL).

CHL - Good for a new entry.
NLY - On track, good for a new trade.
SONC - On track.
TASR - This one is wrong so there's some money we don't deserve. TASR has changed their symbol and PowerOptions hasn't adjusted yet. Still, they are well on track for the full gain - just not yet.
TLT - We're getting the bumpy ride we expected but on track.
WTW - Deeply on track. Actually good for a new trade as $2.18 is simply silly for those puts.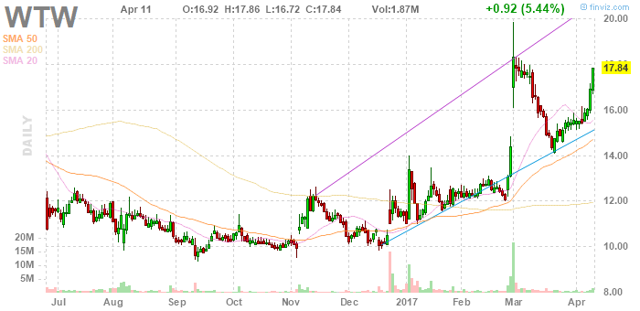 Note: Other position details are for OOP Subscribers only. It's a FREE 2-week trial - so very easy to take a peek!
FXP - On track, good for a new trade. $1,315 upside potential.
USO - On track. $2,160 upside potential.
XON - Dead and we're not going to re-play them.
AAPL - One day it will stop going up but, meanwhile, we sold the $135 calls for $8.75 so we're good to $143.75 and we're protecting $90,000 at $130 and the current value of that spread is net $58,605 so we have another $31,395 to gain at $130+. We'll see how earnings go.
ABX - Fully in the money but plenty more to gain. Good for a new trade but ask me and we can pick better strikes for a new entry. This spread, at $20+ will net $14,000 and is currently net $6,225 so $7,775 more to gain (124%) just as it is. Let's buy back the Jan $12 puts as they are only 0.16 and wasting space.
ATI - Good fro a new trade and just about to break out too. $2,463 upside potential.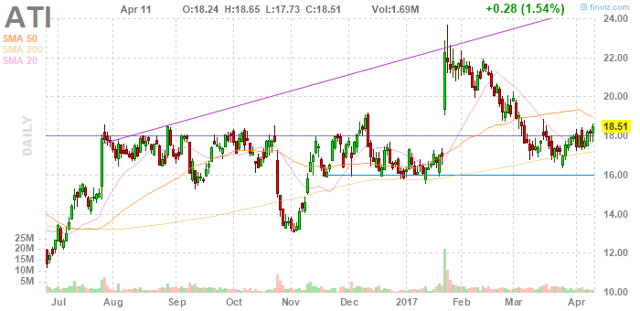 CDE - On track, good for a new trade. $5,025 upside potential.
CHK - On track, good for a new trade. $9,010 upside potential.
CLF - On track. $7,890 upside potential.
CSIQ - On track. $7,650 upside potential.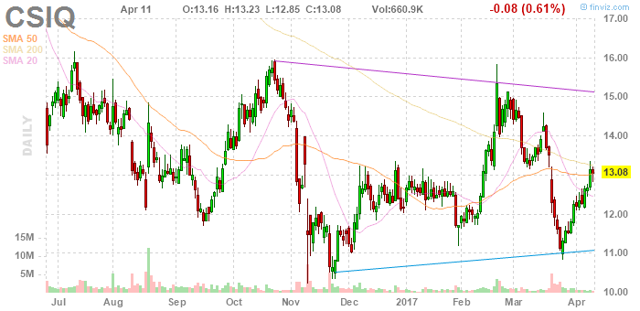 DBA - Slow start, good for a new trade. $4,325 upside potential.
DIS - The April $105 short calls are $8 in the money and we sold them for $5.20 so annoying but not a big deal. We are protecting a $15,000 potential spread currently valued at net $13,225 so, if it were not for the short calls, we'd probably just cash out at this point with only $1,775 upside potential. As it is, we'll roll the short calls to the July $105s ($9.35) and if DIS goes over $115, we'll add more longs.
FTR - This is a dividend play and they just paid us $210 in March. Since our initial entry was net $6,200, that's 3.4% PER QUARTER for the dividend alone. We're not into selling puts this low so patience otherwise. No cap to the upside but let's aim for $4 to come back and that would be $8,000 of upside potential (because the puts would expire worthless).
GM - One of our new trades. On track and good for a new trade. $12,112 upside potential.
GOGO - On track. $6,375 upside potential.
JO - On track, good for a new trade. $5,775 upside potential.
KATE - On track. $2,375 upside potential.
M - On track, good for a new trade (about to pop). $10,878 upside potential.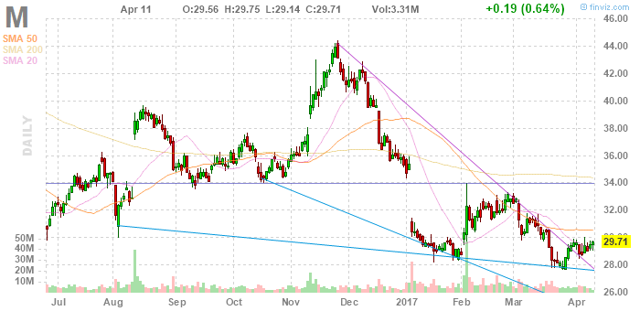 SGYP - Big setback but good for a new trade now. $4,375 upside potential.
SLW - Our trade of the year. On track with a $12,930 upside potential and that's on top of the $5,000+ we already made - gotta love those Trades of the Year!
SPWR - On track. Good for a new trade. $14,955 upside potential.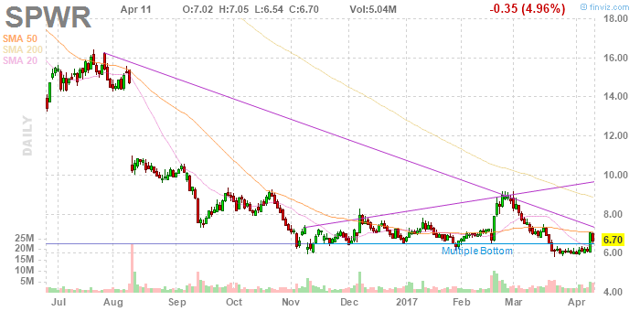 SQQQ - Our first hedge. Oddly enough, it's green but only barely so good for a new trade. $45,000 potential pay-off and currently priced at net $8,562 so $36,438 downside protection. The short April $43s will expire worthless and I don't want to cover with more puts into earnings.
TWTR - Very disappointing but we have a very low basis. $5,315 upside potential.
TZA - Our second hedge. Also green. $100,580 downside protection.
UNG - On track. $12,865 profit potential.
WTW - On track. $2,650 upside potential.
XOM - On track, good for a new spread. $2,850 upside potential.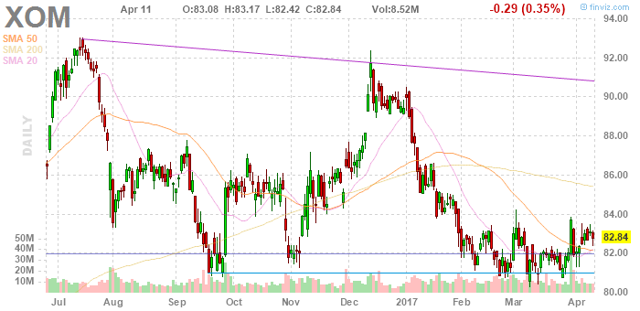 Damn, that happens every time. This portfolio is so perfectly balanced I can't find anything I want to change and, since it's making $20,000 a month - I guess changing it for no reason would be silly, right?
You can see why we make so much: Our 6 short puts will make $11,631 if they expire worthless in a bull market while our other 26 long positions have the potential to make another $163,373 in a bull market, which is up another 160% of our original $100,000 and more than we need to make over the next two years (less the hedges expiring worthless).
Meanwhile, we have $137,018 in downside protection - so we'd be absolutely fine if the market were to collapse as well (in fact, we'd love it, as we could go bargain hunting with our hedge profits). Isn't this a nice, relaxing way to trade?
Read more about Being the House in my Forbes interview - it's really not a hard strategy to follow and the results speak for themselves.
Disclosure: I am/we are long CHL, NLY, SONC, AAXN, TLT, WTW, FXP, USO, XON, AAPL, ABX, ATI, CDE, CHK, CLF, CSIQ, DBA, DIS, FTR, GM, GOGO, JO, KATE, M, SGYP, SLW, SPWRA, SQQQ, SVU, TWTR, TZA, UNG, XOM.
I wrote this article myself, and it expresses my own opinions. I am not receiving compensation for it. I have no business relationship with any company whose stock is mentioned in this article.
Additional disclosure: Positions as indicated but subject to RAPIDLY change (currently mainly cash and an otherwise slightly bearish mix of long and short positions - see previous posts for other trade ideas). Positions mentioned here have been previously discussed at http://www.Philstockworld.com - a Membership site teaching winning stock, options & futures trading, portfolio management skills and income-producing strategies to investors like you.