Howard Schultz has gone, but not as far as some hoped
Howard Schultz has finally handed over his position as CEO to Kevin Johnson. This decision came after a few bad 'political' moves, and the so-called "boycott Starbucks" movement started.
The latest annual shareholder meeting hosted by Schultz was quite politically orientated. He has good intentions at heart, but for him to constantly stir the political pot is just unnecessary.
Whether you like it or not, Wall Street likes Trump, not too many on the street publicly admit this, but the rally demonstrates who the preferred candidate for business was.
Howard Schultz has been an incredible CEO and has grown Starbucks (SBUX) to what it is today. However, it just shows, you should never mix personal ethical beliefs with business.
From idea to reality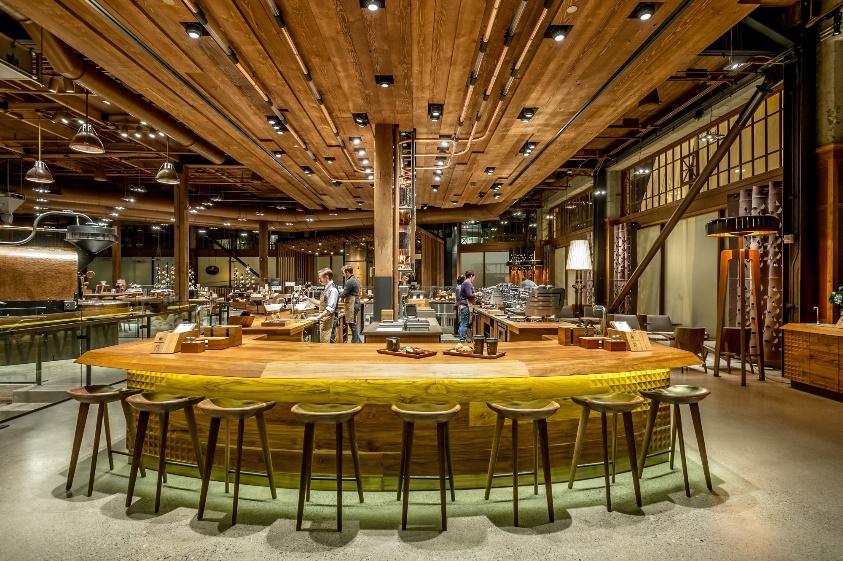 -Image Starbucks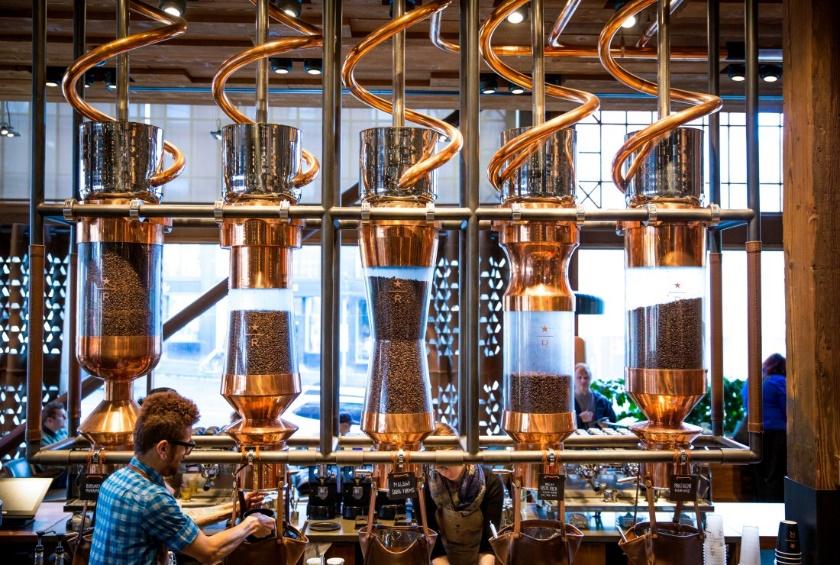 -Image Starbucks
Schultz says he will be focusing his new role around the high-end coffee market. Starbucks indicated that they will be focusing on more high-end coffee shops, or as Starbucks calls it, "The Reserve Roastery and Tasting Rooms ".
Now, you might be thinking. What's the point in the Reserve Roastery? And you would not be alone thinking this, as it confuses me also.
Why would someone choose to spend time watching coffee be brewed and served, costing you (four times, if not more) the price of your normal coffee?
However, surprisingly, there appears to be a market for this, be it a niche one. The average customer in the Roastery spends four times more than they would at a standard Starbucks, what a coincidence.

-TripAdvisor

-TripAdvisor
The reviews on TripAdvisor suggest that people are a little confused about the concept, and prices are high, but still, they say it is crowded, and that is what we should care about.
Has Schultz cracked open an untapped market?
At the 2017 Annual Meeting of Shareholders, Howard Schultz spoke about how he had an idea for the Reserve Roastery back in 2009, during a time when Starbucks was not doing well.
"In 2008-2009 as we were having this trouble. I wrote down this little private story to myself. I wasn't clairvoyant, but I was dreaming about something. And the dream was, could we create a different immersive theatrical romantic flagship experience that does not exist, not only in coffee but anywhere. Could we take the elements of Disney and Willy Wonka and do something that would just be dream like? Can we take our customers on a magical carpet ride? Well, the Seattle Roastery has done just that and more. And we are now on our way to a whole new level of expansion and opportunities with the Roastery."
So, now we can see why he doesn't seem too beat up about stepping aside.

-TripAdvisor
Like I said before, Schultz was a capable CEO, and as crazy as the Roastery business might seem to me, he has the passion, drive, and experience for this.
Nevertheless, the size of that market, as of now seems limited to me. As a shareholder, I hope I am mistaken.
Earnings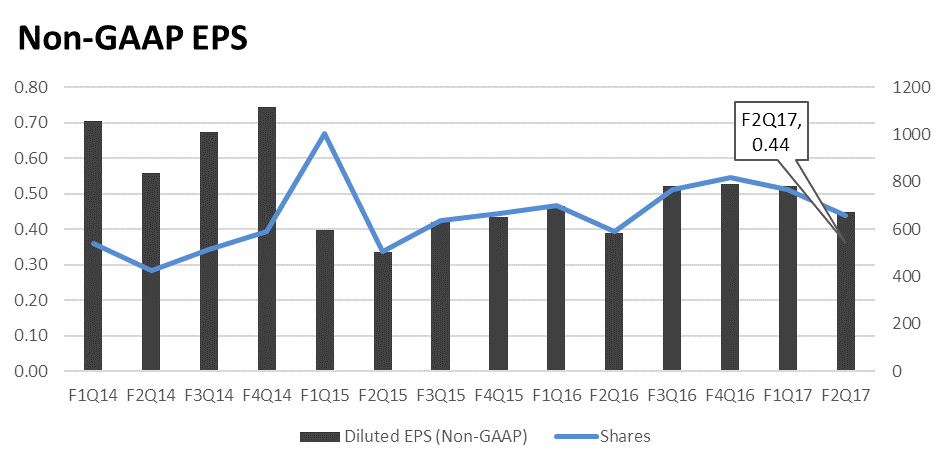 Looking at Q2, I expect EPS to come in around $0.44, just at the low end of the estimate. This would still give an EPS growth of just under 15% YoY.
The extra shares in late 2014 put pressure on EPS, even though revenues grew. Management has since been steadily buying back some of those shares, adding to the EPS.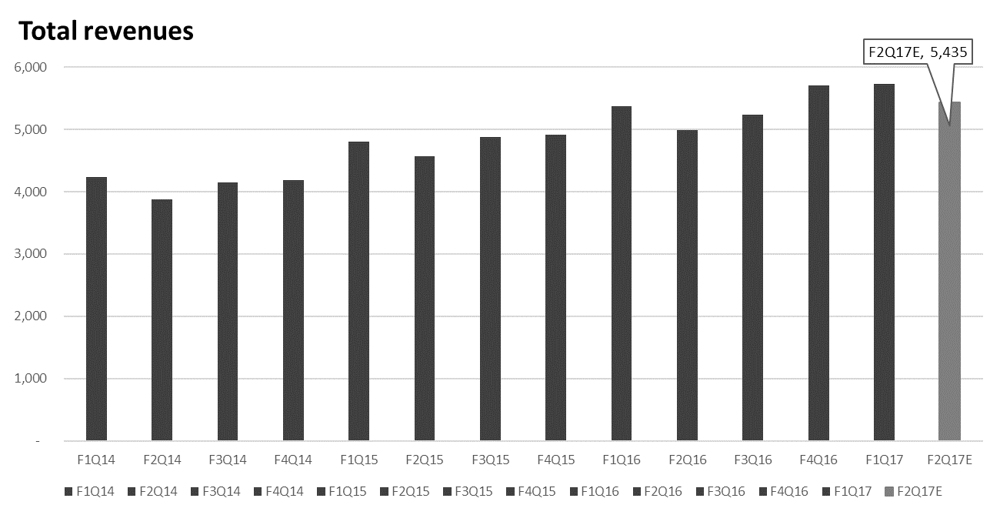 Concerns about growth showed up a little in the most recent quarter. Comp sales were up close to 6% in china, but they were only up 3% globally.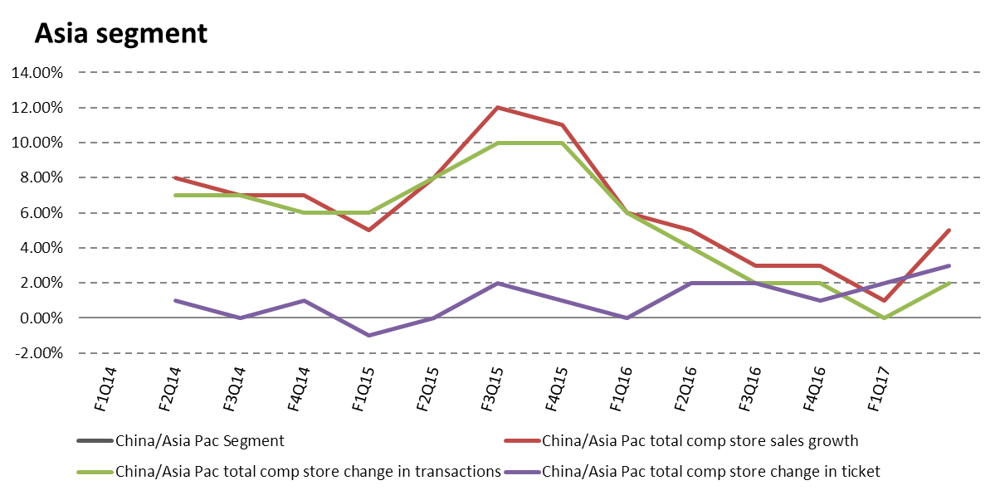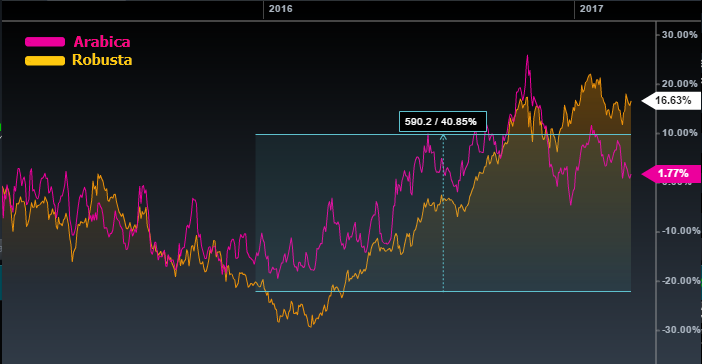 -CMC Markets
The price of coffee has shot up around 40% from 2016. This could damage margins in the future if Starbucks keeps prices stable and decide not to push some of that extra cost on to the consumer.
Starbucks, as you would assume do hedge their exposure with futures.

-Starbucks FY2016
Operating margin has shown a satisfactory improvement, expanding just shy of 20% in the first quarter of 2017. Coffee price increases have thus far not done that much damage to the margins.
Revenue hit a record $5.7 billion, up 7%, and the company reaffirmed its FY17 guidance.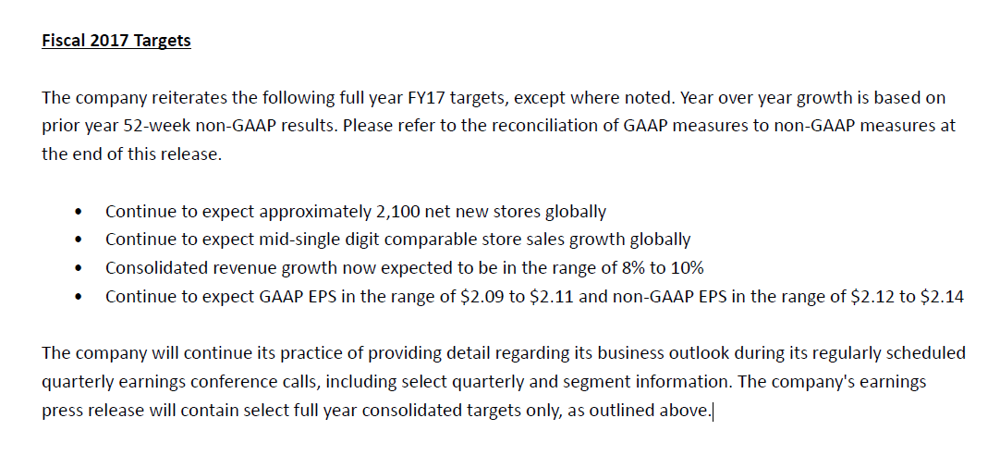 -Starbucks FY2016
On the last Q earnings release, they made some bold targets for 2021.
"The addition of approximately 12,000 net new stores globally by fiscal 2021, will bring total stores to an estimated 37,000."
That is an increase of 47%.
I wouldn't expect the 'McRoastery' anytime soon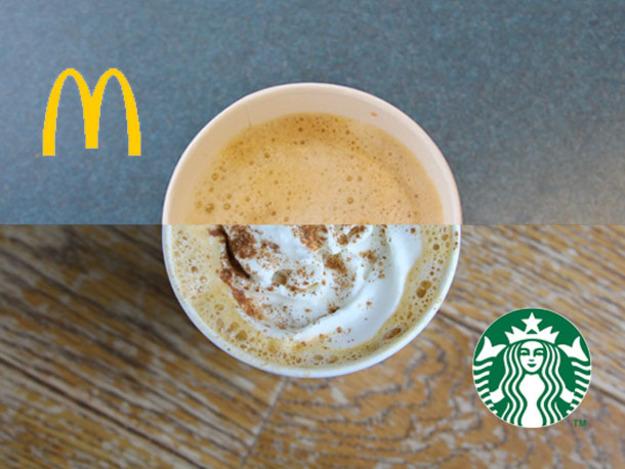 Photographs: Adam Lindsley
McDonald's (NYSE:MCD) is focusing more on the coffee shops than ever before, it is a fantastic business, no matter where you go on the planet, people will be buying McDonald's, and this is the same for Starbucks. Cars will line up around the block to grab a quick bite to eat at McDonald's or an iced Frappuccino from Starbucks.
I doubt they will be having McCafé kid's parties with Ronald McDonald anytime soon though.
The coffee side of McDonald's has been in a good growth stage in recent years, management suggests they are willing to be more aggressive with McCafé goals in the future. Being a long-time Starbucks shareholder, the aggressiveness that McDonald's has shown to steal market share concerns me.
"we have an aggressive McCafé beverage value offer, which is $1 any size coffee or $2 on the small specialty McCafé beverages. You can expect to see us be more competitive at a value end through the year."
This is the direction management wants to take the McCafé brand to rival Starbucks and others.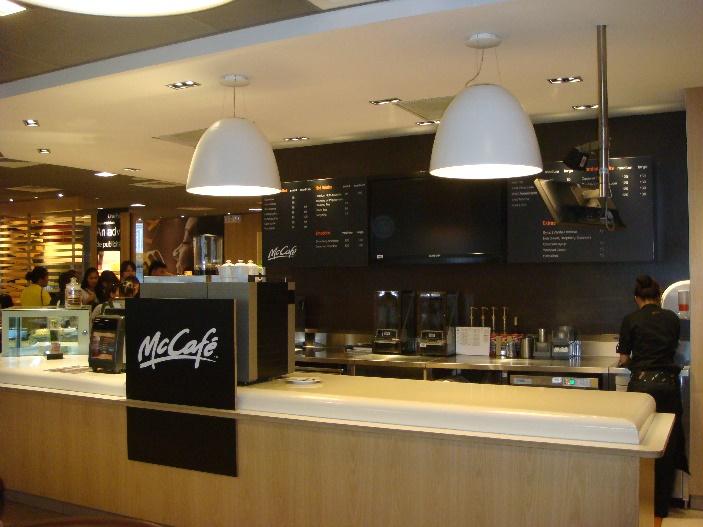 -Food Biz
McDonald's are currently well underway in testing the McCafé stores in the US, and they have been an enormous victory. This is a good way to differentiate the McDonald's model I would assume, and they can lean more towards that Starbucks crowd.
The standalone McCafé stores should be worrying to all Starbuck shareholders, for a few reasons:
McDonald's is keeping up the momentum.
They are pushing McCafé as an independent brand.
Starbucks would not likely win a price war.
We have a new CEO who will likely push the company in a new direction, if anything goes wrong with this, it would leave a hole that McDonald's would happily fill.
They make decent coffee, at a fraction of the price.
Conclusion
Starbucks is a sound business, but as a shareholder, I have some doubts about the Reserve Roastery.
And more so, how much is it going to cost the shareholders.
As we remain in the early stages of the McCafé stores being tested across the US, McDonald's management is keen to keep prices down to grab market share and retail space.
Currently, 36,899 McDonald's stores are operating worldwide and selling the full menu.
They could easily open the same amount of independent McCafé stores in the distant future if McDonald's went down that road. I think then, I would have to sell my shares in SBUX.
Disclosure: I am/we are long SBUX.
I wrote this article myself, and it expresses my own opinions. I am not receiving compensation for it (other than from Seeking Alpha). I have no business relationship with any company whose stock is mentioned in this article.