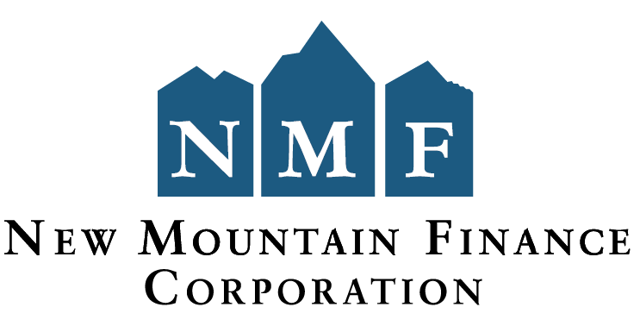 New Mountain Finance Company (NYSE:NMFC) provides a great way to increase your income from your dividend portfolio with a small investment. With a 9%+ yield, a stable company with good fundamentals, this is an investment for a long-term income opportunity.
NMFC is a small-cap Business Development Company that targets defensive-type companies and invests in a wide section of industries including healthcare, education, software, energy and technology.
Generally, I look for a company that pays a dividend rate of 4%+, has good growth prospects and will be able to maintain and grow their dividend over the coming years. Of course, not all companies fit perfectly into that investing mold and so sometimes I look at other opportunities.
If your goal is to look for a high % stock price gainer, look elsewhere. If your goal is to increase your income from your stock portfolio, NMFC makes sense to investigate further. NMFC has shown that it provides some growth in stock price but it provides excellent dividend income year after year. Since its inception about six years ago, the stock price started at $13 and currently trades at $14.60, only about 12% total gain in those six years. This is obviously not Amazon in terms of growth but the income is excellent. However, YOY stock growth is 19.1% growth.
The real beauty for me about NMFC is the dividend yield. Even though it hasn't increased its payout since March 2012, it has maintained the .34 quarterly payment since. No dividend increases is a downside for me and a point to consider when adding to your portfolio.

Source: Dividends.com
However, if you are looking for another $1,000 of annual income, you need to buy 735 shares for about $10,700. So, in about ten years, your stock cost basis, after dividends, is $0. Of course, yield is not the only reason to buy a stock and if you buy it ONLY for the yield, you're making a mistake. Buy it only if you think it can hold and/or rise in stock price value and yield.
NMFC has a forward P/E of 10.43 compared to about 26 for the S&P. The Price/Book of 1.07 is trading at a discount to the S&P of 2.95. However, the Price/Sales is trading at a premium to the S&P and its peers, which could show that the stock is overvalued.
As a Business Development Company, it pays out the minimum 90% of earnings plus more. It currently pays out about 98% of its earnings to shareholders.
NMFC does trades narrowly. The 52-week hi/lo is $12.10 and $15, respectively and currently trades at $14.57. I've seen analysis's target prices of $14.88 to $16.86 and most currently rate it as a buy. Looking at the chart, $15.35 looks like a resistance point which is about 5.4% from the current price of $14.57. Best case scenario show a 15.7% upside from its current price if it reaches $16.86 and 2.1% upside to the low end of $14.88.
The stock price is hovering just above its 50 day MA of $14.48 so it's a stock worth watching. I am waiting to see where it goes from here and seeing if it breaks above or below the 50 day MA. If it breaks below, I'll wait for a lower price. If I see a jump up, I think it continues its upward path.
Fellow Seeking Alpha author Cauchy Research has a similar view about waiting to see where the stock goes in this article.
This chart shows that NMFC shows good support every time it falls to the 50 day MA. Currently, NMFC is pausing so it's worth waiting and watching. The drop in stock price recently is due in part to the offering by NMFC of an additional 5M shares at $14.50. It has rebounded slightly to its current price of $14.57.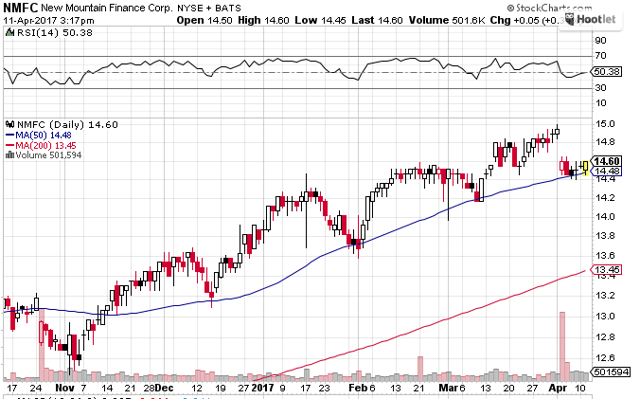 Source: Stockcharts.com
Is NMFC the perfect Dividend Growth stock prospect? No, but it does offer stable dividend payments, has modest growth prospects and pays an outstanding dividend yield which looks to be sustainable. It appears that the dividend isn't going to grow much, if any, in the coming years but it may not matter as much with its yield of 9% now. This is a way to add income to a well-diversified dividend portfolio to go along with other growth-oriented, lower yielding stocks and increase your overall yield.
Disclaimer: I am not an investment advisor, and this article is not meant to be a recommendation of the purchase or sale of this or any stock. Investors are advised to make your own judgments on any stock(s) mentioned in this article.
Also: If you enjoy my articles please take the time to follow me by clicking the "Follow" button at the top of this page. My goal is to build a great dividend investment portfolio and I want to provide you with information to help you build your portfolio.
Disclosure: I/we have no positions in any stocks mentioned, but may initiate a long position in NMFC over the next 72 hours.
I wrote this article myself, and it expresses my own opinions. I am not receiving compensation for it (other than from Seeking Alpha). I have no business relationship with any company whose stock is mentioned in this article.