There is a very quiet economic indicator that has been screaming out loud: Foreigners are no longer net buyers of United States treasuries. There are other headwinds for treasuries, namely that Europeans now have other places to purchase debt from. Whereas previously the British, French and German government 10-year bonds were sub 0.0%, these government debts are starting to yield higher yields. Given these factors, along with the Federal Reserve raising interest rates as well as shrinking their balance sheet, it is very easy to see that a tidal wave of factors could send interest rates higher.
The Treasury International Capitol System (TIC System data) shows this data and the net buyers/sellers of United States debt. The Treasury keeps tabs of who hold on the debt of the United States. Embedded into that data release are statistics on U.S. citizens as well as foreign citizens and entities buying and selling bonds and equities in the United States. But, the buying of U.S. treasury debt by foreigners has been printing negative for some time. We will get an update on the latest numbers for February in just about 4 - 5 days time. If the past is any indication of a trend that is in place then the number should continue to print negative again.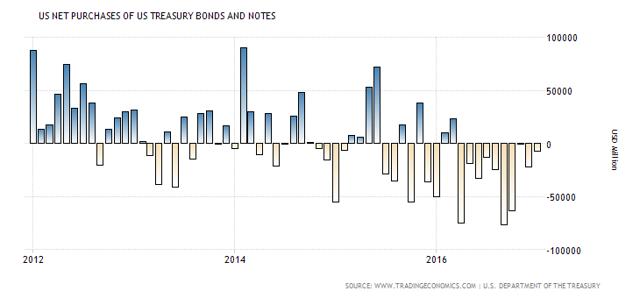 Up until recently, foreigners largely had to invest their money into a negative interest rate bond yield. The United Kingdom, Germany and France all had their 10-year, benchmark government bond yield pushed below zero; an investor was paying the government to hold on to their money. But, those yields have moved positive lately.
There is an expectation of continued money flowing out of the United States back into other countries. The virtual tsunami of money coming from Europe and Japan will continue to abate as Europe economically continues to improve. That money no longer flowing into the United States means less buyers pushing up prices. The inverse relationship then means higher interest rates in the United States.
The next TIC data release will be for the data in February. If you recall, and the charts below will catch you up, February into March there were increases in interest rates all over the world. The incentive to invest elsewhere has eroded. So, the flow of funds is pushing towards investing back abroad and out of the United States. Interest rates in Great Britain, France and Germany, respectively, are above negative, albeit recent activity is pushing them downwards: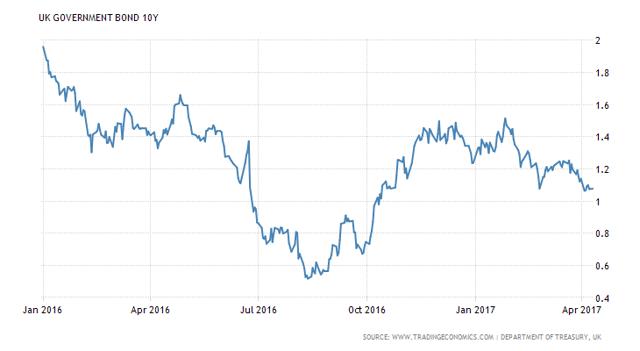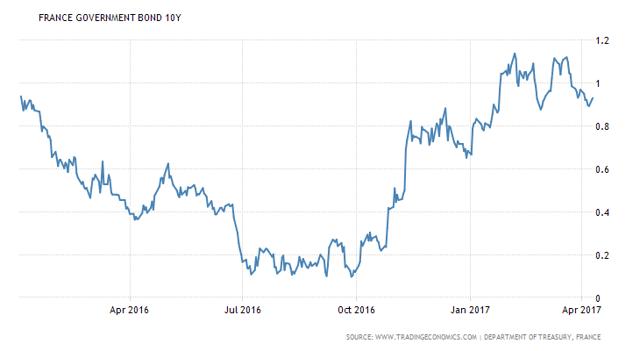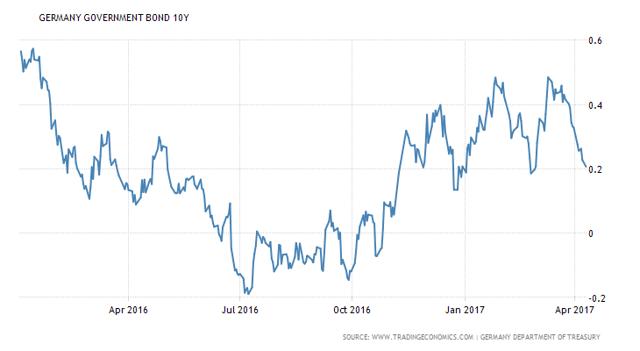 The timing is interesting. The flow of money out of the United States has the ability to push interest rates here higher due to the loss of demand. All else equals, that would entice buyers to stick around. But, also factor in the effects of the Federal Reserve raising interest rates as well as removing the stimulus of the massive balance sheet. Those two factors also contribute to a general rise in interest rates.
However, I am not certain that Europeans would necessarily keep their funds here in the United States simply because the Europe and central banks, i.e., Bank of England and European Central Bank, also have balance sheets to deal with. The same rise in interest rates that will happen in the United States is likely to happen across the pond. So, despite their being potential with higher interest rates here in the states I do not see it enough for Europeans to continue investing so significantly as they have over the past several years. The chart above shows that.
The real problem is the potential for a sharper-than-desired rise in interest rates here in the states. The landscape is losing European buyers, seeing the Federal Reserve raise interest rates as well as shrink their balance sheet. These are very significant factors that could have a detrimental effect on the overall economy. This economy is not exactly firing on all cylinders as non-farm payrolls pointed out on Friday with its less-than-stellar print of 98,000 jobs for the month of March.
The headwinds for the bond market are significant. I am big believer that the Fed has a room full of smart people. But, even smart people can get a boat turned over with strong enough headwind. The Fed is still looking to raise interest rates in June. I question that, however. I am nowhere near 100% on that issue and if given enough pieces of economic data that show an economy that is too sluggish to move forward, the Fed may have to backpedal.
It might be time to buy bonds instead of selling them. And, a big piece of economic data comes again on Monday with the TIC data.
Disclosure: I/we have no positions in any stocks mentioned, and no plans to initiate any positions within the next 72 hours.
I wrote this article myself, and it expresses my own opinions. I am not receiving compensation for it (other than from Seeking Alpha). I have no business relationship with any company whose stock is mentioned in this article.