Wal-Mart (NYSE:WMT), the second largest online retailer, is looking to catch up with competitor Amazon.com (NASDAQ:AMZN), which captured 43% of all U.S. online retail sales in 2016. And to do so, it's getting creative in looking to emerging technologies.
In today's retail world, nearly all growth now comes from online sales. For those retailers who want to avoid joining the ranks of Macy's (NYSE:M), Sears (NASDAQ:SHLD) and J.C. Penney (NYSE:JCP) - to name just a few that have closed stores or filed for bankruptcy recently - the writing is on the wall. Innovate and beef up e-commerce efforts, or become obsolete.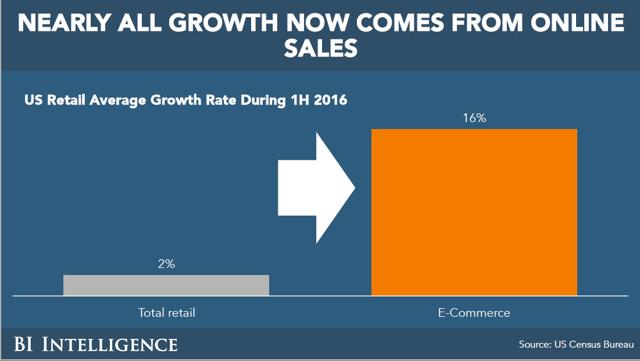 Wal-Mart has seen the writing. Yet, while Wal-Mart's online sales have suffered, lagging Amazon's, it still reported significantly more total revenue than Amazon last year. In 2016, Amazon's online sales were $92 billion, while Wal-Mart had an estimated $13.7 billion. Wal-Mart's reported total revenue of $486 billion in 2016 compared with the $136 billion Amazon generated. So Wal-Mart is in a position to leverage a revenue advantage. But its online sales represent just 3% of its top line.
Over the last several months, Wal-Mart has revamped its efforts to boost its e-commerce business.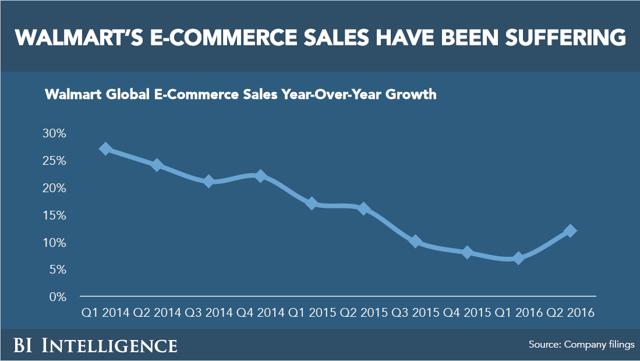 Online sales are incubating
Recently, Wal-Mart announced plans to launch its first investment arm or start-up incubator, called Store No. 8, to expand its e-commerce business and identify new technologies that could be used across the company - and perhaps differentiate it from competitor Amazon. While Wal-Mart is based in Arkansas, Store No. 8 will be based in Silicon Valley and will look to work with start-ups in the areas of robotics, virtual and augmented reality, machine learning and artificial intelligence. Store No. 8 will also partner with venture capitalists and academics so it may foster relationships with entrepreneurs in emerging technology fields.
Store No. 8 is charged with identifying emerging technologies that could help the online retail experience, and at the same time, "help build startups that have a responsibility to change the course of retail," according to Marc Lore, president and CEO of Wal-Mart's e-commerce unit.
Lore joined the company from retail upstart Jet.com, which Wal-Mart acquired in August for more than $3 billion. Consolidated online sales increased by 29% in its fiscal 2017 fourth quarter - prior to the acquisition, Wal-Mart's online sales were growing in the low single-digit percentage point range.
Jet encourages bulk buying for lower pricing, by using an algorithm to offer items 10 to 15 percent less than competitors by adjusting prices based on the quantity of products bought at once. This gives Wal-Mart pricing power and potentially better distribution through a huge network of warehouses across the U.S.
The acquisition of Jet was intended to inject Wal-Mart with new ideas and expertise - in large part by Lore, who co-founded Quidsi, a company that grew into a collection of e-commerce sites and was sold to Amazon in 2010 for more than $500 million. Jet is among the fastest growing and most innovative e-commerce companies in the U.S.
Since acquiring Jet.com in August 2016, Wal-Mart has also acquired shoe retailer ShoeBuy, outdoor apparel retailer Moosejaw and women's apparel site Modcloth. All these acquisitions are part of its larger overall plan to boost its e-commerce operations.
Wal-Mart and Jet remain distinct, separate brands, as will start-ups who partner with Store No. 8. Store No. 8 is named after an early Wal-Mart store that founder Sam Walton used to test new ideas that could be rolled out. Hopefully for Wal-Mart, fresh new ideas in technology will catapult the company's online sales up into the ranks of Amazon's sales.
Meanwhile, Amazon is also stepping up its game by exploring opportunities to bypass traditional retail channels by offering their goods directly off its website. Stay tuned for more news in the coming months of how Amazon is looking to boost its supply chain with a direct-selling channel.
And yet, Wal-Mart and Amazon are far from the only companies making significant strides that translate to investor opportunities.
The online revolution in retail
In the U.S. alone, online sales across the board have grown more than 2,000% since 1999. Around the world, the amount of online buyers was estimated to increase by 57% from 2014 to 2019.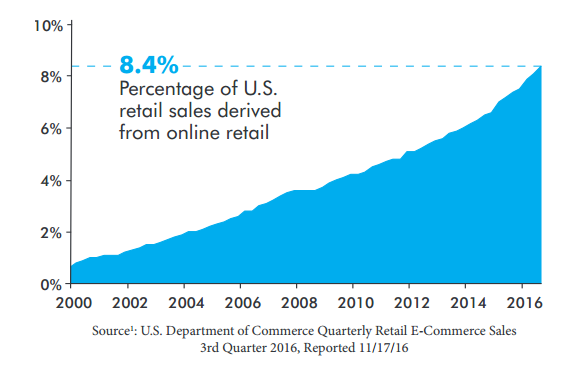 While we admire Wal-Mart's foray into expanding its e-commerce business, it still has a long way to go. In order for companies to be included in the EQM Online Retail Index, which is tracked by the Amplify Online Retail ETF (NASDAQ:IBUY), companies have to have at least 70% of their revenues derived from online and/or virtual commerce. As mentioned, Wal-Mart's percentage of online revenue stands at only 3% of total sales. Clearly, Wal-Mart has a long way to catch up to the likes of Amazon. But we are keeping an eye on these developments. At least Wal-Mart recognizes that online retail is here to stay and is positioning itself for this future growth.
Disclaimer: EQM Indexes is the creator of the EQM Online Retail Index, which has been licensed to Amplify Investments as an ETF. It is not possible to invest directly in an index. Exposure to an asset class represented by an index is available through investable instruments based on that index. EQM Indexes does not sponsor, endorse, sell, promote or manage any investment fund or other investment vehicle that is offered by third parties and that seeks to provide an investment return based on the performance of any index. EQM Indexes makes no assurance that investment products based on the Index will accurately track index performance or provide positive investment returns. EQM Indexes is not an investment advisor, and makes no representation regarding the advisability of investing in any such investment fund or other investment vehicle. A decision to invest in any such investment fund or other investment vehicle should not be made in reliance on any of the statements set forth on this website. Prospective investors are advised to make an investment in any such fund or other vehicle only after carefully considering the risks associated with investing in such funds, as detailed in an offering memorandum or similar document that is prepared by or on behalf of the issuer of the investment fund or other vehicle. Inclusion of a security within an index is not a recommendation by EQM Indexes to buy, sell, or hold such security, nor is it considered to be investment advice.
Disclosure: I am/we are long IBUY.
I wrote this article myself, and it expresses my own opinions. I am not receiving compensation for it. I have no business relationship with any company whose stock is mentioned in this article.