Alaska Communications Systems Group, Inc. (NASDAQ:ALSK) is primarily a fixed broadband and managed IT service provider in the state of Alaska. It generates most of its revenue from its business and wholesale segments, while also providing consumer voice and internet services where it finds them most economical. ALSK owns an extensive fiber optic network that stretches across the state of Alaska and connects its three largest service areas of Anchorage, Fairbanks, and Juneau to each other and the rest of the contiguous United States. To accomplish this, ALSK owns and operates an undersea fiber optic cable and leases capacity on another that both serve to accomplish the aforementioned task.
Alaska Communications Systems operates in a largely duopolistic environment, that is, for the most part, isolated from the rest of the world. Its primary competitor, General Communication, Inc. (GCI) (GNCMA), is the dominant consumer internet and cable provider in the state of Alaska. For the most part, ALSK has chosen to constrain itself to the business and wholesale sector of the Alaskan telecom market instead of trying to compete on price with GCI. GCI has superior scale economics, higher bandwidth speeds, and a bundle package it can use to capture a majority share of the consumer market. ALSK is sustaining its consumer segment through the removal of data caps, while GCI, for the most part, has implemented them.
At first glance, Alaska Communications appears to be a struggling telecom company operating in a declining market. This perception is most likely what is responsible for the stock's underperformance over the last few years. Since 2011, ALSK's revenue has decreased by at a CAGR of -8.2% while its EBITDA has decreased at a CAGR of -14%. This is obviously very alarming, but after a closer look things start to look a little brighter.
Over the last five years, ALSK has transformed itself into a fixed line only broadband, managed IT, and voice provider. In the first quarter of 2015, ALSK sold its interest in the Alaska Wireless Network (AWN) to the parent of the subsidiary, GCI. After seeing the writing on the wall, i.e. increasing competition from the entrance of massive wireless providers such as AT&T and Verizon into the market, Alaska Communications decided to change the direction of the company. Since selling the wireless business, it has used the proceeds to retire debt and focus its growth efforts solely on the fixed line business and wholesale market.
The above statement implies ALSK has just recently improved its growth in the business broadband market when, in fact, the opposite is true. Wireline business and wholesale revenue have grown at a CAGR of 8.35% since 2012, while business broadband revenue alone has grown at a CAGR of 14.90% since 2012. Business broadband average revenue per user (ARPU) has also increased at a CAGR of 20.7% since 2012. Hidden behind the mask of a struggling wireless segment, ALSK's performance in the business broadband sector has gone relatively unnoticed.
While its business and wholesale performance, which makes up 60% of revenues, has been impressive, there are still a few trouble areas for ALSK. Both consumer and business voice services have been decreasing at a rate well in line with the trend occurring throughout the telecom sector. While this is expected and gradual, ALSK's growth in other segments has more than offset this phenomenon so far. Also, the consumer segment in general has been plagued by shrinking revenue and profits that have just now started to subside. Management expects consumer growth to remain flat to slightly negative into the foreseeable future.
Regulatory revenue, the third business segment, is made up of surcharges, access charges, and federal and state support. While the company expects surcharge and access charge revenue to gradually decrease, it is set to receive almost $20 million annually from the Connect America Fund phase 2 (CAF II). This is in line with what it received from the CAF I and allows ALSK to expand its offerings to more rural areas.
Alaska Communications management is targeting 4-8% adjusted EBITDA growth for the foreseeable future. While this may or may not come to pass, I want to highlight a few reasons moderate growth can be a realistic goal. Obviously, business demand for broadband in Alaska has been growing at an accelerated rate. ALSK is the leading provider of this along with a variety of managed IT offerings, and appears to have been taking market share from GCI for the last few years. On top of that, ALSK was the first provider in Alaska, second in the US, and only third in the world to become Metro Ethernet Forum (MEF) Carrier class Ethernet 2.0 certified. ALSK is also well on its way to becoming the primary cloud provider to businesses in Alaska. As of March 22, Alaska Communications has earned Silver Cloud Platform Competency from Microsoft and is positioning itself to be the undisputed leader for cloud offerings in the state. This should help to further increase business broadband ARPU and boost margins.
With mobile data usage growing around the world, Alaska appears to be an underpenetrated market for mobile carriers. While ALSK has washed its hands of the mobile business, it looks poised to capitalize on the growing need for wireless backhaul services. With GCI now a primary competitor to Verizon (NYSE:VZ) and AT&T (NYSE:T), they may not be so willing to hand over backhaul contracts and instead turn to another company with extensive fiber optic infrastructure.
Finally, it is time to address the recent acquisition of GCI by John Malone's Liberty Interactive. This merger provides GCI with substantial capital and, at first, looks to be a possible death blow to ALSK. GCI can forget about debt problems and use its new supply of capital to slowly grind away market share from ALSK, right? Upon further inspection, one can find that a primary reason for the acquisition in the first place was to further diversify GCI away from Alaska. Both sides have reiterated their intent of ending investment in Alaska and attempting to use GCI's cash flow to grow in other areas. This looks like good news for Alaska Communications. Less competition from its primary competitor almost guarantees a claim to any future growth in the business broadband and IT sector. Plus, a name like John Malone taking interest in the Alaska telecom industry can't help but spark interest in the Alaska telecom scene.
Valuation
There are a variety of ways to value a telecommunications company. Probably the most commonly used are the EV/EBITDA ratio and the Price/Free Cash Flow ratio. A different but not unreasonable method would be to find the reproduction costs of the assets of the company. For telecoms these usually consist of land, cable and fiber optic assets, some type of switching and transmission assets, and the occasional data center and owned office buildings.
The reproduction cost of assets can provide us with an estimate of the upfront capital expenditure a new entrant to the market would have to make. For telecoms especially, this capital outlay can be substantial. The cost of construction and network buildouts is a primary reason for the large amount of M&A activity currently taking place in the telecom industry. On top of that, stealing customers away can be a significant challenge and could be considered an intangible asset cost inherent to the incumbent market players.

From the 2016 10-K (in thousands)
For conservatism's sake, we will focus on tangible fixed assets. Alaska telecom owns about $1.3 billion worth of tangible fixed assets before depreciation. That obviously dwarfs its current market cap of around $90-100 million, but over a multi-decade history, some of these assets have exceeded their useful lives. While depreciation expenses are a staple of our GAAP accounting practice here in the United States, I have a hard time believing ALSK's fixed assets are only worth 27% of their stated historical cost. The depreciation expense of $983 million completely exceeds the historic cost of all of ALSK's $735 million plant cable and wire facilities. To get a better picture I will make some adjustments and attempt to assign depreciation costs.
Alaska Communications owns $198 million worth of land, buildings, and support assets with no depreciation attributed to its land assets. ALSK doesn't specify a separate entry for just land assets, so for now I will assign no depreciation expense to that segment of its assets. With just $33 million coming from ALSK's construction work in progress and "other" assets, this means that the remaining $950 million of depreciation expense is attributed to Alaska Communication's fiber optic and central office switching and transmission assets. Listed at a combined historical cost of just over $1 billion, roughly 85% of these assets are considered fully depreciated.
I'm not going to attempt to speculate on the exact value of ALSK's assets, and, of course, some of the depreciation expense will be attributed to buildings owned by the company, just not the land held by the company. With all this in mind, I still find it preposterous that only 15-20% of the company's core revenue generating assets are assigned any value on its balance sheet.
The really interesting thing is that ALSK only trades at about 60% of its stated book value. It is one of the few telecom providers I could find that trades below book value, and it trades at the lowest multiple to book value I have seen in the industry; not to mention all of its listed assets are tangible.
If one adds back any assets one deems viable, ALSK's P/B ratio starts to look almost ridiculous. ALSK's asset value before depreciation actually increased from 2015 to 2016, but the accumulated depreciation has become so large that it grew faster, and the stated value of the fixed assets on the balance sheet fell from 2015 to 2016. This means that even as ALSK spends to grow the value and reproduction cost of its fixed assets, the value it states them at is actually decreasing. This may work for equipment that expires rather quickly, but fiber optic cables have been found to outlast their estimated useful lives. Some experts estimate an actual life of at least 40 years and beyond.
Another popular way of valuing telecoms is by using comparable companies. To compare against Alaska Communications I have chosen GCI Inc., Lumos Networks Corp, Otelco Inc., Hawaiian Telcom Holdco Inc., Shenandoah Telecommunications, Cincinnati Bell Inc., and ATN International Inc.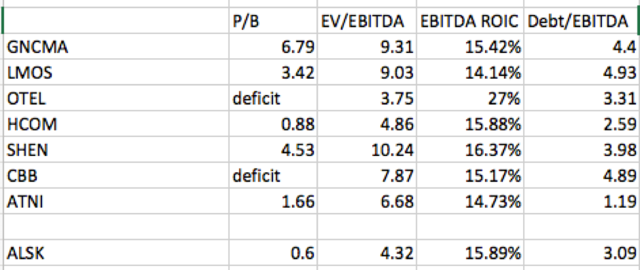 As you can see, Alaska Communications is on the lower bound of the valuation range, while having a ROIC that is roughly in line with its comps. Its Debt to EBITDA ratio is lower than the majority of the industry, and ALSK has plans to refinance this year.
Obviously, the most comparable of the bunch for ALSK is Hawaiian Telcom. Both companies are isolated and operate in a largely duopolistic environment, HCOM with Oceanic Time Warner Cable and ALSK with GCI. Just comparing these two, one could come to the conclusion that isolated telecoms distanced from the contiguous 48 warrant a discount in their share price. While the market may currently price this in as necessary, I believe there are some view-altering differences between the two, and reasons why ALSK might one day command a higher multiple.
A major similarity between the two is the barrier to entry that is inherent in their markets. Think about it, no company can be reasonably expected to start rolling out fiber in a small, isolated market that will not provide a necessary return on their investment. Without extraordinary government subsidies, the main competitors to these two incumbents appear to only be GCI and Oceanic Time Warner Cable.
Hawaiian Telcom looks to be locked into an extremely competitive market with Oceanic. With no real differentiators, it isn't generating much growth, and its adjusted free cash flow has declined substantially in the face of increased capex that appears to be necessary just to maintain its market position. Debt is low compared to the historically leverage-prone industry, and HCOM's EBITDA ROIC falls in line with the average. As the only other company trading below book value on the list, HCOM draws even more focus to the "isolation discount" that jumps out from the data.
On the other hand, Alaska Communications Systems looks to be an improving and well-positioned company. With EBITDA rising to $58.2 million in 2016 from $49.9 million in 2015, management's business and wholesale focused growth strategy is finally starting to show up in the financial statements. Like HCOM, adjusted free cash flow has also declined substantially over the last few years but is primarily a result of selling off the wireless assets. 2016 adjusted free cash flow is reported at about $9.8 million, but when you do away with the limited time only North Slope acquisition expense and AWN capacity revenue amortization, FCF comes out to almost $15 million. That's about a 15% FCF yield at the current share price. Furthermore, the Liberty Interactive deal appears to open more doors than it closes for ALSK, as does the Microsoft cloud certification. With management guiding EBITDA to possibly be in the low-to-mid $60 million range for 2017, the forward EV/EBITDA multiple looks to be about 4x. I believe ALSK is undervalued both on a relative and absolute basis.
As an added bonus, ALSK plans to buy back $10 million worth of its stock before the end of 2019. I know investors have had a problem with management destroying value in the past. The ultimately fruitless wireless venture that required equity issuances and excessive leverage led the company to discontinue its dividend and gave management a bad name. I am a firm believer that a company's management can learn from its mistakes, but it is very hard to gauge initially. Right now management's mistakes are priced into the stock, and it could take a while for the market to shake that off. Nevertheless, I do believe that the company is priced far below its net asset value with potential growth not taken into account. If ALSK ever reinstates its dividend, expect the share price to increase significantly.
Finally, the possibility of an acquisition could warrant a substantially higher share price for ALSK. Consolidation in the telecom sector has been rampant throughout the last decade, and most analysts see no sign of slowing. Buying a telecom provider's customers and fixed assets is the quickest, cheapest, and easiest way to gain access to a market. Alaska may be the last place people think of when they consider buying a telecom company, but its high barriers to entry and possible growth profile present an interesting opportunity for a willing buyer. Also, keep in mind that ALSK is selling for one of the cheapest prices in the telecom market.
Risks
An obvious risk for most telecoms is debt. Alaska Communications' net debt as of Dec. 31, 2016, comes out to $155 million. Before its recent refinancing deal, almost all the company's debt was coming due in 2018. Thanks to the new senior credit facility, principal payments have been pushed back to 2021-23. While there were concerns about the length of time it took to get the deal done, the company isn't really worse off even if it could have gotten lower rates with an earlier deal.
New Senior Credit Facility
· $120M Term A-1 Facility at LIBOR plus 5.0% per annum
· $60M Term A-2 Facility at LIBOR plus 7.0% per annum
· $15M revolving Facility at LIBOR plus 5.0% per annum
Alaska Communications plans to use the part of the proceeds to tender its 6.25% Convertible Notes due in 2018.
Since ALSK services a variety of businesses in Alaska, another major concern is the state economy. According to ALSK's 10-K, Alaska has experienced an in-state recession beginning in the second half of 2015, mostly due to the decline in the price of oil. That is an interesting statement to me because Alaska Communications was growing its business broadband and managed IT segments over this period of stagnant growth in Alaska. If that's a recession, I am excited about what an economic expansion can bring to Alaska Communications. Obviously, ALSK isn't over-exposed to oil companies or it would have had some serious trouble in the business broadband segment since 2014. That being said, it did acquire fiber on the North Slope in 2015 and initiated a joint venture with Quintillion Holdings, LLC to provide broadband to oil companies in the near future.
Another major risk could be regulation. If ALSK loses any major funding, like CAF II, this could be a huge blow to its cash flow profile. Also, the erosion of access and surcharge revenue along with a stagnant consumer segment presents another possible hurdle to overcome.
Further risks include disruptive technological innovation. Considering I am not a telecommunications expert, I have no idea whether a new technology will come along and forever change the landscape for telecom companies. I only know what the "experts" say, but then again, almost no one correctly calls industry-altering innovation.
Conclusion
It's always good to have someone smarter than you on your side to help assure you that you might be on the right track. That someone in the case of Alaska Communications is Scott Barbee of the Aegis Value Fund. Aegis owns just under 8% of the company and increased its stake as recently as February. Anyone looking to see some of Scott's thoughts on ALSK can read a few of Aegis Value's shareholder letters on its site. Scott has a fantastic track record and usually looks for deep-value asset plays such as this.
Alaska Communication Systems has its problems, but it looks to be an undervalued company with unrecognized growth potential and valuable assets. Also, management appears to have grown more shareholder friendly with the implementation of share repurchases and the focus on generating free cash flow. ALSK is a micro-cap stock that can be very thinly traded and is sometimes volatile. If volatility or illiquidity bothers you, then this might not be the company for you.
Feedback is always welcome. Thank you.
Articles on telecom M&A:
1. Deloitte
3. CNBC
Disclosure: I am/we are long ALSK.
I wrote this article myself, and it expresses my own opinions. I am not receiving compensation for it. I have no business relationship with any company whose stock is mentioned in this article.